Michigan State basketball: 3 fearless predictions vs. Butler
It's time for a win.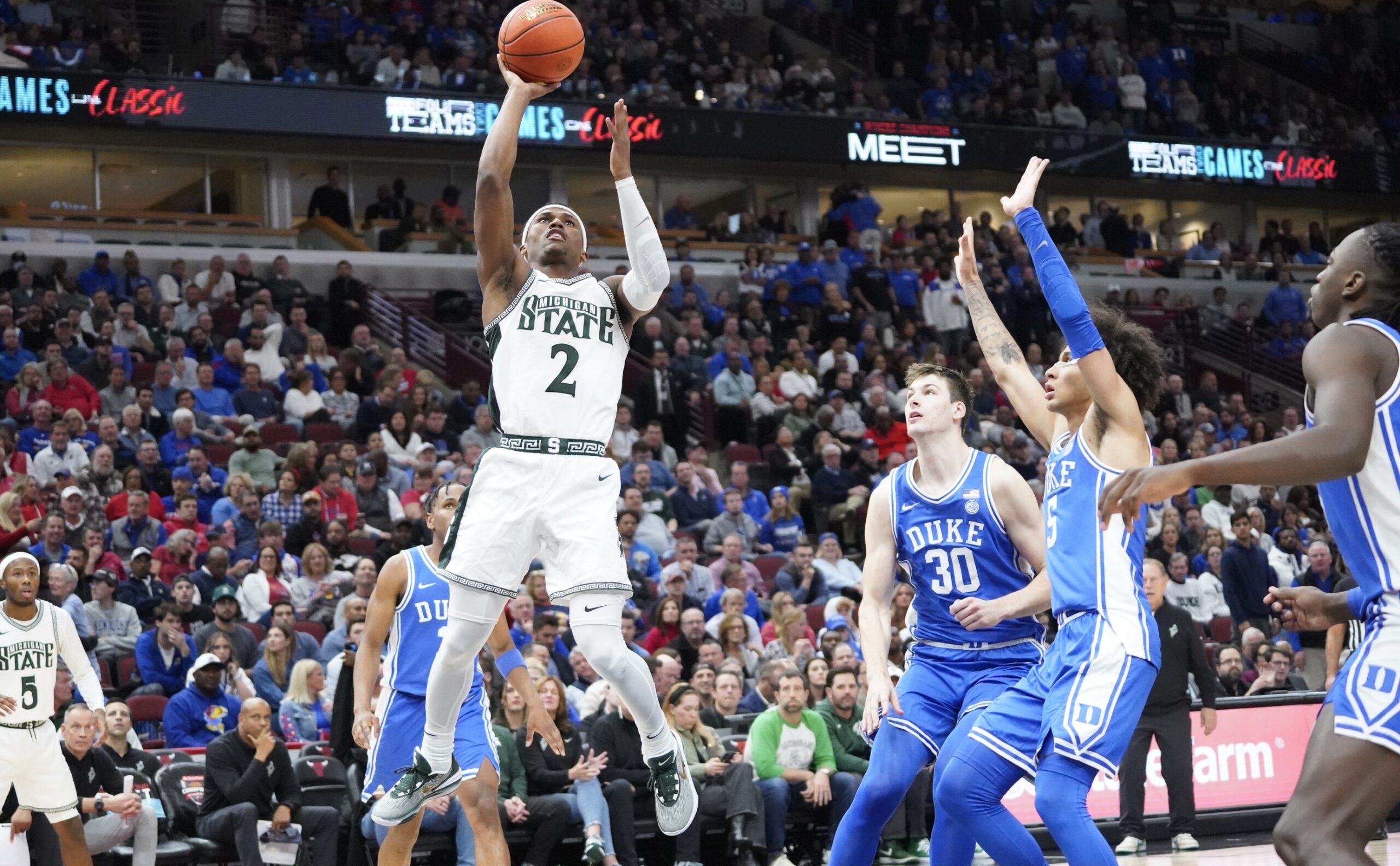 Butler will be in East Lansing on Friday night to face Michigan State basketball at the Breslin Center. Let's dive into some predictions.
A 1-2 start to the 2023-24 Michigan State basketball season wasn't exactly on the bingo card for Spartan fans. After beginning the year ranked No. 4 in the country, everyone was expecting a much more polished team of veterans with a perfect mix of underclassmen.
That hasn't been the case through three games.
Michigan State has losses to Duke and James Madison and it faces a sneaky Butler team on Friday night in East Lansing. The Bulldogs are 3-0 on the season and they're averaging 88.7 points per game with former Spartan Pierre Brooks having a breakout start.
Will Michigan State basketball get back in the win column? Let's get into the predictions.
1. AJ Hoggard finally scores in double figures
AJ Hoggard is off to a horrendous start to his senior season, averaging a paltry 5.0 points per game on a mere 19 percent shooting. That's not a typo. AJ is shooting under 20 percent from the field and he doesn't even rely on a jumper. He's missing layups left and right and his confidence just seems shot.
After the Duke loss, he told Tom Izzo that if he continues to play poorly, he needs to be benched.
So that only means one thing: legacy game incoming.
Butler is going to feel the wrath of one angry AJ Hoggard as he plays his best game of the season, accounting for 13 points and eight assists with one turnover. He's going to be aggressive with the ball in his hands and he'll look like 2023 NCAA Tournament AJ.
2. The Spartans hit 10 threes
In game one, Michigan State was a shocking 1-for-20 from deep. In game two, the Spartans were a slightly better 1-for-11 from deep. And then against Duke, Michigan State began slow and finished 6-for-19 from distance. If we're going to be fair, the Spartans have improved their 3-point shooting each game and I see that continuing against Butler on Friday night.
Michigan State will have its best shooting performance of the year, making 50 percent of its shots from the floor and it'll convert 10-plus threes.
I'm going with a 10-for-23 line from distance for MSU.
3. Michigan State covers
The spread for this one favors Michigan State by 8.5 points. That's a healthy spread for a team that's been struggling to start the season. Plus, Butler has been lighting up the scoreboard, so winning by at least nine won't be an easy task.
But I see the Spartans finally finding their rhythm on offense, hitting some threes, and playing stingy defense like they did in the first half against Duke on Tuesday night. This will be a recipe for a comfortable win at home, especially because this team is feeling the pressure to improve rapidly. They need to get on track before facing Arizona next week and Baylor in December.
Michigan State will cover on Friday night with a 76-66 win.