Michigan State basketball: 3 quick thoughts from massive win over No. 17 Indiana
What a win.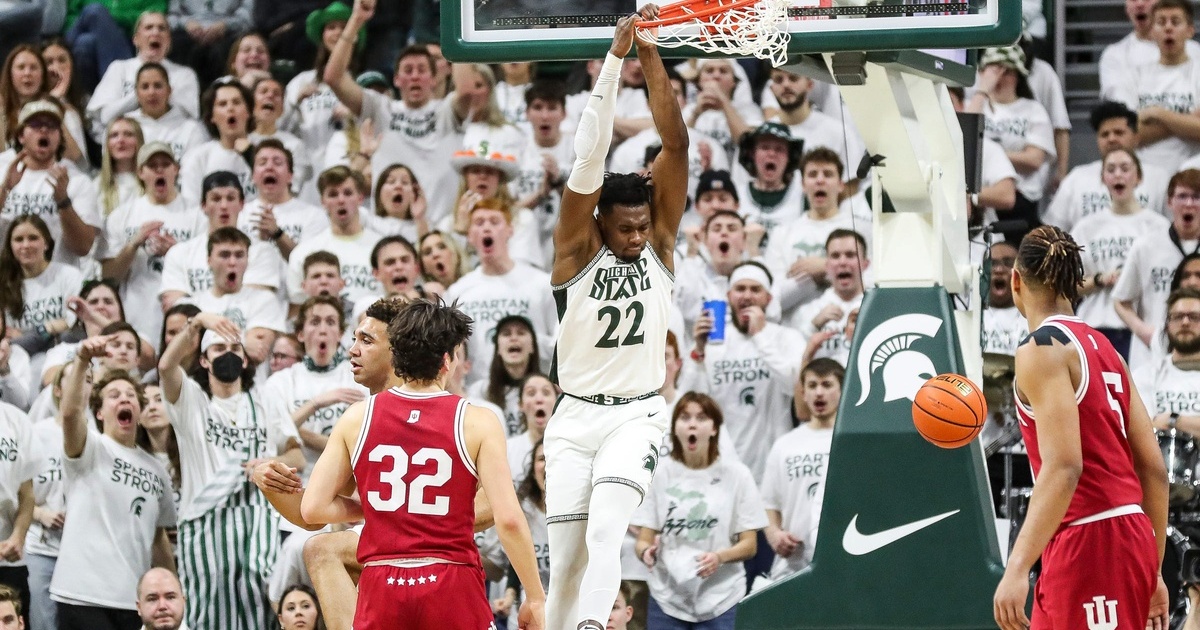 Michigan State basketball picked up a massive Quad 1 win over No. 17 Indiana on Tuesday night, improving to 17-10 on the year.
Never doubt Tom Izzo when March is approaching. Every Michigan State basketball fan knows better, but there was a sour taste in everyone's mouths after a loss at Michigan over the weekend.
But doubting Izzo and the Spartans after an emotional loss proved to be a mistake as they played their first game back at the Breslin Center since the tragedy on campus last Monday against No. 17 Indiana and came away with a convincing 80-65 win.
The Spartans added another Quad 1 win to the resume and this win over the Hoosiers may have very well punched their ticket to the NCAA Tournament — if it hadn't been already.
Now there should be no doubt.
My quick thoughts on the resilient win in East Lansing:
1. Another year of Tyson Walker would be ideal
Tyson Walker is so good. I mean, this dude can take over a game by himself and we saw that happen on Tuesday night as he hit three straight 3-pointers to get Michigan State back into the game in the first half when things were looking grim. He was the threat that the Spartans needed.
Every elite team has a go-to scorer and while Michigan State will have a couple of options next year even if Walker decides to move on, he would be the centerpiece of the offense on one of the best teams in the nation.
Walker's 23 points on 8-of-15 shooting and 5-for-7 from deep was just a taste of what this team could expect if he decided to return in 2023-24. He could be that missing piece to the national title puzzle.
2. Tom Izzo wasn't going to allow another mediocre rebounding performance
Poor Indiana. It didn't realize that it was about to be on the wrong end of an angry Michigan State team after getting out-rebounded by 13 in Ann Arbor on Saturday night.
The Spartans' showing on the glass was impressive as they out-rebounded the Hoosiers by nine, 33-24, and really limited the offensive boards. Indiana only had five offensive rebounds while the Spartans finished with 10. It was the perfect performance for Michigan State following Saturday's debacle.
3. Mady Sissoko showed flashes of his early-season self
Mady Sissoko recaptured some of that magic that made him a fan favorite in the beginning of the season on Tuesday night.
While his stat line isn't going to open any eyes, it was the way he played in the second half that really made some of us (yes, I may be included) believe again. He was diving for loose balls, blocking shots, and grabbing big rebounds. He was all over the floor and had the box score won't tell you that.
Mady played like a different beast in the second half on Tuesday night and we have to hope it continues because he may be key to a deep run.