Michigan State basketball reaches out to High Point transfer Zack Austin
MSU is keeping its options open for next year.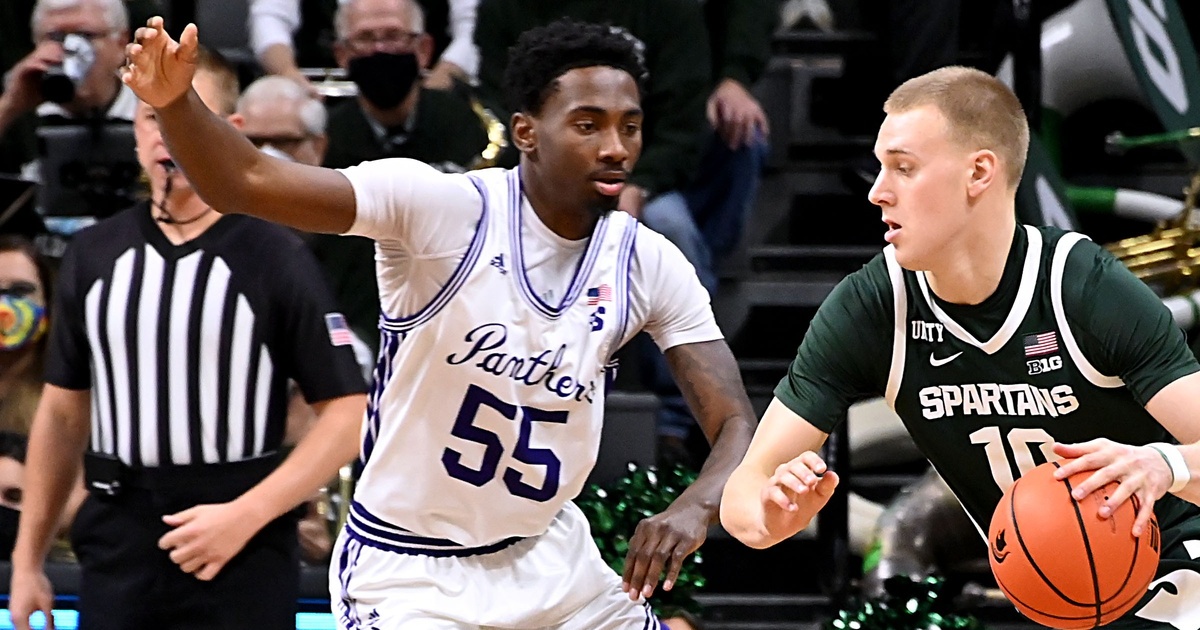 Michigan State basketball has reached out to a couple of transfers already, the latest being High Point's Zack Austin.
How do you make an athletic roster even more athletic? You hit the transfer portal. Michigan State basketball may be doing just that this offseason, barring some attrition.
Earlier this week, Tom Izzo reached out to Butler transfer, and leading scorer, Jayden Thomas and now he's putting his feelers out there for another top player on the market.
According to Jake Weingarten, Michigan State is one of the latest programs to reach out to High Point's Zack Austin.
Newest schools here: Michigan State, Alabama, Providence, Florida, UNCC, WCU, UAB, Tulsa, Austin told @Stockrisers. https://t.co/WCTzpxeYfr

— Jake (@jakeweingarten) March 15, 2023
This would be an intriguing addition because he has basically everyone in college basketball pushing to land him. He's already heard from dozens of schools and his recruitment is going to pick up here soon when some of those teams finish up their March runs.
What kind of player is Michigan State targeting in Austin? A bouncy scorer.
Sophomore Zack Austin is entering the transfer portal. The 6'5 Guard had a great season for High Point averaging 14 PPG,5 RPG,1 SPG,and 2 Blocks a game. Austin was also efficient finishing with a 57% TS. Austin is an elite athlete who dunks everything and he's a great defender. pic.twitter.com/QcdAjeGVAo

— KJ (@Kjpistons) March 15, 2023
Austin spent two seasons at High Point, averaging 14.4 points, 8.0 rebounds, 1.3 steals, and 2.2 blocks as a true freshman while shooting 41 percent from the floor, 32 percent from deep, and 72 percent from the line. He then averaged 14.1 points, 5.4 rebounds, 2.1 blocks, and 1.1 steals with a shooting percentage of 44 percent from the floor, 33 percent from deep, and 79 percent from the line. He can put the ball in the hoop and he's a willing defender on the wing/forward spot.
He faced Michigan State last season and scored 15 points with eight rebounds and two steals while shooting 5-for-10 from the floor and 3-for-6 from deep.
What stands out is obviously his 2.2 blocks per game over his career at the wing spot and that just goes to show what kind of athlete he is.
Austin stands 6-foot-7 and weighs about 200 pounds and he can get up. If you watched the highlights above, you'll see he loves to throw down over anyone.
Just imagine a lineup with Coen Carr, Austin, Jaden Akins, and Xavier Booker out there. There wouldn't be a more athletic group in the nation.
We'll see how much effort Izzo puts in to recruiting the High Point transfer, but gauging interest is a good start.