Michigan State basketball: 5 things to know about USC Trojans
Let's meet the first-round opponent.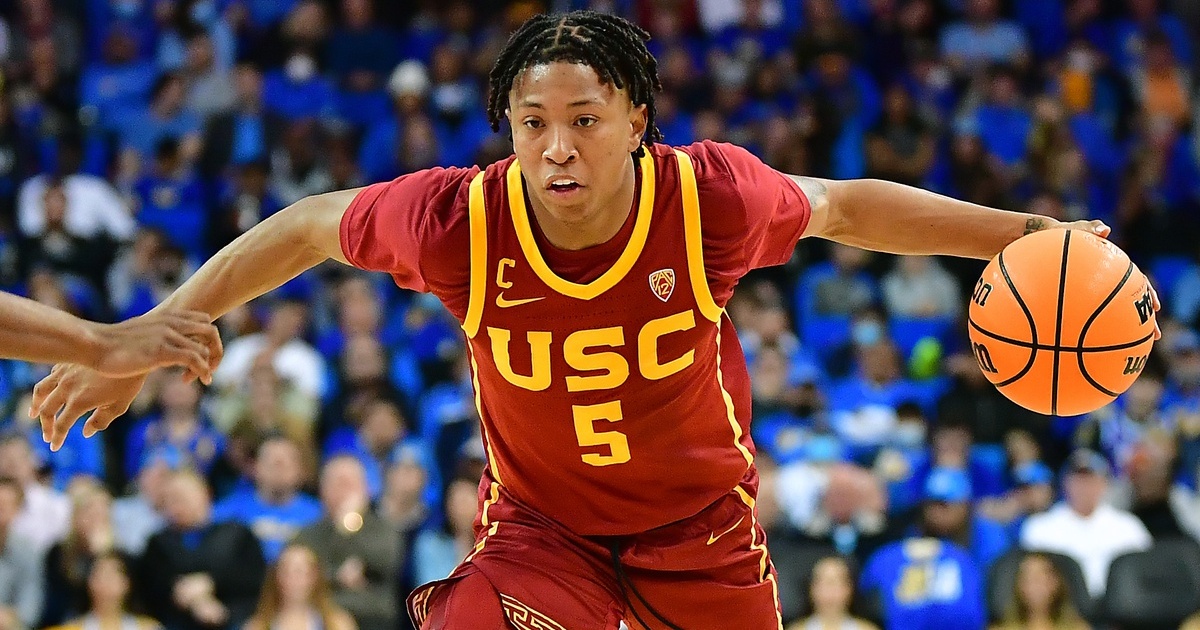 Michigan State basketball will take on USC on Friday afternoon and here's what you need to know about the Trojans.
Friday is the day. Michigan State basketball will head down to Columbus to take on the 10th-seeded USC Trojans in the first round of the NCAA Tournament.
This is a game that should favor the Spartans, but USC is no slouch.
Before the two teams take the court on Friday afternoon, here are five things you may not know about the Trojans that may play a factor.
1. USC has one of the best guards MSU will have seen all year
Boogie Ellis is dangerous. The former Memphis guard transferred to USC before last season and he's been getting better the more comfortable he's gotten in Los Angeles.
Ellis plays 33.1 minutes per game and he leads the team with 18 points per game. He also averages 3.7 rebounds, 3.0 assists, and 1.4 steals and protects the ball, averaging only 1.8 turnovers. The talented guard is shooting 43.9 percent from the floor and 39.2 percent from deep.
Michigan State's guards will have their hands full with Ellis as he can create for himself and is one of the toughest ball-handlers they will have seen all year. He's a difference-maker and can will a team to victory much like Tyson Walker and AJ Hoggard can.
2. USC is 0-1 vs. the Big Ten this year
USC actually saw a Big Ten team earlier in the season during non-conference play as Wisconsin got the better of the Trojans in the Battle 4 Atlantis. The game was close throughout, but a steal by Chucky Hepburn and subsequent layup with 10 seconds left sealed it.
Ellis scored 15 in that game but the Trojans turned it over 14 times. That seems to be a common theme with this team. If they're giving the ball away, they struggle to beat anyone.
Wisconsin didn't make the tournament and the Spartans beat the Badgers this year on the road, so this should make some fans feel better about the matchup.
3. USC ranks No. 8 nationally in blocks per game
Driving to the lane, looking for an easy bucket? Probably not going to happen against this USC team that ranks eighth nationally in blocks. The Trojans average 5.2 blocks per game, led by Joshua Morgan who averages 2.3 on his own and Vincent Iwuchukwu, a 7-foot-1 freshman, who averages 1.0.
Michigan State will likely avoid post touches to Mady Sissoko and Jaxon Kohler as they're not likely to get any easy shots up. However, Kohler could utilize his nifty footwork to get to the rim and maybe draw some fouls (USC ranks 200th nationally in fouls).
4. The Trojans give up a lot of offensive rebounds
If Michigan State is going to make the Trojans pay on Friday, it'll need to crash the offensive glass. The Trojans rank 303rd nationally in defensive rebounding percentage and they're in the 170s in offensive rebounding percentage. Not great.
Michigan State needs the guards to crash after 3-point tries and Malik Hall, Sissoko, Kohler, and Joey Hauser to get good position and grab the boards because they'll be there.
USC has struggled to keep teams off the offensive glass all year and second-chance points are crucial. Michigan State could use this to its advantage.
5. USC is a second-half team
Probably something that no one wanted to read: USC is a second-half team. The Trojans rank 165th in first-half points per game (they also don't have a great offense) but that number skyrockets to 63rd in the nation in second-half points per game.
This means that Michigan State is going to need to step on the gas if it somehow builds a lead in this one. No letting the Trojans hang around in the second half.
Heck, we've all seen what can happen in just 90 seconds if Michigan State gets too comfortable and lets a team build momentum. You have to put the Trojans away because they get hot in the second half.