Michigan State basketball stock report: Who's rising, falling after Butler win?
There are some risers and one faller after Friday's win.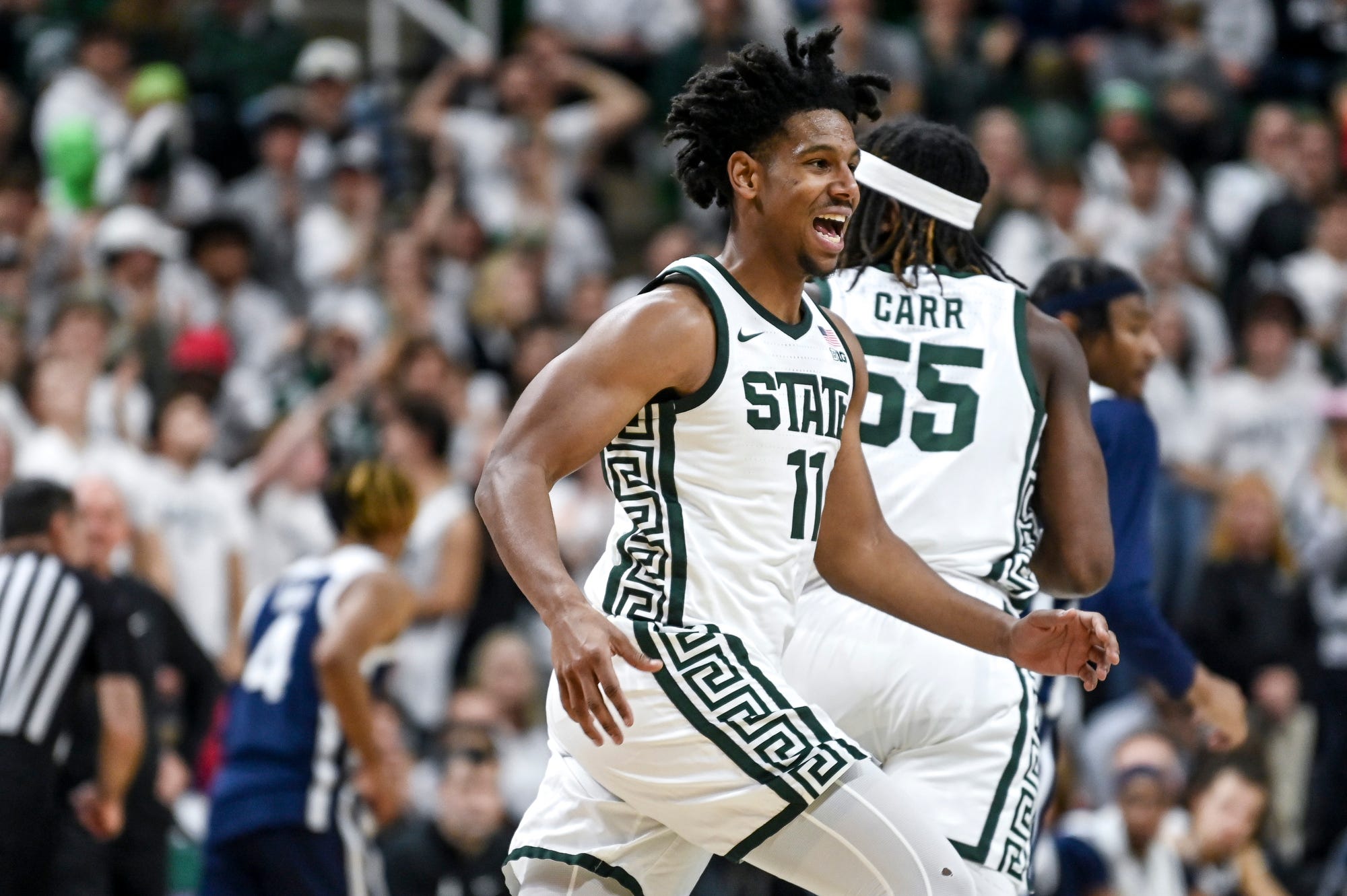 Who's on the rise for Michigan State basketball after a 20-point win over Butler on Friday night? And whose stock is dropping?
Coming off a loss, Michigan State basketball bounced back nicely on Friday night against Butler. There were some interesting performances for the Spartans, and I'm here to draw a few conclusions from the win.
Let's have a look at how a few players impacted their season stock.
Stock up: Malik Hall
After a disastrous performance to open the season, senior forward Malik Hall has bounced back very nicely. On the heels of a nice performance against Duke, Hall recorded 12 points, nine boards, three assists, and three steals against the Bulldogs. He displayed a nice shooting touch in the post, played excellent defense, and overall just put together a really good all-around performance.
Given Hall's versatility, it's clear that he can make a massive impact on any given game — it's just a matter of consistency. He looked great on Friday night, and if he can contribute like this consistently, that bodes very well for the Spartans.
Stock up: Carson Cooper
Sophomore center Carson Cooper logged his first career start against Butler, and he displayed a lot to like. While he didn't score a lot of points, he made a massive positive impact for the Spartans — namely, with defense and rebounding.
The 6-foot-11, 240-pound Cooper grabbed 11 rebounds and notched two blocks, but that doesn't tell the whole story. For anyone watching the game, it was very clear how much he was benefiting the team. Cooper was a constant defensive presence in the paint and was constantly snatching boards and loose balls away from defenders. He was disruptive, set up others well with screens, and overall just looked like a perfect fit on the floor. Considering the scoring MSU has everywhere else, the only thing they really need centers to do is defend and rebound well. Cooper did both at a high level, passing his first test with flying colors.
Stock down: Coen Carr
I know that this was still one of Coen Carr's first college games, so I won't be too hard on him. That said, he just wasn't effective out there. The freshman played 11 minutes, committed four fouls, and did not attempt a shot. He was visibly more passive out there and overall didn't make much of an impact.
I'm not worried about it, though — the team didn't really need him. That's OK. Carr's expectations were raised after an impressive opening night showing, but it'd be wise to remember that he's still a developing freshman. He's probably not going to play a ton of minutes on the regular, and if that works, it works. Give him some time. We'll get the chance to see a lot of him over the next few years with Michigan State basketball.
Stock up: A.J. Hoggard
After failing to break 10 points in any of his first three games, A.J. Hoggard's first strong performance came against Butler. He recorded 14 points, six rebounds, and four assists, and was visibly more aggressive and motivated. It just seemed like his engine was finally switched on, and he was tearing around out there, making noise.
Effort and aggression — that's part of what made Hoggard so effective last year. Seeing him get back to that is extremely encouraging. If Hoggard can consistently combine excellent, well-rounded offense with his strong defense, the sky is the limit for this team.
Final thoughts
I considered putting Tyson Walker under the "stock up" designation, but his 21 points and four assists are what we've come to expect from the senior guard. He's continuing to build his National Player of the Year case, consistently putting together excellent performances.
Aside from Walker, the team as a whole was strong on Friday evening. A lot of players displayed various things to like, and it was an overall encouraging performance. I know the opponent was less than formidable, but seeing the Spartans finally clear up their jitters and play as a cohesive unit was a lot of fun. The goal for this team is still the national championship, and handling Butler was another step in the right direction.