5 recruits "trending" toward Michigan State football
Could good news be on the way?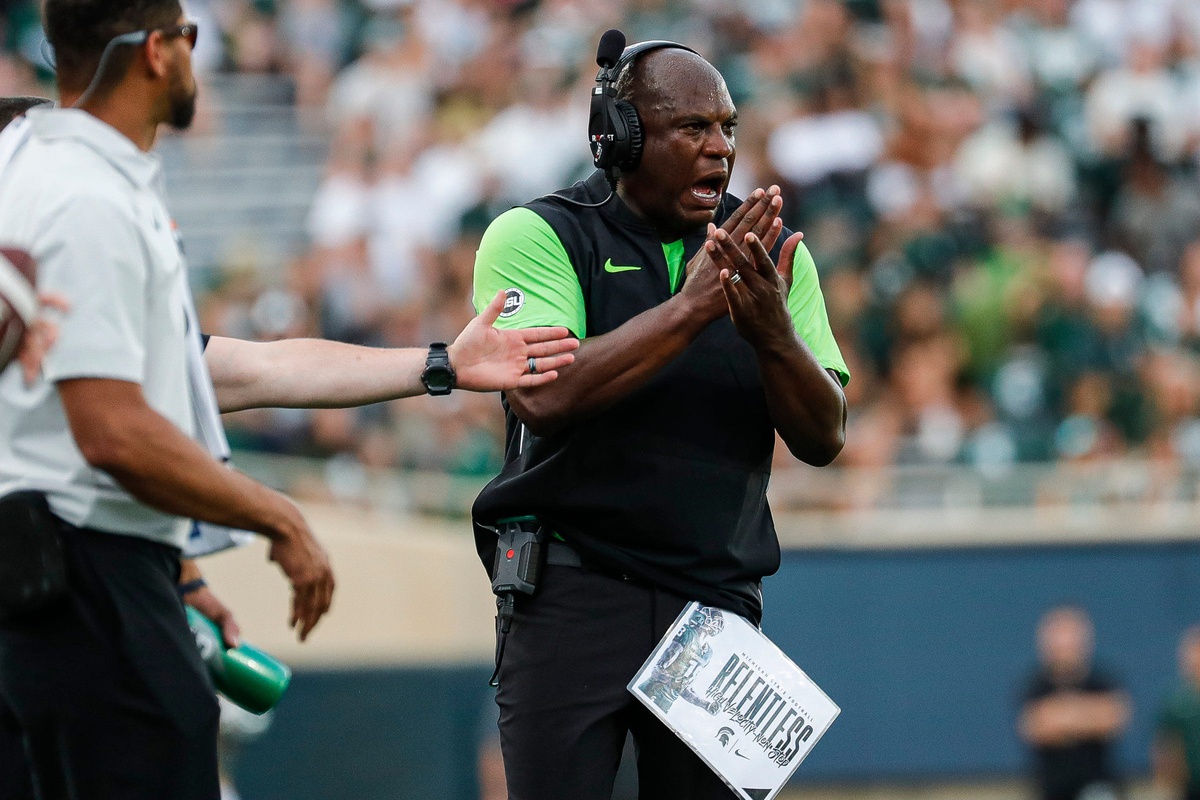 Michigan State football is reportedly trending for a number of top recruits in the 2024 class, per On3. Who are they?
Official visit season is right around the corner for Michigan State football. This means the Spartans are likely to start getting some more commitments in the 2024 class.
Here are some recruits that On3 currently has Michigan State favored to land.
Nathan Roy, 4-star OT
Nathan Roy is a highly-ranked offensive tackle in the 2024 class. He is the No. 186 player in the class and No. 15 player at his position. At 6-4 and 270 pounds, Roy perfectly fits the mold for the type of player Mel Tucker and Chris Kapilovic are looking for on the offensive line.
Roy also has an official visit scheduled to Michigan State beginning June 9. Minnesota and UCLA are also schools hosting Roy on official visits. This will be a difficult recruitment to win for Michigan State. Top 200 recruits are always hard to win, especially at a position as important as offensive tackle. On3 currently has the Spartans in the lead for his recruitment. If that holds true, this would be as big of a recruiting win as any in the Tucker era.
Jordan Ross, 4-star WR
Jordan Ross is another top 200 player Michigan State is in heavy pursuit for. He is the No. 183 player in the class and the No. 27 wide receiver. Jordan has recently visited Michigan State on April 15 and will take an official visit beginning June 2. Two visits this close to each other is a great sign for the Spartans.
On3 currently has Michigan State as the heavy favorite to win his recruitment with Colorado in second. Not only does On3 have Michigan State as the favorite, 247Sports has the Spartans in front as well. The only "warm" school listed on Jordan's 247Sports recruiting profile is Michigan State. Ross would be another huge addition to the class if he were to pick Michigan State.
Justin Denson Jr., 3-star DB
It is no secret Michigan State needs help in pass coverage. Adding a player like Justin Denson Jr. would massive for the future in the defensive back room. Justin is not ranked yet on 247Sports, but On3 does have him as a high three-star. On their site, he is the No. 663 recruit in the class and No. 71 at his position.
On3 predicts a close race with another Big Ten East program. On3 lists Penn State alongside Michigan State as the top schools in his recruitment. Similarly to Jordan Ross, Michigan State is the only school listed as "warm" for Denson Jr. on 247Sports. He will be joining Ross in East Lansing on June 2. Could they both be candidates for commitments fresh off their visits?
Tra'mar Harris, 3-star WR
Tra'mar Harris is another wide receiver who may be trending towards the Spartans. He is the No. 766 player in the country as well as No. 98 wide receiver. He will be visiting Michigan State on June 23.
As of now, Harris has only scheduled an official visit to Michigan State. That along with the fact Michigan State is the only school "warm" on 247Sports is a great sign for the Spartans in his recruitment.
Jason Cross, 3-star S
Lastly, Jason Cross is another recruit that seems to be high on Michigan State. Like many of the other recruits mentioned, Michigan State is the only "warm" school on 247Sports. Cross also will be visiting June 23 and is another candidate to commit after the visit.
Cross is the No. 901 player in his class and No. 84 safety. On3 has West Virginia close behind the Spartans in his recruitment. Michigan State is the only official visit scheduled so far which is good news for the Spartans.
Will any of these recruits become Spartans soon? A lot will be learned throughout the busy month of June which surely will be full of some much needed positive recruiting news.