Michigan State football: 3 key factors and a prediction vs. Indiana
How can the Spartans pick up another win?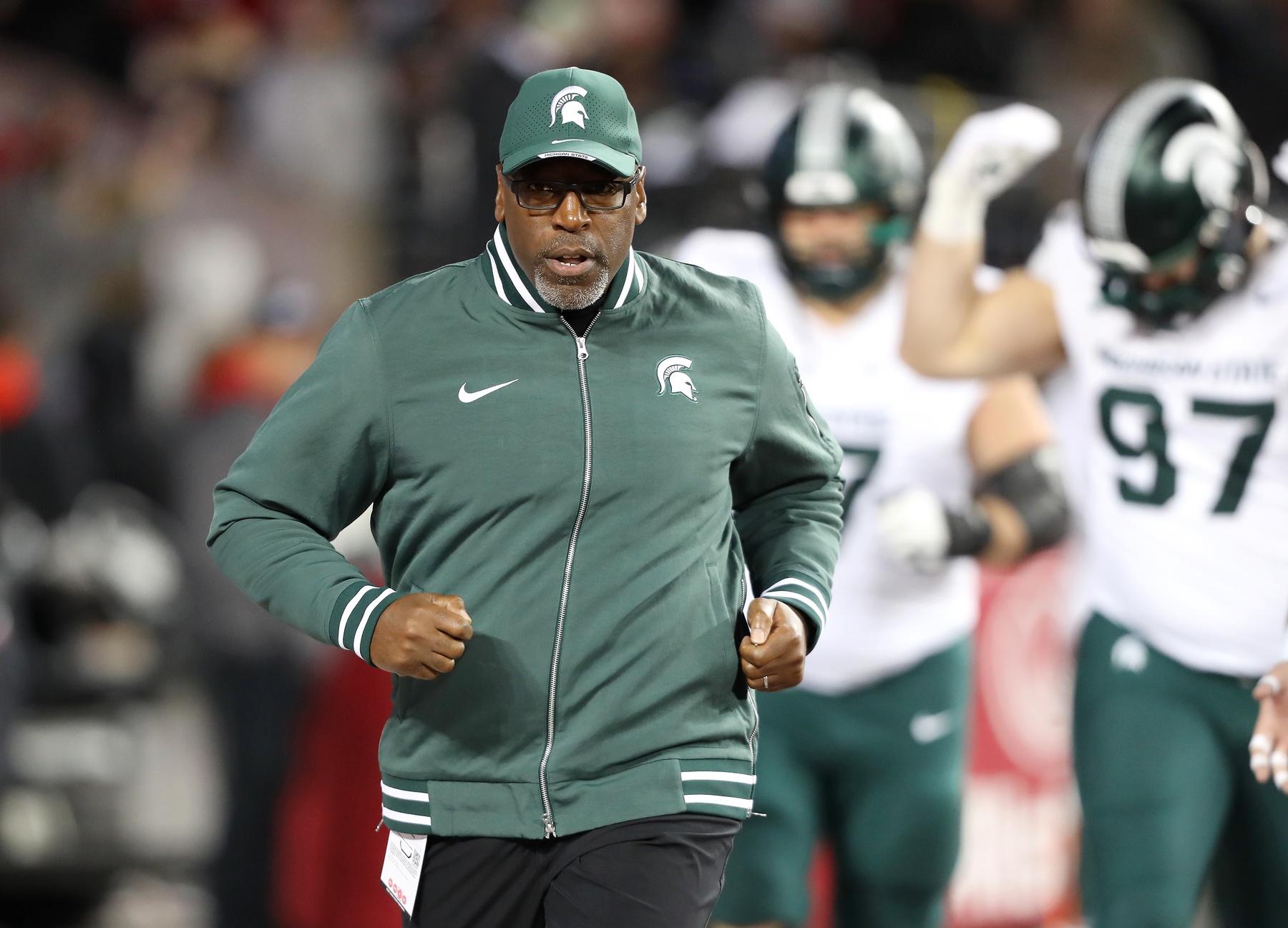 Michigan State football will be in Bloomington on Saturday looking to pick up another win. Here are some factors and a prediction.
The battle for the Old Brass Spittoon takes place this weekend in Bloomington. Indiana and Michigan State football will meet for the 70th time. Many are saying this is the most anticipated matchup in series history. I wouldn't go that far, but this is a game you won't want to miss.
Here's what to watch for and a prediction on one of college football's most historic rivalries.
1. Motivation
Alright, I hope you caught the sarcasm in the opening paragraph. Because seriously, who cares about this game? These are the two worst teams in the Big Ten. One team has fired their coach. The other will likely follow suit after the season. Neither team can make a bowl game. Indiana is looking forward to their biggest game of the season against Purdue. Michigan State is looking forward to this season coming to an end. Memorial Stadium is typically one of the sleepiest atmospheres in the conference. For this game between two 3-7 teams, it's going to feel like an empty bus station.
There isn't much of a talent difference between these two teams. Results against common opponents are pretty comparable. This is going to come down to old-fashioned pride. Whoever wants this game more is going to win it.
We'll dig into some of the matchups below, but I'm not really sure it matters. At this point in the season, you're either in or you're out. We see this all the time in college football. Some teams get stronger in November. Others wilt. The first quarter should tell us a lot. Watch the reactions from the sidelines. That should tell you who wants to be there and who would rather be anywhere else.
2. Offensive resurgence for Indiana
If there is something that Tom Allen can point to in order to save his job, it's that Indiana found something on offense down the stretch this season.
Through their first six games against Division I opponents, Indiana averaged 14 points per game. In their three games since, that number has more than doubled up to 29.6. Redshirt freshman quarterback Brendan Sorsby has been outstanding during this stretch. He's completing 65 percent of his passes with seven touchdowns to just two interceptions. Donaven McCully has been his favorite target, hauling in four of those touchdown passes while averaging over 12 yards per reception. Sorsby played in just one game as a freshman. He struggled to open the season and didn't play against Louisville or Akron as a result. But since his return against Maryland at the end of September, he's entrenched himself as Indiana's starting quarterback.
It's noteworthy because this could be the beginning of something special for Indiana. This is not a veteran taking advantage of bad defenses or unsustainable big plays. Sorsby is a young, ascending player that Indiana is deservedly excited about. He'll get his opportunity to take advantage of Michigan State's secondary that grades as one of the worst in the conference in almost any metric.
Indiana still struggles to run the ball. But that's where Michigan State actually holds up well. I'd expect a pass-heavy game plan from Indiana to try and keep the offense rolling against the Spartan defense.
The other key to Indiana's recent success has been their ability to score touchdowns in the red zone. The Hoosiers have converted nine of their last 10 opportunities into touchdowns. While that kind of success isn't sustainable, it's a testament to the way they've been executing.
To my point earlier about teams being "in" or "out" in the later part of a season, this Indiana offense appears to be all the way "in".
3. Points? Scoring?
Relatively speaking, we could have a bit of a shootout on our hands here. No, this is not a "first to 50" type of game. But I do think we're in for some points in Bloomington. We've established the offensive advantages for Indiana.
On the other side of the ball, Michigan State should have some success as well. Michigan State football fans know all too well that Jay Johnson insists on establishing the running game. Against Indiana, that can be done pretty easily. The Hoosiers have the worst rushing defense in the Big Ten, allowing more than 160 yards per game. Michigan State has faced one rushing defense outside the top seven in the Big Ten (Minnesota). In that game, the Spartans rushed for 109 yards and over five yards per carry.
Against the pass, Indiana has been a little better, but is still bad. Opposing quarterbacks sport the best QB rating against this Hoosier defense. They've found particular success throwing deep while averaging almost eight yards per attempt. Indiana ranks near the bottom of the pack in third down defense and plays of 20-plus yards allowed. They're allowing opponents to score touchdowns on 64 percent of their red zone trips.
Any way you slice it, this is a bad Indiana defense.
We already know Michigan State's defense isn't much better, if not worse. Even these middling offenses should be able to take advantage. Throw in the fact that both teams have a negative turnover margin, and we could be in for some short fields or defensive touchdowns. Michigan State's ineptitude on offense has been exacerbated by their conference schedule.
Below are where Michigan State's Big Ten opponents rank nationally in points per game allowed.
Maryland (47th)
Iowa (3rd)
Rutgers (20th)
Michigan (1st)
Minnesota (62nd)
Nebraska (18th)
Ohio State (2nd)
Somehow, Michigan State has played the top three scoring defenses in America. Don't worry, they'll get their shot at the fourth next weekend at Ford Field against Penn State. Indiana ranks 104th. This is the worst defense MSU has seen since September. They should find some scoring on Saturday.
Prediction
Michigan State football currently sits as a 3.5-point underdog on the road. The total sits at 47. I'd take a look at betting on the over here. I think these are two bad defenses that match up poorly against what each offense wants to do.
As far as a side, I wouldn't recommend betting it. As stated, this likely comes down to motivation. Harlon Barnett has done a nice job keeping the Spartans invested and competitive. With a Tom Allen Indiana team, you should know better than to question their effort. It's not the start that worries me. It's the in-game desire to come back from adversity or a large deficit. I could see either side licking the stamp and mailing it in if they get behind early.
During my research, I actually came away impressed with Indiana. Granted, my expectations were supremely low. But they surprised me in a couple areas. At the very least, they seem to be trending upwards. I think Brendan Sorsby is the difference. He's playing with a lot of confidence, and I don't expect this MSU secondary to offer much resistance. MSU has been better with turnovers and penalties, but that still remains a major liability.
Indiana has a better quarterback, a better coach, and a senior day bump that should be just enough.
Final score: Indiana 31, Michigan State 24