Michigan State football: Q&A with Indiana expert ahead of Week 12
What's the enemy have to say?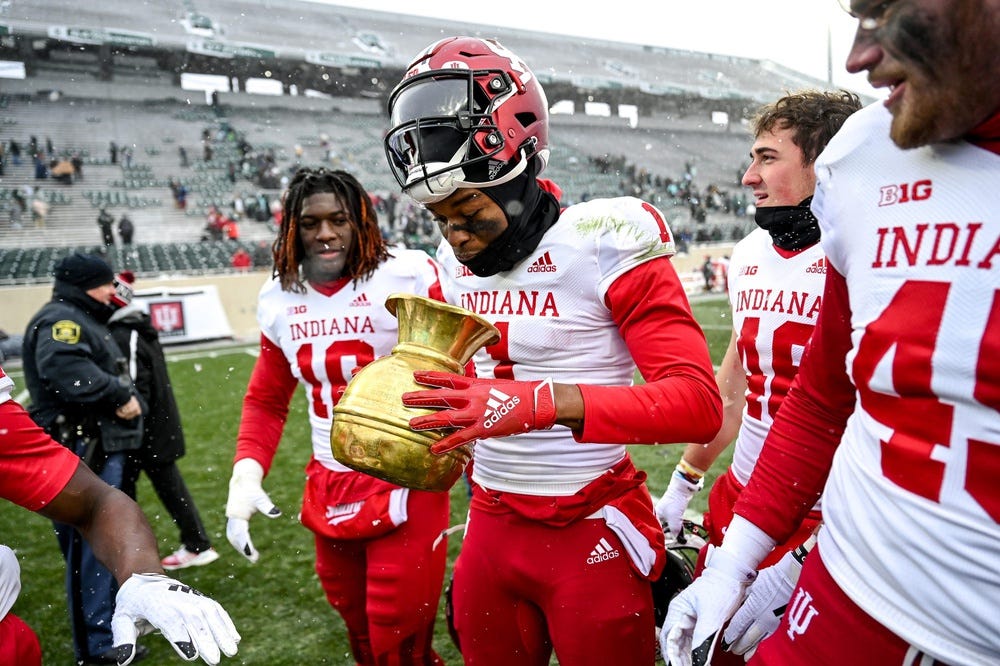 Michigan State football is getting set to take on Indiana on Saturday afternoon and here's what the enemy had to say.
It hasn't been the greatest season for Indiana or Michigan State football.
The Spartans are 3-7 on the year and the Hoosiers have the same record. Both teams are gaining some momentum, but only one can win on Saturday in the annual rivalry game.
We got a chance to sit down with HoosierIllustrated.com, part of the Full Ride Network, Publisher and owner Alec Lasley, and talk about the upcoming battle for the Old Brass Spittoon.
Q: Obviously Indiana has gone through a couple of quarterbacks this year and Tayven Jackson is out, but what is the feeling among those around the program about having two solid young passers? Is one more hyped than the other?
Alec Lasley: Yeah – the quarterback competition seemed to last much longer than it really needed to. It almost seemed that the Indiana staff felt the pressure to make Tayven Jackson the starter after transferring in from Tennessee. But, Brendan Sorsby is definitely the guy and Indiana has found something with him over the last few weeks. Sorsby has now moved up to fifth overall in Big Ten QBR ratings this season after his performance last week against Illinois. He's up to 1,164 yards with a 57.9 completion percentage this season. He also has 10 touchdowns to just two interceptions and four additional rushing touchdowns. He has started to make some explosive throws downfield which has really opened up the Indiana offense. He's the clear guy for Indiana and the offense is starting to really improve because of it.
Q: Although Indiana has struggled this season, who are some guys on both sides of the ball that you think Michigan State needs to look out for? Who could cause problems for the Spartans?
AL: The main playmaker for the offense is wide receiver Donaven McCulley. He has really emerged as one of the top wideouts in the league over the last few weeks and is coming off of a career day against Illinois. He's averaging 100 yards per game in his last three games on 6.7 receptions and has four touchdowns over that span. The combination of his size — at 6-foot-5 — hands, physicality, and IQ makes him an extremely difficult cover. No point made that better than the five defensive pass interference penalties he drew on Saturday. He's not only a possession receiver but also someone who can make plays downfield.
EJ Williams is starting to come on nicely since his return from injury and playing alongside McCulley allows for a few additional opportunities. He is another big body at 6-foot-3, but more elusive and quicker than McCulley is.
In the backfield is Trent Howland. While he was fourth on the depth chart to start the season, he's now emerging as the go-to back over the last few weeks. He has totaled 168 of his 240 yards this season in the last four weeks, including a career-high 72 yards and a touchdown last week. He's averaging 4.9 yards a carry and is an extremely physical runner, something IU had been lacking in the running back room.
Defensively, it's Aaron Casey — who makes plays every single down. He leads the Big Ten in tackles for loss (14.5), fifth in tackles (86), and seventh in sacks (5.5). Two other pass rushers to keep an eye on are Lanell Carr and Andre Carter. The secondary is a mixed back with some youngsters playing due to injury.
Q: What are the strengths of this Indiana team?
AL: There aren't a lot of strengths but right now it's the offense. Since Rod Carey took over as offensive coordinator five weeks ago, the offense continues to see improvement each week and it showed last week with its best performance. It had 451 total yards and was 5-of-5 inside the redzone. Carey has improved the scoring from 15.7 points per game against FBS opponents in the first five weeks to 22.0 per game in the last five weeks. Indiana has found its identity on offense which is getting the ball to McCulley early and often and using the passing game to set up the rushing attack. But, more so, it's about playing with a physicality led by Brendan Sorsby. Look for more of the same on Saturday.
Q: I know Tom Allen has been on the hot seat for a couple of years now but what is the feeling in Bloomington about his future with the program?
AL: The feeling is; will Indiana pay the $20M + buyout this season or wait until it dips below $8M next year? A 3-22 record in the Big Ten over the last three years has eliminated almost every last fan from Tom Allen's corner and the way this season has gone hasn't helped his case. Indiana has just nine wins over the last three years, so the program is a far cry from the once 9th-ranked Hoosiers in 2020. It will be a very interesting offseason if Indiana fails to get to 5 wins this year. If they can win the next two games, I think that does take some of the heat off of Allen, because it would be another win increase in each of the past two seasons. But, the leash is — and should be — very short on Allen moving forward.
Q: Indiana is favored on Saturday, but what is your confidence level and your final score prediction?
AL: If Indiana can actually put together a complete performance, I think it's an easy win-win. But, that's been tough for Indiana to do over the last three years. The defense had been the strength of the team but after giving up 662 yards to Illinois and a backup QB on Saturday, that unit seems to have lost just about all the edge it did have. I think you see more of the same from the offense that it has shown over the last three weeks and then it'll be up to the defense to stop the Spartans. Michigan State's offense is anything but a juggernaut, so if Indiana can get around the 24-point mark, I think it's a double-digit win. But, there are a lot of 'ifs' in there. I think it'll be a close one for the first half but do believe Indiana makes too many plays in the second half that make it tough for the Spartans to keep pace with.
Prediction: Indiana 27, Michigan State 13
A big thanks to Alec Lasley of Hoosier Illustrated for taking the time to talk some Indiana and Michigan State football.