Spartans Shadows staff college football pick 'em: Week 12 edition
Who ya got?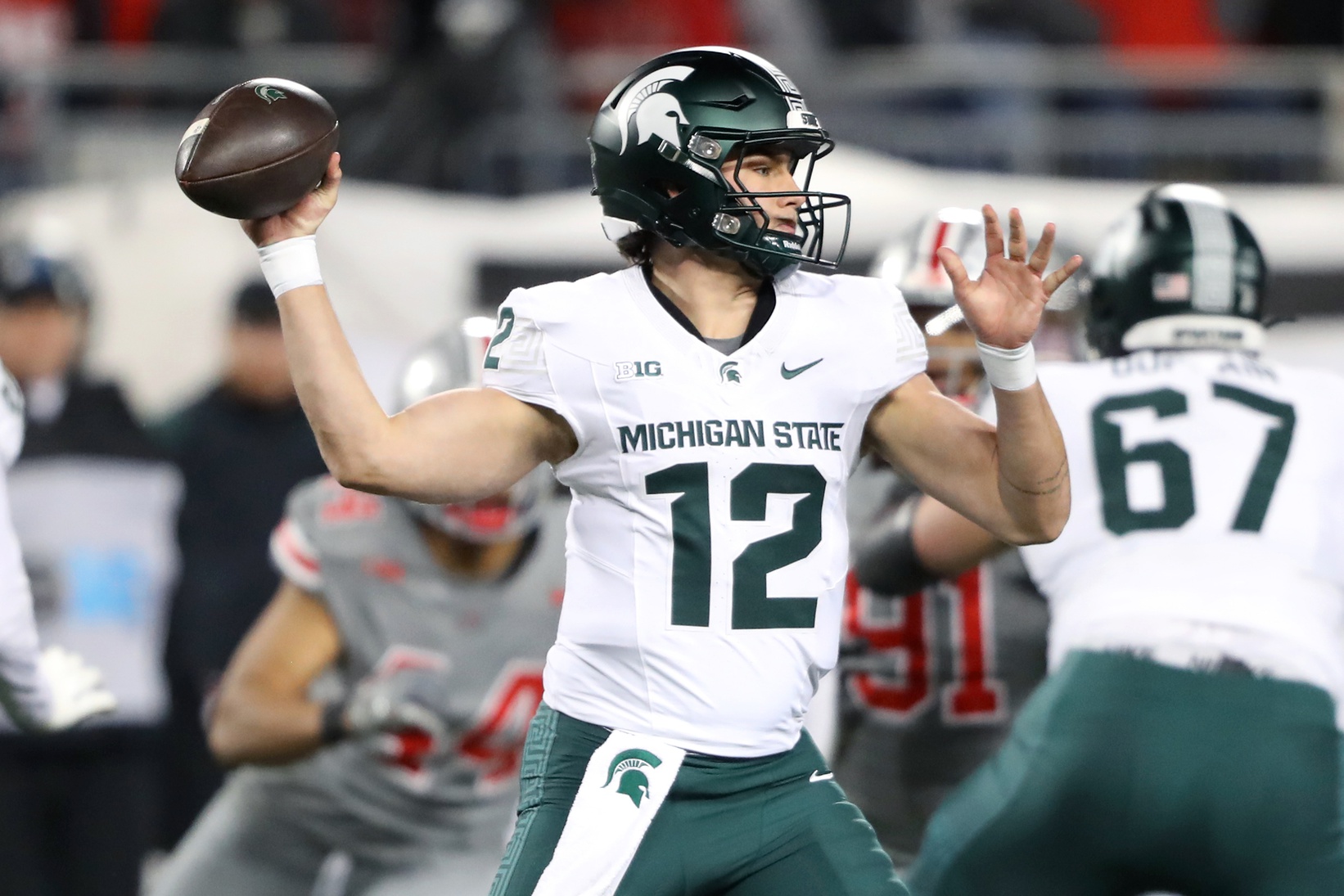 Week 12 of the college football season is here and that means it's time for our weekly Spartan Shadows staff pick 'em.
Welcome back to the weekly Spartan Shadows picks, everyone. This college football season is flying by. Week 11 featured some huge matchups. We had Michigan and Penn State, Utah vs. Washington, USC vs. Oregon, Tennessee vs. Missouri, and Ole Miss and Georgia feature ranked teams squaring off.
These games did not disappoint for the most part.
Alabama and Georgia looked their usual dominant selves while beating Kentucky and Ole Miss, respectively. Florida State and Washington had scares but ended up winning by seven late. Texas Tech came in and upset an upstart Kansas team.
Potential future MSU head coach Mike Elko took his Duke Blue Devils and almost pulled a shocker against No. 12 North Carolina. Their bitter rivals were able to squeak out at two-point win in overtime, however.
Let's take a look at the results and recap our staff college football picks.
Week 11 results
No. 2 Michigan at No. 11 Penn State — Line: Michigan -5.5; Result: Michigan cover
No. 8 Alabama at Kentucky — Line: Alabama -10.5;Result: Alabama cover
Texas Tech at No. 21 Kansas — Line: Kansas -3.5; Result: Texas Tech cover
Miami (FL) at No. 4 Florida State — Line: Florida State -14.5; Result: Miami cover
No. 18 Utah at No. 5 Washington — Line: Washington -9.5; Result: Utah cover
No. 17 Tennessee at No. 12 Missouri — Line: Tennessee -1.5; Result: Missouri cover
No. 10 Ole Miss at No. 2 Georgia — Line: Georgia -10.5; Result: Georgia cover
Duke at No. 12 North Carolina — Line: North Carolina -12.5; Result: Duke cover
No. 20 USC at No. 6 Oregon — Line: Oregon -14.5; Result: USC cover
Michigan State at No. 1 Ohio State — Line: Ohio State -31.5; Result: Ohio State cover
So first off, we are getting down to the nitty gritty here in our picks. There will be two weeks left of the regular season before we pick Championship Week, and of course, bowl games. Picks these upcoming weeks just mean more.
Overall we had a really strong week of picks for the most part. Our staff seemed to lock in with the end of the season looming. Three pickers won Week 11. Emmett, Hop, and Anthony all posted impressive 7-3 weeks. Following them, Daily and MSU recruits put up a good 6-4 record. 5-5 was what I went this week. Not good, not bad. Following me were Connor and Max going 3-7. Last but not least, Joey turned in a rough 2-8 card.
Updated standings after Week 11
Emmett: 60-46-4
Hop: 59-47-4
Daily: 56-50-4
Chris: 55-51-4
Connor: 54-52-4
Max: 52-54-4
MSU Recruits: 51-55-4
Anthony: 49-57-4
Joey: 48-58-4
Side Competition updates:
Hop vs. Daily: Hop's insane run over the past few weeks has allowed him to vault ahead of Daily and is starting to put some distance between himself and the board. Daily is doing his best to keep pace with him as his 6-4 record would keep pace most weeks. Not this week however. Hop is now up three games in this side competition.
Chris vs. Anthony: Well if you call me anything, I guess it must be consistent. Another even keel 5-5 week allowed me to keep pace (kind of) in the overall leaderboard but it hurt me in the Battle for the Cane's Box. Anthony's scorching 7-3 week allowed him to pick up a couple games in the standings on me. I still hold my lead on him but it is shrinking! Anthony just sits 6 games back currently.
Now lets get into this week's college football games.
Week 12 college football games
Disclaimer: All lines are as of 2 p.m. ET on Monday, Nov. 13, from FanDuel. All game times listed are Eastern Standard Time.
No. 3 Michigan at Maryland — Saturday at 12 p.m. ET on FOX (Line: Michigan -19.5)
Emmett: Michigan
Hop: Michigan
Daily: Michigan
Chris: Michigan
Connor: Michigan
Max: Maryland
MSU Recruits: Michigan
Anthony: Michigan
Joey: Maryland 
No. 9 Louisville at Miami (FL) — Saturday at 12 p.m. ET on ABC (Line: Louisville -1.5)
Emmett: Louisville
Hop: Louisville
Daily: Miami
Chris: Louisville
Connor: Miami
Max: Louisville
MSU Recruits: Miami
Anthony: Louisville
Joey: Miami
No. 16 Utah at No. 19 Arizona — Saturday at 2:30 p.m. ET on Pac-12 Network (Line: Utah -1.5)
Emmett: Utah
Hop: Utah
Daily: Utah
Chris: Arizona
Connor: Arizona
Max: Arizona
MSU Recruits: Arizona
Anthony: Utah
Joey: Arizona 
Illinois at No. 22 Iowa — Saturday at 3:30 p.m. ET on FS1 (Line: Iowa -3.5) 
Emmett: Iowa
Hop: Iowa
Daily: Iowa
Chris: Iowa
Connor: Iowa
Max: Iowa
MSU Recruits: Illinois
Anthony: Iowa
Joey: Illinois 
No. 1 Georgia at No. 21 Tennessee — Saturday at 3:30 p.m. ET on CBS (Line: Georgia -10.5)
Emmett: Georgia
Hop: Georgia
Daily: Georgia
Chris: Georgia
Connor: Tennessee
Max: Georgia
MSU Recruits: Georgia
Anthony: Georgia
Joey: Georgia
No. 22 North Carolina at Clemson — Saturday at 3:30 p.m. ET on ESPN (Line: Clemson -6.5)
Emmett: North Carolina
Hop: Clemson
Daily: Clemson
Chris: North Carolina
Connor: Clemson
Max: North Carolina
MSU Recruits: North Carolina
Anthony: Clemson
Joey: Clemson 
No. 23 Kansas State at Kansas — Saturday at 7 p.m. ET on FS1 (Line: Kansas State -9.5)
Emmett: Kansas
Hop: Kansas
Daily: Kansas
Chris: Kansas State
Connor: Kansas
Max: Kansas State
MSU Recruits: Kansas
Anthony: Kansas State
Joey: Kansas 
No. 5 Washington at No. 10 Oregon State — Saturday at 7:30 p.m. ET on ABC (Line: Oregon State -2.5)
Emmett: Washington
Hop: Washington
Daily: Washington
Chris: Washington
Connor: Oregon State
Max: Washington
MSU Recruits: Washington
Anthony: Washington
Joey: Oregon State
Florida at No. 11 Missouri — Saturday at 7:30 p.m. ET on ESPN (Line: Mizzou -11.5)
Emmett: Mizzou
Hop: Mizzou
Daily: Florida
Chris: Mizzou
Connor: Mizzou
Max: Florida
MSU Recruits: Mizzou
Anthony: Mizzou
Joey: Florida 
Michigan State at Indiana — Saturday 12 p.m. ET on BTN (Line: Indiana -4.5)
Emmett: Michigan State
Hop: Michigan State
Daily: Michigan State
Chris: Michigan State
Connor: Michigan State
Max: Michigan State
MSU Recruits: Michigan State
Anthony: Michigan State
Joey: Indiana
There ya have it all. This week's college football picks are official. Happy football watching.