Michigan State football: Harlon Barnett needs to be realistic about QB position
This situation could cost him a real shot at full-time head coach.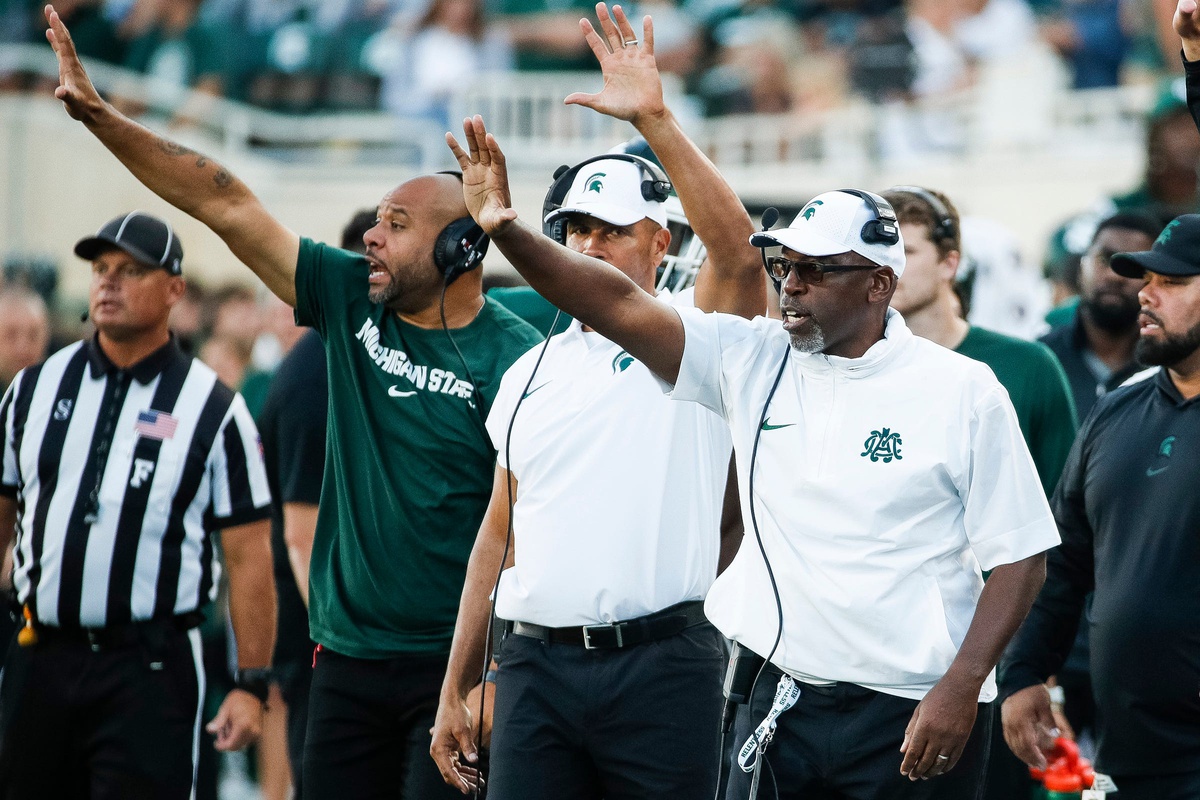 After stating that Noah Kim is still his quarterback, interim Michigan State football coach Harlon Barnett needs to be realistic.
What a nightmare these past two weeks have been for the Michigan State football program.
First, it was the revelation of Mel Tucker's involvement in a sexual harassment case. Then it was the suspension of Tucker without pay and an ugly back-and-forth between him and the Michigan State athletic department. Following that, Michigan State was dominated by Washington at home in the first game of the Harlon Barnett (interim) era. And then finally, the Spartans struggled mightily against Maryland on homecoming.
Just a horrible stretch of news and play for Michigan State.
Barnett has been put in a tough situation, to say the least. And yet he is still coaching for a potential full-time job as Michigan State's head coach and one decision may prevent that from happening. That decision is the starting quarterback job.
The interim coach has stated on multiple occasions over the last two weeks that Noah Kim is his guy despite his major struggles, but that faith he's put in the veteran quarterback is head-scratching, putting it lightly.
After his second straight bad game in which the offense mustered single-digit points, Kim was once again given a vote of confidence from Barnett.
Barnett on Noah Kim being replaced by Katin Houser late in game: "(It was) not so much performance, just trying to get a spark. Noah is our quarterback. He is our guy. Sometimes you are just trying to find a spark and trying to find something to help us get something going."

— Jim Comparoni (@JimComparoni) September 23, 2023
While you can't expect him to call it a "quarterback battle" in the middle of a post-game press conference, continuing to say that he's definitively "the guy" is just not a great look. It can't make Katin Houser feel good after two decent, long drives over the last two games. It's making it seem like there's nothing either Houser or Sam Leavitt can do to unseat Kim as QB1.
It's time for Barnett to be realistic here. He has a starting quarterback that's not getting the job done and each time the backup has come in, he's sparked the offense. He's even called Houser a spark, which makes this even more confusing.
Your starting quarterback had some really bad turnovers and couldn't finish any drives, leading to just nine points through three quarters and you brought in your backup for a spark and he provided that with 75 yards through the air. But you're going to continue to put all your eggs in the basket of the guy who has mustered just nine total points of offense over the last two games?
If Barnett isn't realistic about the quarterback job being wide open, it may cost him a real shot at the full-time job.