Michigan State football stock watch: Who's up, down after Maryland loss?
Not everyone's stock took a hit.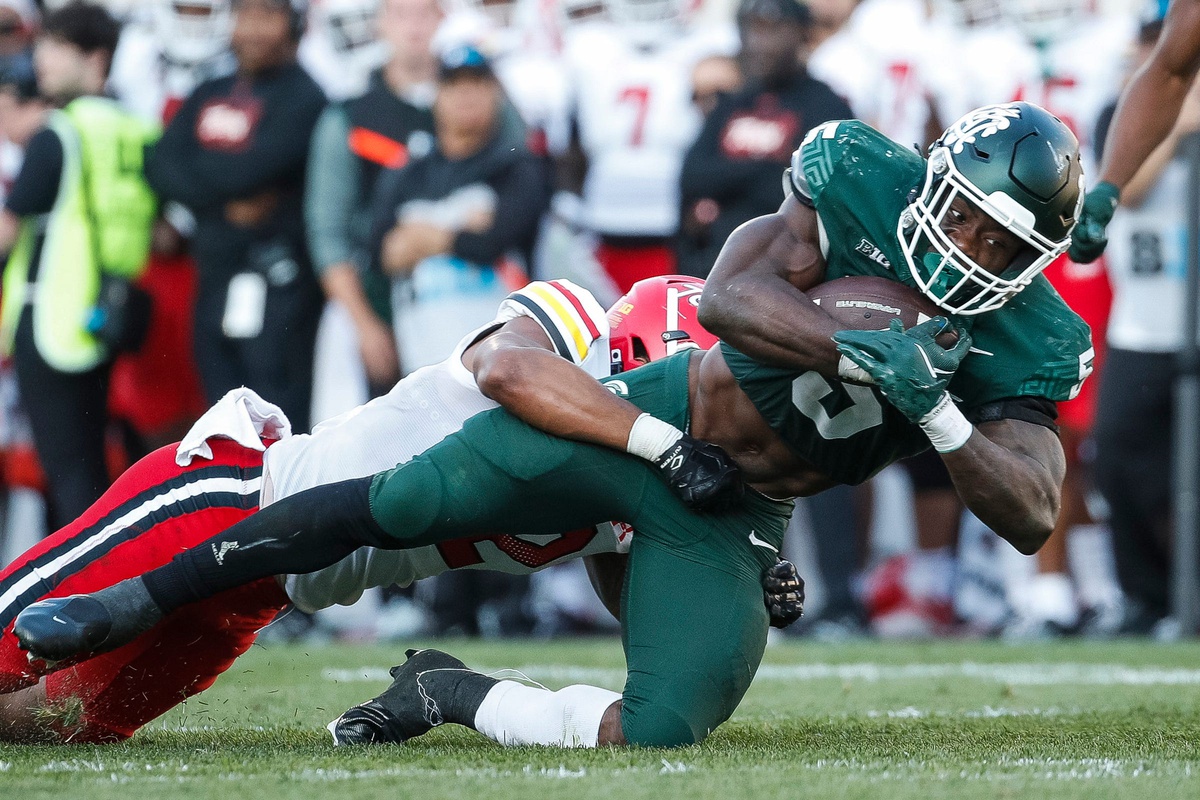 Michigan State football has lost its second straight game but whose stock is on the rise after the Maryland loss?
Game four has ended with a 31-9 loss at home against Maryland. Did any Michigan State football players have their stock rise this week? Who saw their stock take a hit?
Stock up
Nathan Carter was one of the best players on the field for the offense on Saturday. You could see his patience and explosiveness throughout the game. This is the best that the run game and Carter have looked in a few weeks. There were times when Nathan almost broke a huge run but he consistently kept getting at least a few yards. You could also see how valuable he was for the offense right away. Michigan State kept feeding Carter and he ended up with almost 100 yards. If it wasn't for the blowout, I truly believe that Carter could have padded those stats as he was averaging over 5.0 yards per carry.
If Carter can continue to average about 4-5 yards per carry and the team is in a close game, his stock could continue to rise and you may get a few wins that could lead to a bowl game.
Besides the drop in the endzone, Montorie Foster was the best pass-catcher on the field outside of Maliq Carr. Whenever Michigan State needed a big play, it almost always seemed like it went toward Montorie and he almost always made the catch. The one reason why his stock isn't as high as Carter's is because of the dropped touchdown catch. If that was completed, that could have changed the game for Michigan State and it might have been much more competitive on the scoreboard.
Jordan Hall continues to get better the more action he gets. One of the best parts of his game recently has been in coverage. Hall is the best coverage linebacker Michigan State has and he demonstrated that this weekend. I fully expect Hall to continue to get more playing time and he is going to be a huge part of this defense going forward. I would be very surprised if he does not get more playing time and could eventually start towards the end of the year depending on how things go for Michigan State football.
Stock down
There's the saying "Ball security is job security." If that is true, a lot of these players should not feel secure about their jobs. When you have five turnovers in a game, with two interceptions and three fumbles, that's not going to win you many games. Honestly, Michigan State should have had even more turnovers in this game as there were a few more passes that should have been picked off. Michigan State was not good at keeping the ball and if they want to win games, they can not turn the ball over because there just isn't the talent gap that you need to overcome five mistakes.
I feel like special teams are always on this list and at this point, they should be. When you have something go wrong every week on special teams, they are going to be on this list until they either fix them constantly or they pull off some great play. Special teams being on this list is always a representation of Ross Els. He should not be on this staff and if he is after this year, things won't get better. Fans should be upset because you can't have a field goal blocked and give up a 4th-and-12 fake punt in the middle of the game when it seemed like momentum was starting to swing in Michigan State's favor.
Besides Foster, Carter, and Carr, this offense was not good. They started slow, were not connecting on throws, and then the playcalling was very poor. You knew it would be a long day when Jay Johnson called an outside zone run and it was never really given a chance. Another play call that should be talked about is running a halfback screen inside the 10-yard line. While Katin Houser did throw the pick, running a screen pass to the running back in that position is not a good call, especially when that was at least the third one called that drive.
The offense has to improve and in order to do that, it might be time to make some changes.
This is another game that Michigan State was blown out in. While the score wasn't close, there were some positives. If it weren't for the turnovers, this game would have been much more competitive especially because Michigan State football had more yards and more time of position. One thing you can say is that this team is not giving up and fans should hope for that to continue next week at Iowa when they are currently 12-point underdogs.