Michigan State football: 3 key factors and a prediction vs. Nebraska
What should we be keeping an eye on Saturday?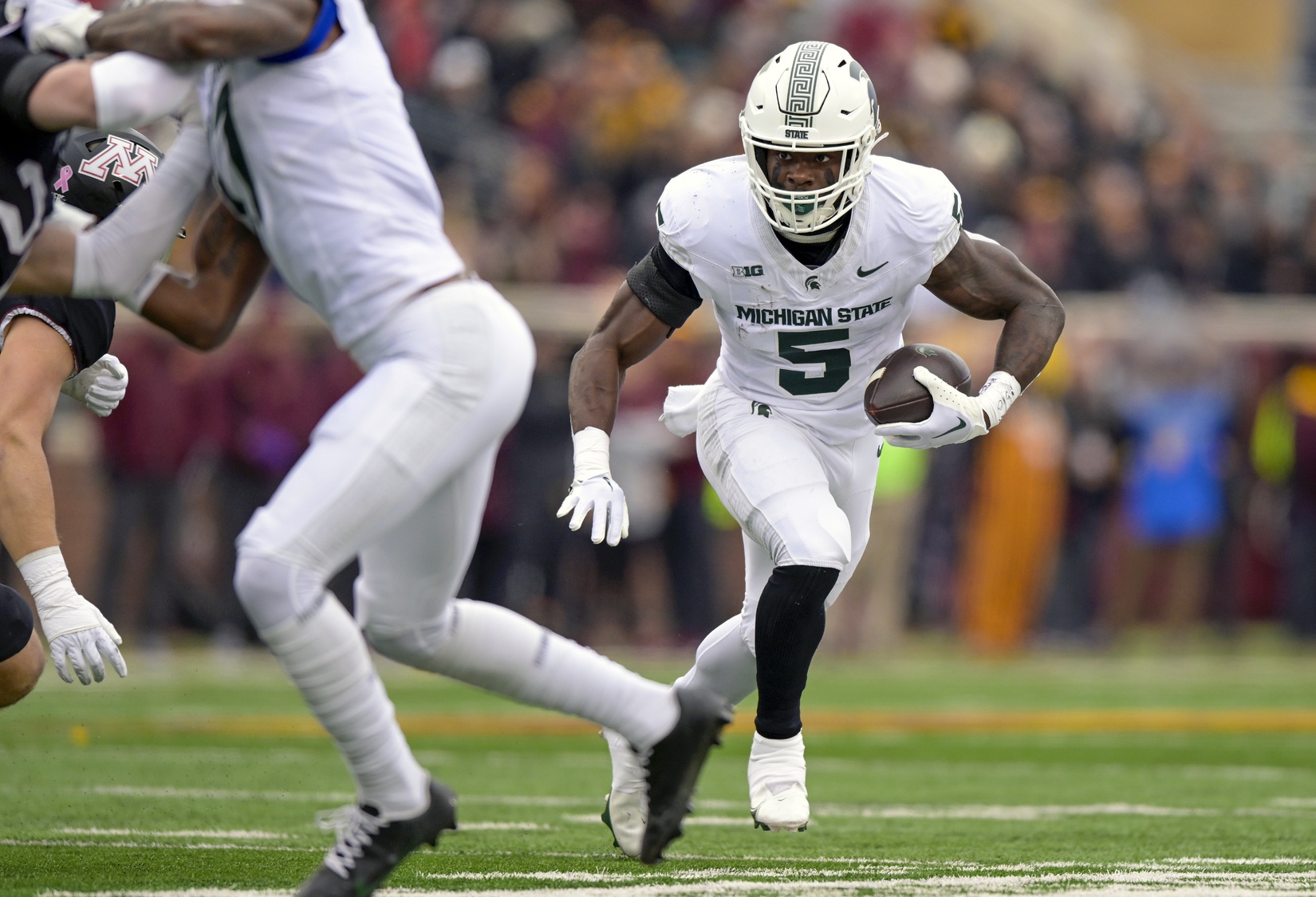 Michigan State football is hosting Nebraska in the final home game of the 2023 season. Here are some key factors and a prediction.
Michigan State football wraps up its home schedule on Saturday against Nebraska. The Spartans are still in search of their first conference win. Here are some stories to watch for and a prediction on the outcome.
1. Sam Leavitt?
Last week, I semi-accurately predicted that we'd see true freshman quarterback Sam Leavitt against Minnesota. While he didn't come in as early as I expected, he did make an appearance in the fourth quarter. He immediately led Michigan State on its only touchdown drive while also finishing the day as the team's leading rusher. His second drive worked into Minnesota territory before finishing with an interception.
Despite the turnover, the offense showed significantly more life with Leavitt than it did with Katin Houser.
The Spartans currently have the worst scoring offense among Power Five teams. That can't continue if MSU hopes to salvage any portion of this season. Harlon Barnett needs to look everywhere on this roster to try and put some points on the scoreboard. My guess is that Leavitt will get the start on Saturday. This is a good opportunity at home against a formidable opponent to give him the entire game to showcase his skills. It will also be Leavitt's fourth game. That's significant because if he appears in a fifth, he won't be able to use this season as a redshirt. Even if Leavitt wants to preserve that redshirt, I don't think that decision will come into play this week.
Afterwards, he may decide to shut it down. But he's been waiting all season. If he's announced as the starter, he can't defer that chance to a later date. If it goes well, then who knows, maybe he'll want to keep playing. Because while this offense is still bad as a whole, quarterback play has been a part of the problem.
This Michigan State offense is still extremely limited. They'll be put to the test against a tough Nebraska defense. But from what we've seen, Leavitt gives them the best chance at reaching their ceiling. His arm strength, mobility, and overall feel for the position have looked the best out of the three quarterbacks.
2. The Nebraska defense… real or fake?
This Nebraska team should be the poster child for a college football book titled "Benefits of Playing in the Big Ten West".
Matt Rhule inherited a bad roster and has this team on the verge of bowl eligibility. He's done a fine job. But it's also OK to admit they've benefitted from playing half of their games against the worst division in the Power Five. The Huskers have played two games against Power Five teams outside of the Big Ten West. Colorado and Michigan have beaten them by a combined score of 81-21. Against the remainder of their competition, Nebraska hasn't allowed more than 14 points to any opponent. Their defense grades out well statistically within the Big Ten. But how much of that is because of their opponent?
Here is where the remainder of their opponents rank nationally in points per game.
Minnesota — No. 110
Northern Illinois — No. 86
Louisiana Tech — No. 75
Illinois — No. 113
Northwestern — No. 107
Purdue — No. 106
The funniest part is that this stat will look even worse after playing Michigan State (No. 127). But you get the point. The Big Ten West features some of the worst offensive outputs in college football. Michigan State football, meanwhile, has played six defenses that rank in the top 50 in points allowed. It's a classic example of neither team being as good or bad as they are perceived to be.
The one area that has to concern Michigan State is Nebraska's run defense. Only Penn State allows fewer rushing yards per game this season. The Huskers are allowing just 2.64 yards per carry. Michigan State has been insistent on establishing a running game to take pressure off their quarterbacks. That's going to be especially difficult on Saturday. In a game that projects to be low scoring, that rush defense could show up in key short-yardage situations. Michigan State's play-calling in third and fourth-and-short remains unimaginative and straightforward.
Even though their numbers are inflated by their schedule, it's pretty clear that Nebraska should have the advantage in the trenches.
3. Turnovers
If you're a football coach at any level, you may want to find a different game to watch on Saturday. Both of these teams are walking, breathing turnovers.
I was shocked to find out that Nebraska has a worse turnover margin than Michigan State. But don't worry, these are the two worst turnover margin teams in the Big Ten that also rank outside the top 125 nationally. Both teams have turned it over 19 times this season. Army and Hawaii lead the nation with 20.
In defense of Nebraska, they were much more careless with the ball when Jeff Sims was their starting quarterback. But with nine turnovers in their last three games, the issue has popped up again. Michigan State has battled this issue all season. The Spartans' downfall during their six-game losing streak has been their propensity to shoot themselves in the foot with turnovers. Fortunately for them, they may have met their equal. Even if MSU tries to give this game away, Nebraska may try and give it right back.
In a game with a total this low (34.5) and a spread inside of a field goal, this is going to come down to turnovers. Whoever makes the last one may find themselves on the losing side.
Prediction
Nebraska is not as good as their 5-3 record indicates. We've discussed their schedule at length. But doesn't it feel like they should be more than a field goal favorite against Michigan State? The Spartans were thoroughly dominated a week ago against a Minnesota team that profiles very similarly to Nebraska.
An underrated storyline in this game is the health of the Cornhuskers. It didn't bother them a week ago, but this Nebraska team is crippled with injuries. The Huskers lost their two best receivers and running backs to season-ending injuries. Their top three offensive linemen did not play last week and remain questionable this week. The uncertainty with the injuries and the lack of dependability when it comes to these teams and turnovers makes this game unplayable from a betting standpoint.
But if Leavitt gets the start for MSU, I like Michigan State to win this game.
MSU remains hungry for a win not just for themselves, but for Harlon Barnett. At home, against an opponent that is just as mistake-prone and no more talented than they are, I think they get it done. A late Jonathan Kim field goal gives the Spartans their first conference win of the season.
Final score: Michigan State 20, Nebraska 17