Weekly college football viewing guide: Week 10 edition
Here's what we should be watching.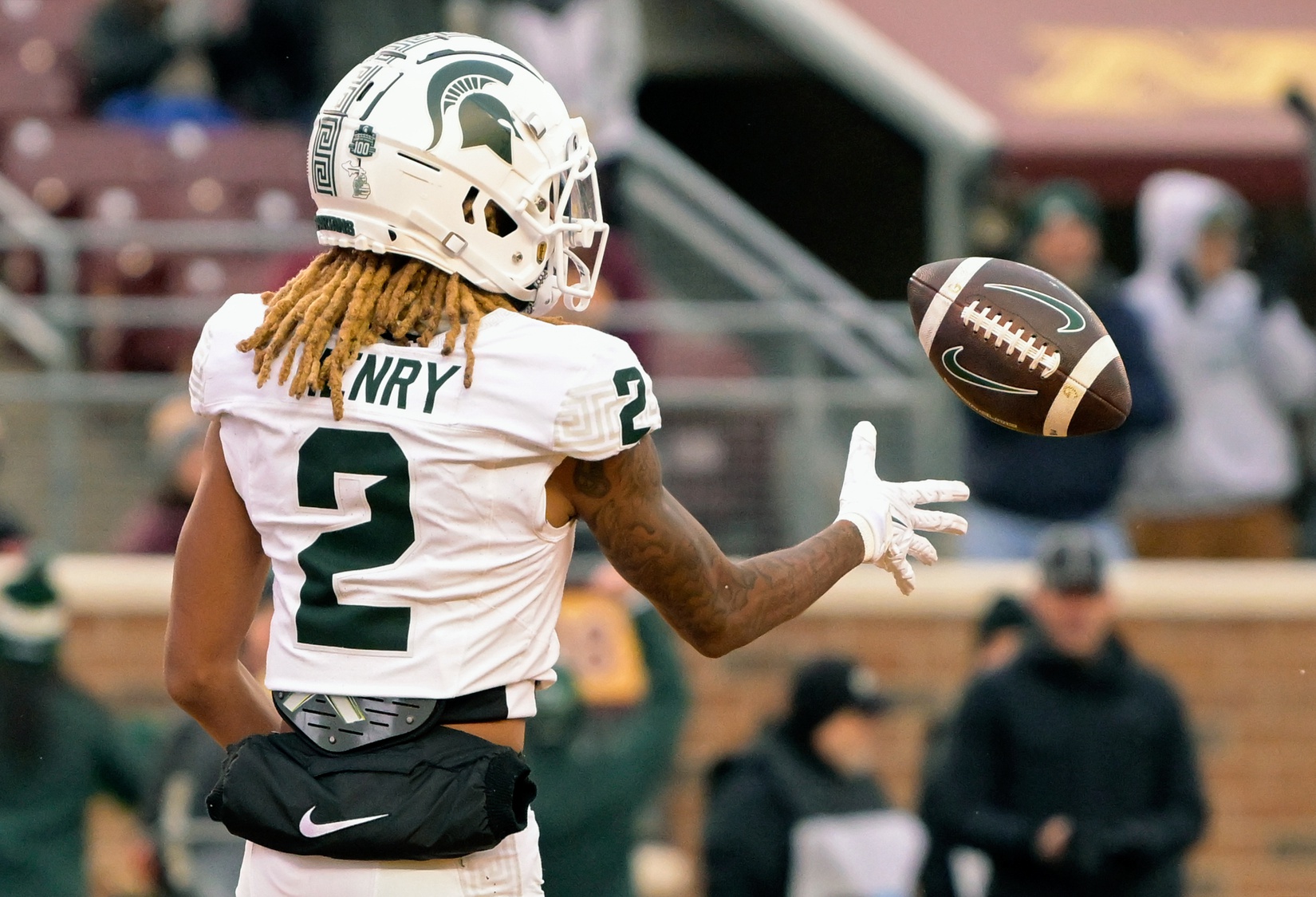 Week 10 of the college football season is here and this is what we should all be watching on Saturday throughout the day.
There is nothing better than college football in November. It's time to separate the contenders from the pretenders. As temperatures drop, so do teams eligible for the playoff and conference championships.
This is easily the best slate of games since Week 4, and maybe the entire season. Strap into your couch. Here's your viewing guide.
Saturday, Nov. 4
Noon window
Nebraska at Michigan State – 12 p.m. ET on FS1
Ohio State at Rutgers – 12 p.m. ET on CBS
Kansas State at Texas – 12 p.m. ET on FOX
Texas A&M at Ole Miss – 12 p.m. ET on ESPN
Notre Dame at Clemson – 12 p.m. ET on ABC
Look at all of these great games. Just a college football fan's paradise. Then there's Michigan State vs. Nebraska. Is this the earliest Senior Day in college football history? The Spartans will close the door on Spartan Stadium until 2024 because they opted to play Penn State at Ford Field later this month. Can Michigan State finally get a Big Ten win? Do we see these teams combine for double-digit turnovers? They are the two worst turnover margin teams in the conference. Anything is possible.
Fresh off their No. 1 ranking from the playoff committee, Ohio State travels east to take on a confident and hungry Rutgers team. I don't think Rutgers can score enough to threaten the Buckeyes, but it's a testament to Greg Schiano to say that this is no longer a gimme for Ohio State.
Deep in the heart of Texas, the Longhorns' destiny rides on the shoulders of backup Maalik Murphy. K-State may be running hotter than anyone in America right now. We've been saying for weeks that the Big 12 will cannibalize itself out of a playoff spot. It feels like that could start on Saturday.
Is Ole Miss the one-loss team that nobody is talking about? There is a path for Ole Miss to make the playoff without even making the SEC championship game. An 11-1 season with wins over Tulane, LSU, and Georgia could give them an argument. After all, their only loss is on the road against Alabama. Texas A&M has taken some sharp money in this game. Don't forget about this game in your rotation at noon.
There aren't a ton of playoff implications on the line at Clemson, but Notre Dame probably needs this game to keep their New Year's Six hopes alive. A loss here would also put Clemson in danger of missing a bowl game.
3:30 window
Missouri at Georgia – 3:30 p.m. ET on CBS
Oklahoma at Oklahoma State – 3:30 p.m. ET on ABC
Penn State at Maryland – 3:30 p.m. ET on FOX
James Madison at Georgia State – 3:30 p.m. ET on ESPN2
The happiest person in America watching the College Football Playoff rankings on Tuesday was Kirby Smart. Georgia came in at No. 2 despite winning back-to-back national championships. I'm guessing he's used every waking moment since then to remind his team of that. That makes me nervous for Missouri. Vegas is telling you that with this spread (Georgia -15). Missouri blew the doors off Kentucky, and the Wildcats were only 14-point underdogs. This smells like a Georgia rout at home between the hedges.
The worst part about college football realignment is the loss of historic rivalry games. Bedlam, one of the best, comes to an end this weekend in Stillwater. It feels like Oklahoma is now a longshot to make the playoff, so this game is more about savoring one last game between these two schools. It should be emotional and extremely entertaining.
I think the most interesting game of the day in the Big Ten is in College Park. With each passing week it feels like Penn State becomes less and less impressive. They escaped at home with a narrow victory over the worst team in the conference. Now, they hit the road against a Maryland team that can score. The Terps moved the ball against Ohio State and were in that game late. Penn State won't be able to win this game 13-10. Their offense is going to have to show something.
If you're unfamiliar with NCAA rules and regulations, first of all, I can't blame you. But more importantly, you should know that James Madison is ineligible for the postseason this season despite their 8-0 record. NCAA rules require two full years at the FBS level before a team can participate in the postseason. This is arguably the toughest remaining test for the Dukes. We could be looking at a 12-0 team that is ineligible for its conference championship and a bowl game. Let's cheer on the Dukes to put enough pressure on the NCAA to outlaw this asinine rule.
Primetime
Kansas at Iowa State – 7 p.m. ET on ESPN
Purdue at Michigan – 7:30 p.m. ET on NBC
Washington at USC – 7:30 p.m. ET on ABC
LSU at Alabama – 7:45 p.m. ET on CBS
Believe it or not, Iowa State remains alive and well in the Big 12 title race. They welcome in Kansas after the Jayhawks secured their biggest win in decades. This line opened as a pick 'em and has continued to move in Iowa State's favor. This is a huge letdown spot for Kansas, and Iowa State feels reborn in conference play.
Poor Purdue. The Boilermakers anticipated a tough season with first year head coach Ryan Walters. But they've played arguably the most difficult schedule in America. Now they get Michigan off of a bye. After people on the internet have spent the last two weeks calling them cheaters, my guess is the Wolverines will be a bit ornery. If I were a Purdue fan, I'd watch Zach Edey highlights instead of this game.
What's up with Washington? The Huskies didn't score an offensive touchdown in their win against Arizona State and needed a key drop late to beat Stanford. They will surely lose if they bring that kind of game to USC on Saturday. The total in this game is up to 77.5. I'm watching Caleb Williams here. I'm sure the Michael Penix Jr. Heisman Trophy talk bothers him to no end. I'm guessing we get super Caleb on Saturday night as he tries to remind folks who 1.01 will be next spring.
As we bid goodbye to one rivalry in the Big 12, another one is alive and well in the SEC. Alabama and LSU meet for their annual primetime matchup on CBS. For years, this has been the game of the season. It's a little under the radar this year. But the stakes are just as high. LSU is very much alive even with two losses. It will be interesting to see if Alabama's offense can take advantage of this LSU defense.
Late night
Oregon State at Colorado – 10 p.m. ET on ESPN
UCLA at Arizona – 10:30 p.m. ET on FS1
The day finishes with a solid Pac-12 After Dark double dip. Colorado continues its quest to get to six wins against Oregon State. The Buffs hung surprisingly tough a week ago in a bad matchup against UCLA. They'll have to bring similar energy here against an Oregon State group that wants to wear you down in the trenches.
How about Jedd Fisch and Arizona? They just keep winning. If you haven't heard of him, start learning the name Noah Fifita. The freshman quarterback has wrangled the job away from veteran Jayden de Laura. Arizona set themselves too far back earlier this year to anything meaningful. But this is a team to watch down the stretch as a possible sleeper next season.