Michigan State football: 3 keys and a prediction vs. Maryland
The Spartans need a bounce-back.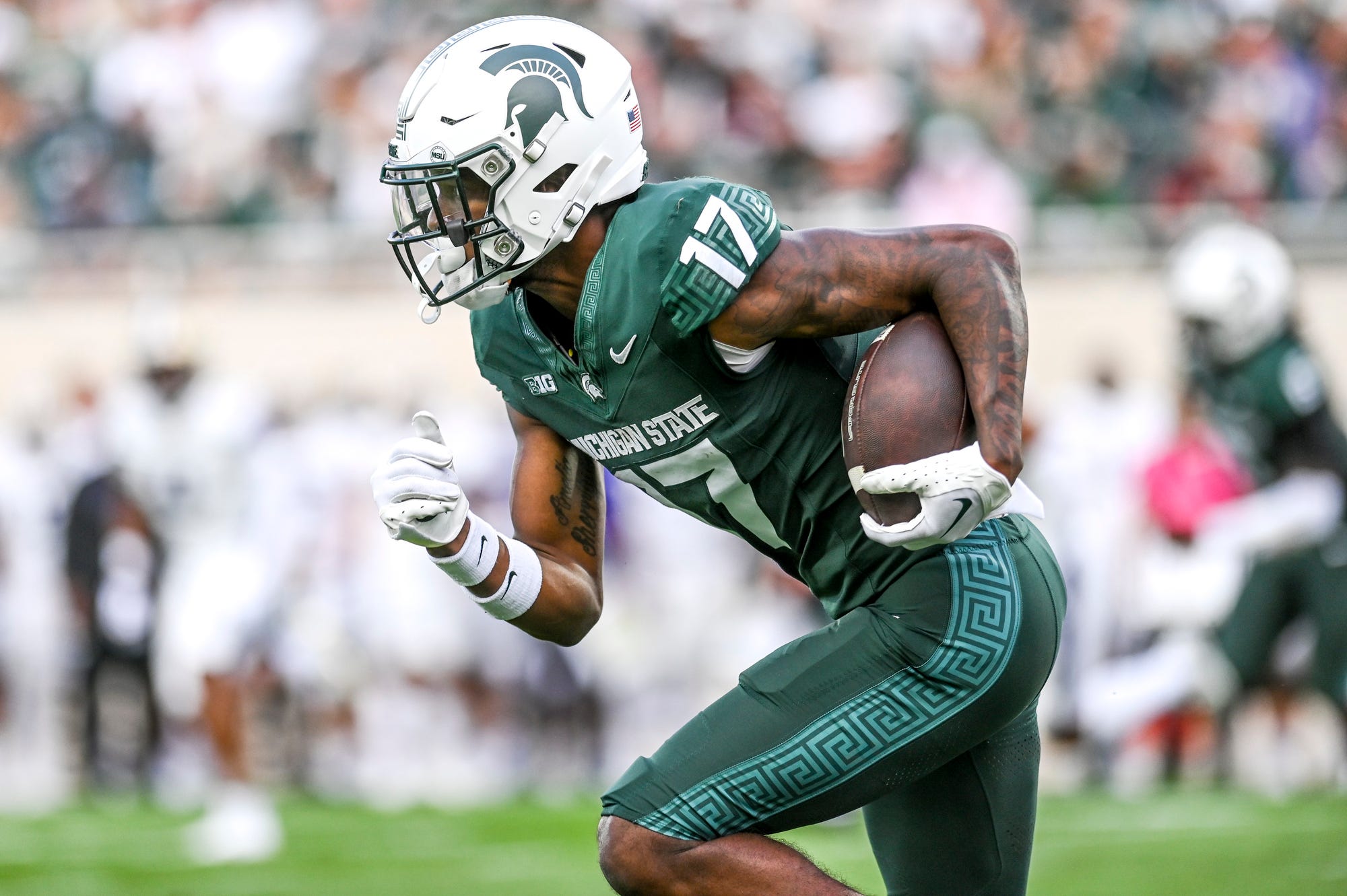 Michigan State football and Maryland will meet up in East Lansing this weekend. Here's everything you need to know.
For the fourth weekend in a row, Spartan Stadium will be open for business. Michigan State football hosts Maryland on Saturday afternoon in the conference opener for both teams. These two programs come in moving in opposite directions.
Here are some keys to the game and a prediction of the final score.
1. Another test for Michigan State's secondary
A week after getting blow-torched by Michael Penix Jr., Michigan State's defense is right back in the spotlight.
Taulia Tagovailoa comes in as one of the hottest quarterbacks in the conference with 296 passing yards per game and blistering 9.0 yards per attempt. Maryland's passing offense trails only Ohio State in the Big Ten in terms of yards per game. It's fair to question the competition, but the sample size with Tagovailoa is large enough at this point to conclude that he's a big-time quarterback.
The question for Michigan State football and Scottie Hazelton is quite simple. Can they limit big plays through the air? This is a Maryland offense that wants to go deep or go short. There's very little in between. All five of the Terps' leading receivers are averaging over 10 yards per reception. In particular, Jeshaun Jones and Kaden Prather have been big plays waiting to happen. After what we saw from Washington a week ago, there is very little to suggest that Michigan State can slow down this offense. Receivers were consistently open. Even when covered, Michigan State defenders weren't able to make plays on the ball. They can help themselves by cleaning up the tackling and the penalties. But it would be shocking to see this passing offense struggle.
The one thing that MSU has to hope for is another slow start from Maryland. Against their two FBS opponents this season, Maryland was outscored 28-23 in the first half. Those two teams (Virginia and Charlotte) are a combined 1-5 this season. In their first true road game, the last thing Maryland wants to do is start slowly and allow a Michigan State team with very little confidence to gain belief that they can win.
I'd expect the Terps to throw it early and often to try and test Michigan State's willingness to compete for 60 minutes.
2. Is Maryland's running game for real?
Perhaps the most surprising thing going for Maryland's offense is the emergence of their running game. The Terps are averaging over five yards per carry on almost 34 attempts per game. Their 176 yards per game puts them fifth in the Big Ten. This is a three-headed monster at tailback that is led by sophomore Roman Hemby's six yards per carry. The obvious caveat is that this has come against two subpar opponents and an FCS school.
Still, these numbers are a substantial improvement for an offense that averaged only four yards per carry each of the last two seasons. The good news for Michigan State is that through three games, their run defense is their best attribute. The Spartans are allowing 3.5 yards per carry so far this season. While Maryland will look to attack Michigan State's secondary, they'll attempt to get in plenty of body shots with their rushing attack. If Michigan State can stuff some run plays and put Maryland in third and long, they'll have chances to get off the field. But if the Terps continue to run it the way they have, this one will get ugly.
To me, this will be the biggest indicator of Michigan State's motivation. There is talent along that defensive line. But that talent is useless if it isn't complemented with willpower and effort. It's on Hazelton and Harlon Barnett to motivate this front seven. We know Maryland is going to get some yards through the air. That's their strength. MSU's defense can't allow themselves to be beaten by Maryland's less effective unit.
3. What is Noah Kim Made of?
Fresh off the Big Ten Offensive Player of the Week award, Noah Kim looked helpless against Washington.
The biggest concern leaving that game was that the offense looked completely lifeless. There was no running game. Kim faced pressure in the pocket. When he had open receivers, he was off target. It was a mess. But this is a new week against a new opponent. Is he able to put that performance behind him? The inability to run the ball combined with injuries at running back means that the Spartans are going to need him. The young passing game is going to have to grow up in a hurry for MSU to turn their season around.
Through three games, the numbers are still decent at 8.4 yards per attempt, 57 percent completion rate, five touchdowns and one interception. But this can't look like what it did last week. It doesn't matter who you're playing, 12-for-31 passing is not good enough. Kim bought himself some time with the way he started the season.
If his play from the Washington game carries over though, the clock will start to tick faster on his time as the starter. If I'm Jay Johnson, I want to look at some more designed runs for my quarterback. Get him into the game plan to get his confidence going. Kim is a good athlete with some wheels. Besides, the traditional running game isn't working anyways. Start with some easy throws and quick passes to lean into the strength of this offense.
Given what we've seen from the offensive line, there aren't any other options at this point.
Prediction
Maryland currently sits as a 7.5-point road favorite. I'd like to offer some free financial advice to our readers. Please, keep your hard-earned money as far away from this game as possible. Until they prove otherwise, Michigan State football can't be relied upon. The effort they showed at times last weekend suggested that they might be done with this season already.
At the same time, there is a chance Maryland is fraudulent. The teams they've played are a combined 2-7 with zero wins against FBS opponents. And while the final score may suggest otherwise, it's not as if the Terps have blasted their way through their competition. They trailed Charlotte at halftime and were in a dogfight with Virginia until some turnovers generated late, easy scores. Maryland will be the consensus selection on all of the pregame shows. Tagovailoa against this MSU defense? That's easy money. But it's Vegas. Vegas always knows that things are never as good or as bad as they seem at the moment. It was clear the drama from last week overwhelmed this coaching staff and it bled into the locker room.
With a more normal week of preparation, I expect a much more spirited effort from the Spartans. Kids are resilient. Unfortunately for MSU, they're still not good enough to win on effort alone.
Prediction: Maryland 27, Michigan State 20