Michigan State football: True freshman LB Jordan Hall impressing early on
This is certainly some encouraging news for Spartan fans.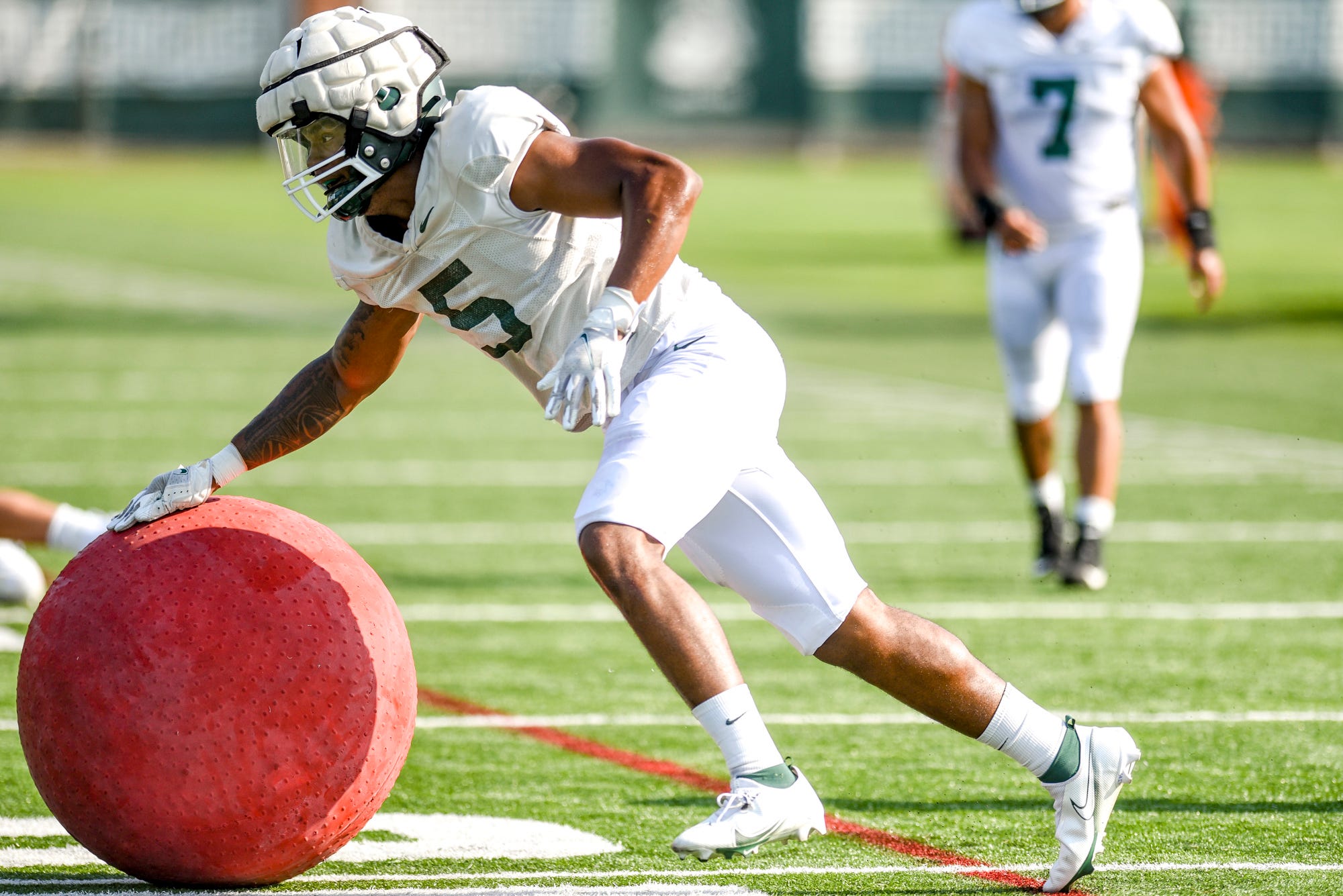 Michigan State football true freshman Jordan Hall has been one of the best linebackers in the Big Ten early on.
Michigan State football is currently sitting at 2-1. It's coming off a tough home loss at home and a brutal cycle of news including turnover within the program. With a couple of rough weeks, some positive news is more than welcomed.
If you're looking for a bright spot for Michigan State right now, look no further than true freshman linebacker Jordan Hall. It's rare for a true freshman to see playing time as early as Hall has, but players like him are rare.
MSU True Freshman LB Jordan Hall is the B1G's 10th Highest Graded LB with a 74.9 PFF Defensive Grade (27th Power 5 LB)

Even more impressively, Hall has recorded a 79.5 Coverage Grade which is 3rd best among B1G LBs (8th Power 5 LB)

Abundantly obvious he needs more Playing Time

— Al Karsten (@bigalfredosauce) September 20, 2023
While Hall's playing time has been limited, it's been effective and will demand more time on the field immediately. Hall currently ranks as the No. 8 linebacker in the nation in pass coverage. This past weekend Hall flashed some of that ability when he broke up a pass from Michael Penix Jr. and had a chance for an interception. Unfortunately, the ball glanced off of his hands and ended up bouncing the Huskies' way. Still, Hall was in the right place at the right time and made a great play. This is just a glimpse of what we'll continue to see as he develops this season.
Hall has all of the physical traits and mentality to be a dominant player for the Spartans. However, this only tells a portion of the story. Hall is equally as impressive off the field as he is on. Being named a three-time captain at IMG Academy is no easy task, yet that's exactly what Hall did. He's been a voice and an example that others rally behind. His maturity and heart for others show through his annual Jordan Hall Football Camp. This is a free camp for kids in Hall's hometown of Fredericksburg, Va.
From gaining the trust of his peers to giving back to his community, Hall is exactly the sort of bright spot Michigan State fans can rally behind.
The Jordan Hall Youth Football Camp…

Jordan's youth football "career" started at this field with one goal post, uncut grass, car lights at night for light to be able to practice and woods for bathroom breaks; but one thing it didn't lack was LOVE, GUIDANCE, & LIFE LESSONS. 💚🤍 pic.twitter.com/8kjJD7mTkP

— Cyreeta Hall (@MommaHall2U) May 31, 2023
While the program begins the journey of navigating through an uncertain future, it's more important than ever to continue to highlight the positives of this current team. When looking for the perfect example of what the future of Michigan State football should look like, look no further than Jordan Hall.