Michigan State football: What does new DL coach Diron Reynolds bring to the table?
Mel Tucker has found his next defensive line coach.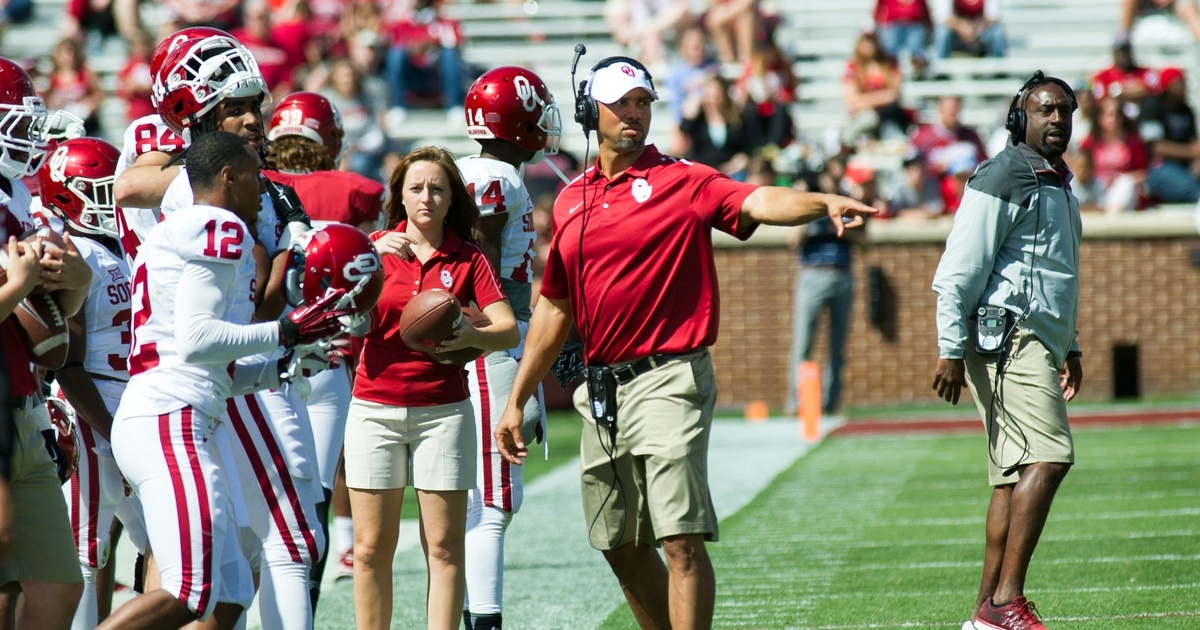 Mel Tucker hired a new defensive line coach for Michigan State football in Diron Reynolds. What does he bring to the table?
After weeks of shuffling through candidates following the departure of Marco Coleman, Mel Tucker has found the guy who's going to lead the Michigan State football defensive line.
Brandon Jordan was a home-run hire last year as a pass rush specialist and Coleman was another quality hire to lead the group after Ron Burton left. But Coleman decided to head back to his alma mater of Georgia Tech after just one season with the Spartans.
And that left Tucker with a big decision to make. Would he go the in-house route and promote Kevin Vickerson or Jordan or would he go outside the program to make a splash hire?
Tucker chose the latter.
On Wednesday afternoon, the hire was made official as the school announced that Diron Reynolds would be taking over for Coleman as the team's next defensive line coach.
So what do we know about Reynolds who has 25-plus years of experience in both the NFL and Power Five ranks?
Well, according to the press release, Reynolds spent the last seven seasons at Stanford before David Shaw stepped away from the program. Before that, he was at Oklahoma when the Sooners won the Big 12 title in 2015, and prior to that, he was a defensive assistant at Stanford (2014) and also spent over a decade in the NFL with the Colts, Vikings, and Dolphins (2002-2013).
Here's a list of the talented defensive linemen he coached at the college level, according to the press release:
Solomon Thomas (Stanford): highest defensive lineman drafted in school history in 2017 at No. 3 overall
Harrison Phillips (Stanford): All-American selected No. 96 overall in 2018 and led all defensive linemen in the nation with 103 tackles that year
Casey Toohill (Stanford): Selected in the seventh round of the 2020 NFL Draft
Thomas Booker (Stanford): Selected in the fifth round of the 2022 NFL Draft
Charles Tapper (Oklahoma): All-Big 12 first-team lineman, selected in the fourth round of the 2016 NFL Draft
Reynolds also coached some stars at the NFL level such as Jared Allen, Nick Williams, and Jason Taylor.
Experience isn't lacking here with Reynolds and Tucker has known him for a while so the two have a good relationship and will be able to work well together.
This feels like a great hire for Michigan State football and it comes at the perfect time with five-star defensive lineman David Stone heading back to East Lansing for another visit this weekend.
Jayden Reed, Bryce Baringer both win weekly Senior Bowl practice awards
Bryce Baringer and Jayden Reed have made a big impression.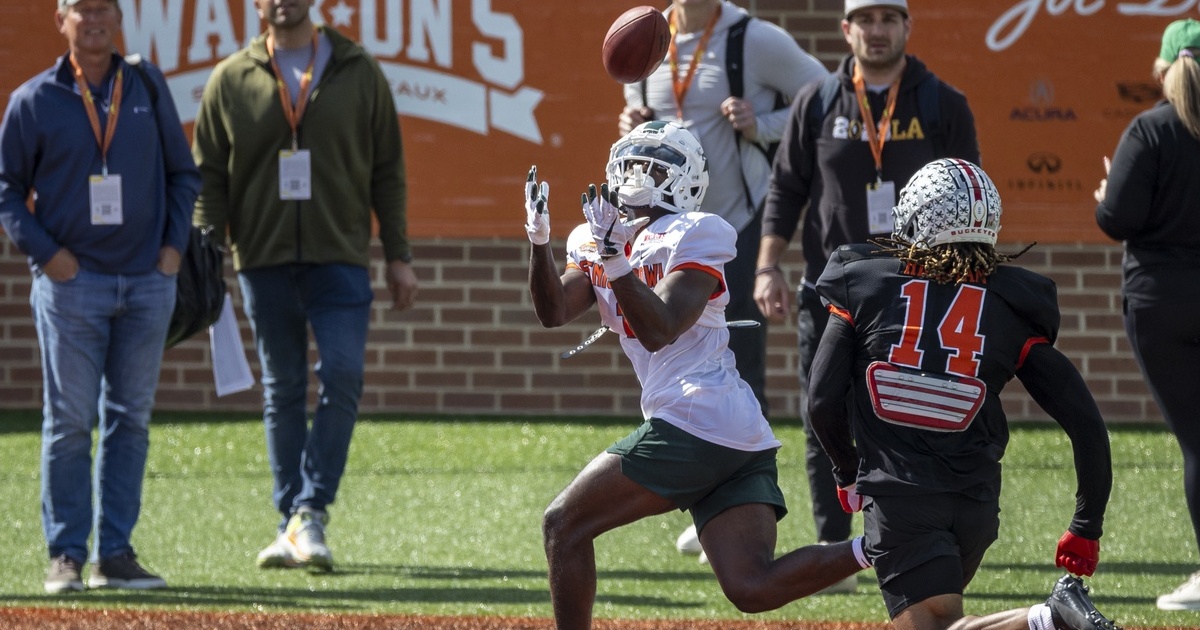 Both Jayden Reed and Bryce Baringer earned awards during this week's Reese's Senior Bowl practices, voted on by teammates.
What a week it's been for former Michigan State stars Jayden Reed and Bryce Baringer.
It all started with videos surfacing at the Reese's Senior Bowl of Reed absolutely cooking defenders in one-on-one drills. He was the favorite receiver prospect at the event of many NFL draft experts as they were raving about the Spartan wideout.
Then we heard about Baringer just booming punts left and right as one attendee at the event said that he's a "top five player" at the Senior Bowl.
Both players saw their NFL draft stock rise drastically this week which is the sole purpose of the Senior Bowl and you love to see former Michigan State stars play the way we've all seen them play during their time in East Lansing. We know that Reed and Baringer are both elite-level players and now the rest of the country is realizing that.
On Friday, teammates were able to vote for practice players of the week, and Baringer, unsurprisingly, was named the National team's special teams practice player of the week.
BREAKING: Michigan State's Bryce Barringer has been voted National team's ST Practice Player-of-Week by vote from his peers on National squad.#TheDraftStartsInMOBILE™️ pic.twitter.com/XwGktttahW

— Jim Nagy (@JimNagy_SB) February 3, 2023
As if that wasn't enough to make MSU fans proud, Reed was named the National team's receiver practice player of the week, voted on by his defensive back teammates (who he's been cooking all week).
BREAKING: Michigan State's Jayden Reed (@JaydenReed5) has been voted National team's WR Practice Player-of-Week by vote from his peers in National DB group.#TheDraftStartsInMOBILE™️ pic.twitter.com/AsxFYwnh5I

— Jim Nagy (@JimNagy_SB) February 3, 2023
It's good to see both of these guys showing out with NFL draft stock on the line and this is what you get from Reed when he's healthy. We didn't get to see a fully healthy Reed all season long so he took a step back in terms of production, but before the season, he was considered an All-American candidate. Now everyone is seeing why that was.
As for Baringer, this is proof that he should have won the Ray Guy Award. The dude has a rocket for a leg.
Two NFL teams (or one) are going to get some steals in Reed and Baringer.
Jayden Reed believes Keon Coleman is a top 10 receiver in the nation
Jayden Reed has high praise for his former teammate.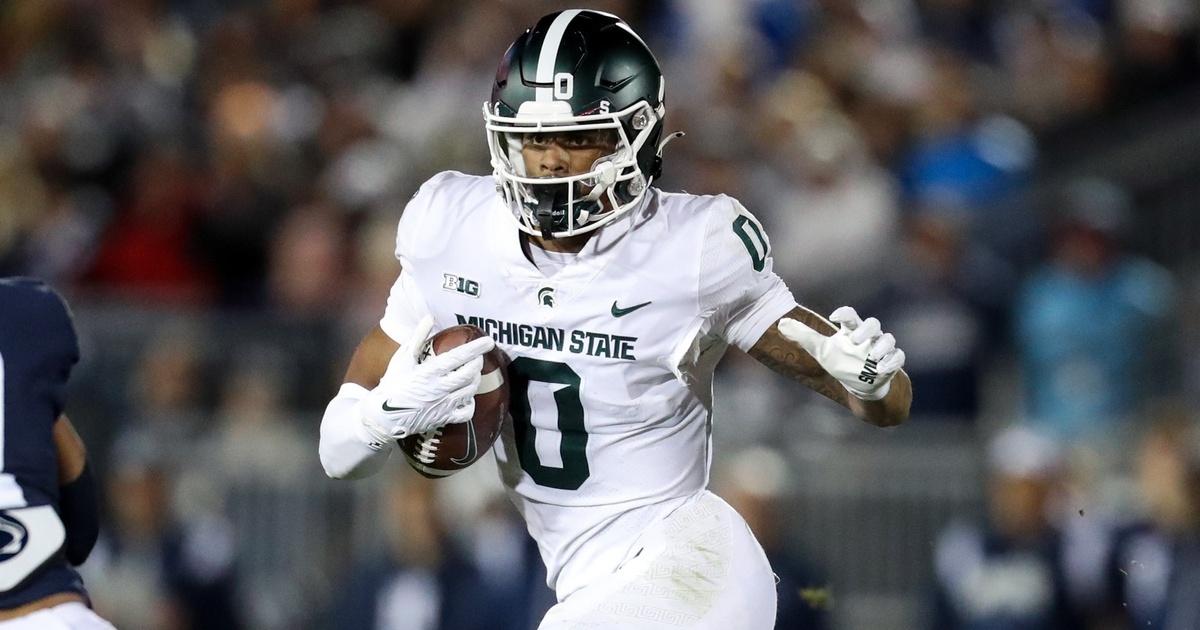 Jayden Reed has been making headlines left and right lately, but this time it's for praising a now-former teammate in Keon Coleman.
Jayden Reed was supposed to be one of the best receivers in college football this past season but injuries and inconsistent quarterback play prevented that. Instead, Michigan State's receiving corps was led by Keon Coleman.
The sophomore wideout finished the season with 58 catches for 798 yards and seven touchdowns. He had some breakout performances along the way.
Coleman, who was expected to be a star in the green and white, lived up to his potential but it feels like he's just scratching the surface.
Earlier this offseason, there was a way-too-early preseason All-American team posted on Twitter and Coleman wasn't listed. He quote tweeted it as if to say "OK, just watch."
Confidence is brimming in Coleman and his teammates apparently have that same confidence in the star receiver.
Pro Football Focus posted its list of the top 10 returning receivers for the 2023 season and there was no Coleman in sight. Reed took offense to that.
Where @keoncoleman6 🤔 https://t.co/P1MT4xurjz

— j.reed1💂🏾 (@JaydenReed5) February 2, 2023
Clearly Coleman is just going to have to fly under the radar this season. He was already underrated heading into his sophomore year because he didn't do a ton as a freshman, but he proved why that was a mistake.
And now, he's going to have to prove himself again just like his teammate (Reed) has had to do multiple times throughout his career.
Maybe it's just a Michigan State thing.
Do I think Coleman should be considered a top 10 receiver in college football after finishing with 800 yards and seven scores? Probably not. But do I think he's capable of being a top 10 receiver in the nation? Absolutely.
Heck, if Jayden Reed thinks Coleman is a top 10 receiver in college football, so do I. The dude knows a thing or two about being elite.
Jayden Reed's NFL draft stock skyrocketing at Reese's Senior Bowl
This dude can flat-out ball.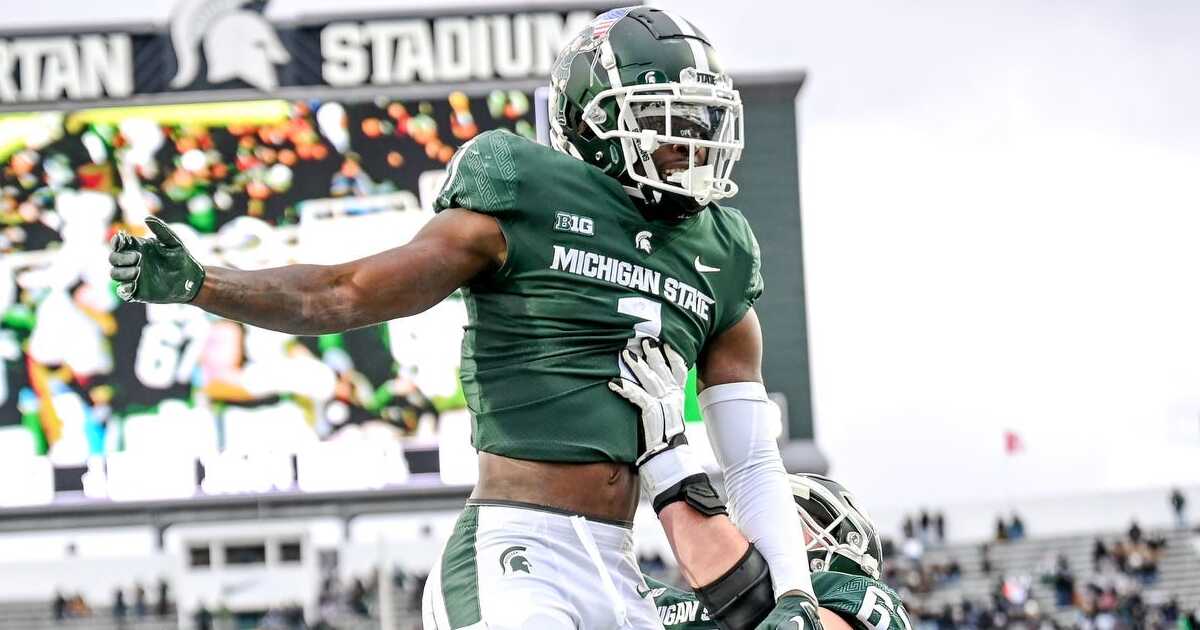 If you're looking for a player to buy major stock in during the NFL draft process, you won't have to look far. It's Jayden Reed.
Jayden Reed is having himself one heck of a week.
Receiving a Reese's Senior Bowl invite following a somewhat disappointing 2022 season, Reed knew that he was going to have to prove himself again.
Prove himself he has.
Through two Senior Bowl practice sessions, he has been one of the top players on the field and he's been turning heads left and right. His NFL draft stock has gone from Day 3 pick to potential Day 2 selection with how well he's performing.
Marcus Mosher, a Pro Football Focus writer, has been hyping Reed up all week long and he posted this clip on Wednesday of every one-on-one rep from his first two days of Senior Bowl practice.
And it's impressive.
Here is every one-on-one rep for Michigan State WR Jayden Reed from the first two days of the Senior Bowl: pic.twitter.com/WPpLCXQSHX

— Marcus Mosher (@Marcus_Mosher) February 2, 2023
Mosher hasn't been the only one in attendance that's been high on Reed. In fact, basically everyone at the practices has been saying he's the best receiver there.
Reed has been outperforming every other wideout invited to the Senior Bowl so far.
WR Jayden Reed from Michigan St has been arguably the best performing receiver at the Senior Bowl this week. Big plays all week! pic.twitter.com/CrUh8zO0Hp

— JM Football (@JomboyMediaFB) February 2, 2023
This comes as no surprise to anyone who watched him at Michigan State when he was fully healthy. Reed was able to make defenders look silly for a couple of years and until he started really battling injuries, he was dominant. He was Payton Thorne's go-to target — although the two weren't really on the same page a ton in 2022.
We're now seeing what Reed looks like when he's healthy, rested, and motivated.
And it's scary.
Reed torched secondaries throughout the 2021 season — ask Michigan, Penn State, and Pitt — and finished that year with over 1,000 yards and some really cool Moss-ing highlights. But then he suffered a freak injury in 2022 and he and Thorne could never really get on the same page.
Now, he's showing why he was a top receiver in college football before the season. He's looking like his old self again.
The result? A massive jump in NFL draft stock.
It's going to be fun to watch Reed on Sundays.