Michigan State football: Where did Xavier Henderson, Jacob Slade, others end up?
Where are former Spartans headed?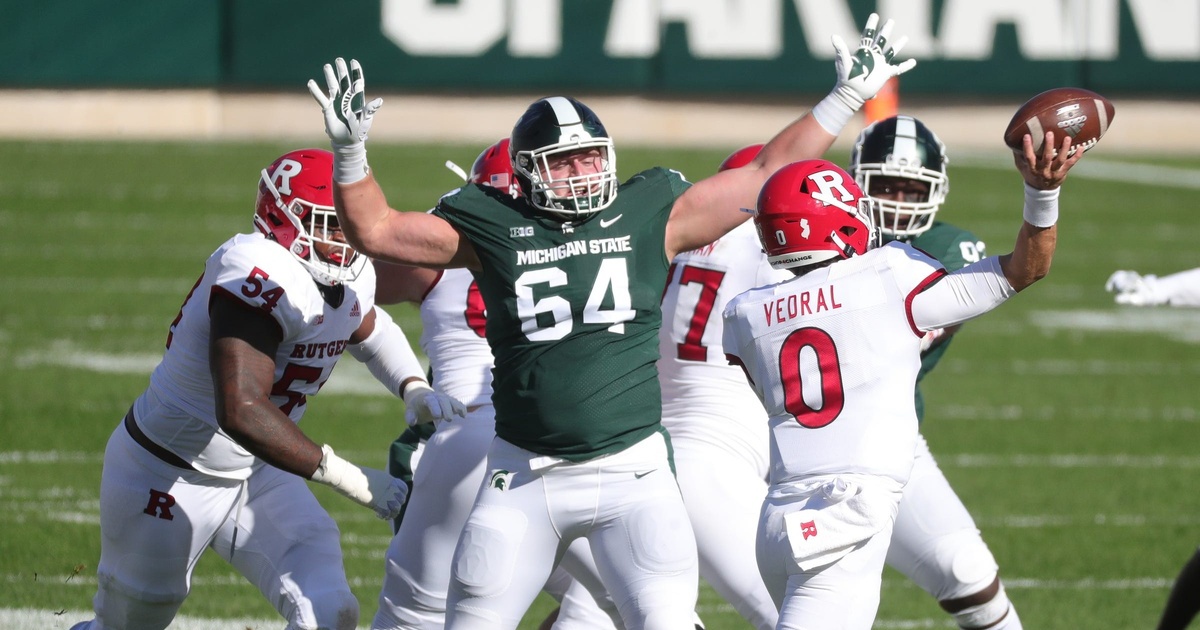 Michigan State football has had a handful of players sign with NFL teams as undrafted free agents. Where are they headed?
Day 3 of the 2023 NFL Draft ended with two more Michigan State football players hearing their names called. Bryce Baringer and Ameer Speed each got drafted in the sixth round by the New England Patriots.
They joined Jayden Reed as a member of the 2022 Spartans that got drafted. Reed went No. 50 overall on Friday night, being selected by the Green Bay Packers.
Despite the underwhelming season last year, the Spartans had quite a bit of talent eligible for this year's draft. Personally, I expected Jacob Slade to hear his name called on Day 3 well before the seventh round concluded. Alas, things were not meant to be, and Slade, as well as the others I mention, will be entering the league with a chip on their shoulders.
Additionally, they each got to choose which team to play for, either guaranteeing them a great payday or the best situation to succeed in the NFL. The final positive of being undrafted is that a majority of the league is either a Day 3 pick or an undrafted free agent, per the NFL statistics.
Now, where did some of our favorite Spartans end up on Saturday as undrafted free agents?
Jacob Slade, DT: Arizona Cardinals
Jacob Slade is the most notable undrafted Spartan on this list, and he inked a deal with the Arizona Cardinals after the conclusion of round seven. Slade started 26 games as a Spartan and appeared in 42 total games. He finished his career with 88 tackles, 11.5 of them for loss, 4.0 sacks, and a degree in Economics. The burly defensive tackle also contributed four passes defended and a blocked kick. One hold-up might have been that Slade dealt with an injury this year, sliding him down draft boards. This stated, he should be at full strength for training camp this summer.
Slade could wind up competing for a chance to make the active roster from the start, as the Cardinals switch regimes after moving on from Kliff Kingsbury and Steve Keim.
Kendell Brooks, DB: Arizona Cardinals
Kendell Brooks was a player who had a flashy pro day but had not garnered much hype leading into the draft. Regardless, he also had reached a deal to head to the desert after not hearing his name called. Brooks, a transfer from DII North Greenville University, was a two-year letter winner for MSU. He burst onto the scene last season after Xavier Henderson went down with an injury against Western Michigan in the opener.
Brooks played in 24 games for the Spartans, recording 10 starts, and finished his career with 109 tackles for the green and white. Finally, he also recorded three passes defended and was prolific at forcing fumbles, recording three last season. Brooks had flashed at points last year, and I am interested to see if he could break the Cardinals' roster late in the season if he makes their practice squad.
Xavier Henderson, DB: Washington Commanders
Xavier Henderson was the most experienced Spartan of the draft-eligible prospects, but his injury concerns ultimately led to teams staying away. He quickly signed a deal that sent him off to Washington after the conclusion of the draft.
During his time as a Spartan, he was the vocal leader of the defense and locker room. He was elected team captain twice, earned five letters, and started for four seasons as a Spartan. In total, he played in 53 games, with 40 starts. He recorded 273 tackles, which is 28th-most in MSU history. He also added 16.5 tackles for loss, 3.0 sacks, three interceptions, three forced fumbles, and nine pass breakups.
Henderson's experience will be missed as a Spartan next year, but it should be interesting to see if he can garner enough attention to make the Commanders' practice squad next season.
Ben VanSumeren, LB: Philadelphia Eagles
Ben VanSumeren is the most recent Spartan to ink a pro deal, signing with the Eagles a few minutes before 9 p.m. ET. VanSumeren had a Pro Day that was out of this world. He ran a 4.4 40-yard dash, had nearly 30 reps of 225 pounds, and had a vertical of well over 40 inches. The former Michigan transfer had 11 starts for the Spartans, with 10 coming this year. He recorded 93 tackles over the last two years, with four coming for a loss. VanSumeren also got to the quarterback twice last year and defended two passes as well.
With only one year as a starter, VanSumeren is a lot like Ameer Speed and Kendell Brooks. These three all have the athletic ability, but a team needs to help cultivate their talents if they want to succeed. I expect VanSumeren to be a practice squad player with his athleticism. The Eagles have turned a project into a starter before, see the case of Jordan Mailata.
Jarrett Horst, OT: Miami Dolphins
Jarrett Horst, an Arkansas State transfer, was a player that had received a few looks as a late-round project. Ultimately, he wound up undrafted and decided to head down to Miami. Horst was a two-year starter for the Spartans but only wound up starting 15 games over those two years due to injury. He was productive as a Spartan but also was a source of frustration. It seemed that once a game Horst was a little too extracurricular or grabby with an opponent and ended a drive. As proven by the stories of Trevor Penning and Ryan Jensen, the NFL likes the players who are borderline in their actions.
If Miami can harness Horst's mean streak, he could work his way into a starting guard or tackle in the league. Horst certainly has loads of potential. I would at least expect to see him on a practice squad this fall. Horst, however, has a decision to make. He was drafted first overall by the Michigan Panthers in the USFL Draft a month ago.
As of right now, those five Spartans are all that have signed deals with pro teams. Daniel Barker has yet to officially sign a deal, but his last tweet shows us that he has something to prove. Brian Greene, Jarek Broussard, Matt Carrick, Ronald Williams II, and Tyler Hunt are the other Spartans that have yet to ink a deal anywhere as well.
If any of this changes, expect a follow-up article detailing their new landing spots.
Miles Bridges posts interesting Snapchat with Michael Jordan
Miles Bridges is eyeing an NBA return.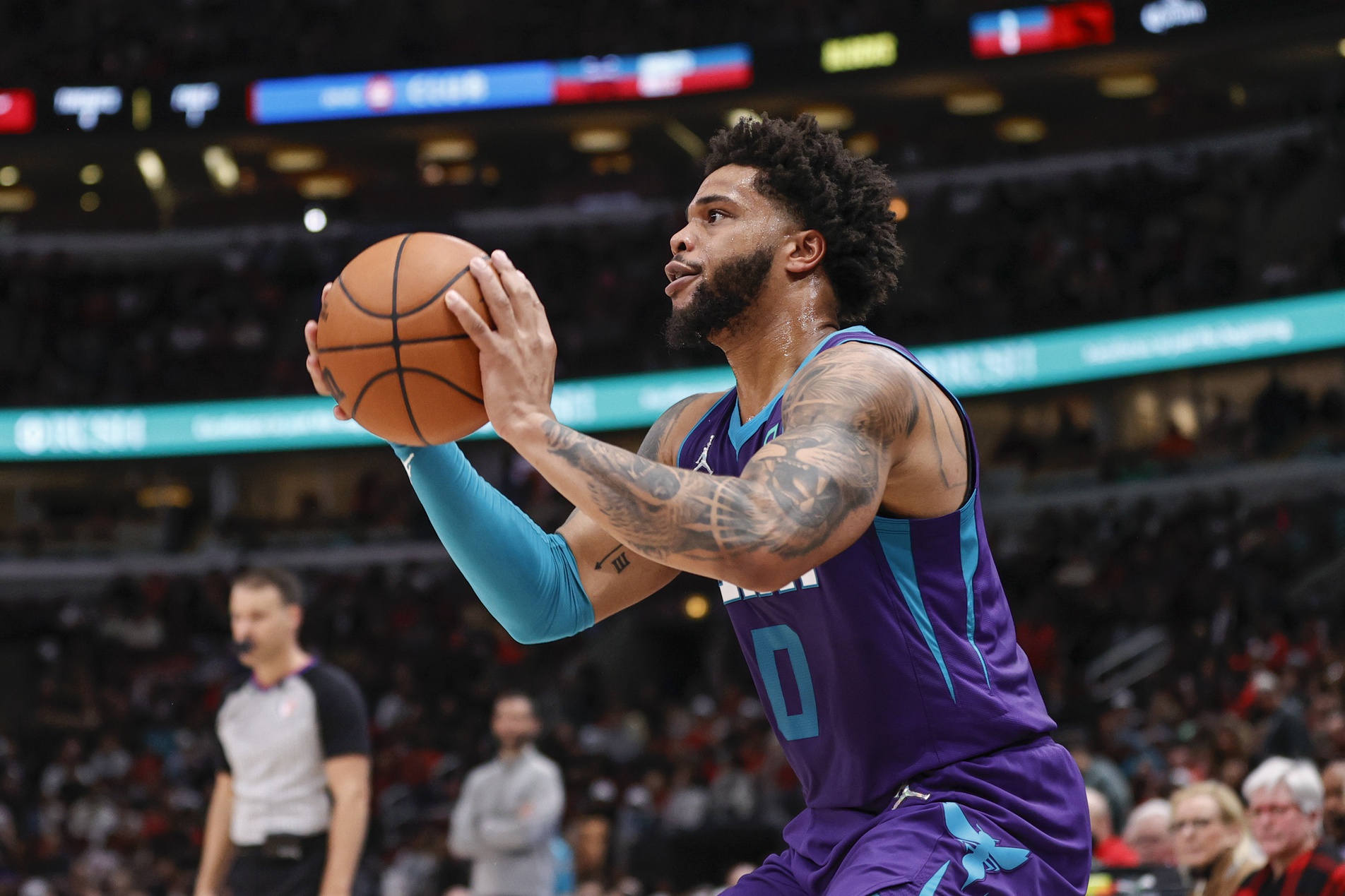 Miles Bridges has been out of the NBA for a year after getting into a domestic incident but it looks like he may be back soon.
Former Michigan State star Miles Bridges posted a picture on Snapchat of him talking to Michael Jordan on Saturday.
Miles Bridges on Snapchat 👀 pic.twitter.com/mAdSZu9cvx

— Legion Hoops (@LegionHoops) May 20, 2023
After being out of the NBA for a year, this could be a hint at a return despite the controversy that would follow him.
Off-court issues
Bridges has been in a lot of trouble off the court this past year. That is not something we need to dive into now, but Bridges missed all of last season due to serious legal issues. However, with Miles' legal battle now complete, he is now able to play in the NBA again. The NBA suspended Bridges for 30 games but has ruled 20 of those games as being served. If an NBA team were to sign Bridges, he would have to sit for just 10 games before he can play again.
NBA career
The picture above may be an indication of which team is looking to sign Bridges. Miles has spent his entire NBA career playing with the Charlotte Hornets. Jordan is the owner of the Hornets, so this picture shows that Bridges may be looking to re-sign with his former team.
Bridges has played four seasons in the NBA. During that time, he is averaging 13.4 points, 5.6 rebounds, and 2.3 assists. His best season by far was his last. In the 2021-22 season, he averaged 20.2 points and 7.0 rebounds while shooting nearly 50 percent from the field. He has shown constant improvement during his career, but there is a lot of unknown with where his game is at now.
Relationship with MSU Fans
Michigan State fans do not support Miles like they once did. He was one of the most loved Spartans especially after he made the decision to return for a second season in East Lansing. Spartan fans continued to watch and support him during his NBA career as well. That all changed once his off-court legal issues began last year.
It will be interesting to see how all basketball fans treat Bridges if he makes a return to the NBA.
Gary Harris back taking Michigan State classes to earn his degree
Gary Harris hasn't given up on that degree.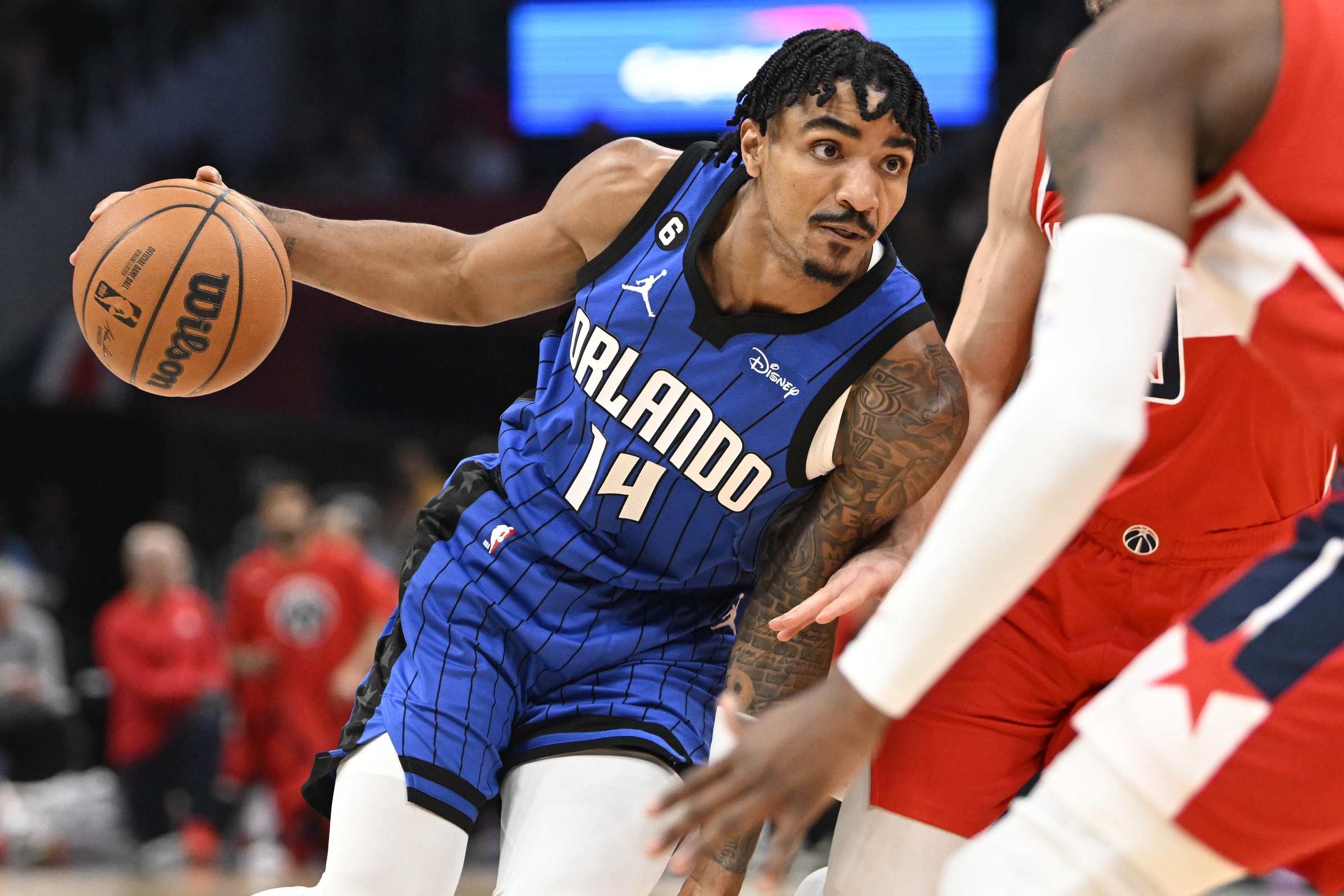 Gary Harris is back taking summer classes at Michigan State so he can earn his degree during the NBA offseason.
Every NBA draft cycle, players leave college early to pursue their dreams of playing professionally and making millions. What often gets overlooked when that happens is that the players who leave early surrender a chance to earn their college degrees on schedule.
Some players who leave early decide to go back and finish their degree which is a really cool move and it shows that they took college seriously.
Others don't think twice about their degrees and just play pro ball.
Gary Harris is the former group.
According to @dudenamedcald on Twitter, Harris is taking classes at Michigan State currently so he can finish his degree. He posted a screenshot of a discussion post by Harris in one of his friend's summer classes.
The goat Gary Harris is getting back to hitting the books for MSU. An absolute class act by Gary

Spartan dawg 4L 💯 pic.twitter.com/mzhFYgagPy

— down bad cald🔋 (@dudenamedcald) May 19, 2023
Imagine taking a summer class at Michigan State and then seeing a "discussion post" from a "Gary Harris" and then reading it just to see if it's the Gary Harris. And then it is.
Harris, currently residing in Indiana over the summer, just wrapped up a season with the Orlando Magic in which he averaged 8.3 points and shot 45 percent from the floor, 43 percent from 3-point range, and 90 percent from the free throw line. His averages have gone down, but his shooting percentages remain elite.
But he's clearly not content with being just an NBA starter. He wants to earn that MSU degree.
Leaving after the 2013-14 season, Harris was drafted No. 19 overall in the first round of the 2014 NBA Draft by the Chicago Bulls. He played two years at Michigan State and then earned a borderline NBA Lottery draft grade but slid to 19. Harris was then traded to Denver where he was one of the league's brightest young stars for seven years. For the past three years, he's been Orlando's "veteran" wing.
And soon, he'll be a graduate of Michigan State University.
Brian Lewerke gets another opportunity to play pro football
Brian Lewerke is headed back to Michigan to play pro ball.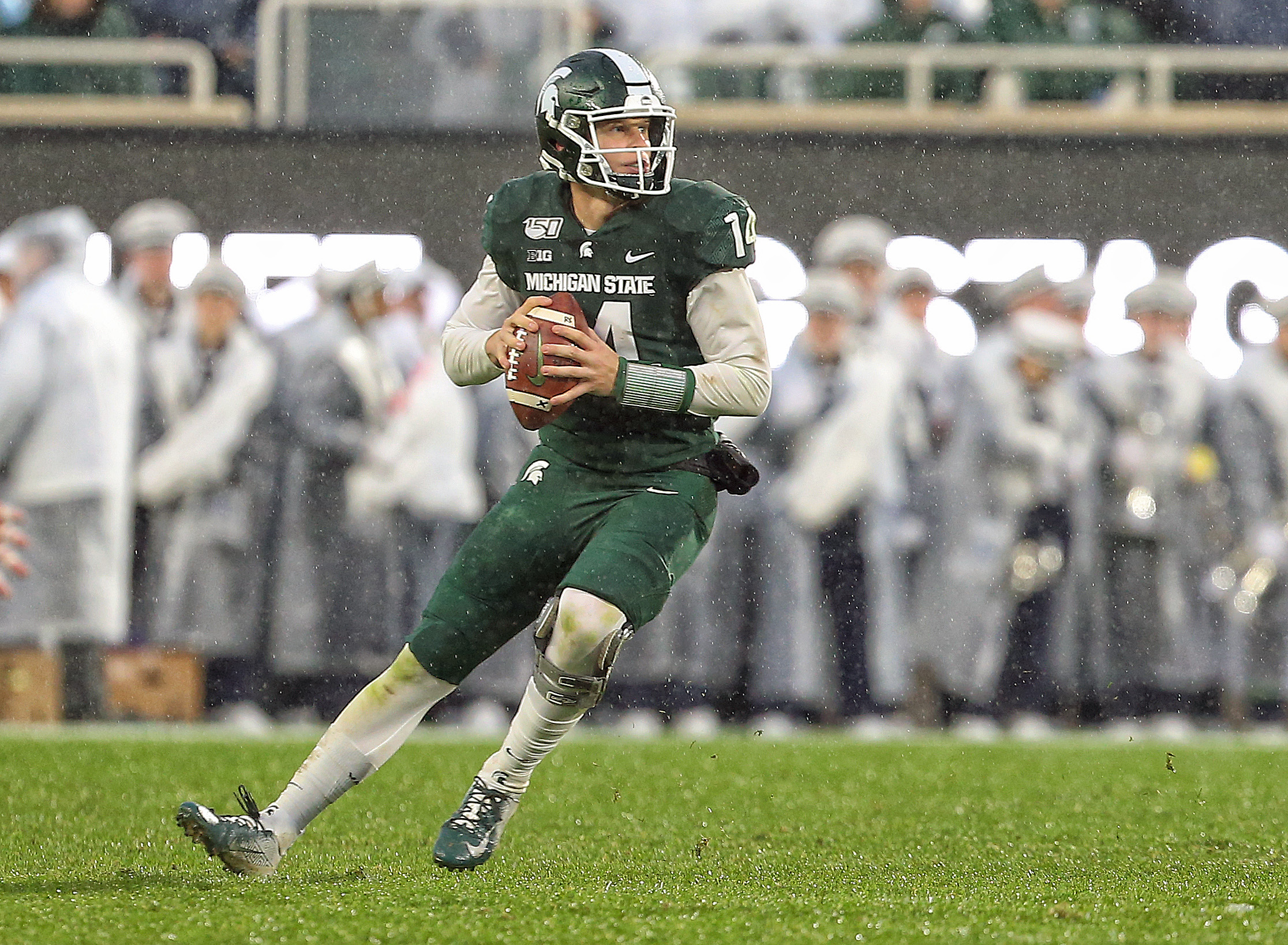 Brian Lewerke will be joining former MSU cornerback Josh Butler in the USFL with the Michigan Panthers.
After spending a couple of stints in the NFL with the Patriots and Giants as a practice squad member, Brian Lewerke is getting another shot at professional football.
On Wednesday evening, the USFL's Michigan Panthers announced the signing of Lewerke.
Free Agent Signing:
QB Brian Lewerke, Michigan State

Transferred Player to Inactive Roster:
QB Brian Lewerke

Released:
LB Santrell Latham

— Michigan Panthers (@USFLPanthers) May 18, 2023
Lewerke was signed after Carson Strong, the previous backup quarterback, was placed on injured reserve. He will now get a chance to compete for a prominent role on the roster with Strong injured and Josh Love not exactly setting the world on fire.
Quarterback play has not been a strength for the Panthers.
In four appearances, Strong had 266 yards and a touchdown with two interceptions. Love, on the other hand, has started five games and has 617 yards and six touchdowns with five picks. Neither quarterback has really stood out and that's one of the reasons the Panthers are 2-3 and tied for last place.
Lewerke has spent time around the NFL with the Patriots and Giants and he was also in the XFL this past season for a few months, signing with the Seattle Sea Dragons. He was released in January.
Now he'll look to catch on with the Panthers and potentially enter a more favorable situation. This could be a good spot for him to play professional football, especially since the Panthers need some quarterback help.
Lewerke had a decent career at Michigan State, passing for over 8,000 (fourth in MSU history) yards and 47 touchdowns (fifth in MSU history). He also has two of the top three single-game passing yard performances in Michigan State history and two of the top 10 single-season passing yardages.
Michigan State fans will get another opportunity to watch him live as there are two more home games left in the regular season for Lewerke to play at Ford Field.
The former Spartan quarterback will join Josh Butler who was signed by the Panthers earlier this spring.