Michigan State hockey sweeps Lake Superior State to open 2023-24 season
MSU hockey is back in more ways than one.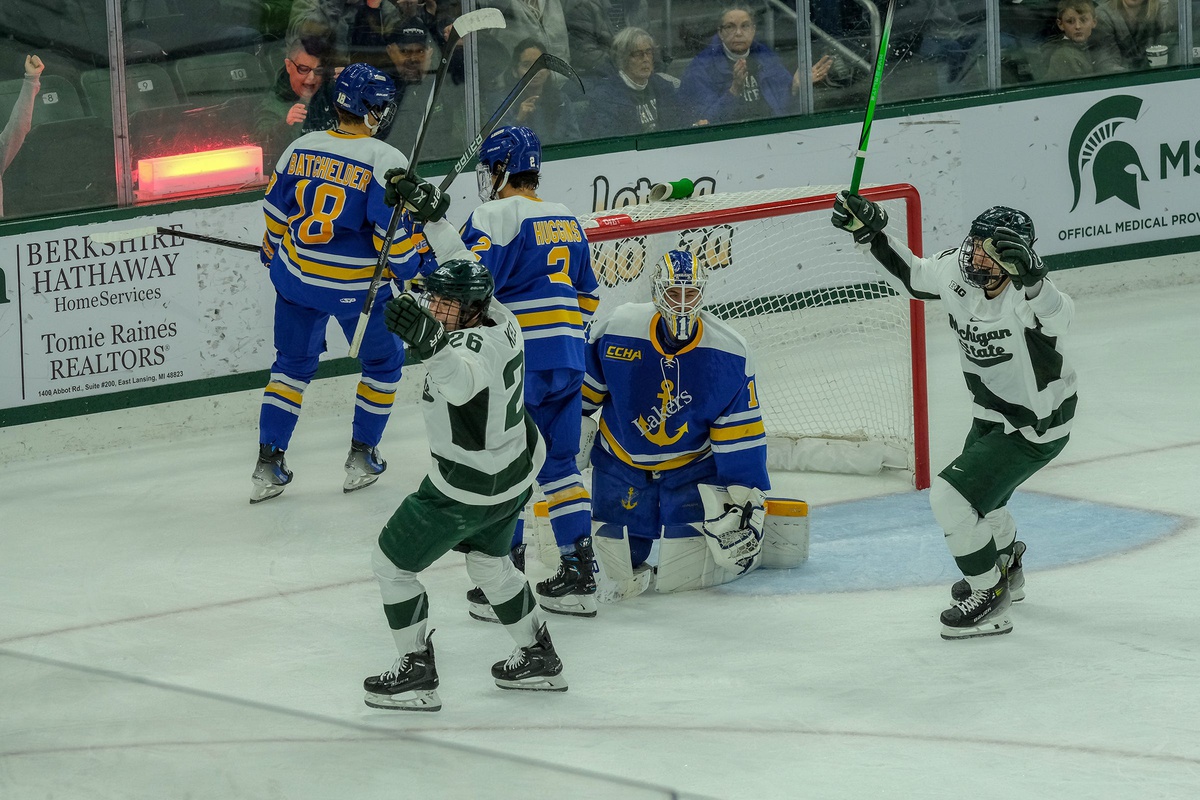 Michigan State hockey began its season over the weekend with an opening-series sweep of Lake Superior State.
For the first time in 14 years, the Michigan State hockey team has swept the season's first series. Sweeps in college hockey are not something you see often but in this situation, Michigan State deserved it with its performance.
Fans who attended the game got to see the improvement of the team from last year and it was pretty evident from Game 1. This was a special night for Michigan State and that is because it was the Ron Mason Game. Before the game started, Michigan State had a nice video remembering the great Ron Mason and brought up some of his family members. Not only was there a video, but they also revealed that it is now called the Ron Mason Rink. This was the perfect start to the year especially in front of a packed Munn Arena, something that should be a common occurrence.
This perfect start continued into Game 1 as Michigan State started fast by netting a goal from Nicholas Muller. Shortly after that goal, Michigan State got out to a 3-0 lead in the middle of the second period. This lead started to collapse as the team started making mistakes. These mistakes came after probably the best 10 minutes of hockey that fans have seen from Michigan State in years. It was pure dominance but going into the third, it was a 3-2 game. While things were close for a period of time, goals from Red Savage and Victor Hurtig put the game out of reach.
Game 2 was a pretty similar situation to Game 1. Michigan State got out to a lead but Lake Superior State fought back before the Spartans took control in the third and scored an empty net goal with about 50 seconds left to secure the sweep.
This sweep showed a lot of similarities between both of the games this past weekend. One of the biggest similarities was the fans. The atmosphere in Munn Arena was great and it was a very popular ticket. Not only is this because it is the opening series for the hockey team, it is because of the talent of this team. The Spartans are faster, stronger, and bigger than they were last year. You can see that because a lot of the new hockey players on the team this year contributed during this series. You had freshman goalie Trey Augustine winning his first two games in goal, Red Savage scored two goals and had an assist, and then you had freshman Artyom Levshunov score his first goal. If you want to watch top 10 pick talent, just watch Artyom play. He is not going to be in East Lansing for long so when you have the chance, go watch him play.
If you don't want to watch just one player, just go watch Michigan State hockey because it's a fun brand right now. The Spartans push the puck up the ice, make the right decisions and have the talent to win a lot of games. Michigan State is going to be must-watch hockey this year and if you have not been to a game before, definitely go to one this year to support this team.
The Spartans are not only are they going to be very good this year, but Adam Nightingale is building a program that will compete for a long time.