Predicting the recently-revealed 2024 Michigan State football schedule
There are still so many unknowns.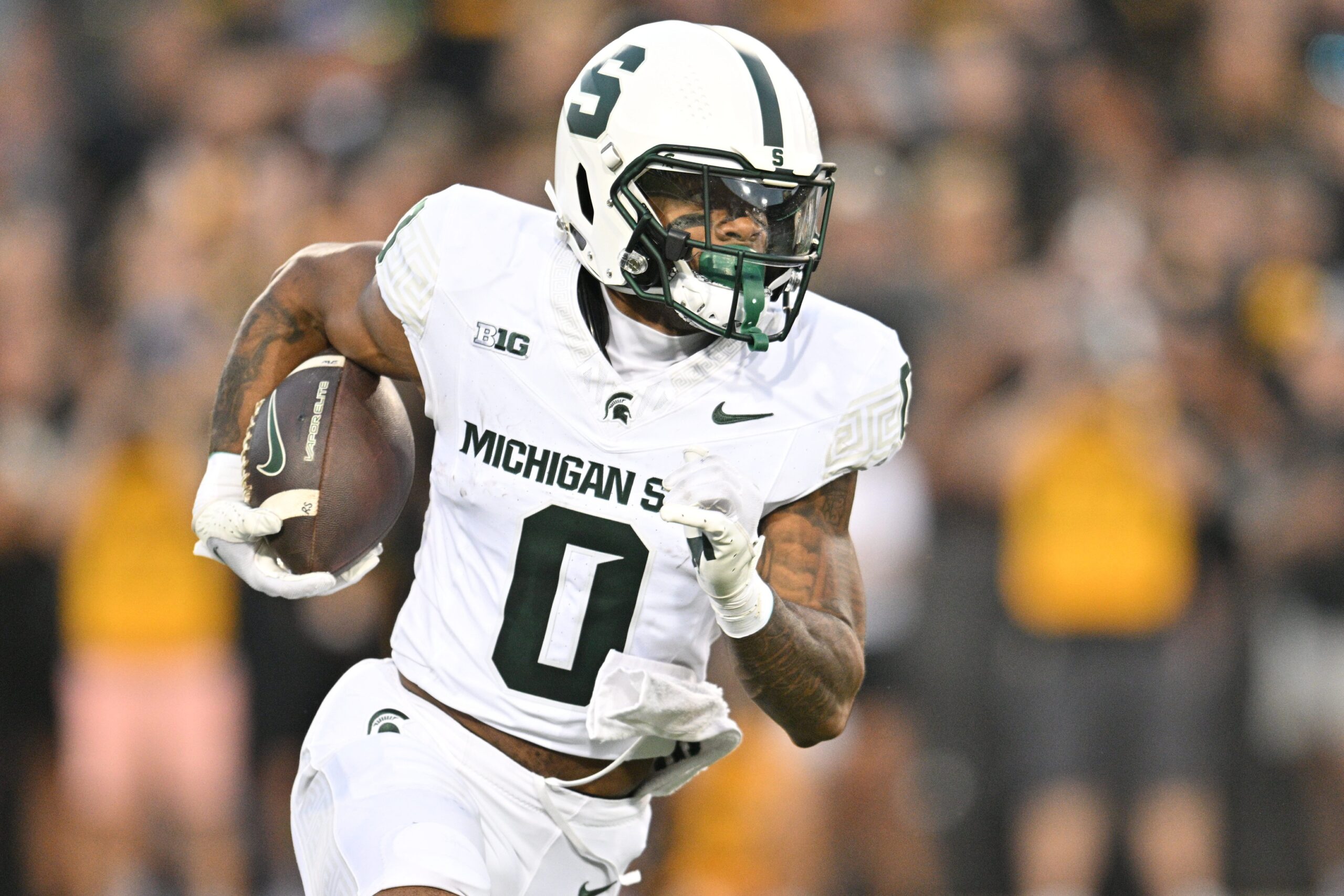 We may not know who the coach or starters will be, but let's make a way-too-early prediction of the 2024 Michigan State football schedule.
I hate looking forward to next season before the current Michigan State football season ends. But with how the season has gone so far, it's hard not to. Plus, the Big Ten just announced the upcoming conference schedules with the addition of the four West Coast schools. How can you not be excited about that?
Let's jump into it with my way-too-early prediction for the 2024 football season. And yes, I know there are a ton of question marks.
Keep in mind that the nine conference games do not have scheduled dates yet.
2024 Michigan State football prediction
Aug. 31 — Florida Atlantic (W)
Sept. 14 — Louisiana (W)
Sept. 21 — at Boston College (W)
Indiana (W)
Iowa (W)
Ohio State (L)
Purdue (W)
Rutgers (W)
at Illinois (W)
at Maryland (L)
at Michigan (L)
at Oregon (L)
Non-conference play
Michigan State has a fairly "easy" non-conference slate next season. It begins with two easier games against Florida Atlantic and Louisiana. These two games should be wins to start out the season. Louisiana, however, won't be a pushover, as it even challenged Minnesota earlier this season, but I still expect to beat the Ragin' Cajuns in Spartan Stadium.
The Spartans also start a home-and-home series with Boston College next season. The first game will be a road game which does present some challenges. But Boston College is one of the worst ACC teams and I think we should expect to beat them to start 3-0 next year.
Underwhelming home slate
Unfortunately for us Michigan State football fans, next year's home slate is not very exciting. We face five Big Ten teams at home, but the only marquee matchup is Ohio State. Indiana, Iowa, Purdue, and Rutgers will also travel to East Lansing, and I believe we win all four of those games. Those teams are all on our level, and we should expect to beat them, especially at home.
The Buckeyes, on the other hand, I don't think we can expect to beat for a while. They will once again be one of the country's best teams, and I can't imagine a world where we beat them even at home.
Challenging Big Ten road slate
The Spartans will face a tough road schedule in conference play. Michigan and Oregon are two games, like Ohio State, that I don't see us winning. Maryland, on the other hand, is definitely a game we could win, depending on who we hire as head coach. Again, I just see us struggling on the road under a new head coach and think we drop that one. However, I think we pick up one Big Ten road win at Illinois. We beat the Illini on the road last year when they had a really good team, and I think we will do it again next year when they aren't as good.
Important factors for next season
Some of you will probably think predicting an 8-4 season is absurd. And to be honest with you, I kind of think that a little, too. With everything our team's going through right now and a coaching change coming this offseason, it's hard to be positive about our future. However, I think a coaching change will do a lot more good than bad for us. I was a believer in Mel Tucker as a coach, but I was not a believer in most of the other coaches on the staff. I especially was not a believer in our coordinators Scottie Hazelton and Jay Johnson and think new coaches in those positions will help more than I can even say.
Also, I don't see the drama currently happening impacting our team next year. Keep in mind that next season is still a full year away. I don't think we'll be talking about the Tucker drama by then. I also think our team will be fully past this distraction and be fully bought into the new coaching staff.
There will also be significant changes to other Big Ten teams in our favor as well. Teams like Michigan, Oregon, and Maryland will all likely be breaking in new quarterbacks next season. I know I predicted losses in all three of those games, but maybe their next quarterbacks won't be as great and give us a chance to steal one of those wins.
This night be the hardest schedule to predict — ever
To sum it all up, I predict Michigan State football will go 8-4 (5-4 Big Ten) next season — 2024 is probably one of the hardest schedules for us to predict because of all the unknowns about our team. Who will be our head coach? What players will transfer out? Who will our recruiting class and transfer portal acquisitions be? All of this makes predicting next year's record nearly impossible. But that will make it all the more exciting if we do go 8-4, a record I think every Spartan fan would be ecstatic with.