Weekly college football viewing guide: Week 6 edition
What to watch today.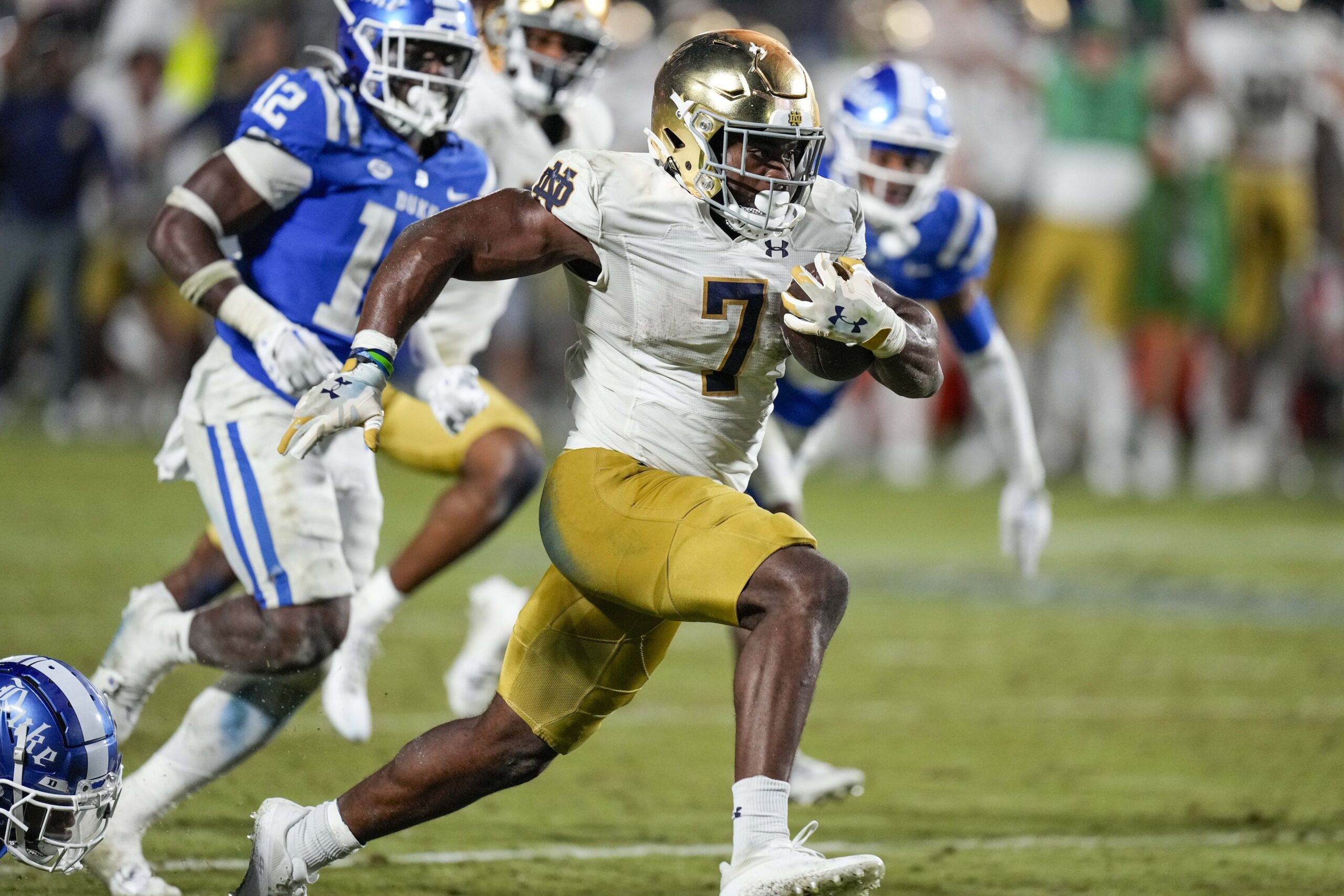 The bye week is here for Michigan State, so which college football games should you be watching this weekend?
The college football season rolls on into October. The theme of this weekend is "prove it". Seven undefeated teams are underdogs this weekend. That means we've got a lot of compelling matchups. Unlike the early part of this season, the best games are in the afternoon. Get those chores done early Saturday morning.
Here's what to watch for.
Friday, Oct. 6
Kansas State at Oklahoma State – 7:30 p.m. ET on ESPN
While this isn't a Friday night matchup worth canceling your plans over, this game is still worth monitoring. The Wildcats are 1-0 in Big 12 play and still have a path to the Big 12 Championship game. For that to happen though, they've got to take care of business against the Cowboys. Oklahoma State has been terrible thus far. This is a team that's gotten blown out by South Alabama and Iowa State. This feels like a classic spot for Mike Gundy to rally the troops at home. But does he have the quarterback play to move it against this stifling Wildcat defense? I remain skeptical.
Saturday, Oct. 7
Noon window
Oklahoma vs Texas – 12 p.m. ET on ABC
Maryland at Ohio State – 12 p.m. ET on FOX
LSU at Missouri – 12 p.m. ET on ESPN
Rutgers at Wisconsin – 12 p.m. ET on Peacock
As noted, this college football noon slate is loaded. The game of the day is in Dallas between Texas and Oklahoma. The Longhorns may deserve to be ranked No. 1 with their current resume. When people think of this game, they immediately think of points. I'm not so sure this year will fit that trend. Texas is extremely physical in the trenches on both sides of the ball. Oklahoma's offensive numbers are inflated by a couple of blowouts, but their defense has been much improved from a year ago. One thing to remember is that the loser is not eliminated from anything. These appear to be the two best teams in the Big 12, and with no divisions, we could see a rematch in the conference championship in December.
Is this the year for Maryland? Can they finally break through against Ohio State? They couldn't have asked for a better opportunity. The Terps are undefeated, with a big-time quarterback, and have a shot at an Ohio State team that may be a notch below what they've been recently. On the road though, this is still a big ask for Maryland as 20-point underdogs. At the very least, we'll see what they're made of.
Did you like that LSU/Ole Miss game last weekend? If you did, guess what? The Tigers are back in action against another team that can score and is also named the Tigers. Missouri comes in as a juicy underdog at home against an LSU team that likely kissed its playoff and championship hopes goodbye a week ago. How does Brian Kelly rally the troops against a Missouri team that is hungry to turn a corner?
On the complete opposite end of the spectrum in terms of excitement, we have Rutgers and Wisconsin. I'm fascinated by Rutgers in this game. I think Wisconsin has gotten off easy with some fortunate missteps by their opponents. The Scarlet Knights look improved. This is a better barometer for where they're at than the Michigan game two weeks ago.
Afternoon window
Washington State at UCLA – 2 p.m. ET on Pac-12 Network
Alabama at Texas A&M – 2:30 p.m. ET on CBS
Syracuse at North Carolina – 2:30 p.m. ET on ESPN
It's such a shame that most of the country won't get to see UCLA host Washington State. The Cougars are quickly turning into one of the season's best stories. But this is a bad matchup. Similar to Texas, this is a UCLA team that wants to run the ball and dominate the line of scrimmage. That's a problem for an undersized Cougar defense. For Washington State to win, Cam Ward will need to be special.
The second-best game of the day will also be in Texas. Alabama hits the road to take on Texas A&M. Even after the Aggies lost starting quarterback Connor Weigman for the season, they had no trouble last week with Arkansas. Max Johnson is one of the best backups in America. It's worth noting that Texas A&M almost beat Alabama with Jalen Milroe starting in place of Bryce Young last season. Alabama is going to need to find some explosiveness on offense to be able to win this game. This should be a physical, low-scoring, throwback SEC-type game.
North Carolina remains undefeated and is worth monitoring because of that. Syracuse quarterback Garrett Schrader remains in concussion protocol. If he's not able to go, it's hard to see Syracuse pulling an upset on the road. The big test for North Carolina is next week when Miami comes to town.
Primetime
Kentucky at Georgia – 7 p.m. ET on ESPN
Michigan at Minnesota – 7:30 p.m. ET on NBC
Notre Dame at Louisville – 7:30 p.m. ET on NBC
Arkansas at Ole Miss – 7:30 p.m. ET on SEC Network
Fresno State at Wyoming – 8 p.m. ET on FOX
This evening slate features a lot of good, but not great college football games. Fresh off an impressive bulldozing of Florida, Kentucky leaves home for the first time to face Georgia. The Bulldogs were able to escape Auburn with an unimpressive victory. I have a feeling nobody had a worse week than the Georgia players. I'm worried about Kentucky here. The Dawgs won't overlook the Wildcats after the way they beat Florida. They also won't come out flat at home after a lethargic performance. For what it's worth, historically, this Georgia defense has owned Kentucky's offense. In the last four games in this series, Kentucky has averaged 5.5 points per game while being outscored 81-22.
Can anyone outside of Penn State and Ohio State push Michigan? Maybe for one half? Well, I don't think it'll be Minnesota. The Gophers are just too vanilla in all aspects to be a serious threat to Michigan. This also has the potential to be the fastest game of the year. Both teams are going to run the ball and then run it some more. Minnesota needed a miracle to beat Nebraska at home. We all remember what Michigan did to Nebraska last weekend.
I've always been critical of Notre Dame's schedule because I've always felt like despite it being challenging in aggregate, they'd always find a way to space their tough games out evenly. I can't make that argument this year. This will be their seventh game in a row with trips to Ireland, Duke, and now Louisville in their travel log. Throw in that wild game against Ohio State at home, and we could be looking at a team that is absolutely spent. For Louisville, this is the opportunity of a lifetime. Undefeated, with a first-year head coach, at home, against a big-time opponent. The worry here for the Cardinals is their schedule to date. They probably should have lost to Georgia Tech. They let Indiana hang around. And they won the worst-played game of the season last Friday against NC State. If you have a good read on this game, hats off to you.
Back in the SEC, Ole Miss looks to keep it going after their wild win against LSU. The Rebs will need some help to win the SEC West, but as discussed, there's a good chance they get it from Texas A&M. Arkansas is a mess. Coach Sam Pittman said earlier this week they'd be shuffling positions along their offensive line to try and fix their issues. That's not what I'd recommend on the road in Oxford. There's almost no reason to believe Arkansas can keep this close. So, it will probably be tied with four minutes to go.
The prime-time games finish up with a nice showcase for the Mountain West on FOX. Freshly ranked Fresno State is on the road at Wyoming as a touchdown favorite. To keep it simple, let's just say Laramie is one of those places – especially at night – where things get silly. Fresno State is getting pumped as the best group of five teams. Is that fair? I'd argue it's not because they've yet to beat an FBS team with a winning record. This is a spot for them to prove it. Temperatures are expected to plummet as this game wears on. Keep this game in the rotation at night. I have a feeling the Cowboys are in this for 60 minutes.
Late night
Arizona at USC – 10:30 p.m. ET on ESPN
How good is Caleb Williams? A lot of people will write it off as the system, the state of the game, and the opponents. But I don't care who you're playing — 21 touchdowns, one interception, while completing 75 percent of your passes is just outstanding. He's worth watching regardless of the opponent. Which is why this game makes the list. Arizona isn't going to win. They might not even cover the 21-point spread. But if you're up late, flip on Caleb Williams. Appreciate his greatness while he's here.