Predicting every 2023 Big Ten Tournament game
Who will take home the Big Ten tourney title?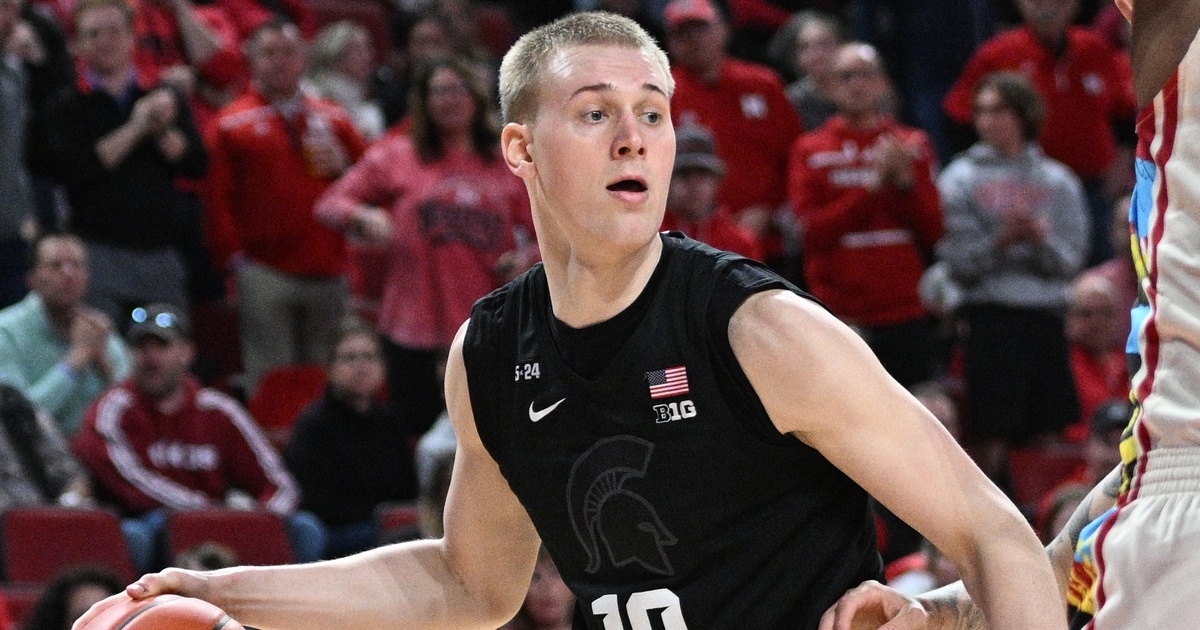 The Big Ten Tournament begins on Wednesday and here's what I think will play out from round one to the championship.
After a season packed full of rock fights, upsets, and blowouts, we find ourselves on the doorstep of the Big Ten Tournament.
This past week, Michigan State's conference and national tournament hopes grew and faded within 40 minutes of basketball nearly every night. Although their lightweight end-of-season week did not move the needle too much for them, games across the league dragged them from a prospective 8-9 seed in the conference tournament all the way to a double-bye.
Upsets like Minnesota over Rutgers, Nebraska toppling Iowa on the road, and Penn State sinking a buzzer-beater to defeat Marland 65-64 all contributed to MSU soaring over the log-jam that was the middle of the conference to reach a 4-seed and nearly a full week of rest leading into the first matchup.
So, what's next for the Big Ten? A week filled with great matchups and the chances for many teams to punch their ticket to the Big Sance or squander it, I will lay out my predictions for the tournament from a game-by-game perspective, and tell you which games will likely be must-watch TV.
Game 1: (13) Ohio State vs. (12) Wisconsin
To lead off the weekday slate of tournament games, we are asked to muscle our way through what is almost certainly going to be a white-knuckle ride of below-mediocre basketball.
Ohio State started the year with a large turnover in talent highlighted by the loss of E.J. Liddell. They have shown glimmers of hope for the Buckeye fans but were never able to stop the skid heading lower and lower in the Big Ten.
Wisconsin came out of the gates looking like a title contender led by Chucky Hepburn, but as the season progressed they slid further and further down the rankings landing them in a bubble spot headed out of the regular season.
Ohio State has been playing terribly as of late and I don't see them turning the corner against a team with their season on the line.
Prediction: Wisconsin wins decisively
Game 2: (11) Nebraska vs. (14) Minnesota 
Both teams began the season with any hope of a good season buried in the backyard.
Minnesota ended the season with only two wins in the conference and positioned itself as the laughing stock of a tightly contested conference.
Nebraska, on the other hand, dug itself out of the hole that it created at the start of conference play by winning six of its last eight games. This now red-hot Nebraska team is scoring from across the floor and playing fairly good defense, holding opponents to an average of 68 points in those last six wins. Nebraska seems to be peaking at the right time in the season, and I don't see a world where Minnesota stops them.
Prediction: Nebraska in a landslide
Game 3: (9) Rutgers vs. (8) Michigan
Now I need to start this section off by saying I am incredibly biased against the University of Michigan. As a die-hard MSU fan and alumnus, I will never root for a Michigan team, but I will attempt to be objective in this matchup.
Michigan has lost the past two games against a good Indiana team and a banged-up Illinois team. Fans of the team's expectations for this season have been shattered as these losses have all but eliminated them from the NCAA tournament. But. If there's one thing I know about Michigan, its basketball team pulls off miracles I never in a million years would have expected. With that being said, I think Michigan has a chance to go on a run in the Big Ten Tournament and find itself in a play-in game nationally, but I cannot bring myself to really believe in it.
This Rutgers team is no rollover. With huge wins against some of the best teams in the conference this year, Rutgers plays solid defense and can back it up with scoring if they can get hot from the floor.
Michigan will need expert play from their freshman guards, Hunter Dickinson, and its coach. None of that has proven to work down the stretch for them and I would be shocked if they can turn it around now to save their season.
Prediction: Rutgers with a comeback win down the stretch
Prospective Game 4: (12) Wisconsin vs. (5) Iowa
Iowa has had an interesting season for many reasons. Arguably their best player, Kris Murray has gone from a threat anywhere on the court to a cold shooter from the 3-point line in their final games. The rest of the team thrives at home from deep but suffers heavily on the road.
I think this game has the potential to be an excellent matchup, but we will have to tune in to see how Fran McCaffery's sharpshooters fare on a neutral court.
Prediction: Iowa in a shootout, barely scraping by
Game 5: (10) Penn State vs. (7) Illinois
Penn State is one of the most interesting teams in the conference this year. They have a very good 3-point shooting percentage (38.9 percent on the year) and are led by one of the conference's best in Jalen Pickett. He's leading the team in points, rebounds, assists, and steals, while carrying his team to a few good wins within the conference, most recently upsetting Maryland to close out the season. However, they haven't seemed to get over the hump, losing several games to underdogs as well.
Illinois, on the other hand, had some success early in the year, but with a serious injury to their starting point guard, Jayden Epps, this already thin lineup suffered a massive blow this past week. Dropping two close games to Purdue and Michigan during that stretch, Illinois has found a way to battle it out in games, but not win them. After coming off that big win against Maryland on Sunday, Illinois is going to have a tough time slowing down Penn State's momentum on Thursday.
Prediction: Penn State in a close one
Prospective Game 6: (11) Nebraska vs. (6) Maryland
If I can be totally honest in this matchup, I don't really know what is going to happen. Maryland has had a solid season but their lack of road wins within the conference (1-8) doesn't fill me with confidence heading into the tournament. I truly think this game could come down to how well the Maryland faithful travel. With a strong crowd backing them, Maryland wins by a large margin.
With an empty arena, Nebraska out-works the Terps down the court.
Prediction: Nebraska simply because I love a good upset
Prospective Game 7: (9) Rutgers vs. (1) Purdue
I am predicting this matchup to be the highlight of the mid-week games. Purdue has proven to be a wagon this season, coasting to a non-contested regular season championship.
However, this team is starting to show its cracks. By a true stroke of divine intervention, or maybe just Zack Edey, the Boilermakers managed to only drop four games out of the last eight. It may seem shocking that I say they were lucky to only win half of their final eight games, but when you look at the scores, out of the four games they did manage to win, three of them were by a tight margin.
This Purdue team has an outrageous amount of talent, but I believe their fate lies solely on the shoulders of Matt Painter, and to be honest, I don't have much faith in his tournament capabilities.
Prediction: Rutgers prevails in a great battle
Prospective Game 8: (5) Iowa vs. (4) Michigan State
You can probably guess what my prediction is in this one.
After three seasons of a team with no defining characteristics, personality, or leadership, this year's MSU team has emerged like a phoenix out of the rubble. Shooting insanely well from beyond the arc, this team has found a way to beat teams with their guard play. Tyson Walker couldn't miss a shot when the clock is below five seconds even if he tried. Joey Houser is finally showing off the promise that was made to the fans of an excellent passer and scorer. AJ Hoggard is threading the needle and making shots to cement himself as a name to look for on the scouting report, and Jaden Akins is finally backing up his defense with outstanding 3-point shooting.
Now that was a lot of hype for a team that barely made it to the double-bye and lost to Iowa just over a week ago. But I don't think Izzo lets that happen twice. With the way the Spartans have been shooting the ball, I think MSU just needs to find a way to slow down Filip Rebraca and they can pull out a tight win in their first tournament game.
Prediction: MSU outshoots Iowa in a high-scoring game… that doesn't go to overtime
Prospective Game 9: (10) Penn State vs. (2) Northwestern
Northwestern has a roster that sends shivers down my spine as an MSU fan. We all know what Boo Buie is capable of on the court, but Chris Collins has finally developed and recruited talent to surround him with players that push him even higher and carry the team to a top spot in the Big Ten.
This is a Wildcats team like we have never seen before and I don't think Jalen Pickett is capable of playing 1 vs. 5 the whole game. Penn State is going to need to have an outstanding game to be capable of upsetting this Northwestern team.
Prediction: Northwestern by a lot
Prospective Game 10: (11) Nebraska vs. (3) Indiana
Unfortunately for our underdogs, they are going to run into a buzz-saw. Indiana has been strong all year and has some massive wins against ranked opponents as well. Trayce Jackson-Davis has led this group to a formidable 3-seed by leading the team in scoring, assists, rebounds, and blocks. Add in Jalen Hood-Schifino and the rest of the supporting cast, and I think you have a team that no one wants to be matched up against in either tournament.
This would be the third game for Nebraska in three days, and even if they had the capabilities, I don't think they have the endurance to put up much of a fight.
Prediction: Indiana storms past the Cinderella team
Prospective Game 11: (9) Rutgers vs. (4) MSU
I am a firm believer in the fewer games played, the better when it comes to the Big Ten Tournament. Not just because there are fewer chances to lose, but because of conditioning and subsequent exhaustion. I foresee a similar fate for Rutgers as I see for Nebraska. Rutgers is a strong team, and I don't expect a blowout by any means, but I think it's going to be tough for them to keep up with MSU's fast-paced transition offense.
Prediction: Michigan State pulls away late for a double-digit win
Prospective Game 12: (2) Northwestern vs. (3) Indiana
This game is also a toss-up for me. I want to say I love Indiana in this one, but a little voice in the back of my head keeps whispering "Boo Buie" and I don't know what to make of that. Northwestern should have a formidable crowd since the tournament is being held in their backyard, however, I expect the Hoosiers to bring every single person on their campus to the games.
Because I just don't know which team has the talent to win on the court, I am going to go with what the crowd split will likely be.
Prediction: Indiana by one because its fans are louder
Prospective Big Ten title game: (4) MSU vs. (3) Indiana
Yeah, I know, I put my own barely-above-average team in the finals and you are expecting me to say they will win it all. And you would be right.
Michigan State split with Indiana in the regular season, each team winning at home. I expect a true back-and-forth game, with both Tom Izzo and Mike Woodson dueling in a chess match. What it truly comes down to is Izzo for me. He saw how Indiana played the first time and made corrections to win the second, and I think will do the same the third time they face off.
This game definitely could go either way, but I have to bet on my guy and trust that he can pull out a championship in a season no one ever would have expected.
Prediction: A game for the record books, ending with another banner in Breslin