Retaining Courtney Hawkins is key to keeping 4-star WR Nick Marsh
If the new coach retains Hawkins, that helps with Nick Marsh.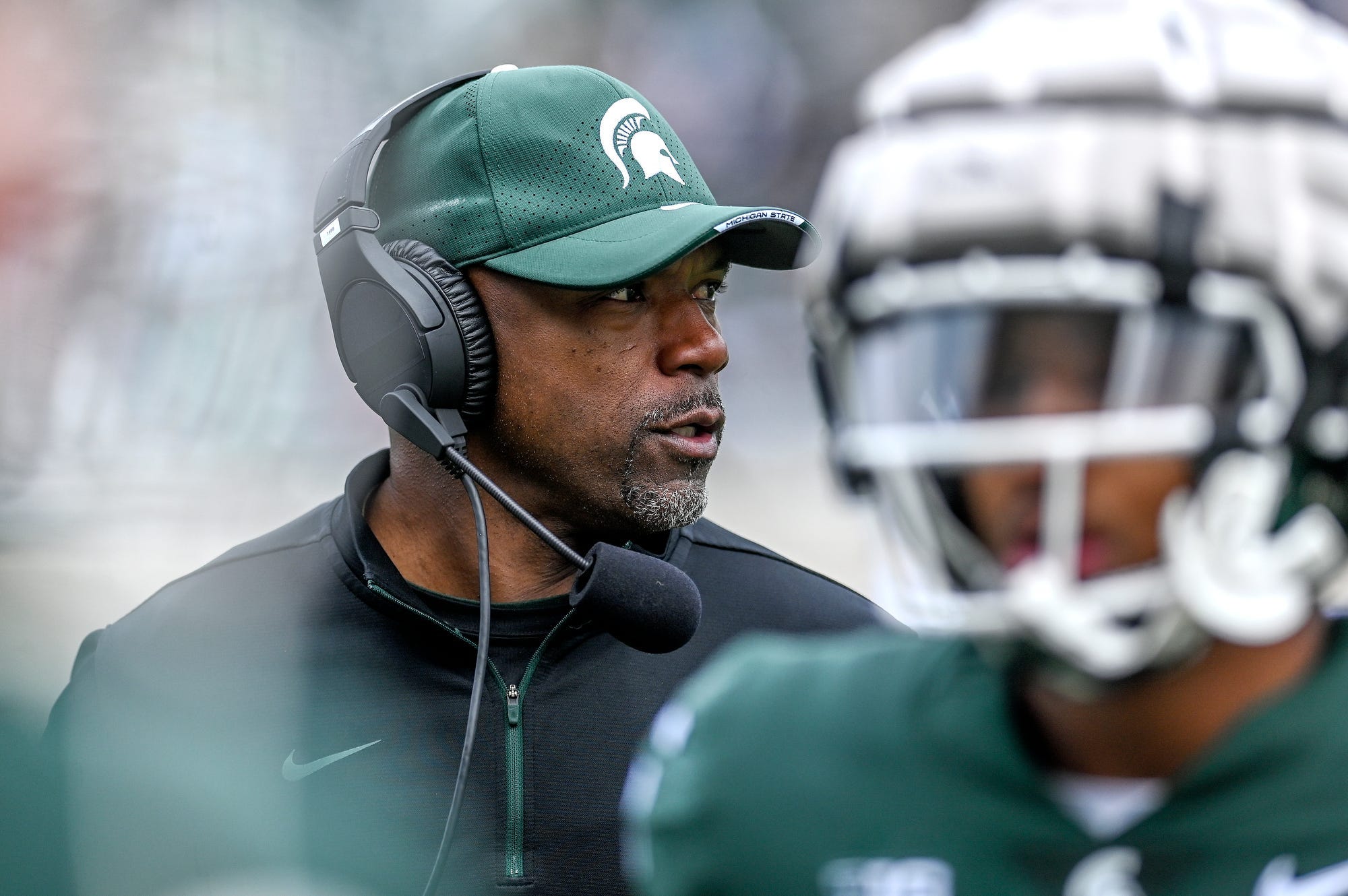 Nick Marsh has a big decision to make after Mel Tucker's departure and the key to keeping him has to be Courtney Hawkins.
Losing recruits at this point in time is likely and it's already happened with guys like Reggie Powers and Camren Campbell. Michigan State fans are hoping, however, that it doesn't happen with Nick Marsh (again).
The four-star receiver from River Rouge decommitted from Michigan State this past spring only to give Mel Tucker and the Spartans another chance. He took an official visit over the summer with his family and decided that East Lansing was truly home. But with Tucker out and the coaching staff in jeopardy, Marsh may be mulling his options once again.
In fact, he spoke to Josh Newberg of On3 on Tuesday and Marsh basically said that he's keeping his options open, but he'd like to see Michigan State keep its staff in place.
Translation: Marsh wants Courtney Hawkins retained.
4-Star WR Nick Marsh remains committed to Michigan State, but visited Colorado on Saturday.

I talk w/ @NickMarsh_11 about his MSU commitment status, his experience at the Colorado/USC game, his NEXT visit and when he'll make a 'final' decision!

▶️ https://t.co/Txth5To9Aj pic.twitter.com/4oShSGiE9T

— Josh Newberg (@josh_newberg) October 3, 2023
Listening to Marsh in this interview, it's clear that he's still technically committed, but he's treating this like an open relationship as he's out looking at other programs (Colorado this past weekend). You can't fault the kid for keeping his options open. Anyone in his position would do the same.
But when Newberg asked what he wants Michigan State to do in this situation, Marsh said that he hoped the staff remained the same. While that's not realistic, it is possible that the next head coach could retain some assistants, and in this situation, the most important would be Hawkins. If Michigan State wants to keep Marsh in the 2024 class, Hawkins will likely have to return.
Is that possible? Absolutely. There's a chance the new head coach interviews some of the current staff to see if they're good fits for his new staff. Even Tucker hung on to guys like Mike Tressel and Ron Burton while bringing Harlon Barnett back. It's not out of the realm of possibility to see the new coach evaluate the current staff and keep guys who excelled (Hawkins).
Marsh's commitment to MSU may depend on this.
Another note: Marsh did tell Ryan O'Blenness of Spartans Rivals that he was "locked in" with Michigan State.
.@NickMarsh_11 and @CoachPettway talk @RougeFootball's latest win against Orchard Lake St. Mary's.

And if you curious where Marsh's MSU commitment stands:

"We still locked in, MSU. Let's fight through adversity and keep pushing through. Go Green!"

Read: https://t.co/6LBJxOwsOP pic.twitter.com/0NV0pLUdLg

— Ryan O'Bleness (@ryanobleness) October 4, 2023
Time will tell if he sticks with the Spartans. But Hawkins plays a big role in this.