Tom Izzo reportedly helped talk Simeon Barrow into staying
Tom Izzo's impact goes far beyond the basketball program.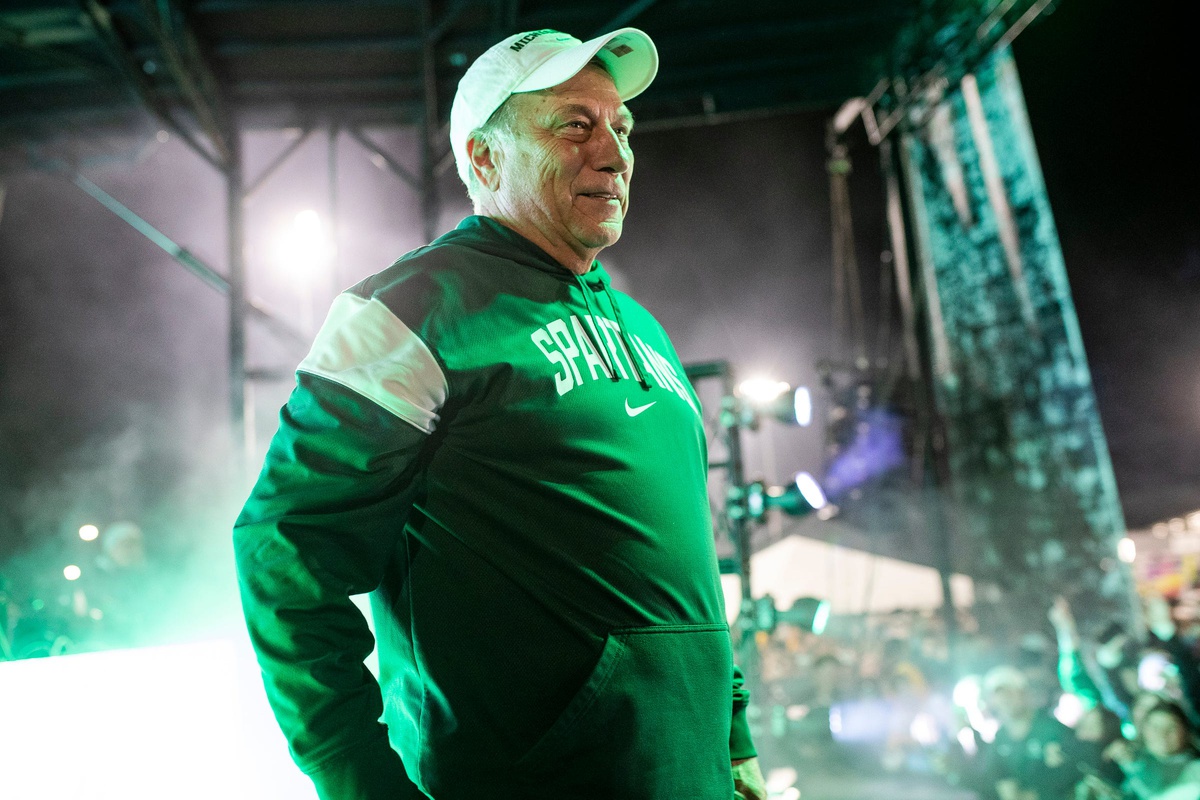 Just days after entering the transfer portal, Simeon Barrow withdrew his name. Tom Izzo was reportedly the reason behind this.
Any and all MSU fans realize how important Tom Izzo is to Michigan State University—not only leaving his mark as one of the greatest college basketball coaches of all time but also as a leader for this university when times are shaky. His reach is not limited to basketball and he's also a positive influence on all MSU's athletic teams.
On Tuesday, MSU Football's starting defensive tackle and captain, Simeon Barrow, chose to put his name in the transfer portal. The decision did not come as a shock to many fans. Barrow has been highly sought after by other teams dating back to last season and the rumor mill says he has declined many lucrative NIL offers to stay. At the time, it appeared the 49-0 loss to Michigan was the straw that broke the camel's back.
Tom Izzo says not so fast
On Thursday morning, Barrow elected to remove his name from the portal and rejoin the team. Many have speculated that the return was a result of coaching search progress but there is nothing concrete to that theory. What we can say for certain is that Tom Izzo had a 'deep talk' with Barrow that ultimately led to his return, according to Graham Couch. What was said? We don't know but I trust it was mentorship Barrow needed.
Barrow is a redshirt junior and has been through plenty of ups and downs with this program. Our own Maxwell Klitzke came out with a surprising stat that if Barrow returns in 2024, this will be his third head coach, and fifth defensive line coach, none of whom he committed to back in 2019.
if Barrow is back for MSU in 2024, it'd be for his third head coach, none of whom he committed to, and likely fifth defensive line coach

glad he's at least back for the rest of 2023 https://t.co/WGOZ1AZmkM

— maxwell (@maxwellklitzke) October 27, 2023
Absolutely no one would blame him for transferring.
I think this news tells us two things. One, the brotherhood these players have with each other runs very deep given everything they've experienced. And two, players love MSU beyond the football field.
Barrow was the only starter to hit the portal after former MSU head coach Mel Tucker was fired. We expected to see a 'mass exodus' after the Tucker news broke but we simply haven't seen it. Maybe we have a busier offseason? Maybe players simply need to get more tape? I'm not sure right now, but things are definitely going better than expected.
I hereby announce my vote for MSU Football's next head coach be: Tom Izzo (unless Urban Meyer would like a crack at it).
HopMan out.