Spartans Shadows staff college football pick 'em: Week 9 edition
Who ya got?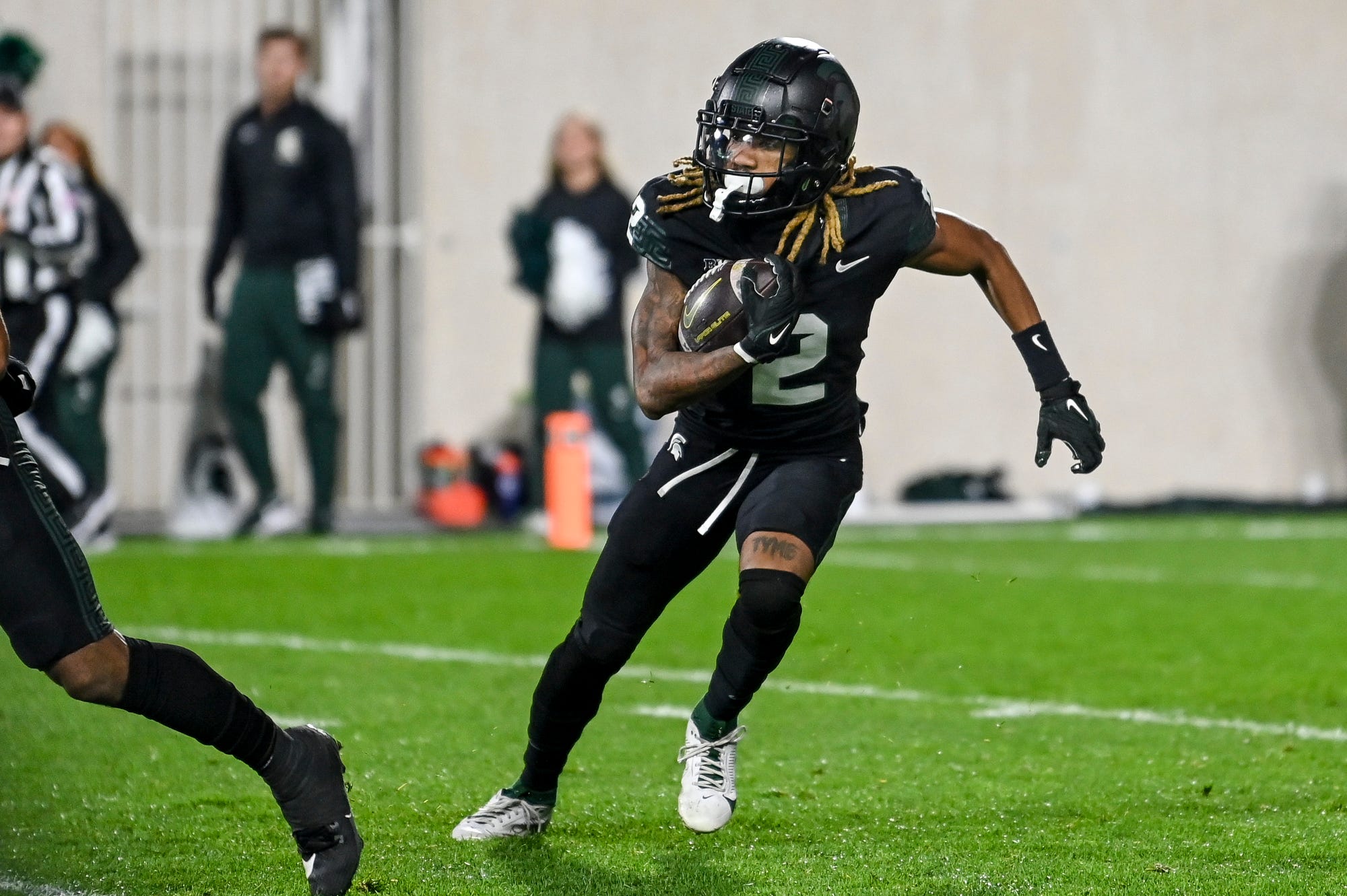 Week 9 of the college football season is here and that means it's time for our weekly Spartan Shadows staff pick 'em.
Well, Week 8 of the college football season is in the books. If you are reading this, you're probably either a Michigan State fan or a friend of mine who is most likely an MSU fan. If you are not a Spartan fan, well congratulations, you probably had a decent sports-watching weekend.
For the rest of us, I want to remind you that basketball season scrimmages start this week. Also, our hockey team is ranked in the top 10 nationally as well. Make sure you get to the Breslin Center or Munn Arena this fall to watch some great basketball and hockey. Both the men's and women's soccer teams are also doing some work as well. Overall MSU athletics are going strong to start the year.
Back on the gridiron, we had some very entertaining college football games this weekend.
Let's check in on last weekend's results and a breakdown of them.
Week 8 Results
No. 7 Penn State at No. 3 Ohio State — Line: Ohio State -4.5; Result: Ohio State cover
Rutgers at Indiana — Line: Rutgers -5.5;Result: Rutgers cover
No. 17 Tennessee at No. 11 Alabama — Line: Alabama -8.5; Result: Alabama cover
Washington State at No. 9 Oregon — Line: Oregon -18.5; Result: Washington State cover
Minnesota at No. 24 Iowa — Line: Iowa -3.5; Result: Minnesota cover
South Carolina at No. 20 Missouri — Line: Missouri -7; Result: Missouri cover
No. 16 Duke at No. 4 Florida State — Line: Florida State -13.5; Result: Florida State cover
No. 14 Utah at No. 18 USC — Line: USC -6.5; Result: Utah cover
Clemson at Miami (FL) — Line: Clemson -3.5; Result: Miami cover
No. 2 Michigan at Michigan State — Line: Michigan -24.5; Result: Michigan cover
The Penn State vs. Ohio State game was a back-and-forth battle. Not a ton of points were scored in that one. OSU did look like the better team throughout even though neither team looked super impressive. Rutgers looked vastly better than Indiana. This came as no surprise to our staff as we all picked Rutgers to cover this week. Hopefully you bet accordingly.
Tennessee and Duke had strong starts on the road against tough, higher-ranked opponents. Unfortunately for them, they just couldn't quite hold on. Utah and Minnesota pulled off upsets on the road. USC blew another game and probably dropped Caleb Williams out of the Heisman race.
Oregon, Missouri, and Miami all took care of business at home. Dabo Swinney is doing a masterful job of taking Clemson away from national relevance again.
As for the Battle for Paul Bunyan, I have no further comment.
Shout out to Emmett this week for a blistering 8-2 card. Max and Joey going 6-4 followed that up. Another solid week for Joey as he continues his late-season comeback. After that, we had Daily, Hop, and I going 5-5. Connor and MSU recruits going 4-6 followed that up. Finally, we had Anthony going 3-7 after some late-night picks going south.
Updated standings after Week 8
Emmett: 44-34-2
(Tie) Connor and Daily: 43-35-2
(Tie) Hop and Max: 41-37-2
(Tie) Chris and Joey: 40-38-2
MSU Recruits: 36-42-2
Anthony: 33-45-2
Side Competition updates:
Daily and Hop battled it out to a stalemate this week, both going 5-5. Hop still is only two games back. Both have been doing quite well of late. Can this week be the week that Hop evens up the match?
In the battle for the Cane's Box, I was able to pick up a few more games on Anthony. Anthony has been in a bit of a slump but so have I. As we see with Emmett's performance this week, it just takes one great week and you can jump in the standings. My lead is now up to seven games but I can't get comfortable yet with lots of picks left this year.
Now let's check out the Week 9 college football games.
Week 9 college football picks
Disclaimer: All lines are as of 12 p.m. ET on Monday, Oct. 23, from FanDuel. All times listed are Eastern Standard Time.
No. 6 Oklahoma at Kansas — Saturday at 12 p.m. ET on FOX (Line: Oklahoma -10)
Emmett: Oklahoma
Connor: Kansas
Daily: Oklahoma
Hop: Oklahoma
Max: Oklahoma
Chris: Oklahoma
Joey: Kansas
MSU Recruits: Oklahoma
Anthony: Oklahoma 
No. 8 Oregon at No. 13 Utah — Saturday at 3:30 p.m. ET on FOX (Line: Oregon -6.5)
Emmett: Oregon
Connor: Oregon
Daily: Oregon
Hop: Utah
Max: Oregon
Chris: Utah
Joey: Utah
MSU Recruits: Oregon
Anthony: Oregon
No. 1 Georgia vs. Florida — Saturday at 3:30 p.m. ET on CBS (Line: Georgia -15.5)
Emmett: Florida
Connor: Florida
Daily: Georgia
Hop: Florida
Max: Georgia
Chris: Georgia
Joey: Florida
MSU Recruits: Florida
Anthony: Florida 
No. 20 Duke at No. 18 Louisville — Saturday at 3:30 p.m. ET on ESPN (Line: Louisville -4.5)
Emmett: Louisville
Connor: Duke
Daily: Duke
Hop: Louisville
Max: Duke
Chris: Duke
Joey: Duke
MSU Recruits: Duke
Anthony: Louisville 
No. 24 USC at Cal — Saturday at 4 p.m. ET on Pac-12 Network (Line: USC -10.5)
Emmett: USC
Connor: USC
Daily: USC
Hop: USC
Max: USC
Chris: Cal
Joey: Cal
MSU Recruits: USC
Anthony: USC
No. 21 Tennessee at Kentucky — Saturday at 7 p.m. ET on ESPN (Line: Tennessee -3.5)
Emmett: Tennessee
Connor: Kentucky
Daily: Tennessee
Hop: Tennessee
Max: Kentucky
Chris: Kentucky
Joey: Kentucky
MSU Recruits: Kentucky
Anthony: Kentucky
No. 3 Ohio State at Wisconsin — Saturday at 7:30 p. ET on NBC (Line: OSU -14.5)
Emmett: Ohio State
Connor: Ohio State
Daily: Ohio State
Hop: Ohio State
Max: Ohio State
Chris: Wisconsin
Joey: Ohio State
MSU Recruits: Ohio State
Anthony: Wisconsin 
Old Dominion at No. 25 James Madison — Saturday at 8 p.m. ET on ESPNU (Line: James Madison -17.5)
Emmett: James Madison
Connor: James Madison
Daily: James Madison
Hop: Old Dominion
Max: James Madison
Chris: James Madison
Joey: James Madison
MSU Recruits: Old Dominion
Anthony: James Madison 
No. 11 Oregon State at Arizona — Saturday at 10:30 p.m. ET on ESPN (Line: Oregon State -3.5)
Emmett: Oregon State
Connor: Oregon State
Daily: Arizona
Hop: Arizona
Max: Arizona
Chris: Arizona
Joey: Arizona
MSU Recruits: Arizona
Anthony: Oregon State 
Michigan State at Minnesota — Saturday at 3:30 p.m. ET on BTN (Line: Minnesota -7)
Emmett: Minnesota
Connor: Minnesota
Daily: Michigan State
Hop: Michigan State
Max: Michigan State
Chris: Minnesota
Joey: Minnesota
MSU Recruits: Michigan State
Anthony: Minnesota
As you can see, we are a little more mixed than last week. Still, the majority of the staff is in agreement on most picks. Should be interesting to see which ones end up winning. Congrats to James Madison on making the top 25. Just had to throw them in to give them some recognition.
Happy Week 9 college football watching, everyone. Go Green.