Tom Izzo takes subtle jab at Michigan, inviting fans to watch open practice
Love this answer.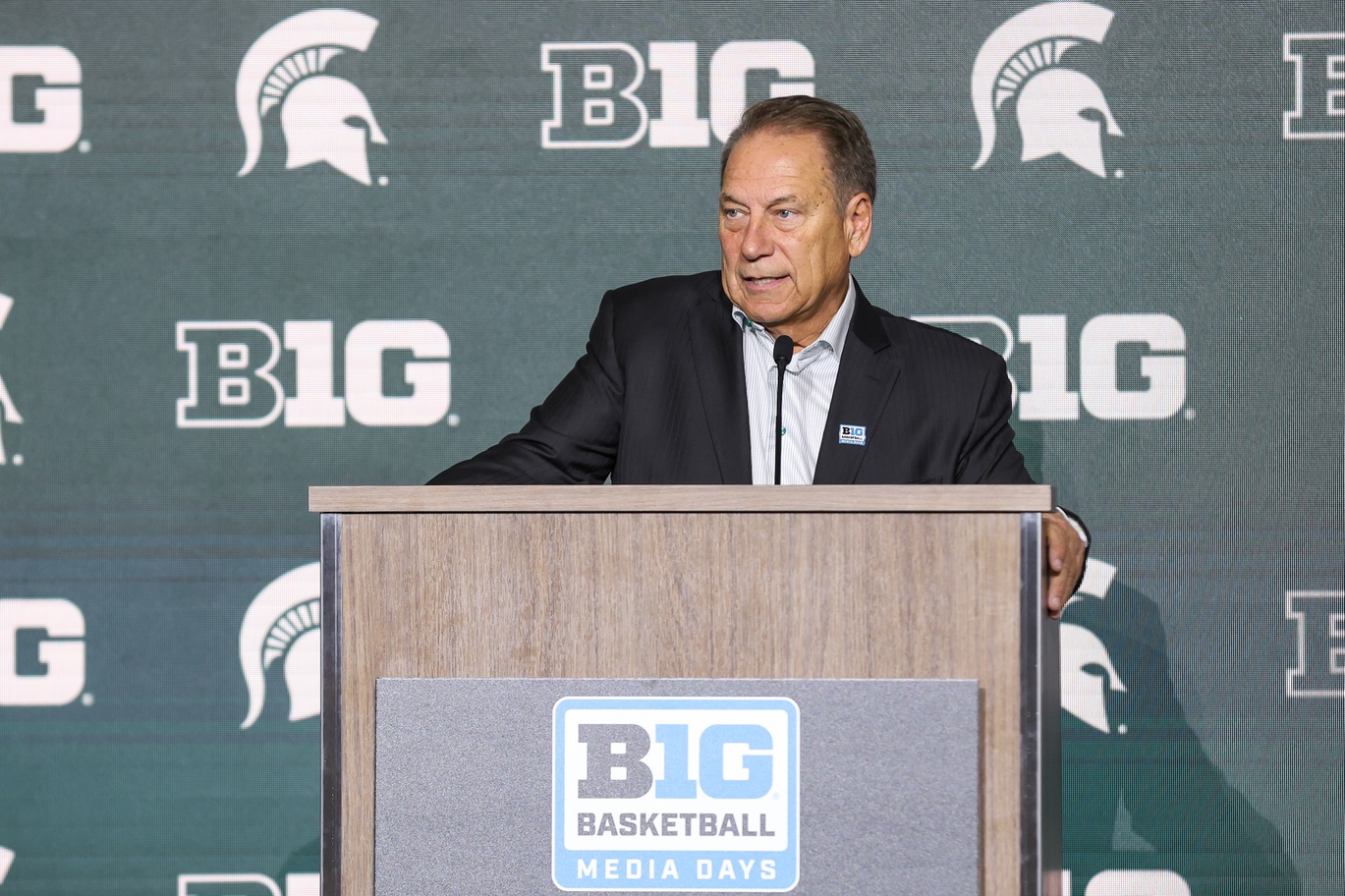 Tom Izzo was asked if he'd allow Michigan fans to watch his open practice and the way he responded was pretty good.
What better time to make subtle remarks about your rival than the week of the rival's football game? Tom Izzo took this opportunity given to him and handled it perfectly without directly insulting Michigan.
Before the Michigan State football game against the Wolverines on Saturday night, the Spartan basketball team is holding an open scrimmage at the Breslin Center. The scrimmage is free for everyone and begins at 2:30 p.m. ET on Saturday with doors opening at 2 p.m. ET.
In a recent interview, Izzo was asked by a reporter if Michigan fans are welcome to attend. Here's what Izzo had to say.
What did Tom Izzo say?
Tom Izzo had this to share when asked if Michigan fans can attend the scrimmage.
"Yeah, I'll let Michigan fans in. They can come in if they want to come in. They can observe."
The quote itself doesn't say anything negative about Michigan. But the way he said it does. The smirk Izzo gives while answering this question is worth a thousand words. His facial expression makes it very obvious what he thinks of not just his team, but the Michigan team down the road.
The message behind the smirk
The way Tom answered this question tells me two things going through his head. It first tells me that he knows he has a special team. Tom Izzo isn't one to give a lot of praise before the season starts. He loves to keep the expectations surrounding his team as minimal as possible to let their play do the talking. But it seems like Izzo is struggling with that this year. Not only has he directly come out and said how special this team and individual players can be, but this smirk says it all regarding how good he thinks they can be.
Second, and this is where Michigan comes in, I think Tom knows his squad is much better than Michigan's. Beating Michigan is one of Izzo's highest priorities every season. He knows what this game and rivalry mean and how important a win is every time they play. Tom also knows that the Michigan team this season likely won't be very good. The Wolverines are coming off a season where they missed the NCAA Tournament and lost in the second round of the NIT. They also lost two key players to the NBA Draft and Hunter Dickinson who transferred to Kansas. Losing all that talent from an NIT team is not a good sign for Wolverine fans. That is the subtle jab Tom Izzo made towards Michigan. He knows their team won't be very good, and he also knows our team should be far better.
I commend Izzo for not coming out and directly saying that, I know I'd struggle with that. But deep in Tom's mind, he knows what he has this season. He knows he has another great shot at his second national championship. He also knows that we are the dominant team in the state and I believe he is anxious to prove that on the court.
The Spartans open their season on Nov. 6 at home against James Madison.