Ranking the top 5 starting Big Ten basketball backcourts
Who are the best backcourts in the Big Ten?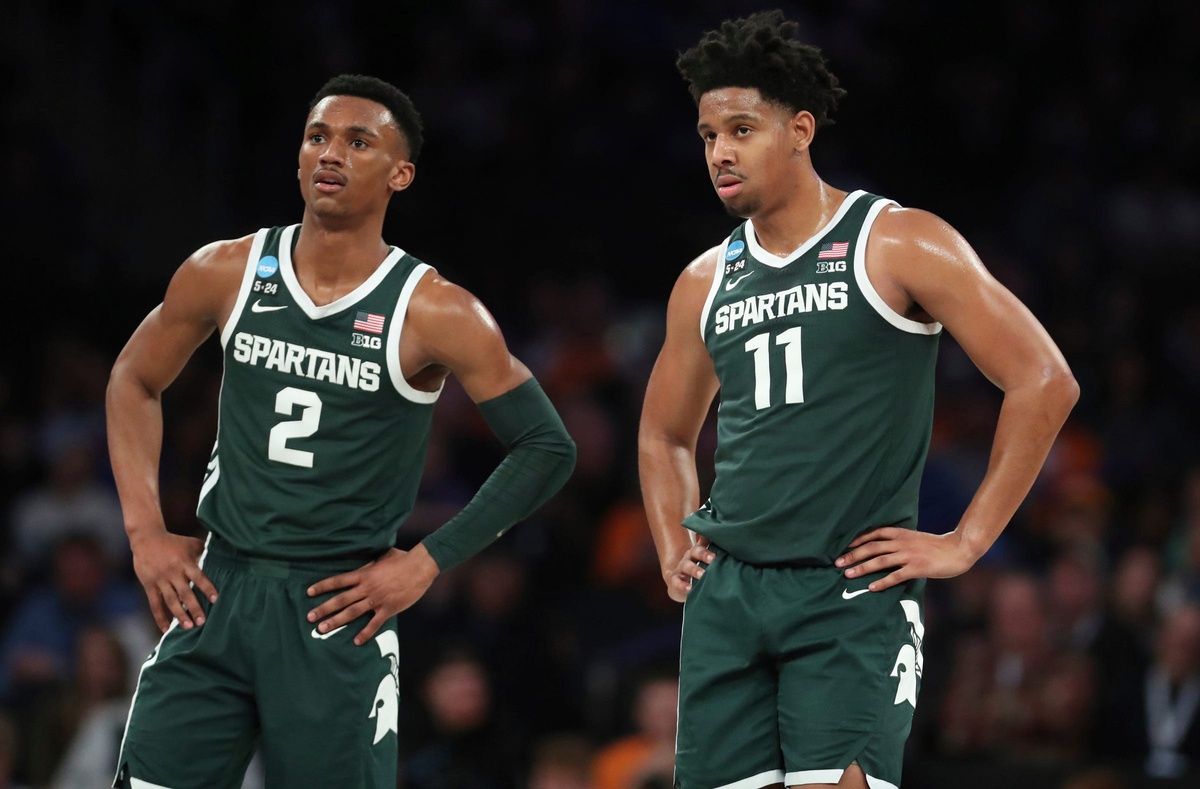 The 2023-24 Big Ten basketball season is upon us so let's take a look at the top five backcourts in the conference.
Big Ten basketball has a lot of talent throughout the league and a lot of expectations. The goal of the Big Ten is to finally win a national title since 2000 and these back courts will be a major reason to reach that goal. Which starting Big Ten basketball backcourts will be on the list below? Let's take a look.
Honorable Mentions: Ty Rodgers and Terrance Shannon Jr. (Illinois), Kanye Clary and Ace Baldwin Jr (Penn State), and Chucky Hepburn and Connor Essegian (Wisconsin).
5. Maryland: Jahmir Young, DeShawn Harris-Smith
Jahmir Young is one of the top point guards in the Big Ten as he earned second team All-Big Ten a year ago. He is paired with one of the top guard recruits in the Big Ten who I believe can be one of the best freshmen in the conference. Young averaged 15.8 points, 4.6 rebounds, and 3.1 assists per game, he has also showed to be a solid defender. Also, the offense will go through Young as he continues to get more comfortable within Maryland's system. DeShawn Harris-Smith is a lefty who has good size at 6-foot-5 and displays an ability to finish at the rim at a high level. Harris-Smith should be a contender for the Big Ten Freshman of the Year. Lastly, he should be able to put pressure on the rim and be a good scorer in transition.
4. Ohio State: Bruce Thornton, Roddy Gayle
Bruce Thornton and Roddy Gayle are both returning sophomore seasons. Thornton averaged 10.6 points per game and 2.6 assists per game a year ago. He is a built guard as he is 6-foot-2 and 215 pounds which allows him to finish at the rim at a high level. Not only can he finish at the rim he also was able to shoot 38 percent from deep on 112 attempts and he started every single game as a true freshman. Roddy Gayle showed a lot at the end of the season as he started 10 of the final 11 games to start the turnaround for Ohio State. During last year he averaged 4.6 points and 1.6 rebounds while shooting 42 percent from three. Finally coming off their freshman season both of these guys should take a jump up which puts them at fourth in Big Ten basketball in these rankings.
3. Purdue: Braden Smith, Fletcher Loyer
The guards of Purdue were major question marks coming into the season a year ago and turned into a strength for most of the season. Braden Smith averaged 9.7 points, 4.2 rebounds and 4.4 assists per game a year ago. He shot 43 percent from the field and shot 38 percent from three as a freshman. Secondly, Loyer averaged 11 points and 2.4 assists per game last season. Generally, these are impressive numbers put up by freshman, but both started every game and averaged 30 minutes per game. Despite these two only being freshman they both earned honorable mention All-Big Ten last season. These two will both be relied on majorly again this season to do the ball handling for Purdue. The question is will they be able to sustain their success for the entire season and not have a drop off at the end of the year.
2. Northwestern: Boo Buie, Ty Berry
Boo Buie is the best point guard in this conference going into the 2023-2024 season. Following last season, he earned second team All-Big Ten. Correspondingly he averaged 17.3 points, 3.4 rebounds, and 4.5 assists per game a year ago. To sum it up he will continue to be the best point guard in the Big Ten and one of the top point guards in the country. Boo is able to take defenders off the dribble and create off the pick and roll. Secondly, Ty Berry averaged 8.5 points per game last year but should see an increased role. The increased role is due to the departure of Chase Audige last season. Berry is one of the better defenders in the league averaging 1.4 steals per game. Lastly, he is a good rebounder bringing down 4.8 per game.
1. Michigan State: AJ Hoggard, Tyson Walker
One of the best closers in the league is Tyson Walker. He averaged 14.8 points per game and 2.9 assists per game. Tyson is able to come off pin down screens, be the ball handler in pick and roll, and be a great shooter off the ball. After last season he finished second team All-Big Ten. He looks to become one of the greats within the Michigan State lore. On the other hand, AJ Hoggard is one of the most physical guards in the league. AJ finished the season with 12.9 points and 5.9 assists per game. AJ finished last season as the third in assists per game in the Big Ten. Hoggard continues to be a top defender in the Big Ten as well. Lastly, the ability of this tandem to defend, score and get others involved puts them at No. 1 in the best Big Ten basketball backcourts.