Michigan State basketball: 3 quick thoughts from win over Southern Indiana
Finally in the win column.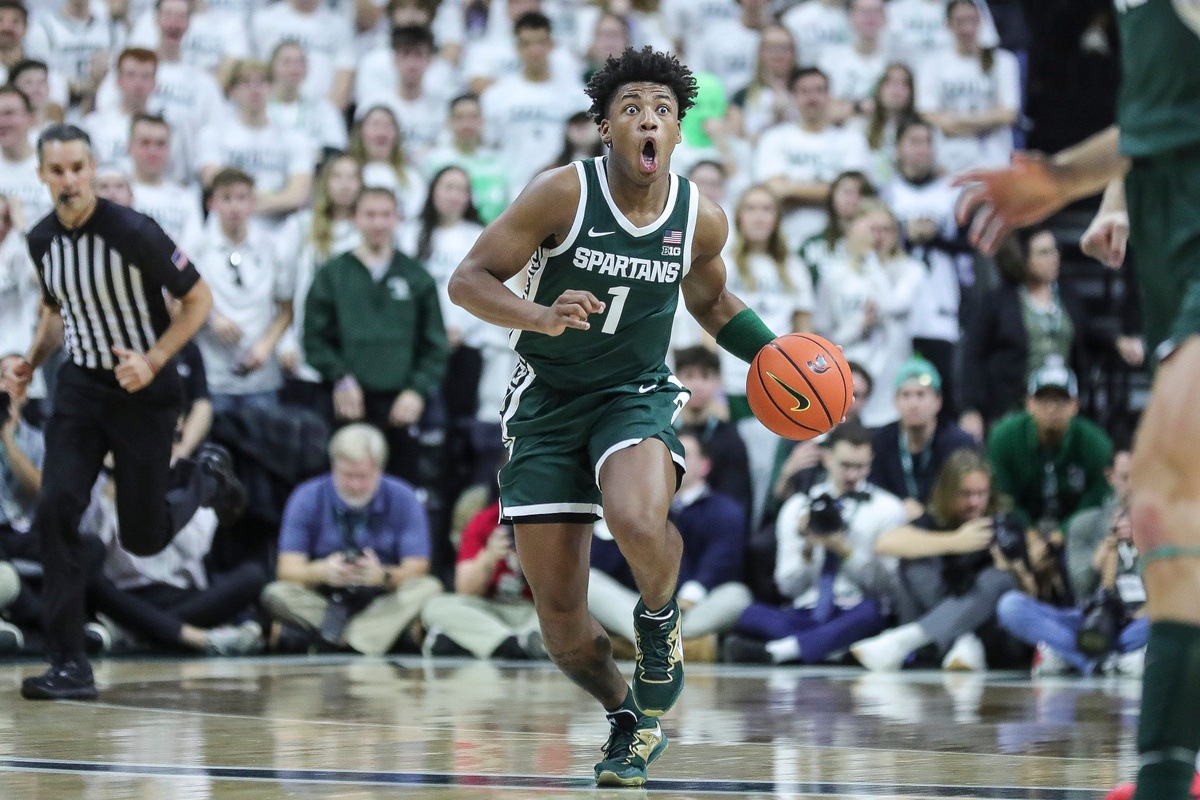 Michigan State basketball picked up its first win of the season on Thursday night over Southern Indiana. Some quick thoughts.
EAST LANSING, Mich. — A cool November evening came to a close with Michigan State basketball picking up their first win of the 2023-24 season. The Spartans handled Southern Indiana, 74-51. Despite it being only the Screaming Eagles' second season as a Division 1 program, they fought hard but were simply overmatched.
Michigan State dominated the scoreboard, but overall they showed the need for improvement in several categories. With a matchup against the star-studded Blue Devils from Durham on the horizon, there needs to be improvement.
For now, however, I'm not going to worry about MSU's future matchup with Duke on Nov. 14. Here are my three quick takeaways from MSU's first win of the season.
1. Three-point shooting has to be better
A lot of Michigan State's notable flaws from their opening night loss to James Madison were chalked up as flukes. Let's face it, MSU probably wasn't going to shoot 23-for-37 from the free throw line again, and they probably weren't going to shoot 1-for-20 from the three-point line again. Right?
Well, kind of.
On Thursday night, Michigan State basketball was better from the line (23-for-28), had more assists (21), and outrebounded their opponent. All positive changes. Except one thing… the Spartans still only made one three.
Michigan State shot 1-for-11 from distance. To their credit, the majority of their three-point attempts were quality looks. However, they simply weren't falling. And that begs the question, is this a serious issue?
Many were way too quick to assume that Hauser leaving would be easily replaceable by an elite freshman class (that doesn't possess outside shooting for the most part).

Will be better defensively, but 3pt shooting should've been a huge reservation before the season started.

— Justin Thind (@JustinThind) November 10, 2023
Michigan State insider Justin Thind makes a great point here. The fact of the matter is, this team lacks shooting. The Spartans lose Joey Hauser from last season, a guy who shot a blistering 46 percent from three last season.
You still have Jaden Akins, who shot a quality 42 percent from three last year, as well as Tyson Walker who shot just under 42 percent from deep.
Akins is 0-for-6 from three this season and Walker is 1-for-7. Overall I think those two will correct themselves.
But where else does shooting come from?
AJ Hoggard and Malik Hall have both shown the ability to knock one down every now and then, but it's not a strong suit of their game. Sophomore guard Tre Holloman could be a threat here, but his spot in the rotation is still unclear. The freshmen class while talented, overall lacks shooting prowess. Jeremy Fears is a pass-first point guard, who will likely develop a nice shot in his time in East Lansing but isn't ready yet, and Coen Carr has overall looked uncomfortable anywhere on the perimeter and is at his best crashing the glass, cutting hard, and getting out in transition. One guy who has shown a smooth stroke is Xavier Booker, but it's still unclear how reliable he'll be.
Three-point shooting is critical in the modern style of college hoops, and while MSU doesn't need to be the best in the conference from beyond the arc again if they want to contend for a title, they have to be better.
2. Jeremy Fears is bubbling with potential
This freshman class is fun to watch. Coen Carr is soaring into national headlines. Xavier Booker is one of the most highly touted freshmen to step foot into East Lansing. Jeremy Fears is the one that excites me the most, however.
Don't worry Gehrig Normand, I haven't forgotten about you. Right now it looks like the staff is planning on redshirting him, but I'm confident his time will come with Michigan State basketball.
Fears is truly a floor general, just like how he describes himself on social media. Tonight against USI he led the Spartans with five assists. The point guard from Illinois looked incredibly comfortable playing like a true Tom Izzo point guard. Looking up in transition, pushing the tempo, controlling the game, making smart plays, and creating shots for others.
Oh, and five assists in 18 minutes is good. It's even better when you add in zero turnovers.
What sold me was a conversation between Izzo and Fears on the bench. The experienced coach shared his wisdom with the young player, probably not very politely. Fears locked eyes with his coach, repeatedly nodding his head and taking it all in. Incredibly responsive and exactly what you want to see.
3. Defensive rebounding is still a problem
Another major area of concern from MSU's opening night loss to JMU was rebounding. Izzo teams are known for their grittiness and toughness. Izzo-led teams hound the glass and rarely give up second-chance baskets. This team, however, is still struggling with that.
JMU outrebounded Michigan State 51-48, which is absolutely unacceptable. And while Michigan State won the overall rebounding against Southern Indiana, they still gave up 13 offensive rebounds while only grabbing six themselves. That simply cannot happen. USI capitalized with 11 second-chance points.
If a program in their second season at the Division 1 level is able to take advantage of MSU's lack of defensive rebounding, what will happen against Duke? Arizona? Or looking further ahead, Big Ten play? If Michigan State wants to win the conference, and they have the talent to do it, they need to rebound better. It's as simple as that.
Looking ahead
Michigan State's next game is against Duke in the Champions Classic. The game tips off at 8 p.m. ET from the United Center.