Michigan State football: I'm ready for the Urban Meyer saga to end
Time for this saga to come to an end.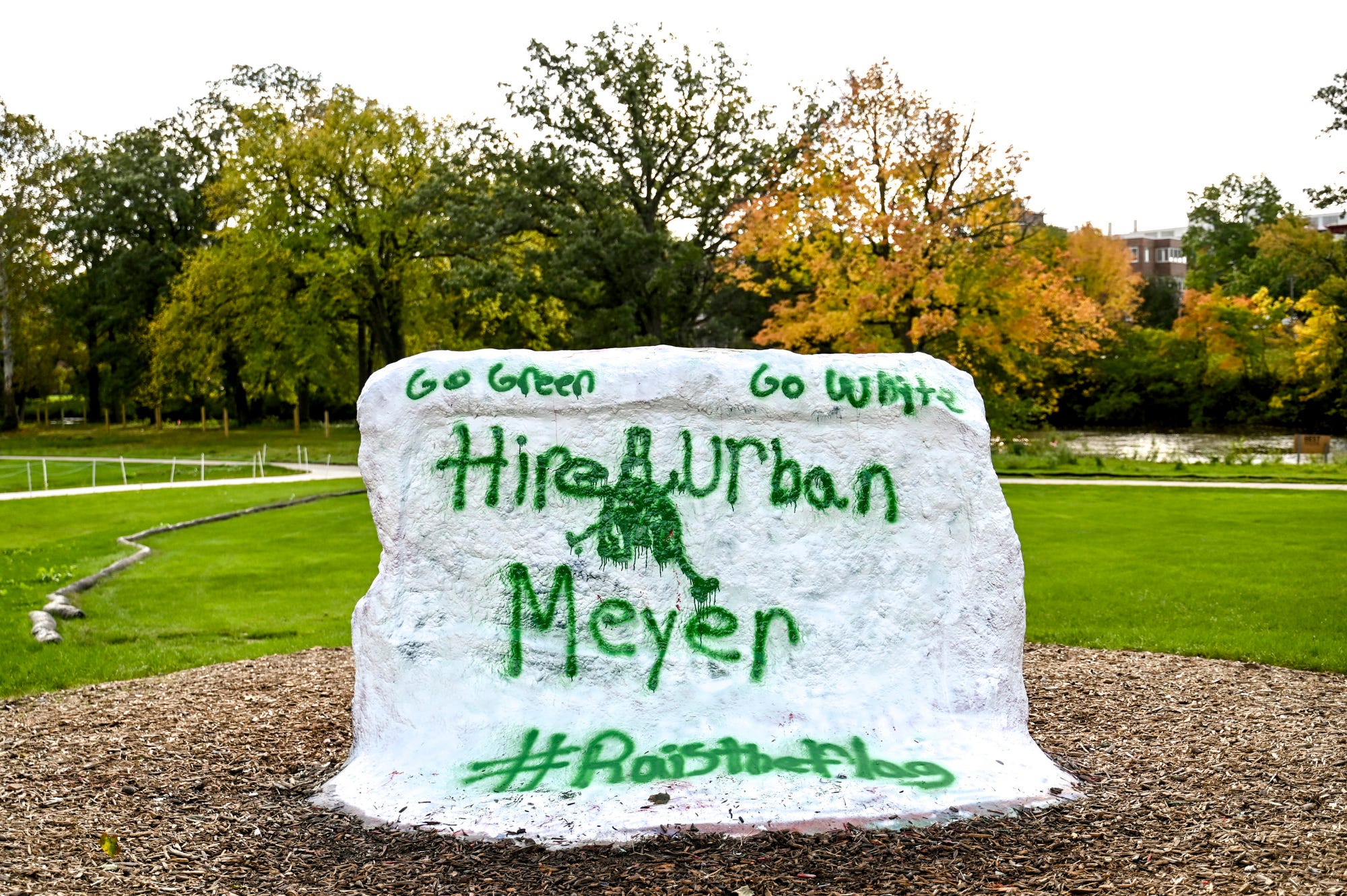 Michigan State football fans have been pulled in every direction but I'm ready for the Urban Meyer saga to be over.
After the initial shock of reading the USA TODAY story, which detailed the abhorrent behavior from Michigan State football coach Mel Tucker, wore off, there was one emotion I felt after it. Relief.
I knew the firing at that point was inevitable, and an incredibly small percentage, if any at all, of that $95 million extension was going to be paid out to Tucker. I felt that level of relief because even off the back of a 45-14 victory against an FCS opponent in Richmond, I knew this arrangement likely wasn't going to work long term. Sure, I was optimistic that MSU was to bounce back from a bad 5-7 campaign in 2022 for a number of reasons going into training camp, but it was a "prove it to me" type year. I wrote this summer how this upcoming season was the most pivotal for Tucker & MSU, and for MSU, it still is.
At a micro level, I still am frustrated at so many things about this 2023 season, but I know in the macro that coaches won't be retained and the roster turnover would be a benefit to everyone involved. I am honestly excited we get to do in 2023 what we were likely to do in 2024 — go through a coaching search.
It was the 2019 search that I became fully engrossed in what MSU Twitter was, and now it's lead me to having a mediocre following and allowed me to write on pages like this one. Coaching carousels are the most fun when you're in on it. Like many of us, I sought out anything that I could find about names and potential connections. There were names I hated, names I loved, and names that didn't move me but made sense to me. But out of all those names, one has caused people to take a side in almost a civil war like degree.
Urban Meyer.
When I first heard it, I honestly laughed and dismissed it as a meme, a joke, a troll. Something not serious. It's an easy thing to point at — "Hey that guy is on TV every week and was really good, we should hire him" isn't an outlandish thought, it was the likelihood of it happening that I found to be outlandish. But hey, when you're getting pumped by Washington it's a good punchline to post the photo of Urban in MSU gear.
I don't know exactly when I first heard that there was rumored interest, because this first rumor has now created what has been an exhausting eternity of a coaching cycle. and that's how I feel about this Urban Meyer saga. Exhausted.
I've previously wrote on how I don't think Urban would be a slam dunk hire like many claim him to be, but that was never me advocating against the hire, more so warning the potential pitfalls. I still remain of the opinion that if Urban was/is this interested in the Michigan State football job, the Spartans should take the swing. You're likely to be at this point again in 4-5 years anyways, so why not?
With that in mind, I'm ready for this search to be over with. The discourse surrounding #UrbantoMSU , #RaisetheFlag, etc. has been nauseating. Yes, I'm self aware enough to understand that by publishing this I'm contributing to it. I am trying to land myself in a spot many people refuse to be in on this issue, the middle.
On one side, you have a few prominent MSU online voices really driving a push and instilling the "Urban or bust" mindset to this search. This side has been very vocal in saying this misery can all be over and it will only end if Urban Meyer is the next coach for Michigan State football. This viewpoint is a tight, tight needle to thread because if not Urban, what's your plan then? It's hard to be on board with anyone else because anyone else is a "bust". Are you really going to sit there for what could be a half decade with your arms crossed saying I told you so? Are you really going to take any scenario and play the "imagine if" game in bad faith? Year 1 or 2 sure you can get away with it, but after a while, people will just tune you out, even if you think you're right.
This doesn't get the those calling this group grifters or liars off the hook in any respect either. Personally, still believing that Urban to MSU was always at zero and never moved off of that is something I'm finding harder and harder to believe. There has been enough rumoring and sourcing and information that doesn't all align together one way or another. Which gets to where I fall on this.
I think Urban loves the chase, and he loves the courtship and being sought after for a job. Anything Urban could do to fuel that and continue that, he would oblige. It is always nice to be wanted, and to a coach like Urban, whose resume speaks volumes, he likes knowing he still has something people want.
So yes, I do believe that conversations were had, and maybe still even are going on. I'm skeptical to the level and degree of how those conversations went, because I'm working off the same amount of information most of you are. In the end, I think there are too many things pointing against Urban truly wanting to come back into coaching. Nationally speaking, Urban's name hadn't really come up much outside of two separate denials that he had any interest in coaching before the A&M job opened. Since the opening in College Station, some talking heads nationally have floated Meyer's name in tongue in cheek fashion, while some have even furthered the notion that Urban likes being talked about and sought after, but truly may not have the appetite to come back to the game.
One interesting point that may be nothing until it isn't, is that Pete Thamel has yet to mention Meyer as open for work. Thamel left Urban off lists for both Michigan State and Texas A&M coaching candidates. This was the same Thamel who linked Urban to USC and even Urban to Texas before Herman was even fired. High profile coaches tend to have major college football writers be "their guy", hence why you see the Pete Thamel's and the Bruce Feldman's of the world breaking all the coach hiring news with big names like Urban.
If talks had progressed to a point to where a deal was close to getting done, you'd think someone within Urban's camp would send someone national a sign by now.
I don't think this is an absurd position to have. There were conversations, a level of interest existed, but it wasn't enough to work. That's not "it was never going to happen". That's not "getting people's hopes up for nothing". But it's also not an indictment on an athletic department or Haller's ability to do his job effectively. It's not a submission to mediocrity. Many have made it out to be one of those two sides, and that's what is exhausting about it all. Thinking it won't happen and looking at an alternative doesn't make you a bad fan who celebrates losers, just as wanting who you personally think is the best viable (key word viable) candidate to get the job doesn't make you a grifter whose stringing someone along.
This saga will likely come to an end in early December, and with people digging in on their positions, no one is going to be happy about whoever is at the podium.