Michigan State football: Katin Houser named Big Ten Freshman of the Week
High honors for Katin Houser.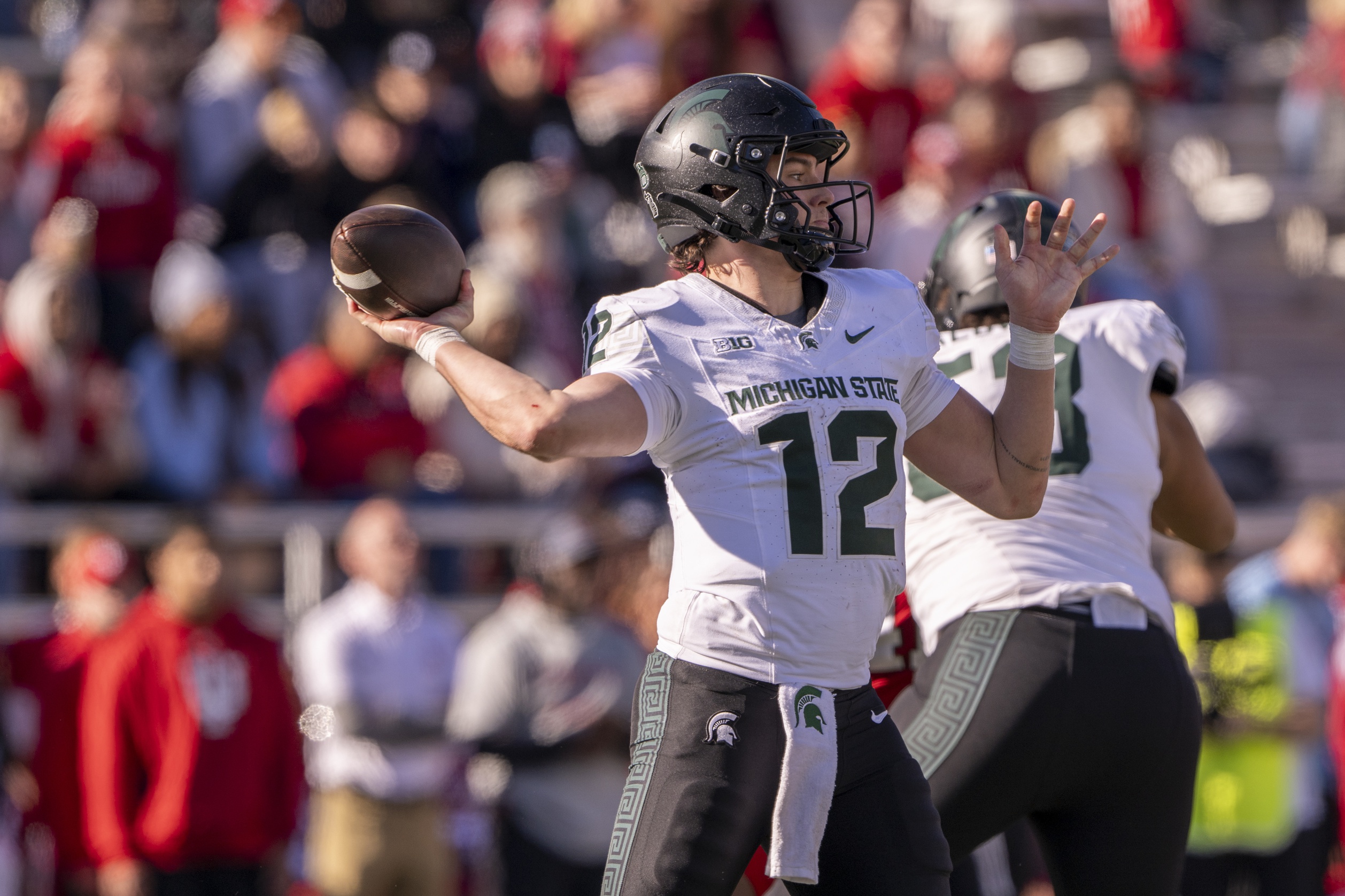 Michigan State football quarterback Katin Houser was named the Big Ten's top freshman this week after beating Indiana.
The awards keep piling up for Michigan State football after their thrilling 24-21 win over Indiana last weekend. Maliq Carr already won Big Ten offensive player of the week, and now his starting quarterback joins him with a major award as well.
Katin Houser played extremely well against the Hoosiers, winning him Big Ten freshman of the week honors.
✨@bigten Freshman of the Week✨@katinhouser had a day on Saturday.#GoGreen pic.twitter.com/cgckA4lp7z

— Michigan State Football (@MSU_Football) November 20, 2023
Katin Houser was dominant in win over Indiana
Houser had one of his better outings since taking over the starting position. He completed 26-of-41 passes for 245 yards and three touchdowns. Two of those touchdowns were to tight end Maliq Carr and the third was to wide receiver Montorie Foster Jr. Houser also ran the ball for 11 yards.
Houser started this game off very well, leading the team on a nine-play, 62-yard drive to take an early 7-0 lead. However, his best drive easily was the final one of the game. Indiana took their first lead of the game with only 4:06 remaining. I don't know about you, but my confidence was pretty low once that happened. Houser and our offense did not flinch, however. They went on an eight-play, 75-yard drive to take the lead back only three minutes later.
On that drive, Houser was 3-for-4 passing for 60 yards including a fourth-down conversion and the game winning 36-yard pass to Maliq Carr. He also had a 15-yard run to help move the chains in the middle of the drive as well. You love to see your quarterback show up when it matters most, and Katin did just that in this game.
Houser however wasn't mistake free in this game. He did throw two interceptions, but thankfully neither resulted in any points for Indiana. Even with those mistakes, Houser was able to move on from them and still play extremely well. That proves why he won the starting job mid-season, and why many thought he should have been the starter at the beginning of the year.