Michigan State football: 3 key factors and a prediction vs. Minnesota
Will the Spartans end the losing skid?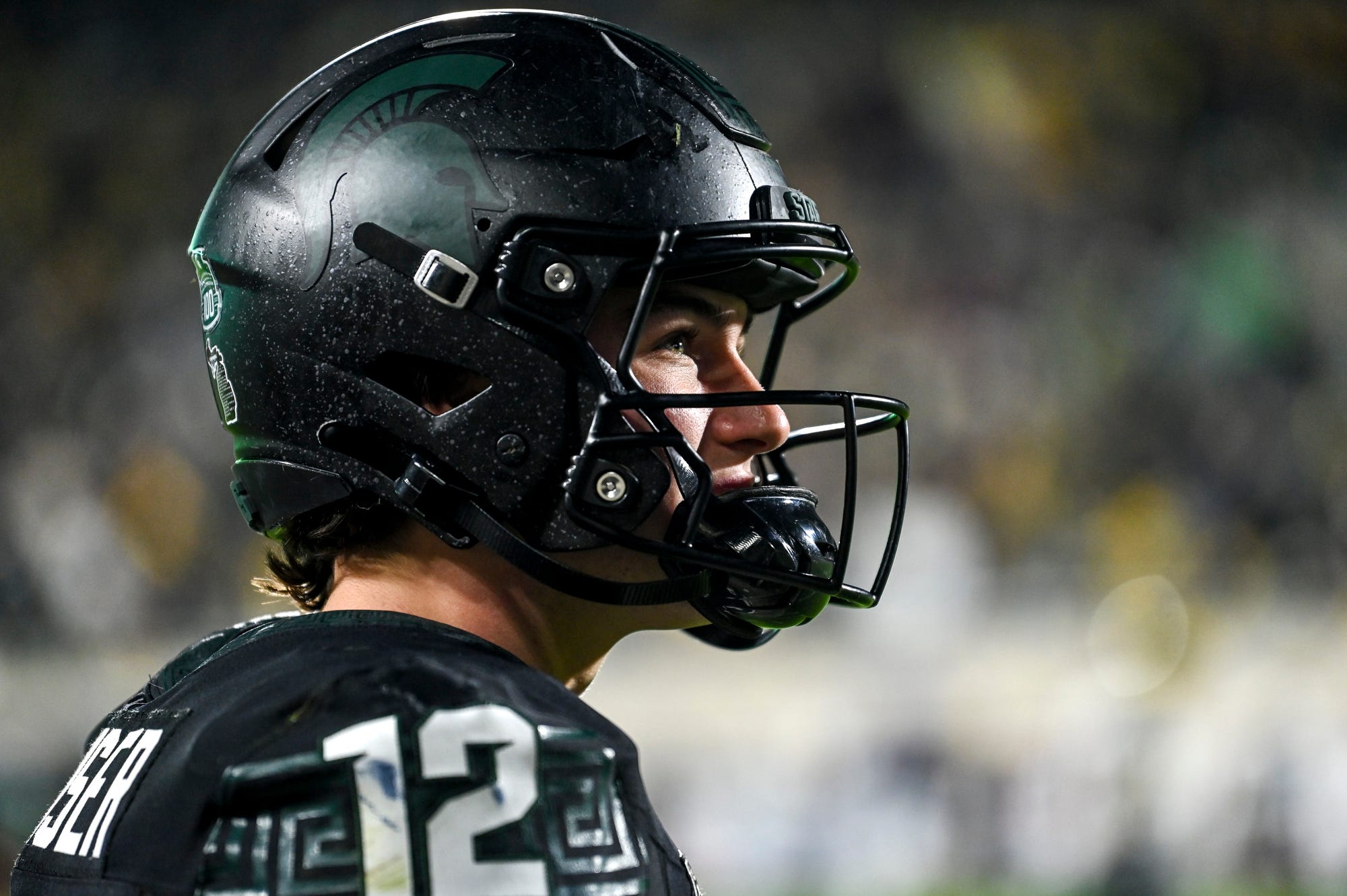 Michigan State football will look to end its losing skid at Minnesota on Saturday afternoon. Here's what the Spartans must do.
Michigan State football will expand its search for a Big Ten win up to Minneapolis this weekend when the Spartans take on Minnesota. The Gophers are coming off a controversial win against Iowa to keep their hopes alive in the Big Ten West.
Here are three key factors and a prediction.
1. What is Michigan State's motivation?
It feels like a recurring question each week with Michigan State football. The coach has been fired. The season has spiraled. We all seem to be waiting for them to quit. It hasn't happened. Their resolve up until this point has been impressive. To me, this week presents the toughest test.
Up until now, each week has felt like a chance to hit reset. Against Maryland, it was the prospect of starting fresh in conference play. Against Iowa, it was a chance to correct some mistakes and steal one in a good matchup. At Rutgers, it was a new quarterback off a bye week. The Michigan game was this team's Super Bowl.
Now? What's left? You're on the road, off the radar against a vanilla opponent that always plays hard. Last year, MSU wasn't ready to compete in this game and got pummeled in East Lansing. If MSU isn't motivated, the Gophers will exploit it. I expect to get that answer in the first quarter. For what it's worth, after the fiasco against Michigan in 2022, the Spartans rebounded and played their best game of the season in a win at Illinois. The vibes this week feel a bit similar. This team has played its best football on the road this season.
If there's one compliment to give Harlon Barnett, it's that he has held this thing together. Simeon Barrow entered the transfer portal earlier this week and then quickly withdrew. That could be a sign that the locker room is still healthy. Maybe we'll see things turn for the worse. For now, though, the lack of attrition has been a pleasant surprise.
To win Saturday, "want to" is step one. The Spartans have no chance if they come into this game sleepy, sluggish, or disinterested.
2. Michigan State matches up defensively
If the Spartans show up ready to play (and that's no guarantee), this is a game they should be able to compete in.
Minnesota doesn't hide what they want to do. They want to run the ball, bleed the clock, run the ball again, bleed more clock, and run it some more. The Gophers are second in the Big Ten and 11th in America in time of possession. P.J. Fleck wants to operate his offense like a service academy with efficient, time-consuming drives. The time-consuming portion is there. The efficiency is not. Minnesota has scored the fewest touchdowns in the Big Ten while kicking the most field goals. The run-heavy game plan plays right into the Spartans' strength.
How do you attack this defense? By now you know. It's through the air. While the Spartans' defensive rushing statistics aren't outstanding, they are far better than their passing numbers. That's exactly what Minnesota has shown that they can't do consistently in 2023. The Gophers rank dead last – yes, even lower than Iowa – in the Big Ten in passing yards. Athan Kaliakmanis is extremely limited with his arm. He's averaging just 5.7 yards per attempt with as many interceptions (six) as touchdowns.
The passing game is not explosive or effective in almost every metric. That includes third downs.
It makes sense that a team that isn't running the ball effectively faces a lot of third downs. Minnesota is converting at only 36 percent. The Spartans allow under 30 percent of third downs to be converted. Any way you slice it, Minnesota's offense is an ideal matchup for MSU's defense. Their inability to run the ball, convert on third down, and score touchdowns in the red zone are all things Michigan State football excels at defensively.
3. Two quarterbacks for Michigan State?
Look, I have no inside information on what MSU is going to do with their quarterbacks. This is just me reading between the lines. For starters, I think it was telling how long the coaching staff stuck with Noah Kim. We all saw his flaws pretty early on in the games against Washington and Maryland. The fact that it took so long to make the switch may say more about Katin Houser than Kim.
What if the hesitancy with changing quarterbacks was more about the unwillingness to admit that Houser was not really QB2? What if it's really freshman Sam Leavitt? I thought it was extremely odd that they put Leavitt in for one drive at the end of the Maryland game. After all, the previous drive that Houser directed looked promising. At that point, that was the most extensive look we'd had at Houser. Why not give him one more? Why burn one of your four games with Leavitt's redshirt season for a useless final drive? But then it happened again against Michigan. If you want to protect Houser, that's understandable. But why not go to Kim then if you're just trying to protect your starters? To me, it's a signal to Leavitt that the staff wants to recognize the work he's put in and the progress he's made. I also think they're genuinely curious about his talent.
I thought it was noteworthy that he was made available to the media this week for the first time. He said he's not worried about preserving his redshirt season. If every other position on the roster is being evaluated during this terrible season, why should quarterback be any different?
My guess is that we will see him for a drive or two on Saturday. If that goes well, maybe we'll see more. I'm not arguing it's the correct decision. Houser has been fine and has done nothing to "lose" this job. But I get the sense that the staff is not afraid to go to Leavitt if the offense gets stagnant against Minnesota.
Prediction
Minnesota comes into this game as a seven-point favorite. All week, that's felt about right to me. After digging into the numbers a bit more, it seems like too many. Minnesota is overly reliant on an inefficient running game and doesn't have the passing game to take advantage of Michigan State's secondary.
On defense, I'm not convinced Minnesota's numbers aren't directly tied to their schedule. Their numbers are fine. But they've also had the luxury of playing against woefully inept offenses like Nebraska, Eastern Michigan, Northwestern, and Iowa. Again, this all comes down to Michigan State's motivation. If they want to be there and want to win, they'll be a live underdog. But what the statistics can't account for is the "uh-oh" plays that MSU has perfected. Only Akron has committed more turnovers than Michigan State this season. In this type of low-scoring game, that's critical.
I feel like we've seen this game multiple times already this year. The Spartans compete, do some good things, and then roll over.
Final score: Michigan State 14, Minnesota 16