Spartan Shadows staff Week 8 college football picks against the spread
Who ya got?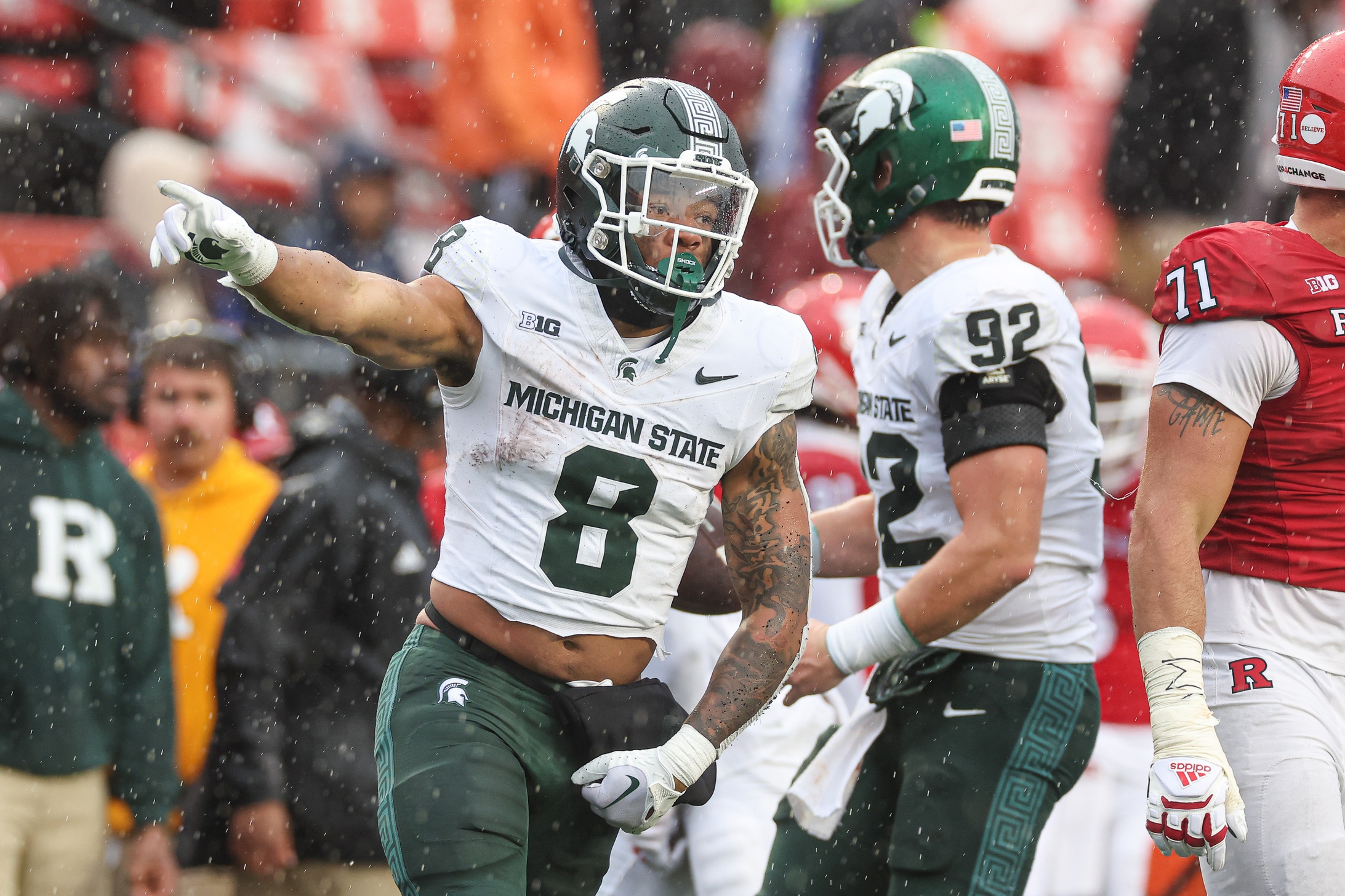 Week 8 of the college football season is here and that means it's time for our weekly Spartan Shadows staff pick 'em.
Hey everyone, welcome back to the pick 'em. Week 7 is in the books and we are heading into rivalry week here in the state of Michigan. Unfortunately, so far the college football season hasn't quite gone to plan for the Spartans but as we know in this game, anything can happen.
Week 7 saw some interesting games take place as Washington vs. Oregon lived up to its hype with Washington delivering a 3-point win. A couple of upsets with Missouri upsetting Kentucky and then Pittsburgh upsetting Louisville. The No. 1 team in the country, Georgia, also lost arguably its best player in Brock Bowers for the rest of the regular season due to injury.
What surprises does Week 8 have in store? How did we do in the picks last week? Let's check out the results and get into the college football games for the week.
Week 7 results
 Indiana at No. 2 Michigan — Line: Michigan -33.5; Result: Michigan cover
No. 8 Oregon at No. 7 Washington — Line: Washington -2.5; Result: Washington cover
Texas A&M at No. 19 Tennessee — Line: Tennessee -3.5; Result: Tennessee cover
No. 23 Kansas at Oklahoma State — Line: Kansas -3.5; Result: Oklahoma State cover
No. 14 Louisville at Pitt — Line: Louisville -7.5; Result: Pittsburgh cover
No. 10 USC at No. 21 Notre Dame — Line: Notre Dame -2.5; Result: Notre Dame cover
No. 25 Miami at No. 12 North Carolina — Line: North Carolina -3.5; Result: North Carolina cover
Missouri at No. 24 Kentucky — Line: Kentucky -2.5; Result: Missouri cover
No. 18 UCLA at No. 15 Oregon State– Line: Oregon State -3.5; Result: Oregon State cover
Michigan State at Rutgers — Line: Rutgers -5.5; Result: Michigan State cover
First off, shout out to Joey for being the only one to correctly pick Pitt to cover (and beat) Louisville. In the reverse of that, Daily was the only picker to take Indiana to cover against Michigan. I understand the thought process with it being a lot of points and both teams playing slower at times this year. Unfortunately for Daily, Michigan is firing on all cylinders and Indiana is, well, not firing on most cylinders. Also, shout out to the Fighting Irish of Notre Dame for making a nice comeback statement after last week thoroughly trouncing Caleb Williams and USC.
As for the MSU game, well, I think we should let that one go without saying anything. I will give kudos to Katin Houser for coming in and making a pretty great effort in his first start at quarterback.
For our picks on the week: Big weeks for Connor, Joey, and Myself with us coming in at 7-3. That performance not only makes Connor our fearless leader at Spartan Shadows, but now he's our fearless leader in the picks. His big week moves him ahead of Daily by a game. Next on the week was a solid performance from Hop at 6-4. After that we have Daily, Emmett, Max, and MSU Recruits coming in with solid efforts at 5-5. Bringing up the rear this week was Anthony at 4-6. I can't blame him too much as he was on vacation while making his picks so we gotta give him a pass there.
One last shoutout needs to go to Joey. A blistering couple of weeks has got him back to .500 on the season.
Updated standings after Week 7
Connor: 39-29-2
Daily: 38-30-2
(Tie) Emmett and Hop: 36-32-2
(Tie) Max and Chris: 35-33-2
Joey: 34-34-2
MSU Recruits: 32-36-2
Anthony: 30-38-2
Side competition updates:
Daily's ascent to the top of the leaderboard has been derailed for a week after Connor's performance. He also lost another game in his battle with HopMan. This competition is fierce and Hop now only sits 2 games back. Can that deficit be overcome this week?
In the battle for the Cane's Box; Anthony's vacation and my newfound pick success were not a good combo for Anthony. I have increased my lead for Canes/beer to five games currently but there are still a lot of games left to pick this year. I have a feeling Anthony will be back closing in on me soon.
Now let's get to what you've all been waiting for. Time to bring on this week's college football games. Happy Hate Week, everyone.
Week 8 picks
Disclaimer: All lines are as of 3 p.m. ET on Wednesday, Oct. 18, from FanDuel. All times listed are Eastern Standard Time.
No. 7 Penn State at No. 3 Ohio State — Saturday at 12 p.m. ET on FOX (Line: Ohio State -4.5)
Connor: Ohio State
Daily: Ohio State
Emmett: Ohio State
Hop: Ohio State
Max: Penn State
Chris: Ohio State
Joey: Ohio State
MSU Recruits: Ohio State
Anthony: Ohio State
Rutgers at Indiana — Saturday at 12 p.m. ET on BTN (Line: Rutgers -5.5)
Connor: Rutgers
Daily: Rutgers
Emmett: Rutgers
Hop: Rutgers
Max: Rutgers
Chris: Rutgers
Joey: Rutgers
MSU Recruits: Rutgers
Anthony: Rutgers
No. 17 Tennessee at No. 11 Alabama — Saturday at 3:30 p.m. ET on CBS (Line: Alabama -8.5)
Connor: Alabama
Daily: Alabama
Emmett: Alabama
Hop: Tennessee
Max: Alabama
Chris: Tennessee
Joey: Alabama
MSU Recruits: Alabama
Anthony: Tennessee 
Washington State at No. 9 Oregon — Saturday at 3:30 p.m. ET on ABC (Line: Oregon -18.5)
Connor: Oregon
Daily: Oregon
Emmett: Oregon
Hop: Oregon
Max: Washington State
Chris: Oregon
Joey: Oregon
MSU Recruits: Oregon
Anthony: Oregon
Minnesota at No. 24 Iowa — Saturday at 3:30 p.m. ET on NBC (Line: Iowa -3.5)
Connor: Iowa
Daily: Iowa
Emmett: Iowa
Hop: Minnesota
Max: Iowa
Chris: Iowa
Joey: Minnesota
MSU Recruits: Iowa
Anthony: Iowa
South Carolina at No. 20 Missouri — Saturday at 3:30 p.m. ET on SECN (Line: Mizzou -7)
Connor: Missouri
Daily: Missouri
Emmett: Missouri
Hop: Missouri
Max: Missouri
Chris: South Carolina
Joey: Missouri
MSU Recruits: Missouri
Anthony: Missouri
No. 16 Duke at No. 4 Florida State — Saturday at 7:30 p.m. ET on ABC (Line: FSU -13.5)
Connor: Duke
Daily: Duke
Emmett: Florida State
Hop: Duke
Max: Florida State
Chris: Florida State
Joey: Duke
MSU Recruits: Duke
Anthony: Duke 
No. 14 Utah at No. 18 USC — Saturday at 8 p.m. ET on FOX (Line: USC -6.5)
Connor: USC
Daily: USC
Emmett: Utah
Hop: Utah
Max: Utah
Chris: Utah
Joey: USC
MSU Recruits: USC
Anthony: USC 
Clemson at Miami — Saturday at 8 p.m. ET on ACCN (Line: Clemson -3.5)
Connor: Clemson
Daily: Clemson
Emmett: Miami
Hop: Clemson
Max: Clemson
Chris: Clemson
Joey: Miami
MSU Recruits: Clemson
Anthony: Clemson
No. 2 Michigan at MSU — Saturday at 7:30 p.m. ET on NBC (Line: Bad guys -24.5)
Connor: Good guys
Daily: Bad guys
Emmett: Bad guys
Hop: Good guys
Max: Good guys
Chris: Bad guys
Joey: Good guys
MSU Recruits: Good guys
Anthony: Good guys
That will do it, folks. As you can see we have a lot of consensus picks. All of us together on Rutgers is concerning a bit. Should be an interesting week of college football games.
Everyone available this weekend should show out to support our boys in the Green and White (or probably Black and Green) as they battle to bring Paul home. Regardless of how the season goes, this game is always a big one and our guys need our support. For our seniors, this is their last shot at the school down the road and they deserve to have our full support. Also, let's remember one thing.
Pride Comes Before The Fall

Beat Michigan pic.twitter.com/KIPtb30h0b

— Barstool Spartans (@BarstoolMSU) October 16, 2023
Have a fantastic rest of Hate Week, everyone. Go Green.