Mel Tucker present for Mat Ishbia-Nikola Jokic reconciliation
Mel Tucker was there when Ishbia and Jokic mended fences.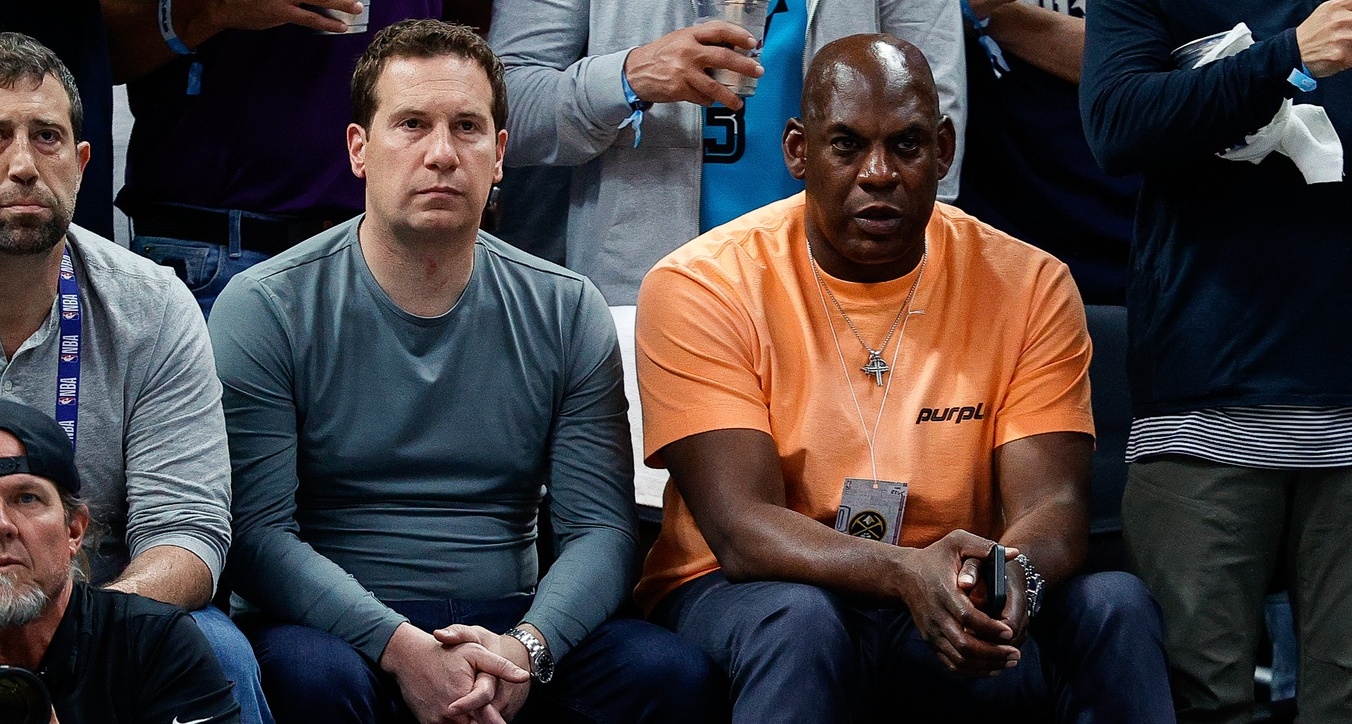 Mel Tucker was sitting courtside with Mat Ishbia during pregame warmups when Nikola Jokic came over and made amends with the Suns' owner.
A couple of days ago NBA superstar Nikola Jokic and current Phoenix Suns owner Mat Ishbia made contact with each other during Game 4 of the Nuggets vs Suns playoff series.
Sun player Josh Okogie went chasing down a loose ball and former Michigan State basketball walk-on Mat Ishbia found himself with the ball in his courtside seat. Ishbia held on to the ball briefly before Jokic came over grabbing the ball. Ishbia didn't exactly want to just let it go, however. The ordeal ended with Jokic giving Ishbia a light forearm to the chest.
Here's some video:
Nikola Jokić appeared to shove Suns owner Matt Ishbia after the play.

Jokić was given a technical foul.

? @Sportsnet pic.twitter.com/C4XjwXrEuD

— The Athletic (@TheAthletic) May 8, 2023
Safe to say Ishbia could've made it as an actor.
The NBA issued a $25k fine to the Nuggets star. Pocket change to an NBA player. Jokic was also lucky enough to walk away from the incident without a suspension.
Ishbia took to Twitter to release a statement of his own after the controversy.
Great win for the Suns last night in an amazing series so far!
That should be and is the only story. Suspending or fining anyone over last nights incident would not be right. I have alot of respect for Jokic and don't want to see anything like that. Excited for game 5! Go Suns!

— Mat Ishbia (@Mishbia15) May 8, 2023
Mat Ishbia and Nikola Jokic meet again in front of Mel Tucker
Fast forward a couple of days and Ishbia is sitting courtside again with Michigan State football coach Mel Tucker. After warming up for a bit pregame, Jokic began heading toward the locker room. However, he made a quick pitstop at Ishbia's seat. Jokic playfully passed a ball over to Ishbia and the two dapped each other up with smiles.
Nikola Jokic walked up to Mat Ishbia, tossed him a ball and gave him a hug. That's a perfect way for this little controversy to end.
pic.twitter.com/UQKthFGX6T

— Gary Parrish (@GaryParrishCBS) May 10, 2023
It was all laughs between the two and it looks like the drama has been squashed. An interesting aspect of the above video was the fact that Tucker was there chopping it up with Ishbia. Tucker and Ishbia have a good relationship, and they should. Ishbia is a big factor in Tucker being under contract for $95 million.
Hopefully now after Jokic and Ishbia seemed to have publically made up, everyone can put this behind them.