Michigan State basketball: 3 key factors and a prediction at Ohio State
What are the keys for Sunday's big game?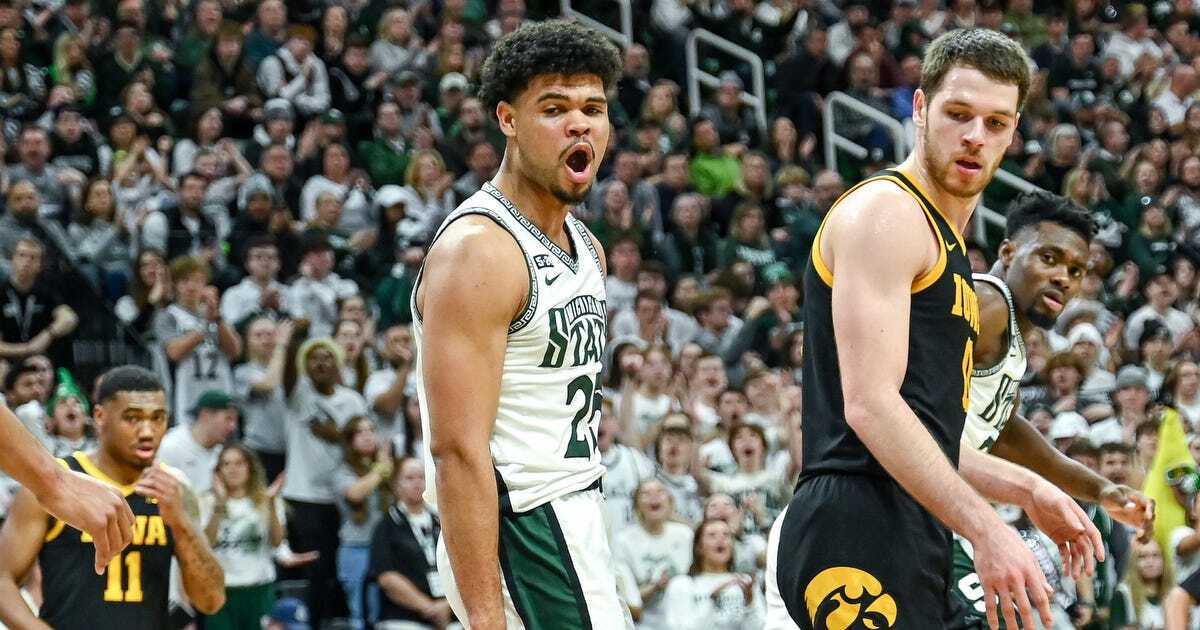 Michigan State basketball heads to Columbus for a Super Bowl Sunday matchup against a struggling Ohio State team.
It's Super Bowl Sunday across America. Which means there's no better way to get the day started than with some Big Ten hoops. Ohio State and Michigan State basketball meet for the first time this season in Columbus.
Let's dive into the keys to the matchup and a prediction for this appetizer.
1. What does Ohio State have left?
There may not be a colder team in all of America right now than Ohio State. The Buckeyes have lost 10 of 11 games, and sit at a staggering 3-10 in Big Ten play. It's not uncommon for good teams to rack up losses in a competitive league like the Big Ten. But during the Buckeyes slide, they've lost home games to Minnesota, Wisconsin, and Northwestern.
After a 10-3 start to the year and a close loss at home to Purdue, Ohio State looked almost certain to make the NCAA tournament. Now sitting at 11-13 with few impressive victories, their chances of making the field will rely on winning the Big Ten tournament in Chicago next month.
The troubling reality for Ohio State is that currently, there are no signs of improvement.
After a 16-point win over Iowa on Jan. 21 that snapped a five-game losing streak, the Buckeyes have gone on to lose five more in a row. That stretch includes an ugly home loss to Wisconsin that saw head coach Chris Holtmann ejected for arguing with the officials.
It's a team that has talent. Freshman Brice Sensabaugh projects to be an NBA player one day. Forwards Zed Key and Justice Sueing are veterans that have played in a lot of big games over the years. Chris Holtmann is widely regarded as one of the best coaches in the league. For as bad as things have been, this is an Ohio State team that still ranks 39th in KenPom – higher than Michigan State (41).
The program's culture will be put to the ultimate test over the last few weeks of the season. This is a team that currently looks like it has checked out. These situations usually go one of two ways. Either the team rallies and finds something to play hard for, or they unravel and become uncompetitive.
It will be fascinating to see where the Buckeyes' heads are on Sunday.
2. Can Michigan State play 40 minutes?
Inconsistent. That's the word I find myself most frequently using when describing this Michigan State basketball team. They've gotten off to great starts on the road against teams like Indiana and Illinois only to falter in the second half. Conversely, they've gotten off to bad starts in games against Purdue (first matchup) and Rutgers (first matchup) and played some of their best basketball in the second half.
But there really hasn't been one game in conference play to point to and say, "that was Michigan State's best for 40 minutes." I think that is going to be critically important against Ohio State.
As noted, Ohio State's confidence is at an all-time low. A fast start could derail all hope for the Buckeyes and end this one quickly. If the game is tight in the second half, Michigan State will need to be at their best to hold off what will be a desperate team looking for any sort of victory to feel better about their season.
The best version of this Michigan State team is one that is getting offensive contributions from A.J. Hoggard and Malik Hall. Tyson Walker, Joey Hauser, and Jadin Akins have proven to be fairly reliable from night to night. The key to raising the ceiling of this MSU team rests with Hoggard and Hall. Both have struggled recently in conference play but remain plenty capable.
For Hoggard, it's about limiting turnovers, getting to the foul line, and not falling in love with three pointers. As far as Malik Hall is concerned, it's about seeing some go through the hoop. He's been in and out of the lineup multiple times this season due to injury and just hasn't been able to find any offensive rhythm.
That will come with more minutes. Hitting some shots on Sunday will help him feel more comfortable within the offense – which MSU desperately needs.
3. Positive regression for Ohio State?
Ohio State has a very interesting statistical profile offensively. On the season, per KenPom, it ranks 18th in the nation in offensive efficiency. However, they are ninth in the Big Ten when you restrict those statistics to conference play only. They rank 13th in the league in effective field goal percentage and 14th in two-point shooting percentage. As their record indicates, they've been significantly worse on the offensive end of the court in conference play.
Michigan State comes in as the top ranked team in the Big Ten in effective field goal percentage defense. They have also been the best at defending the three-point line.
Defensive statistics can lie to you. Without taking anything away from Michigan State, successful defensive possessions can simply come down to whether or not shots are made. Great defense can result in a make a poor defense can result in a miss. At this point, I believe MSU's three-point defense is a little bit of a mirage. I don't believe opponents will continue to shoot 27 percent from three against them.
On the other end, I don't believe Ohio State is going to sustain its woeful shooting in the paint, as they are shooting five percent worse in conference play than their season totals. The metrics indicate that Ohio State is not nearly as bad as its record.
Offensive regression is coming for the Buckeyes in a positive direction.
For Michigan State basketball, woeful shooting nights from Iowa, Maryland, and Rutgers are likely unsustainable. Sunday feels like a spot where Ohio State may see more shots fall than they have in the past two weeks.
Prediction
If you can believe it, the projected line for this game is Ohio State -4. Given the Buckeyes' struggles, I doubt it opens there. I do think the Buckeyes will be favored, but it will probably be in the neighborhood of two or three points.
Winning on the road in the Big Ten is very difficult, but I wouldn't expect a terribly difficult road environment in Columbus on Sunday. The season has gone sideways for the Buckeyes, and this is a fan base that uses up most of their school spirit on football season. Throw in the early start on Super Bowl Sunday, and this could be a sleepy atmosphere.
With that said though, it feels way too easy to bet Michigan State as an underdog. It's unfortunate timing, because it feels like the bottom for Ohio State was on Thursday against Northwestern.
The Buckeyes are desperate, and there is nothing more dangerous than a team with nothing to lose.
There aren't a ton of advantages here for Ohio State, but this is a textbook gut check game for a program and a coach that knows they're better than they've shown.
Final: Michigan State 65, Ohio State 72