Michigan State football: Could Mel Tucker's first 5-star commit be on the horizon?
Mel Tucker is still looking to strike five-star gold.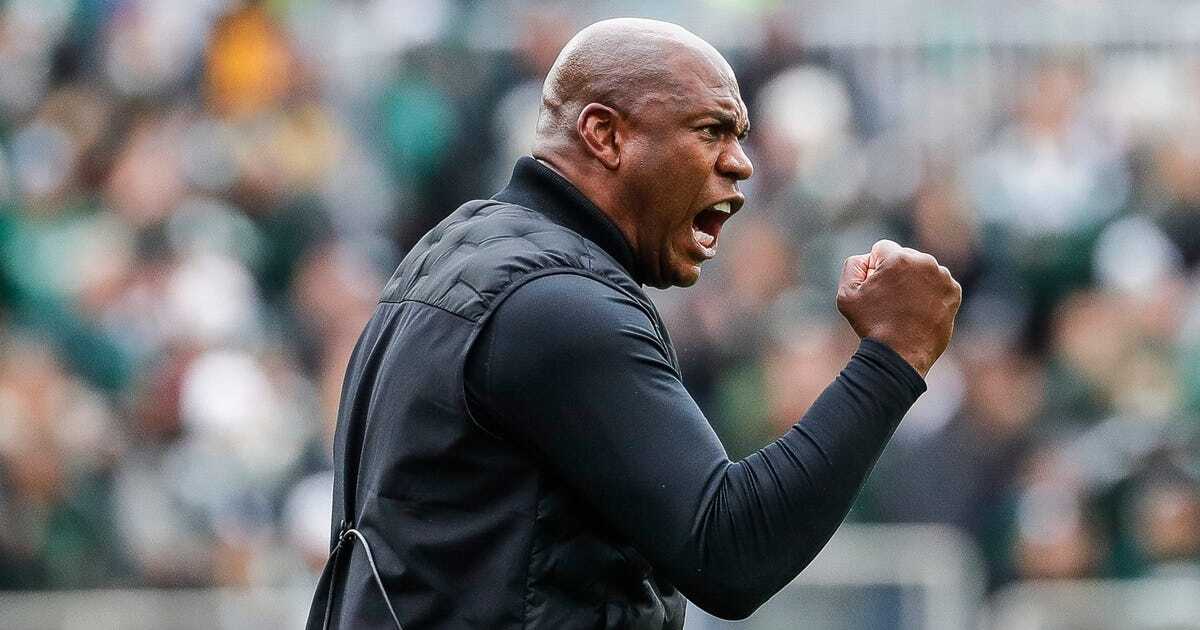 Five-star 2024 defensive lineman prospect David Stone is set to make another unofficial visit to Michigan State football this weekend.
Now that the new year has started and 2023's early signing day has come and gone in December, the Michigan State football recruiting trail has officially shifted to 2024's class and it couldn't come sooner.
To say MSU's recruiting had its ups and downs in 2022 would be a massive understatement. Going 5-7 during the season certainly didn't help but the recruiting hype reached all-time highs and all-time lows through the ranks of MSU fans everywhere. One thing that was talked about a lot during the 2023 cycle is when will Mel Tucker land his first five-star commit?
The eternal optimists everywhere (including myself at one point), had really hoped that Samson Okunlola was going to take that title in the 2023 class but we ended up losing another close race to Miami there. Thus ended the hope for Mel hitting that goal in 2023.
Looking into the 2024 class, there is already hope judging by the early targets Mel and staff have identified with early contact. Names include safety KJ Bolden from Georgia, edge rusher Elijah Rushing from Arizona, cornerback Charles Lester III from Florida, and defensive lineman Eddrick Houston from Georgia (a high school teammate of Bolden).
Perhaps the most talked about player and name you've possibly heard before is starting to separate himself from the others as a top target for MSU. He's the No. 4 player in the 2024 class (per 247Sports) and is considered the second-best defensive lineman in the class. That would be none other than David Stone. He originally hails from Oklahoma but is down in Florida currently playing with IMG Academy and has widely been touted as one of the better defensive line prospects in a while.
Michigan State football has been after Stone for quite some time and early indications seem to be paying off. The ties to MSU are strong. Stone has often cited having a great relationship with MSU pass rush specialist Brandon Jordan as well as Mel Tucker. He is also very close friends with 2023 signee and incoming freshman Bai Jobe from Oklahoma. The two were high school teammates for the first two years of Stone's career before he moved to IMG.
And this weekend, Stone will be on campus for an unofficial visit.
This weekend's unofficial visit will also mark the fourth time that Stone has visited campus so far. The other times being an unofficial visit in June of 2022, MSU's "Spartan Dawg Con" in July of 2022, and also an unofficial visit to campus last October during the Wisconsin game where he stated he had a fun time and called the visit "great."
Stone often reps MSU gear on social media and has said multiple times that there isn't a thing about MSU that he doesn't like.
While there is still a lot of time left in the 2024 cycle, Stone is certainly trending in the right direction for the Spartans. As expected, there is heavy competition for the high school junior. He has long been expected by most experts to go to Oklahoma seeing as he is from there and his sister currently attends the school. Former head coach Lincoln Riley has reached out to him and inquired about his potential interest in USC and also he is getting a lot of contact from the Florida schools now that he's playing closer to them. He also recently received an offer from Ohio State and holds over 30 offers.
Expect a tough battle for Stone's services over the next few months but know that MSU is in as good a shape as anyone to land him.
Only time will tell if Stone will end up being the first five-star domino to fall in Tucker's national recruiting strategy but things are certainly going well so far. Just how long would MSU fans have to wait to find out if this dream could become a reality? Stone has recently confirmed that he will plan to take his official visits over the spring and summer and that he wants to commit somewhere before his senior season this fall and be locked in.
A decision, either way, may come sooner than we initially expected.