Michigan State Basketball: The great, good, bad, and ugly from BTT loss to Ohio State
Spoiler: there was a lot of ugly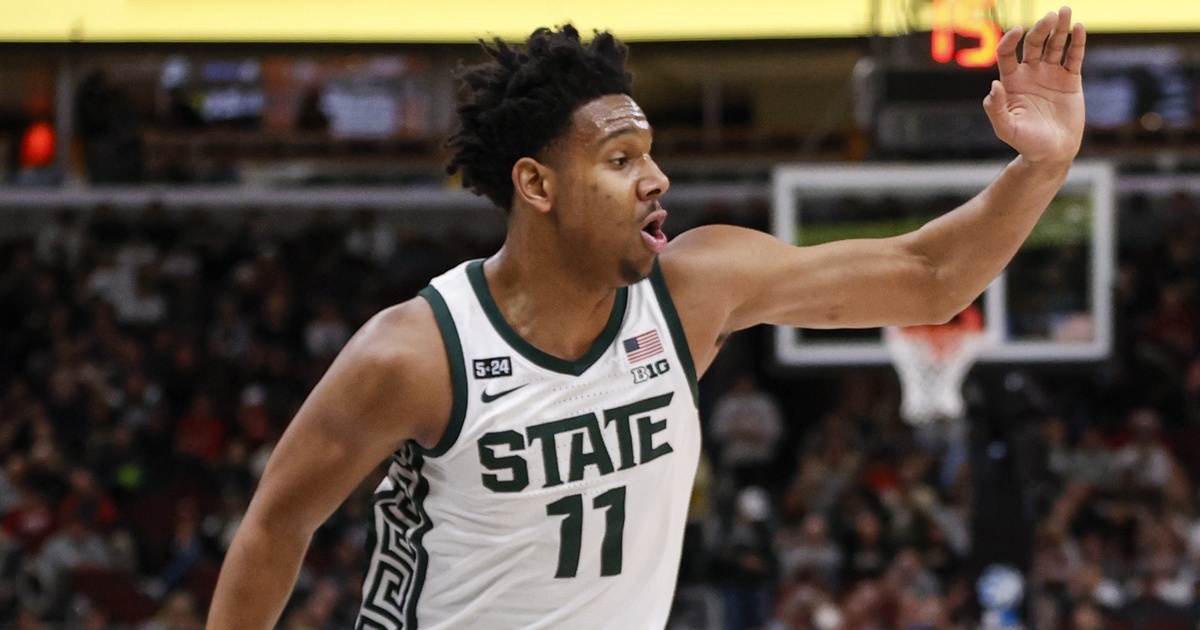 Michigan State basketball fell flat against Ohio State after earning the double-bye in the Big Ten Tournament.
Michigan State basketball fought the final few weeks of the season, got some help from other Big Ten teams, and was able to lock up the double-bye for the Big Ten Tournament. They were playing the best basketball of the year, and their matchup, Ohio State, was coming off their third game in as many days and was without its leading scorer, Brice Sensabaugh.
Michigan State should have cruised into the semis against Purdue. Yet that was far from the case.
Ohio State was playing to possibly make it into the NCAA Tournament, and Michigan State seemed to not want to play at all. The Spartans were flat and downright embarrassing. Offensively, their shots were not falling, which happens. But defensively, not a single player seemed as though they wanted to be there. Michigan State would give up their early lead at the 14-minute mark in the first half, and Ohio State never looked back.
The Spartans would eventually lose 68-58, ending any hope of making a Big Ten Tournament run.
Here are the great, good, bad, and ugly from Michigan State's quarterfinals loss against Ohio State.
Great: Nothing
Rather than sit back and give kudos for some minute aspect of Michigan State's game against Ohio State, it is genuinely more realistic to say nothing was done extremely well. During the first five minutes, the Spartans looked as they have for the last four to five games, but after that, they did not perform anything even close to great.
If we are going to give props where props are due, you have to do the same when the going isn't as great.
Nothing MSU did in their first and only Big Ten Tournament game against Ohio State could be considered great. The only great aspect of the Spartans' game on Friday is the belief that an early exit in the Big Ten Tournament leads to a deep run in the NCAA Tournament.
Good: Joey Hauser and Mady Sissoko
With nothing the Spartans did on Friday being considered great, Joey Hauser and Mady Sissoko were semi-bright spots. Hauser led the way for the Spartans with 15 points and six rebounds. While his, along with the rest of the Spartans, shooting was not great, Hauser was able to find his way to the free throw line quite often. Finishing the game 8-for-8 from the charity stripe, Hauser took advantage of an overly aggressive Buckeye defense.
Not only did Hauser's free throw performance aid in the Spartans' scoring during a game when scoring was hard to come by, but Hauser also began to get Ohio State in foul trouble. Already playing with a short bench, Joey did a great job drawing fouls and forcing Chris Holtmann to get creative with his bench.
It's been said many times before that if you live by the three, you die by the three. And when you die by the three, you can only hope that others are able to pick up the slack. You knew that eventually, the Spartans' offense would cool off, and it was up to the big men to step up for the guards. Mady Sissoko did an above-average job at doing just that. Finishing the game with 3-for-3 with six points is not a lot, but when shots aren't falling elsewhere, Sissoko did his part to try and keep MSU afloat. His defense and post presence was felt against a smaller, younger OSU frontcourt.
Bad: A.J. Hoggard
This may be the most frustrating aspect of Michigan State's loss on Friday. A.J. Hoggard, a junior leader of this team, has been knocked often this season for his subpar body language. Hoggard has the propensity to have a hard-nosed, in-your-face attitude when the Spartans are rolling, but when the going gets tough, Hoggard reacts in a less-than-ideal way. He seems to completely check out and reverts to sulking.
On Friday, Hoggard was essentially unplayable for the first half of the matchup, only beginning to assert his offensive prowess during the final 10 minutes or so. Even then, Hoggard continually was burned defensively against the younger, more inexperienced Roddy Gayle Jr.
After the game, a clip was released of Hoggard and Tom Izzo having an exchange in which A.J. seemed completely uninterested and almost annoyed at Izzo. It's extremely disheartening to see a third-year leader react to the Hall of Famer's coaching. While it is not exactly fair to single out a player like this, A.J. needs to realize that he is one of the few leaders on this team.
Michigan State basketball will only go as far as he takes them, and that is not a duty he can, nor should, take lightly.
Ugly: Bench production and coaching decisions
If you look at the box score from Friday's game, a few things pop out at you. One is the extreme lack of production from the Spartan bench players.
Malik Hall, a one-time starter and senior captain, was horrendous, finishing with an abysmal -23 in the +/- category. Hall seemed out of sync and, quite frankly, lost all day. Beyond the sixth man's struggles, Jaxon Kohler and Pierre Brooks both acted as momentum killers during their stints of game time.
Even with the bench's struggles, Izzo and the staff seemed to continuously call on these players at the wrong times. As soon as the Spartans would begin a momentum shift and cut into the Buckeyes' lead, MSU would make a line shift and put a halt to any sort of run. This is something that has plagued Izzo for a few years now and has burned the Spartans once again. Electing to go with a lineup featuring Pierre Brooks, Tre Holloman, and Jaxon Kohler all at once is not acceptable, especially in March.
In Izzo we trust, but this was a tough showing for him and his staff.