Michigan State basketball: 3 keys to a deep Spartan run this March
How can the Spartans make a run?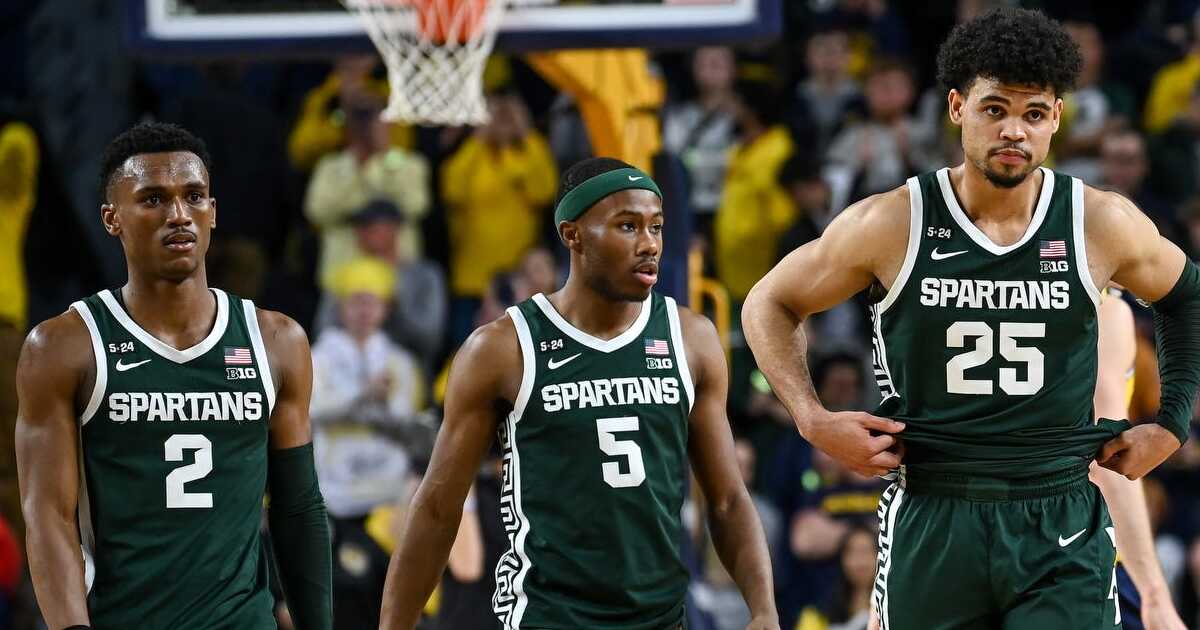 If Michigan State basketball is going to make a run this March, it needs to worry about these three key factors.
With the Big Ten Tournament and March Madness just around the corner, it seems like a good time to assess what this Michigan State basketball team will need to do in order to make a run.
This year has been a rollercoaster, to say the least. Part of the fan base will likely tell you that nothing has changed over the past few years and this team probably doesn't make it out of the first weekend. On the other hand, I feel like many of the Spartan faithful believe this team has the #SpartanDawg in them and can beat anyone on any given night if the right pieces fall into place.
With that said, here are three things I think could translate to a trademark Spartan March.
1. Tom Izzo's in-game adjustments
I want to preface this by saying I believe Tom Izzo is one of the greatest of all time (obviously). I'm a firm believer that players are the ones who win and lose games, but there've been times when Izzo has failed to adapt in-game, and if that happens in March, you're likely to head home early.
One that still haunts me is the loss to Syracuse in the first round of the 2018 NCAA Tournament. As a 3-seed, MSU's offense was contained by the 2-3 zone all night and they shot only 25 percent from the field while their future lottery pick Jaren Jackson Jr. only played 15 minutes. I doubt that playing time for any certain player will be an issue this go around, but it leads me to wonder if we'll be prepared for things we haven't seen much of this season.
Too many times the Spartans lose their way offensively and kill their own momentum.  They've also had issues closing out games that they seem well in control of. Usually, it's due to a few stagnant offensive possessions followed by a lack of urgency on the defensive end. This usually leads to giving up second-chance points. By the time you can collect yourself, a double-digit lead has turned into a one-possession game, and we are going to commercial break sweating out what should've been a victory. I'd like to see  Izzo be proactive with his timeouts and control momentum throughout the game, winning or losing.
The fact is, there is no one else I'd rather have on the sideline come tourney time. His experience is made of the highest of highs and lowest of lows that March Madness has to offer. He is a master communicator and will make sure his guys don't get too high or too low because, at this point, he's seen it all.
This team has also had a decent amount of exposure to March Madness. Malik Hall, AJ Hoggard, Joey Hauser, Tyson Walker, and even Jaden Akins have experience on this stage, and I do believe they will rise to the occasion.
The only thing you cannot do is let a game get out of hand early or give a beaten team a chance to climb back into it.
2. Jaxon Kohler
Pressure makes diamonds, and I believe this is Jaxon Kohler's opportunity to make his presence felt.
Don't get me wrong, Mady Sissoko will be the starting five, and rightfully so. He is averaging six rebounds per game which we know is very important to Izzo and how MSU operates (MSU has only lost four games in which it has outrebounded opponents). We also know that Mady can get into foul trouble early in a game which could translate to more minutes for Kohler out of necessity. The Big Ten refs made it difficult for us to understand what was and wasn't a foul this year, so there may be a learning curve for the big men in March.
Kohler seems to have the edge over Sissoko on the offensive end. With all due respect to Mady, sometimes it feels like the Spartans are playing down a man if opponents aren't biting on the pick-and-roll lob plays. Jaxon has shown he can score in the post and has some gifted footwork for a freshman.
If the guards can get him looks in the post early in the shot clock, I believe it will create open looks at the 3-point line for Hauser, Akins, and Walker.
3. Malik Hall back at full strength
Hall is back and healthy and each game he seems to progress a little toward his full potential each time he's on the court. To me, he is the jack of all trades that this team needs to make a run. He can score from the post, and from three. If he is hitting his shots early, it will open up the floor for everyone else. He has the ability to drive and finish, as well as spot up which makes it a headache guarding him.
My only concern of his is the forced fadeaway jump shot, and he's usually taking those if our offense is in a real funk. If he can avoid that and look to pass out for a 3-point try, I think this team will benefit — there are better options to score from deep than trying to fade away from opponents' big men.
If all things go as planned, hopefully we can feel what it's like to get past the first weekend for the first time in a few years. I think Michigan State basketball has a good shot. Go Green.