Michigan State football: Top 5 games at Spartan Stadium since 2000
There have been some classics in East Lansing.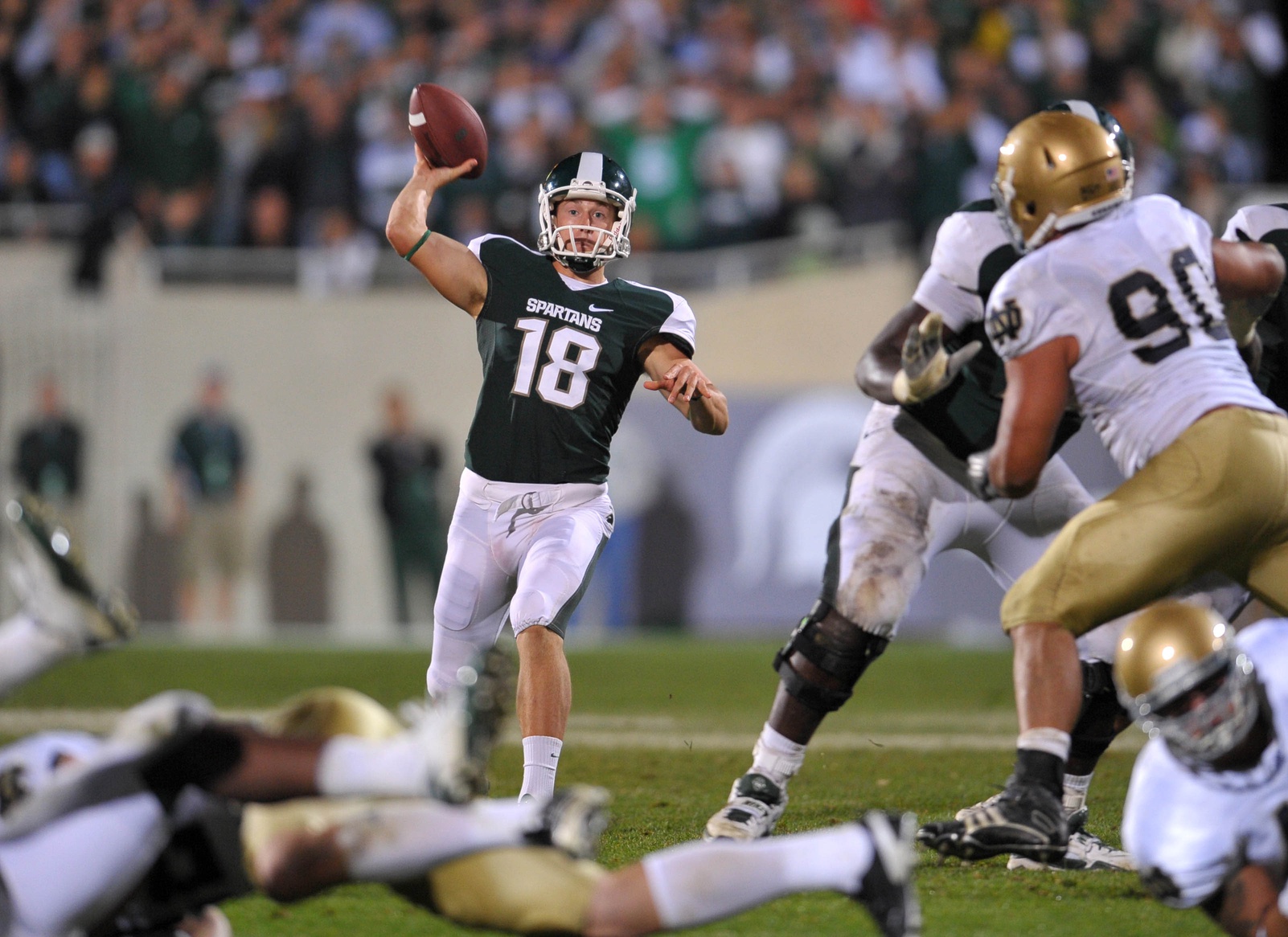 Spartan Stadium has witnessed some great Michigan State football games this century, but here are the best five.
Michigan State football fans have been very lucky and have witnessed many great games in recent history. From winning the Rose Bowl, Big Ten championships, a College Football Playoff berth, and regular season games with wild endings, Michigan State fans have seen it all. What makes this even better is how many elite games we've seen at home in Spartan Stadium.
Here are my top five games played in Spartan Stadium this century.
5. MSU vs. Michigan "Clockgate" (2001)
The 2001 edition of the in-state rivalry is one that will never be forgotten. Michigan State upset the No. 6 ranked Wolverines 26-24 on a last-second touchdown pass from Jeff Smoker to TJ Duckett.
Fourth-and-goal, ball on the 2-yard line with one second on the clock, Smoker scrambled and threw a wobbly pass that somehow managed to land in Duckett's arms. However, should this play even have happened?
Michigan fans will be quick to tell you that it should have never happened and to be honest with you, I kind of agree with them. Michigan State, after their third down play, rushed to the line to try and spike the ball as time was counting down. According to the clock operator, the Spartans successfully spiked the ball with one second left. However, watching this sequence back it looks like the clock may have been stopped prematurely. At the end of the day, none of that matters, and all that is left in the record books is one iconic win over Michigan for the Spartans.
4. Michigan State vs. Oregon (2015)
With College Gameday in town, No. 5 Michigan State was able to beat the No. 7 ranked Oregon Ducks 31-28. This game is extremely memorable for a few reasons. First of all, non-conference top-10 matchups hardly ever happen, and for Michigan State to be able to host one on campus is amazing. Second, this was a payback game as Oregon narrowly beat Michigan State the season prior in Eugene.
Finally, this win helped propel Michigan State to arguably its best season in program history. This team went on to beat Michigan and Ohio State on the road, beat Iowa to win the Big Ten title, and make it to the program's only College Football Playoff. A loss in this game likely means no playoff appearance, and who knows how the rest of the season would have gone. Spartan Stadium was electric this night, and I can still hear the roar of this crowd to this day.
3. Michigan State vs. Michigan (2021)
This is yet another game that will forever be remembered by Spartan Nation. Not only was College GameDay in town for this one as well, but every pregame show imaginable was here. The entire nation tuned in as they saw No. 8 Michigan State beat No. 6 Michigan, 37-33. Led by Kenneth Walker III's five-touchdown performance, the Spartans shocked the Wolverines by coming back from a 16-point second-half deficit.
Michigan State was given zero chance of beating Michigan by the Wolverines' fanbase. That fact made this win even more enjoyable. This win helped lead Michigan State to its best season since 2015. They finished the year 11-2 with a massive Peach Bowl win against Pittsburgh.
This is by far the biggest win in the Mel Tucker era and something I hope we get back to soon.
2. Michigan State vs. Wisconsin "Rocket" (2011)
It seems to be a trend that when College GameDay comes to town, good things happen to Michigan State football. This game was no different as it upset No. 4 Wisconsin, 37-31, on a miracle last play. On the last play of the game, Kirk Cousins threw a 44-yard Hail Mary touchdown pass caught by Keith Nichol.
This play helped put Michigan State on the map nationally. This win also helped secure the Legends division title and a trip to the inaugural Big Ten title game. Unfortunately, Wisconsin got the last laugh in that game, but don't let that take anything away from this special game. This was another Mark Dantonio masterclass that helped jumpstart the Spartans on their great run for years to come.
1. Michigan State vs. Notre Dame "Little Giants" (2010)
This game was already amazing enough even before the miraculous ending. An overtime game against hated rival Notre Dame is already one for the history books. Adding the ending to this game makes it one of the best in program history.
In a play forever known as "Little Giants", Michigan State lined up for a game-tying field goal in overtime. What happened next, some say, is the greatest trick play in college football history. Holder Aaron Bates threw a 29-yard touchdown pass to Charlie Gantt on a fake field goal that shocked the world. Nobody saw it coming.
Pandemonium set in at Spartan Stadium and to this day I still remember screaming my head off and not stopping the "Go Green, Go White" chants until I got back to my car.
College football does not get any better than this.
I personally look back on this game as the beginning of Dantonio's dynasty. Michigan State went on to win 11 games for the first time in program history and won the Big Ten title. This was the first of three conference titles Dantonio would bring to Michigan State. All the success and all the big wins he brought to East Lansing point back to this game and how it shaped our program. That is why this is the greatest game in Spartan Stadium this century.
Honorable Mention
Two Penn State games were close to making the list. The 2021 blizzard game may not have been a historic game, but the pictures and videos from that game are priceless. A huge win to get to 10 wins for the first time under Mel Tucker is one I will definitely remember for a long time.
The second Penn State game close to making the list was in 2017. Michigan State upset the No. 8 Nittany Lions on a last-second field goal as time expired. This game also had a four-hour storm delay which made for a weird yet rowdy atmosphere when the game resumed again.