Michigan State Football: Tunmise Adeleye impressed with 2 freshman teammates
Tunmise Adeleye called two freshman teammates "stars in the making."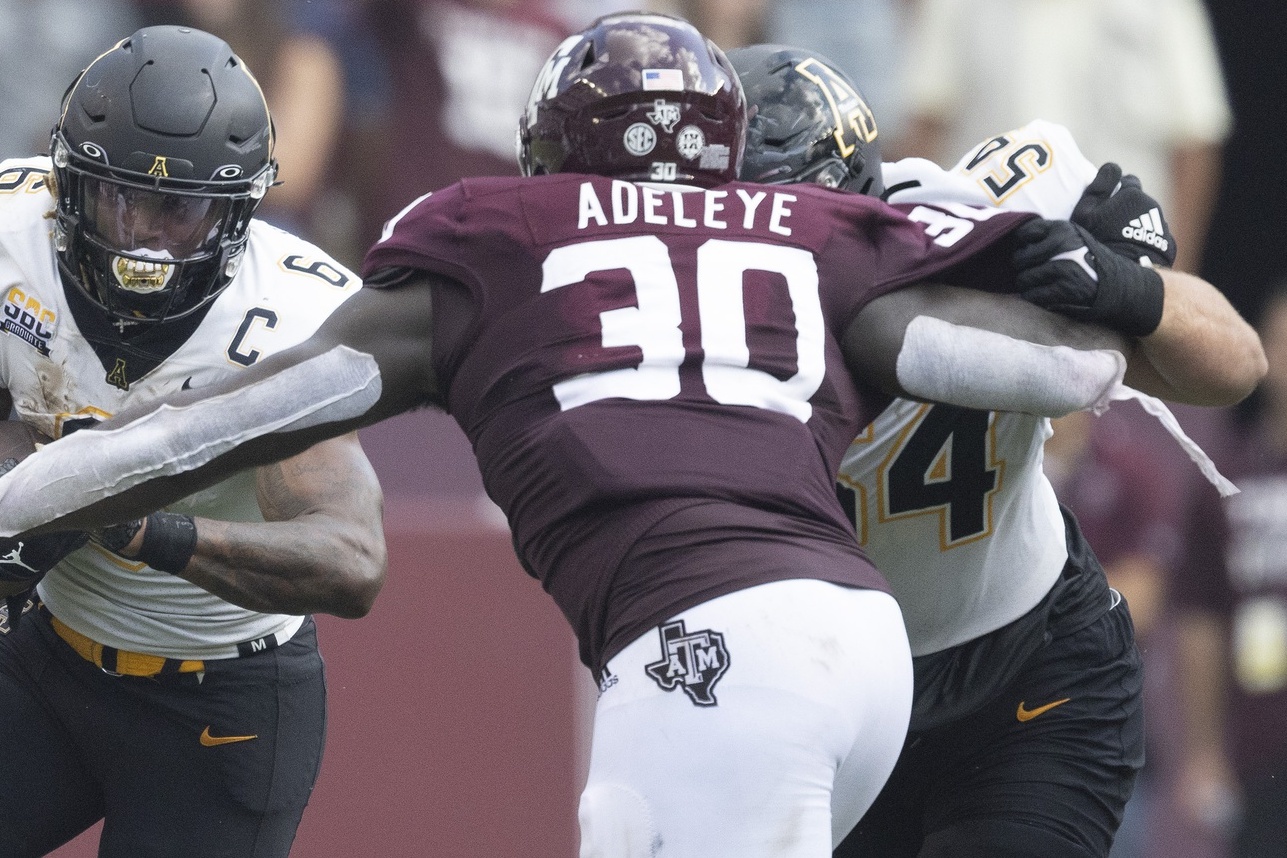 Tunmise Adeleye is impressed with a couple of Michigan State football freshman teammates, calling them "stars in the making."
Two incoming Michigan State football freshmen are receiving some attention from some of the veteran players on the team. Defensive line transfer Tunmise Adeleye took to Twitter to share his opinion on freshmen Bai Jobe and Andrew Depaepe.
Andrew Depaepe and Bai Jobe… young stars in the making. Giving them their flowers now ❤️

— Tunmise Adeleye ?? (@OTK4Ltunmise) May 29, 2023
Bai Jobe, Edge
Andrew and Bai are the highlights of the 2023 recruiting class as they are the two highest-ranked recruits in the class. Jobe is an edge defender and is the No. 55 player in the country and the No. 7 player at his position. Jobe is also the highest ranked commit in the Mel Tucker era. He is one of the best athletes I think Michigan State has recruited in a long time. He has not played football for much of his life, yet is still the 55th-best player in the country. In high school, he returned kickoffs for his team and ran a few back for touchdowns. Not many defensive linemen can say they've done that.
This elite athleticism sets him up nicely to come off the edge and beat the opposing offensive linemen. Jobe is already someone that will be able to contribute from day one at the college level. However, being fairly new to the game shows his potential is sky-high and he will likely improve very quickly at Michigan State.
Andrew Depaepe, DL
Depaepe was the second Spartan freshman getting a shoutout from his teammate. Similarly to Jobe, Depaepe is an elite recruit as well. He is the No. 125 player in the 2023 class as well as the No. 17 player at his position. Depaepe also has a more polished skill set heading into college. He can line up both on the interior of the defensive line as well as the edge. This versatility will help him see the field as a freshman in multiple ways this season.
Depaepe still has a lot of room to improve his strength, which will only help him at the college level.
The future of Michigan State's D-line
Adeleye giving these two young Spartans praise is no small thing. He played his only season of college ball at Texas A&M and was part of their elite 2021 recruiting class. The following class was the best in the 247Sports era and consisted of seven defensive linemen ranked in the top 100 nationally. In his two seasons as an Aggie, he got to play and practice with the best freshmen defensive linemen the country had to offer. For him to give this praise to Jobe and Depaepe after the elite talent he saw at A&M shows the Spartan freshmen are the real deal.
Former Michigan State pass rush specialist Brandon Jordan also chimed in on Twitter as well. Jordan played a huge role in both players' recruitments and knows just how great they can be as well. He had this to say in response to Adeleye's tweet:
Facts!! About to take over college football https://t.co/gPyQDzqAxf

— Coach Brandon Jordan (@CoachBTJordan) May 29, 2023
All three Spartans will potentially see the field this year, with Adeleye likely getting the most snaps.
Regardless of what we see from them this season, the future of the Spartan defensive line room is extremely bright, and will lead our team for years to come.