Michigan State football, Michigan basketball staring down similar trajectory
These two programs have almost mirrored each other throughout the years.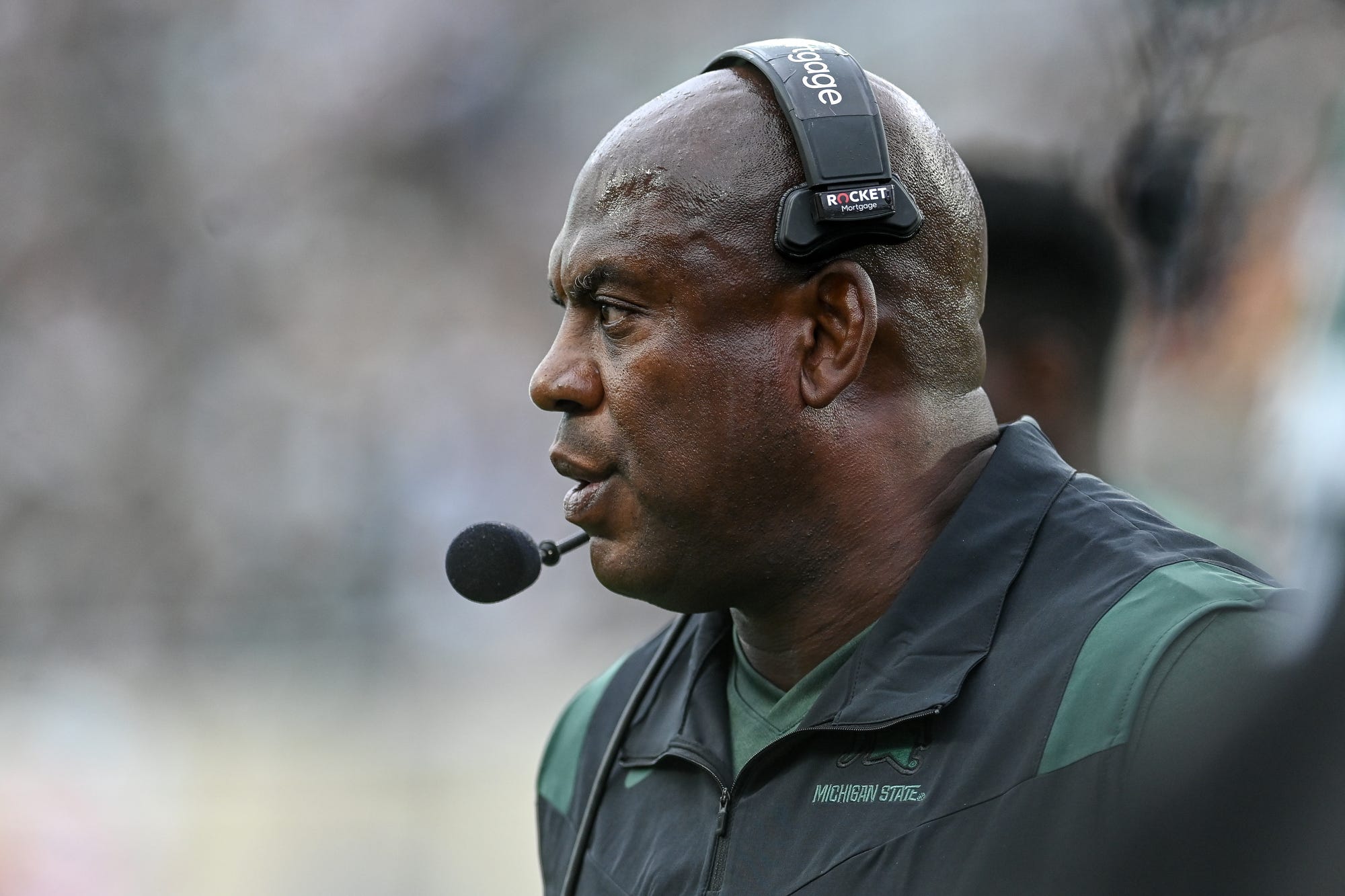 There are more similarities between Michigan State football and Michigan basketball than people like to admit.
The offseason banter between Michigan State and Michigan fans is in full swing, honestly when isn't it, and both fanbases have had a lot of opportunities to make jokes at the other fanbases expense. With MSU hoops and Michigan football on the rise, those programs have been free from harsh judgement by their counterparts, but the same can't be said for Michigan State football and Michigan basketball.
Both programs have had a lot of setbacks this offseason, but looking back on the last two years it is strange just how similar these programs have been.
Let's dive into it.
Impressive seasons in 2021
The similarities begin during the 2021 season where both programs found a lot of success on the field/court. Michigan State football found its star in Kenneth Walker III and finished 11-2 on the season and No. 9 in the final AP Top 25.
The Spartans also had massive wins against Michigan and Pittsburgh in the Peach Bowl to cap off their best season since 2015.
Michigan hoops may not have had the regular season success in their 2021-22 season like MSU football did, but they were still able to finish their season strong by making a run to the Sweet 16 in the NCAA Tournament. We all know how big of a deal the Sweet 16 is for Michigan fans, so according to their standards that's a successful season.
Contract Extensions
With both programs finding success, that led to both head coaches getting a contract extension during the season. Weirdly enough, both Mel Tucker and Juwan Howard signed their extensions in the same month: November 2021. It's no surprise that either coach got an extension; I think both deserved it at the time. But it is ironic how they both occurred in the same month.
Missing out on the postseason in 2022-23
The success on the court and field ended for both programs during the 2022 season. MSU football missed out on a bowl game after going 5-7 and Michigan basketball missed out on the NCAA Tournament after an 18-16 season. Both programs expect to make the postseason in their respective sports, so missing out was a massive disappointment for both.
Key players leaving this offseason
The offseason can be a really fun time for college programs if they successfully utilize the transfer portal. Players deciding to return for one more year rather than going pro also causes celebrations among fanbases this time of the year.
Unfortunately, both Michigan State football and Michigan hoops have not received this positive news as both programs have lost their best players this offseason. MSU lost starting quarterback Payton Thorne and top wideout Keon Coleman to the portal along with Jayden Reed to the NFL draft and Michigan lost Hunter Dickinson to the portal as well as Kobe Bufkin and Jett Howard to the NBA draft.
Losing committed transfers
To keep the bad news rolling, both programs accomplished something you don't see too often even in today's day and age, and just so happened to within hours of each other.
On May 17, Michigan State transfer portal addition Kee'yon Stewart announced he was actually transferring to Arkansas 11 days after committing to the Spartans. Less than two hours later, Michigan basketball accomplished this same feat, losing transfer addition Caleb Love who has decided to reopen his recruitment after reported admissions issues.
Recruits decommitting happens all the time in high school recruiting, but rarely does it happen with transfers, so it is odd to see both programs accomplish that within two hours of each other.
Upset fans with lowered expectations
It is no secret that both fanbases are upset with the direction their programs are heading. Expectations for the programs are far lower than normal as both programs could realistically miss the postseason for a second season in a row.
There are also some segments of each fanbase that are proclaiming their head coaches to be on the hot seat this year. I personally think that is a little premature for Tucker, but regardless those narratives are being pushed by some in both fanbases.
Previous head coaches
The last similarity that is interesting to think about is that both programs previous head coach was one of their best coaches of all time.
Mark Dantonio brought a lot of success to Michigan State football, including dominating the series against Michigan, three Big Ten titles, a Rose Bowl win, and a College Football Playoff appearance.
John Beilein is also viewed as one of the best Michigan basketball coaches of all time, and rightfully so. He helped resurrect their program and took Michigan to their first NCAA Tournament since 1998 when they made the tournament in 2009. Beilein went on to win two Big Ten regular-season and tournament titles along with two Final Four appearances.
Dantonio and Beilein will always be viewed as one of the best in each program's history.
Will the similarities between the programs continue next season? Will one program figure it out before the other? We will soon find out, but there is no denying that the similarities between MSU football and Michigan basketball have risen to a strange level that I'm guessing neither program's fans will want to admit.