Which ranked teams will Michigan State basketball face in 2023-24?
Another year, another elite schedule.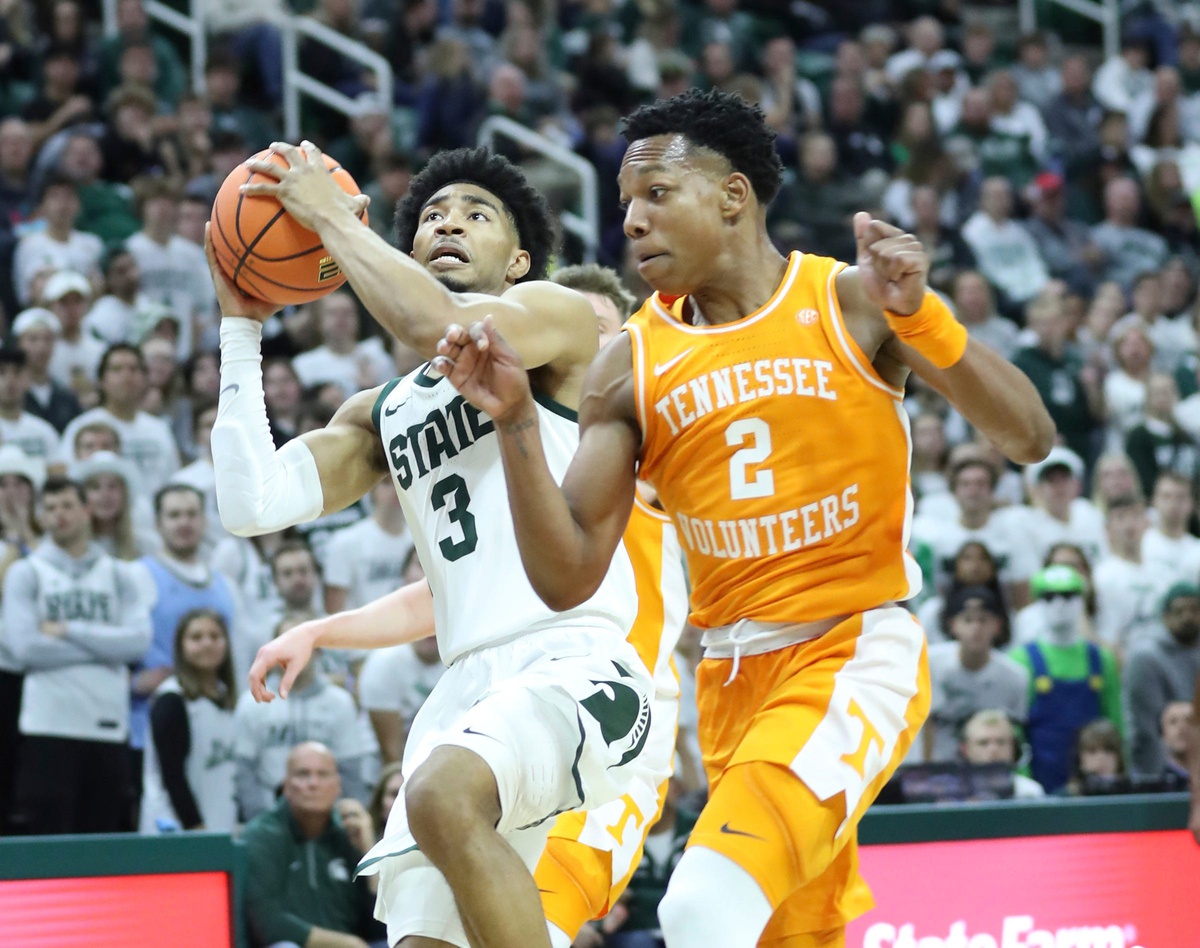 Michigan State basketball opens the 2023-24 season on Monday and the schedule is tough. Which ranked teams are on the slate?
The Michigan State basketball team has high expectations this season. Not just from Spartan fans, but from the entire country. That is best seen with the Spartans ranked No. 4 in the country as we head into the season. But what about everyone else on our schedule? What future opponents on our schedule are ranked as well?
Let's dive into it.
Non-conference opponents
Three Michigan State opponents are also ranked in the preseason AP Poll. The first, and biggest non-conference matchup of the year, is Duke. The Blue Devils are No. 2 in the country and will face off against the Spartans on Nov. 14 in the Champions Classic. This will be the third game of the season and will be a massive test. We should know a lot about our team's potential after this game.
The second ranked non-conference opponent is Arizona. The Spartans will face the No. 12 Wildcats on Thanksgiving Day on a neutral court in California. This will be a great day of sports as this game takes place right after the Detroit Lions Thanksgiving game.
The final ranked opponent we will face in the non-conference is Baylor. The Bears are No. 20 in the country and will make the trek all the way to Detroit for this game. Little Caesars Arena should sound a lot like the Breslin on this night as it should be a pro-MSU crowd. These three opponents will be huge to see where our team is at and help us prepare for the Big Ten schedule. If we can come away with at least two wins in these games I'll be extremely happy.
Big Ten ranked opponents
The Big Ten did not get a lot of love in the preseason AP Poll. Only two other teams were ranked from the Big Ten with No. 3 Purdue and No. 25 Illinois.
Purdue will be our biggest competition when it comes to winning the Big Ten. However, we only face the Boilermakers once this season on March 2. Bad news for us is that it is a road game, and we haven't won at Purdue in what feels like decades.
The Spartans will face Illinois twice this season. The first being in Illinois on Jan. 11 and the return trip to East Lansing on Feb. 10. The Illini will lead the pack of teams trying to upend Michigan State and Purdue as title favorites. And they may have a good shot at doing so. Illinois is coming off an exhibition win against No. 1 Kansas a few nights ago. The game was an exhibition so it doesn't count towards anything, but nonetheless it was an extremely impressive result.
Other Big Ten teams receiving votes
Three other Big Ten teams received votes in the AP Poll, just not enough to crack the top 25. Wisconsin came in at No. 26 and the Spartans will face the Badgers twice. Wisconsin is our Big Ten opener in East Lansing on Dec. 5. A win there would be a great way to jumpstart the conference season.
Maryland received enough votes to come in at No. 30. The Spartans also play Maryland twice this season, once in January and once in February. Finally, Indiana received only three votes to slot them at No. 40. The Hoosiers always play us tough and I expect that to continue this year when we face off only once on the road in the season finale.
Tom Izzo always has his team play a tough schedule, and this year is no different. A lot of exciting matchups are in store which could make this Michigan State basketball season even more special. Only four more days, Spartan fans.