Top 10 moments for Michigan State football in Battle for Paul Bunyan
These bring back some great memories.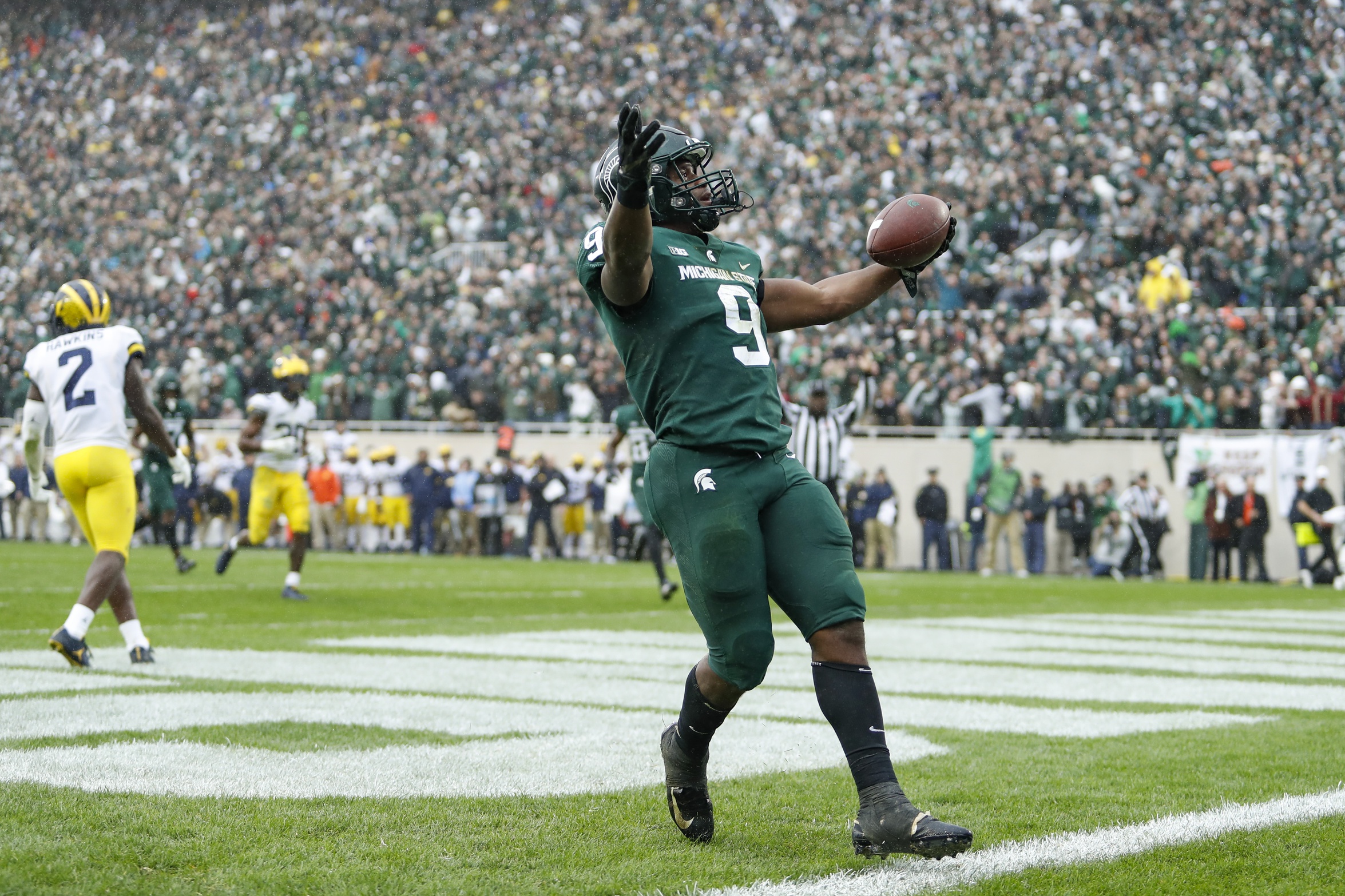 There have been some fantastic Michigan State football moments in the heated rivalry with Michigan. Here are the top 10.
It's Michigan week. Prospects of a victory do not look promising, but the history of this rivalry proves that anything is possible. Let's take a look at the top 10 moments of triumph for Michigan State football in this rivalry. 
10. The Rain Game (2017)
The first night game of the rivalry's history pitted the unranked Spartans against No. 7 Michigan in Ann Arbor. Rain was pouring throughout the game, and it clearly had an effect on Michigan. The Wolverines ended up turning the ball over five times to Michigan State. 
The Spartans scored all of their points in the first half. After a Michigan fumble, a 7-3 lead was grabbed in the first quarter after Brian Lewerke ran in a 14-yard touchdown. In the second quarter, it became 14-3 after a receiving touchdown for Madre London. 
Michigan's lone touchdown came in the third quarter. Following that drive, Michigan quarterback John O'Korn threw interceptions on three consecutive drives. After more punts in the rain, Michigan's last ditch hail mary fell incomplete, giving Mark Dantonio another signature win. 
9. -48 Rushing Yards (2013)
In one of the most dominant performances in rivalry history, No. 22 Michigan State crushed No. 21 Michigan 29-6 in East Lansing during the 2013 season. It marked five wins in six contests for the Spartans. Michigan quarterback Devin Gardner was sacked seven times. Ed Davis, Shilique Calhoun, and Denicos Allen all had multi-sack games. Gardner ended up having 18 carries for negative-46 yards. 
Michigan ended up with only 168 total yards and negative-48 rushing yards. Michigan's leading rusher, Fitzgerald Toussaint, only had 20 yards. They never found the end zone and did not score in the second half. The 23-point win was the most lopsided MSU victory since 1967.
8. Defeating No. 1 Michigan (1990)
Unranked Michigan State went to play top-ranked Michigan. Michigan State won, somewhat controversially, 28-27. Michigan scored a touchdown with six seconds left to trim the deficit to one. They went for two rather than kick the PAT. Michigan's Elvic Grbac threw to Desmond Howard, who appeared to have gotten tripped as the pass fell incomplete. Pass interference was not called, and Michigan State won. The loss ended Michigan's national championship hopes as well. 
MSU's victory came on a successful rushing attack. Running backs Tico Duckett and Hyland Hickson had 93 and 90 yards, respectively. Michigan State quarterback Dan Enos also had 38 rushing yards and a touchdown as well. Michigan State ended up getting 222 yards on the ground. Hickson also had a receiving touchdown as well. Duckett scored the go-ahead touchdown with two minutes left which proved to be the winner. 
As a result, Michigan State ended up winning a share of the Big Ten title with three other teams, Michigan, Illinois, and Iowa. The Spartans got an invitation to the Sun Bowl, where they defeated USC. 
7. Ed Smith ends 8-game skid (1978)
Michigan State was 1-3 and unranked. Michigan was 4-0 and ranked fifth, and had won the last eight meetings. The Spartans won. 
The difference in the game was the superior quarterback play for the Spartans. Michigan State's Ed Smith went 20-for-36 for 246 yards and two touchdowns. For Michigan, Rick Leach went 5-for-15 for 98 yards, no touchdowns, and three interceptions. Leach threw one pick in all the other games combined. Additionally, future Detroit Tigers legend Kirk Gibson also had five receptions for 82 yards for the Spartans in the 24-15 victory. 
Michigan State did not lose for the rest of the year. They finished 8-3 and a share of the Big Ten title (with Michigan). 
6. Upset on Halloween (2020)
Michigan State is currently a 24-point underdog for this Saturday. In this game, they were 21-point underdogs. Michigan State beat No. 13 Michigan, 27-24. 
One only needs to say the name "Ricky White." He had the game of his life that day, with eight receptions, 196 yards, and a touchdown. In other games at Michigan State, White had two receptions for 27 yards. He later transferred to UNLV. 
Future Group of Five transfer Rocky Lombardi also had his best game as a Spartan. He went 17-for-32 through the air for 323 yards, three touchdowns, and no interceptions. Connor Heyward had two receptions, both going for touchdowns, including the dagger with five minutes left to put Michigan State football up by 10.
5. Clockgate (2001)
Another example of an unranked Michigan State team taking down a highly-ranked Michigan team. This game is also controversial. MSU trailed by four, and QB Jeff Smoker got stopped at the one with no timeouts left. Many Michigan fans believe that MSU's clock operator, "Spartan Bob," gave Michigan State an extra play by stopping the clock at one second before MSU could spike the ball. On the final play of the game, Smoker found TJ Duckett in the endzone for the game-winner. 
The thing is, Michigan State had been incorrectly charged a timeout earlier in the drive, so they should have been able to stop the clock anyways. 
Duckett had an all-time performance. On top of the game-winning catch, he had 211 rushing yards and another touchdown. Charles Rogers had six catches for 86 yards as well. 
4. Kenneth Walker scores 5 touchdowns (2021)
This one does not need much of an introduction. In one of the greatest games in rivalry history, No. 8 Michigan State beat No. 6 Michigan. Kenneth Walker scored every single touchdown for MSU. The Spartans erased both 10-0 and 30-14 deficits to clinch the victory. Walker skyrocketed to the top of many Heisman lists after the game. Mel Tucker was the coach of the future (oops). 
Regardless, that game was close to perfect in every way for Spartan fans. Beating their most hated rival as an underdog (again), controlling their destiny for a Big Ten title, and joining the national title conversation. 
3. Spartans win top-five matchup (1956)
In the highest-ranked matchup in series history, No. 2 Michigan State football took down No. 5 Michigan 9-0 in Ann Arbor. Leading rusher Dennis Mendyk ended up scoring the lone touchdown of the game in the fourth quarter to put the game away. 
This was during the "golden age" of Michigan State football. From 1950-1967, Michigan State went 13-3-2 against Michigan, this one being the biggest. All six of Michigan State's national title claims are within that time frame, including ones in 1955 and 1957. 
The Spartans ended up dropping two games after this, to Illinois and Minnesota, but still finished No. 9 in the AP Poll. 
2. "Pride comes before the fall"
This isn't really about one game, but a turning point. It's 2007, Mark Dantonio is in his first year as head coach at Michigan State. Michigan has ownership of the rivalry. They have won the last six meetings and 10 of the last twelve. They've just won again in East Lansing, 28-24. Mike Hart, current running backs coach at Michigan, just called Michigan State the "little brother" in the rivalry. 
"Just remember, pride comes before the fall."
BAM. 
Michigan State is 10-5 against Michigan since then. Dantonio left East Lansing with an 8-5 record in the rivalry, ending a long era of Michigan dominance that dates back to Bo Schembechler's arrival at Michigan. Of those eight victories, there is a pretty obvious answer as to which one was the best. 
1. Trouble with the snap (2015)
WOAH. Surrender Cobra. Jalen Watts-Jackson. Jim Harbaugh looking off into the distance. The voice cracks. Just pick whatever part of it is your favorite. It is probably the craziest, most unique ending to a football game ever. Hail Marys happen once in a while, coaching flubs happen. A muffed snap on a punt that gets returned for a go-ahead touchdown as time expires? Impossible. Having it happen in a massive rivalry game with Big Ten title and College Football Playoff implications? Unheard of. 
It happened.
Every Michigan State fan can recite the entire call. Michigan fans can probably recite it too, but they won't tell you that. It is probably the most iconic moment in Michigan State history. The win pulled from Mars allowed Michigan State to remain undefeated. They won the Big Ten East after upsetting Ohio State in Columbus, and beat Iowa with a stretch in the Big Ten title game.