Building the dream Michigan State basketball pickup team with Izzo players
Line up with these four guys and you're not losing a pickup game.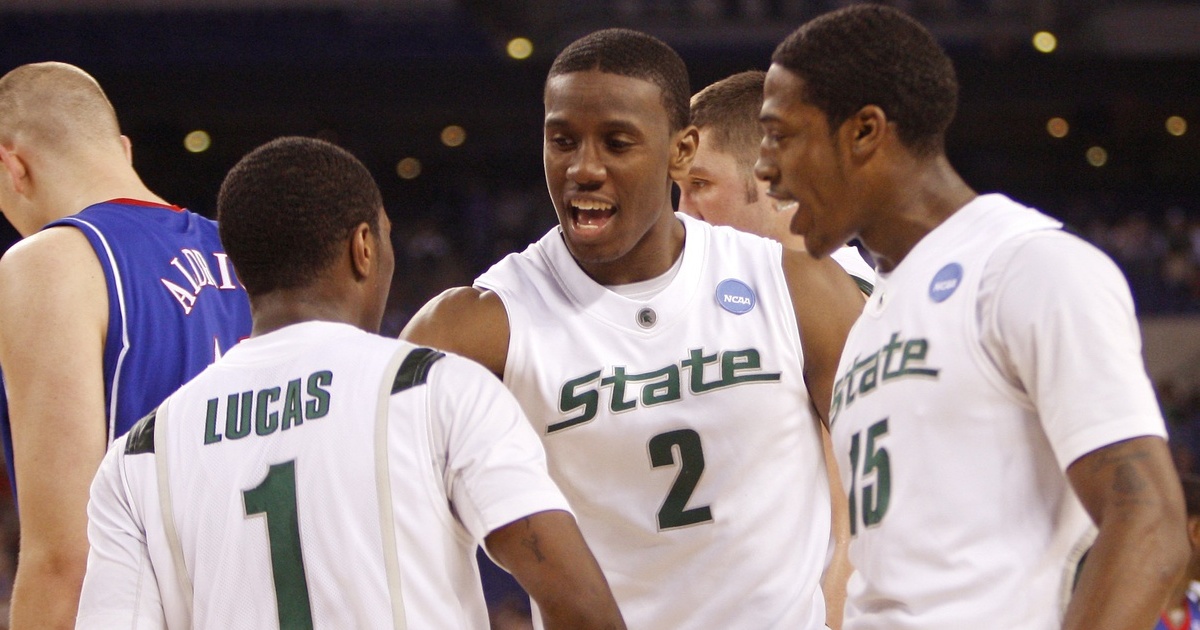 If you're picked to select your dream Michigan State basketball pickup team with Tom Izzo-coached players, who do you pick?
For the last 15 months, I've played pickup basketball once a week. I knew it would be a great form of exercise and a way to meet new people. What I didn't know was how much I would enjoy keeping score and playing to win. We're all friends and immediately after we're done playing, it's normal chatter about work, sports, the weather, etc.
But during that race to 21 points, winning matters.
If you've ever played pickup basketball before, you already know this. Because if you don't win, you don't play. You're left standing on the sideline waiting for the next game to finish. If you're like me, and you play with the same group of guys on a normal basis, you usually know how the game is going to play out before it even starts. You get to know everyone's game really well.
It got me thinking about building the perfect pick-up basketball team with guys that I would love to play with. Because I'm a lifelong Michigan State basketball fan, and I've watched the Spartans more closely than any other team, I figured that would be a good pool of players to choose from.
So, before we get to this list, there are a couple things to keep in mind.
First, since this is my dream team, I'm playing with the four guys mentioned below. There is absolutely nothing special about my game. I am your prototypical 6-foot, 170-pound white guy who can shoot. If I have a smaller defender on me, I can drive and finish. I'll grab the occasional long rebound and give average effort on defense. But make no mistake, I am not a difference-maker out there.
Second, in the words of Herb Brooks from the movie Miracle, "We're not playing for a national championship, Craig." I say this for anyone that doesn't play pickup basketball. It doesn't look like the NBA. It doesn't look like Big Ten basketball. It doesn't even resemble high school basketball. It's a complete mess that is filled with terrible shot selections, endless fouling, random stoppages to count the score, and most importantly, out of shape guys playing hard one out of every three possessions. Keep these things in mind as we go through the roster.
Let's get to my teammates.
Tim Bograkos, Guard, 2002-05
I feel like the guy in the Capital One commercial that has the line, "The easiest decision in the history of decisions" as the young girl selects Charles Barkley for her pickup team. Except I'm not taking Chuck, I'm taking Tim Bograkos.
Now I know what you're thinking. Out of all the guards to play for Tom Izzo, how could you possibly want Bograkos? Because, once again, we're playing to keep the court at the local health club. We're not playing the 76ers or North Carolina. Bograkos is the ultimate pickup basketball teammate. He's going to do all the little things that I don't want to do for our team. He's going to give max effort on defense. He's going to go for steals. He's going to box out and go for rebounds. He's going to dive on the floor, fight through screens, and just be an absolute pest for our opponents. Tim is the ultimate guy you want on your team that you hope you never have to play against.
Best of all? There's not a lot of offense to Tim's game. We all know the guy that thinks he can finish like Kyrie Irving at the rim or shoot it like Damian Lillard from three. Not a concern with Tim. He might not shoot even if he's open. His offensive production is going to come on offensive rebounds and hustle in transition.
Tim was my inspiration for this piece. Watching him during his time with Michigan State basketball, I could never understand how he earned minutes. Now that I'm older, and wiser, with more basketball experience, I can't imagine a dream team at the health club without Tim Bograkos.
Nick Ward, Forward, 2017-19
There's nothing quite as reassuring as playing with a dominant big man in pickup basketball. For starters, there's no awkward looking around at your own teammates while you all silently wonder "who is going to play down low and grab rebounds?" That guy already knows it's his job.
Second, it's like a possession of rest for everyone else when you can just feed the big guy and let him back someone down for a basket.
Nick Ward checks both of these boxes. He relished in his role as a low block big man at Michigan State. Even as a true freshman, Ward was Michigan State's best offensive option in 2017.
Did you know that, as a sophomore, Ward shot a whopping 64.7 percent from the field? It's easy to forget now, but before MSU's Final Four run in 2019, it was a hand injury to Ward that had many thinking MSU's season was ruined. We all know it was a blessing in disguise because it unlocked the Cassius Winston/Xavier Tillman pick and roll game. But the point remains that Ward's offense was so good, that people didn't think MSU could survive without it.
His most team-friendly characteristic is tied to that shooting percentage from 2018. You won't catch him trying to masquerade as someone he is not. We all know that big man that wants to play on the perimeter and shoot threes and act like Nikola Jokic. Not Ward. He attempted a grand total of three shots from 3-point range in his three seasons with Michigan State basketball.
Quick side note: he made all three. One hundred percent from three-point range for his career.
Anyways, Ward is going to park his behind on the block and be content.
Aside from his offensive game, I always thought he played hard and was a better rebounder than he got credit for. In fact, in that 2018 season, Ward led the nation in offensive rebounding percentage. At 6-foot-8 and 250 pounds, he'll be impossible to move on either end of the floor. He'll be dynamite at setting screens and has great hands around the rim.
Denzel Valentine, Guard/Forward, 2013-16
Admittedly, our team is a little light of offensive talent at the guard spot. Time to change that.
At 6-foot-5, Denzel Valentine is a little bigger than your typical college guard, but he really grew into the point guard role as a senior. It's a shame that Michigan State's 2016 season ended so abruptly with the loss to Middle Tennessee because that team was really special.
Izzo has built his program on defense and rebounding. The 2016 team was an offensive juggernaut. They finished the season second in the nation in offensive efficiency according to KenPom. That is the highest offensive rating of the Izzo era. The Spartans led the nation in 3-point shooting percentage and assist to made field goal percentage. Valentine's shooting (44 percent from three) and decision-making with the ball undoubtedly played a massive role in these numbers.
On the court for our team, I'd expect more of the same. He's big enough to get where he wants to go in the paint, and has the vision to find cutters and open shooters. My one concern is that he does have a tendency to take over a game with a lot of shots for himself. But for our team, I actually think this will become a positive. When it's late in the game and we need a bucket, we'll go to Valentine.
Everyone has played with that guy that is just better than everyone else and knows it. He tends to take over when it gets tight. But perhaps Valentine's best quality is his ability to raise the level of play for those around him. His last two seasons at MSU featured some of the least talented rosters that Izzo has ever had. Valentine (along with Travis Trice) dragged that 2015 team to the Final Four with the likes of Matt Costello, Branden Dawson, Gavin Schilling, and Bryn Forbes. The following season, with almost the same roster (minus Dawson and Trice), he was the catalyst for the best offensive team in Izzo's tenure.
I'm confident Valentine can run our offense and (most importantly) find me open looks from three. That's all I can contribute to our team. He did a tremendous job with it when he had Forbes, Eron Harris, and Matt McQuaid. Why can't he do it with me?
Raymar Morgan, Forward, 2007-2010
I had a very tough time selecting the last player for our team. I ultimately went with Raymar Morgan over some other guys because of his versatility.
At 6-foot-7 and 230 pounds, he's a mismatch with his length and quickness. What I was ultimately looking for with this last spot was a physical presence. Someone that our opponents fear. Robbie Hummel has said numerous times on air that Morgan had "the sharpest elbows" of anyone he ever played against. I want people to be in fear of those swinging elbows when they think about crashing the boards or taking it to the cup.
Morgan was whistled for 373 fouls during his time with Michigan State basketball. That ranks third in program history. Best part of pickup basketball? Call your own fouls. Raymar can reach in, go over the back, set moving screens, and lower his shoulder all he wants because most of the time it's not getting called. And if it does? That's fine. Check it up top. Nobody is shooting free throws.
Because of his athletic ability, he'll be all over the court. He can stick with a guard. He's tall enough to guard in the post. He'll bring that junkyard dog mentality that, let's just face it, I don't have. Morgan will be our match for the stereotypical ex-football player that always finds his way onto the basketball court.
On offense, he has a good mid-range game that we're currently missing. He's also got the length, athleticism, and physical nature to be a menace on the glass. Morgan is fifth all time in Michigan State basketball history in offensive rebounds. We'll need that when I throw up a couple bricks from three after Denzel dishes me a perfect pass in the corner.
Just missed the cut: I had a lot of fun building this team. Here are a couple players that just missed and why they were under consideration.
Aloysius Anagonye: 398 career fouls. Huge presence down low. Nobody would come into the paint while he's there.
Drew Neitzel: Knockdown 3-point shooter. Drew can probably walk into any gym right now and hit seven threes and win the game on his own.
Andre Hudson: A more skilled version of Borgrakos that does all of the dirty work in the post. Probably my most glaring omission.
Branden Dawson: Potential for highlight reel dunks and alley-oops. Tremendous on the offensive boards.
Michigan State basketball: Way-too-early projected starting 5 for 2023-24
Next year's team could be special.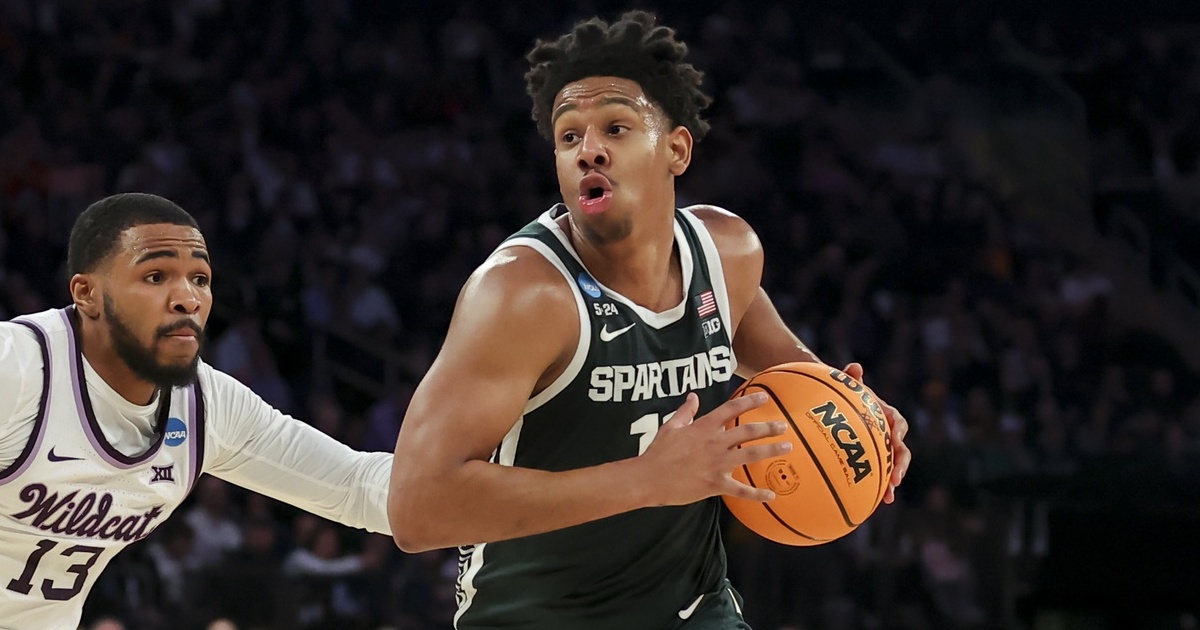 Michigan State basketball has officially entered the offseason and now it's time to predict what next year looks like.
Markquis Nowell will go down in Michigan State basketball history as one of those forbidden names. We will no longer be mentioning the Kansas State guard as he's now in the same group as Giddy Potts, Boo Buie, Jabari Parker, and Shabazz Napier. We're just throwing those names out for good.
Now that we got that out of the way, we can move forward and look ahead to next season.
And next season could be special. Michigan State brings back some key players such as Jaden Akins, AJ Hoggard, Mady Sissoko, Jaxon Kohler, Carson Cooper, Tre Holloman, and potentially Pierre Brooks. However, decisions have yet to be officially made for Tyson Walker, Malik Hall, and Joey Hauser, but an elite recruiting class is coming in.
In fact, the Spartans are bringing in one of the best recruiting classes in program history, led by five-star big man Xavier Booker, five-star point guard Jeremy Fears, four-star super-athlete Coen Carr, and four-star athletic sharpshooting wing Gehrig Normand.
The lineup next year should be athletic and the bench will be deep.
But what will the starting five look like, assuming that Hauser is gone? Here's my best guess:
PG: AJ Hoggard, SR
G: Tyson Walker, SR
G: Jaden Akins, JR
F: Xavier Booker, FR
C: Mady Sissoko, SR
AJ Hoggard will be back for his senior year to lead the team at the point and he might just be the Big Ten's best at the position. He showed against Kansas State that he can take over a game offensively and I'm looking forward to seeing him take another step in 2023-24.
For my bold prediction: I think we see Walker return. The way the season ended left a sour taste in his mouth and he became one of the best players in the Big Ten. If he gets the green light next year, he could be the Spartans' go-to- scorer and potentially a Big Ten Player of the Year frontrunner.
Akins' return is going to be huge for this team as well. If Walker were to leave, he'd assume the role of go-to scorer and I know he'd flourish. But he did play well in a No. 3 option role this season and he's going to excel as the second option next season. He is the starting five's top NBA prospect outside of Xavier Booker at the four.
Speaking of Booker, I see him sliding in as the starting power forward much like Jaren Jackson Jr. did as a true freshman. He's a long, athletic big who can rebound and score in the post and that's just what was missing this year. While I do think Hall returns and could play the four in a small-ball lineup, I think Tom Izzo brings him off the bench and Booker starts.
Lastly, Mady Sissoko grew a ton this season and I don't think he's done getting better. He had his ups and downs and showed how raw he truly was this year, but I think Izzo can mold him into a dominant defensive center. Will he be Oscar Tshiebwe down there? No, but I could see him averaging 2.0 blocks and 7.0-plus rebounds per game next season while continuing his lob-threat ability. Maybe he'll even develop a post game on offense.
Coming off the bench would be Fears, Hall, Carr, Normand, Holloman, Cooper, and Brooks (assuming he doesn't hit the portal).
This will be one of the deeper teams that Izzo has ever had and full lineup changes won't completely crush momentum.
Raise your hand if you're looking forward to next season.
Michigan State basketball: Did Tyson Walker hint at return?
Something to monitor.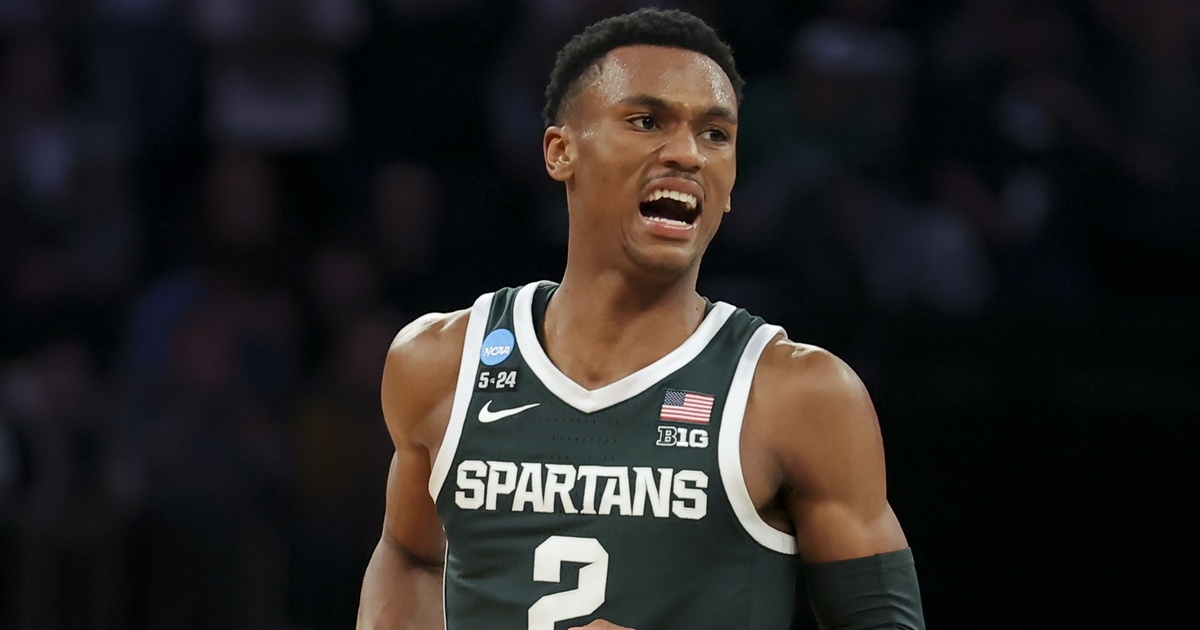 Tyson Walker might just be teasing us, but he hinted at a return to Michigan State basketball on Instagram.
Now that Michigan State basketball is headed back home after a crushing loss to Kansas State in the Sweet 16, a couple of storylines are going to dominate the offseason.
One, is Tom Izzo going to reach into the transfer portal for some help?
And two, will Tyson Walker, Joey Hauser, or Malik Hall decide to return?
The first question won't be answered until the second one is and it feels like it's been one-third answered. Hauser posted somewhat of a farewell on Instagram on Friday with the caption "that's a wrap" and a green heart emoji. No one was shocked as he was the least likely to return, but it was Walker's comment on the post that has people raising an eyebrow.
No surprise Joey Hauser is done with his college career and getting a lot of love from his MSU teammates on Instagram. The second part is 🤔 pic.twitter.com/VqVCkVJZTU

— Chris Solari (@chrissolari) March 25, 2023
The "idk who I'm going to sit next to on the planes now" comment followed by Houser offering up Jaxon Kohler seems promising. Maybe it's just two guys having fun with the fans, knowing that emotions are at an all-time high and we will find a way to make every word seem important.
But I'm putting stock in this. It just feels like Walker is leaning more toward coming back because he didn't even think twice about writing that knowing that people would overreact (like myself).
And Hauser's response makes it seem even more likely. Like he knows Walker wants to return.
Of course Walker had to post this to calm the rumor mill, but maybe he just let his intentions slip in the original post on Hauser's Instagram post?
It ain't always what it seem😂

— Twalk (@TysonWalker13) March 25, 2023
Maybe both guys are just messing around and both Hauser and Walker want to return along with Hall? OK, now I'm going way too far down the "what does this comment mean?" rabbit hole.
Either way, I would venture a guess of Walker returning with Hall while Hauser hangs up the green and white jersey for good.
If that's the case, it was one heck of a career for Joey and Walker has big things ahead of him in East Lansing.
We can hope.
Michigan State Basketball: 3 potential 2023-24 lineup options
There will be plenty of options.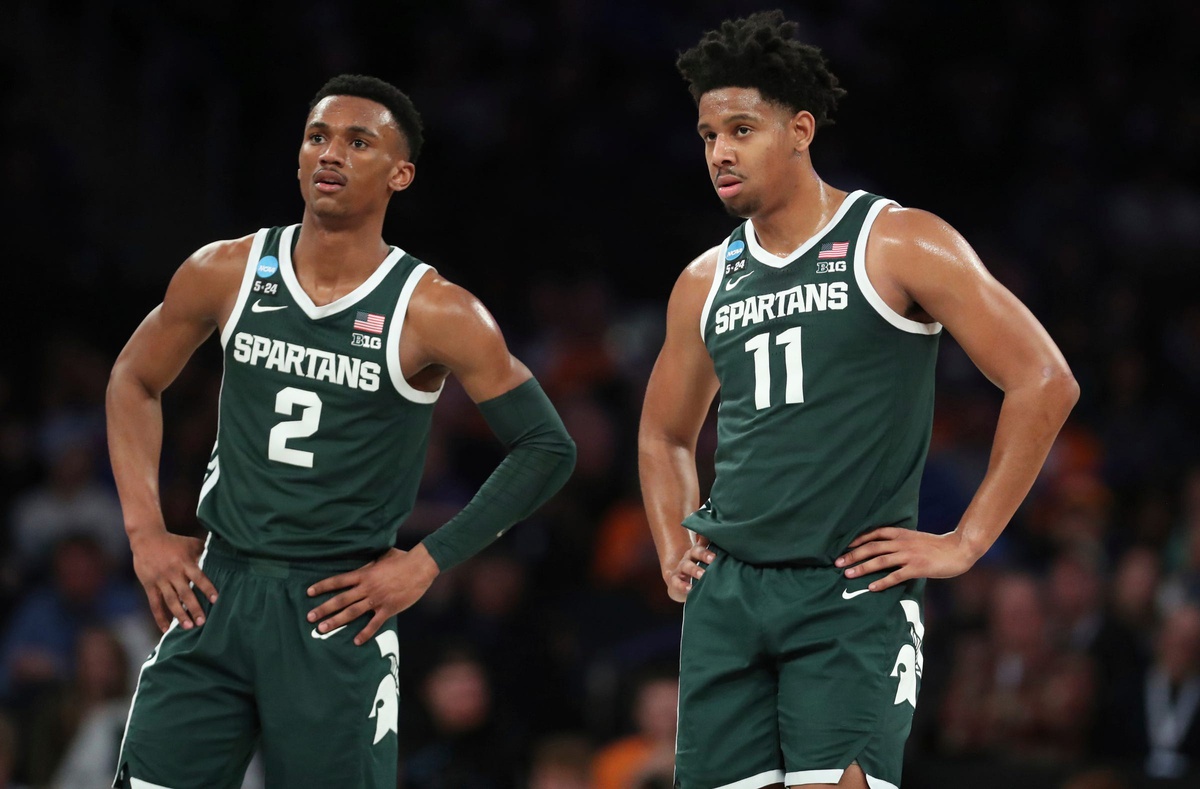 The Michigan State basketball season came to an unfortunate end yesterday after the devastating overtime loss in the Sweet 16. But what about 2023-24?
That loss is going to sting for at least the next few months. With Tennessee losing as well, the path to the Final Four was Michigan State's for the taking. Unfortunately, the better team won Thursday night, and it wasn't Michigan State basketball.
With that being said, there's a lot of hope and optimism looking forward. Along with the hope, however, comes numerous variables regarding the Spartans' roster.
Let's go through a few options Tom Izzo and staff can roll with, roster-wise, in 2023-24.
Option 1: Roll with the roster we have (with a returning member)
A.J. Hoggard/Jeremy Fears
Tyson Walker
Jaden Akins/Coen Carr/Gehrig Normand
Xavier Booker/Jaxon Kohler
Mady Sissoko/Carson Cooper
In option one, Tyson Walker doesn't want to leave Michigan State with the Kansas State loss looming over him and so he decides to return for one final year. One of the nation's best guard combinations of AJ Hoggard, Tyson, and Jaden Akins run it back with more experience and more expectations.
Being that Walker returning is the main variable in this scenario rather than a transfer acquisition, Michigan State moves forward with the players and recruits already bought in.
With that being said, Michigan State basketball would be left extremely thin at the four in this scenario. This would force Xavier Booker to step up (a common theme in these scenarios), along with a possible big ball lineup, shifting Jaxon Kohler to the four. With his offensive upside shown this season, but defensive downfalls, this could actually act as a plus.
Option 2: Attack the transfer portal
A.J. Hoggard/Jeremy Fears
Jaden Akins
Transfer Player/Pierre Brooks/Gehrig Normand
Xavier Booker/Coen Carr
Mady Sissoko/Jaxon Kohler
Most fans will be shouting for option two to become reality but, with Tom Izzo's track record, it's not as likely.
The variable for option two is Walker, Joey Hauser, and Malik Hall all electing to move on, so Izzo and Co. turn to the well that is the transfer portal. Doing so in the past has seemed to work out with Tyson, so Izzo will be looking to strike gold once again to fill the open wing position.
While there are plenty of names within the portal, the Spartans have been linked to just a few. Six-foot-6 small forward Zack Austin from High Point, 6-foot-5 shooting guard Jace Carter from UIC, and 6-foot-3 combo guard Jayden Taylor from Butler have all been contacted by MSU and would fill the three-guard/small four role well.
Still, MSU would be somewhat light at the four, so the coveted 6-foot-10 freshman Booker would find himself in the starting lineup once again.
The offense would be led by Hoggard, but run through Akins, as he's proven to be up to the challenge
Option 3: Feed the young bucks
A.J. Hoggard/Jeremy Fears
Jaden Akins/Pierre Brooks
Coen Carr/Gehrig Normand
Xavier Booker/Jaxon Kohler
Mady Sissoko/Carson Cooper
Even less likely than turning to the transfer portal, is option three.
A staple for Tom Izzo-led teams is veteran leadership. It isn't often a freshman steps in and is given a starting role right away. Think Kalin Lucas, Miles Bridges, or Jaren Jackson Jr. to name a few who were.
In this scenario, not only do Tyson, Hauser, and Hall all move on, but the Spartans also decline to bring in any transfer players. A young starting core would pose a difficult task for Izzo, leading this to being the least likely scenario. I can see plenty of frustration from Hoggard and Akins resulting from the inexperience around them, not to mention a possible second line of Tre Holloman, Pierre Brooks, Jeremy Fears, Gehrig Normand, and Carson Cooper. While it isn't likely this lineup would see the floor all at the same time, it's hard to find the trusted go-to guy in that group. MSU is better off avoiding this scenario.
In all reality, Michigan State's 2024 lineup will likely combine all three of these options. Why choose just one when the most realistic path back to the Final Four is a combination of the three? We will see.