Big Ten basketball: Fixing the conference's NCAA Tournament woes
Here's how we can get the conference back on top.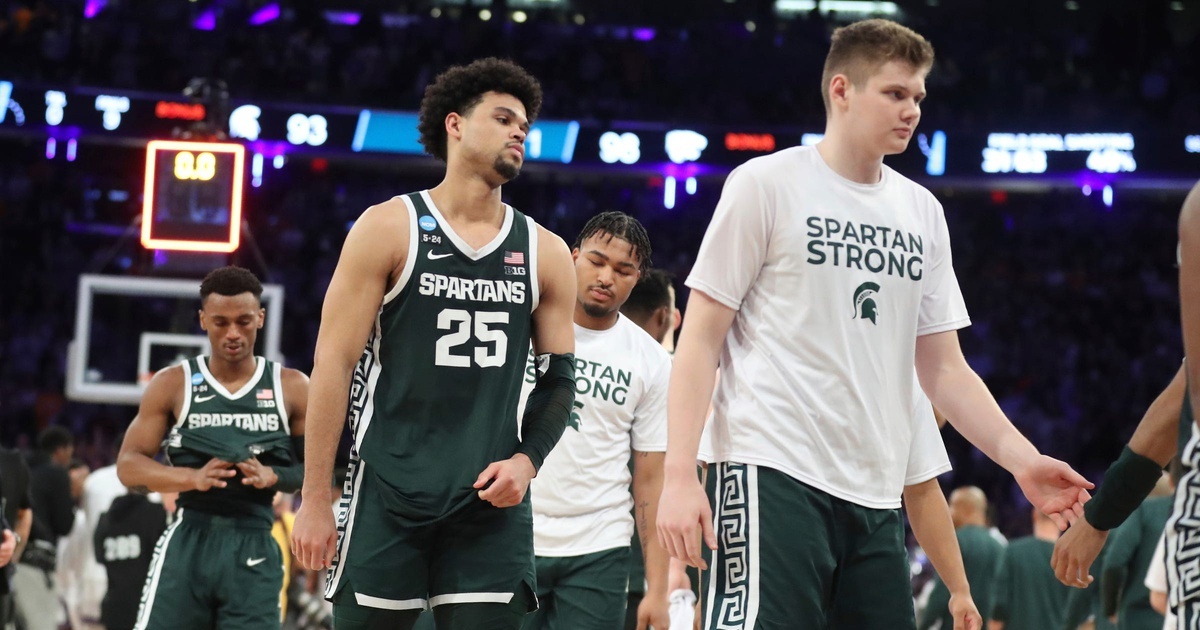 Big Ten basketball hasn't seen a ton of NCAA Tournament success in recent years, but here's how to fix that.
It was another disappointing season for Big Ten basketball in the NCAA tournament. As we prepare to watch the Final Four this weekend, we'll do so without any Big Ten representation. Over the past three seasons, the Big Ten has received 26 bids – the most of any conference. The league has only managed to put three teams into the Sweet 16, with zero Final Four appearances.
Michigan State was the last national champion to come from the Big Ten – 23 years ago.
Many have criticized the style of play in the conference and pegged that as the reason for so many early exits. Many teams play through a dominant center and consistently lose to smaller, faster, more athletic teams in March. Others have argued that the single-elimination tournament produces somewhat random results. While that may be true to an extent, 26 teams and three second-weekend appearances feels like a significant trend.
I'm here to argue that the league is getting out of the NCAA tournament exactly what they are putting into it.
There's a famous saying among chefs in the kitchen. Crap into the oven equals crap coming out of the oven. The Big Ten gets praised each year for being the deepest conference from top to bottom. A lot of this praise comes from teams near the bottom of the league regularly beating teams at the top. There are two ways to look at that. You could determine that, yes, it represents tremendous depth. You could also look at it and conclude that nobody is very good. It's hard to argue with the latter over the past three seasons.
The Big Ten is getting exactly what they want out of the regular season. It's a grueling, intense, and competitive race with good turnover from year to year. The conference consistently has the best attendance and fan engagement, creating very difficult environments for road teams. But I believe the current scheduling model is sacrificing a competitive regular season for a disappointing postseason. I believe the conference is setting these teams up to fail come March.
How can it be fixed? The reality is that none of these recommendations will give the Big Ten three out of four Final Four teams for the next five years in a row. Better players, better coaches, and yes, luck, are all vital when it comes to tournament success. But I do think there are some small tweaks the league can – and should – explore to help their teams prepare for March.
1. Conference schedule overhaul
The current scheduling model should get an overhaul once USC and UCLA join the league, and it is much needed. The 20-game schedule with a 14-team league feels too long and completely random. Outside of a couple of protected rivalries, there doesn't seem to be much (if any) rhyme or reason for who teams play once versus the teams they play twice. This has an enormous impact on the conference title race and in turn – the likelihood of creating "paper tigers" that have inflated records due to weak schedules.
Going back through the past five regular season champions, here are the conference-only strength of schedule metrics per Kenpom.
2023 Purdue (14th)
2022 Illinois (5th) & Wisconsin (10th)
2021 Michigan State (13th)
2020 Michigan (12th), Maryland (8th), Wisconsin (9th)
2019 Michigan State (13th) & Purdue (12th)
It should be noted that teams at the top will always have lower strength of schedule ratings because they can't play themselves. But as you can see, there appears to be a strong correlation between winning the league and playing the worst teams in the league twice. To me, this sort of scheduling creates way too much variance when it comes to determining a champion and putting teams in the NCAA tournament.
Adding two more teams should give the conference a chance to hit the reset button. While the 2020 season was nasty to navigate, it also showed that games can be canceled and rescheduled on the fly. The league should embrace some sort of on-the-fly scheduling after each team has played once.
Perhaps there could be four different four-team pods determined by record, where each team plays one team from the three other pods to round out an 18-game schedule. Maybe the league gets sliced in half, and teams play the other seven teams in their half of the conference twice, with four crossover games based on record after 14 games. Whatever the conference decides, there needs to be some reasoning behind it to create some semblance of balance.
2. Back-to-back travel games
This proposal might be my favorite because I think it's the most realistic.
As the conference expands, the geographical travel involved will be arduous. To guard against that, the Big Ten should look to implement more schedules that involve two road games in three days.
The Pac-12 already schedules the entire conference in this model. They play almost exclusively on Thursday and Saturday. Teams either get two home games or two road games in close proximity to each other. For example, USC played consecutive road games on Feb. 9 (at Oregon) and Feb. 11 (at Oregon State). This scheduling tactic provides two advantages. First, it should actually limit travel because it prevents teams from having to make a journey home before hitting the road again. Second, it gets players and coaches into the "short turnaround" mindset that comes with the NCAA tournament schedule. It will require them to recover, practice, and prepare for a new opponent all away from home in a short amount of time.
Like the Pac-12, the Big Ten also has instances where this absolutely makes sense geographically. While Penn State or Rutgers is out playing Iowa, keep them out there to play Nebraska. When Illinois comes to East Lansing on a Thursday, keep them around and have them play Michigan on Saturday.
The Pac-12 has the advantage of having a complete round-robin schedule with only 10 teams. But Big Ten basketball should still be able to find instances where this sort of scheduling makes sense.
3. Neutral site conference games
Good luck getting the schools to sign off on this one. But we can dream, right?
We got a taste of this in February when Michigan State played Rutgers at a "neutral" site in New York City. I found this fun and potentially beneficial for both teams. The Big Ten is fortunate to have several NBA or multipurpose arenas throughout its geographical landscape. Ask each school to give up one conference home game and have it be played at one of those venues.
Make a couple of these double headers, just like we see in the NCAA tournament. Bring two ho-hum conference games to a big city in a big-time arena on a Saturday and make it into an all-day event.
An example would be Michigan State vs. Nebraska and Michigan vs. Penn State in Detroit. You could also stage this with Purdue and Indiana in Indianapolis, Northwestern and Illinois in Chicago, Penn State and Rutgers in New York City, and USC and UCLA in Los Angeles.
There are multiple benefits to this idea. For starters, the athletes get the experience of playing in a big arena where the crowd is split between fan bases. A game that may have otherwise gotten lost in the shuffle of a large Saturday slate of games is likely elevated to a national television spot. And fans that live in these large cities get a chance to see their team visit them for a change.
To me, this is a great simulation of what playing in the NCAA tournament will feel like. With many of these arenas also serving as host sites for the actual tournament, it's another opportunity for players to familiarize themselves with a pro-style venue.
4. Non-conference requirements
I have two proposals here as it relates to non-conference scheduling. First, I want to follow a rule that the conference put in place for football about 10 years ago. Since then, I think it has gone away. But at the time, the Big Ten did not allow its members to play FCS opponents.
In that same spirit, the conference should prohibit teams from scheduling opponents below a certain rating per a third-party metric. Whether it's KenPom, Bart Torvik, or the NET, the conference should pick a number (say 250?), and not allow members to have those teams on their schedule. They could even use an average ranking over the past three or five seasons if they'd like. The intent here is to get rid of complete pushovers and play teams with a pulse. In addition to not helping NCAA tournament resumes, I believe it does nothing to beat Chicago State or Stony Brook by 32 in December.
Second, it should be a requirement for each member to play one non-conference road game against an in-state (or neighboring state) opponent. Full disclosure, I just think this has the potential to create all sorts of fun matchups. Purdue traveling to Valparaiso? Ohio State playing at Akron? Iowa at Northern Iowa? Rutgers at Princeton? I do think there could be some valuable experiences to be had here. These teams (for the most part) will be matched up with teams from one-bid leagues that play an entirely different style than the Big Ten. It's exactly the type of opponent a Big Ten team might see in the round of 64. Throw in the road element to make it more of a challenge and bring attention to otherwise boring non-conference tune-up games.
So, there you have it. That's what I'd change. With Kevin Warren off to work for the Chicago Bears, consider this my application for becoming commissioner of the Big Ten. 
Tom Izzo had Draymond convince Jaren Jackson Jr. to go to the NBA
Tom Izzo is unbelievably selfless.
Jaren Jackson Jr. was prepared to return to Michigan State for his sophomore year but Tom Izzo had Draymond convince him to leave.
There were a lot of things said about Tom Izzo and Jaren Jackson Jr. after the Syracuse loss in 2018. There were narratives that Izzo was losing his touch or that Jaren might not like Izzo. Both of these narratives proved to be wrong especially after Jackson's recent interview on Paul George's podcast.
Jaren Jackson Jr. talked a lot about MSU on Paul George's podcast yesterday, including this story I hadn't heard before: JJJ was set to come back for his sophomore year, but Izzo had Draymond call him to convince him to leave https://t.co/LGxr3GdDk5

— Kyle Austin (@kylebaustin) June 6, 2023
In this interview, Jaren talks about his time at Michigan State and especially about his decision after the season ended. For those who thought Jackson might not like Michigan State or would never consider going back, those narratives were proved wrong today.
Not only did Jaren say he considered it, he was scheduling his whole sophomore schedule right before the draft. Jaren's plan was to be at Michigan State for a second year. Imagine that team with him at center. Not only would Jaren have gotten better and been really good at Michigan State, but that would have been one of the most loaded teams, talent-wise, the Spartans would've ever had. While that was Jackson's plan, that wasn't Izzo's. 
In fact, Izzo had Draymond Green, a player who had never talked to Jackson before, call him and convince him to go to the NBA. Draymond was asking Jaren: "What are you doing?"
Eventually, Jackson would enter the draft and get selected in the top five. This probably worked out the best for Jaren as he is a young star especially on the defensive end. While this worked out on his end, what does this say about Tom Izzo?
This shows that Izzo isn't going to make a player stick around if he thinks they're ready. Izzo saw the potential of Jackson and that it would be the best interest for him to go to the NBA. Was this the best interest of the basketball program? Probably not, but it shows that the whole narrative around Jackson and Izzo was never true. Why would Jaren want to go back to Michigan State if he was mad about everything that happened?
This just is another example of how Izzo wants what is best for his players and is not afraid to push someone out the door if he thinks they are ready for the next step.
Michigan State Basketball: Allocating forward/wing minutes for 2023-24
How will the wing/forward rotation play out?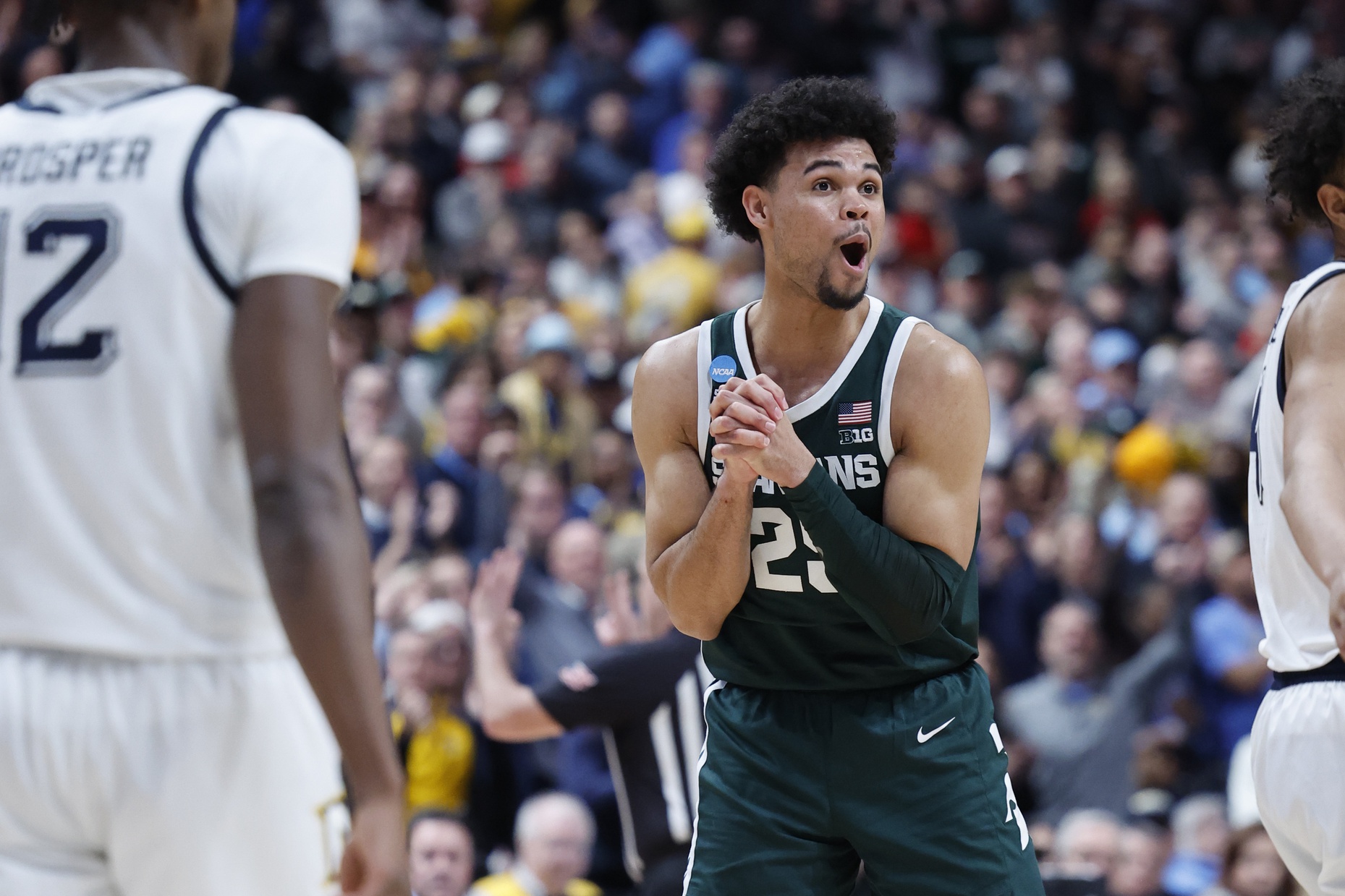 What could the forward/wing minutes look like this upcoming season for Michigan State basketball with Jaden Akins and Malik Hall back?
This Michigan State basketball team is going to be reliant on some new faces at the forward/wing positions going forward as it loses Joey Hauser to graduation. Being able to replace Joey's 34 minutes, 14 points per game, seven rebounds, and 45 percent shooting from three is going to be difficult to replace.
But this group isn't lacking in talent just not a whole lot of experience.
This group will be led by Jaden Akins on the wing (I know he doesn't want the "wing" label) and Malik Hall at forward as the only two returning guys in this position group.
Adding to this group will be five-star freshman Xavier Booker and four-stars Coen Carr and Gehrig Normand.
Let's dive into the forward/wing minutes for 2023-24 Michigan State basketball.
Starters
The starting wing is clearly going going to be Akins as he announced he was returning last week. Akins is a major asset to this team on the offensive end but even more so on the defensive end. He will get between 2-5 minutes at the guard position and should average 25 minutes at the wing position. Akins will find himself as one of the top options on the offensive end due to the loss of Hauser. I would expect him to become more of a ball-handler in the pick and rolls and on pin down screens. Michigan State fans will expect an increased role offensively which should lead to him averaging 13-plus points per game.
At the power forward position, this could go one of two ways with either Malik Hall or Xavier Booker. Hall probably gets the nod early on in the season, but I would expect Booker to take this spot over. Booker will be able to provide length, good defense, and enough offense with the starters to become the starter. I would expect Booker to average around 18-20 minutes per game in this role and around 8-10 points and six-plus rebounds per game.
Backups
Hall will be coming off the bench but really that's just in title. He will be an extremely valuable piece to this team and will help close out games during crunch time. His ability to handle the ball, get others involved, create his own shots, and his experience will lead the bench group. He should expect around 22-24 minutes per game at the forward position and 2-4 minutes coming at the center position when MSU needs to play small ball.
A healthy Hall should average around 10-plus points and five rebounds per game.
Coen Carr is a cause for major excitement for Michigan State basketball fans due to him being a tremendous athlete. Carr will be able to play at either forward position due to his athleticism but expect to see him more at the power forward position. The athleticism is only part of Carr's game, but he will need to become a more consistent offensive threat. Coen's ability to defend will put him in a good position to earn minutes early on as a freshman. I would expect Carr to average around 8-10 minutes per game. I wouldn't expect a major offensive game from Carr but expect some rim shaking dunks in transition or on the pick and roll.
Gehrig Normand seems to be the odd guy out in the freshman class currently. But he has the ability to earn the most time if neither Carr nor Booker aren't getting the job done. Normand provides shooting that this team may need which may slide Malik to the power forward role. He provides a greater offensive scoring threat which the bench may need. I would expect Gehrig to average around five minutes but could find himself outside the rotation if he isn't able to defend at a high level.
Minutes summary
Jaden Akins: 25 minutes per game on the wing; 2-5 minutes at guard
Xavier Booker: 18-20 minutes per game
Malik Hall: 22-24 minutes per game at forward; 2-4 minutes at small-ball center
Coen Carr: 8-10 minutes per game
Gehrig Normand: 5-7 minutes per game
Has Michigan State basketball had the "perfect" offseason so far?
The MSU basketball offseason has felt so much better than football's.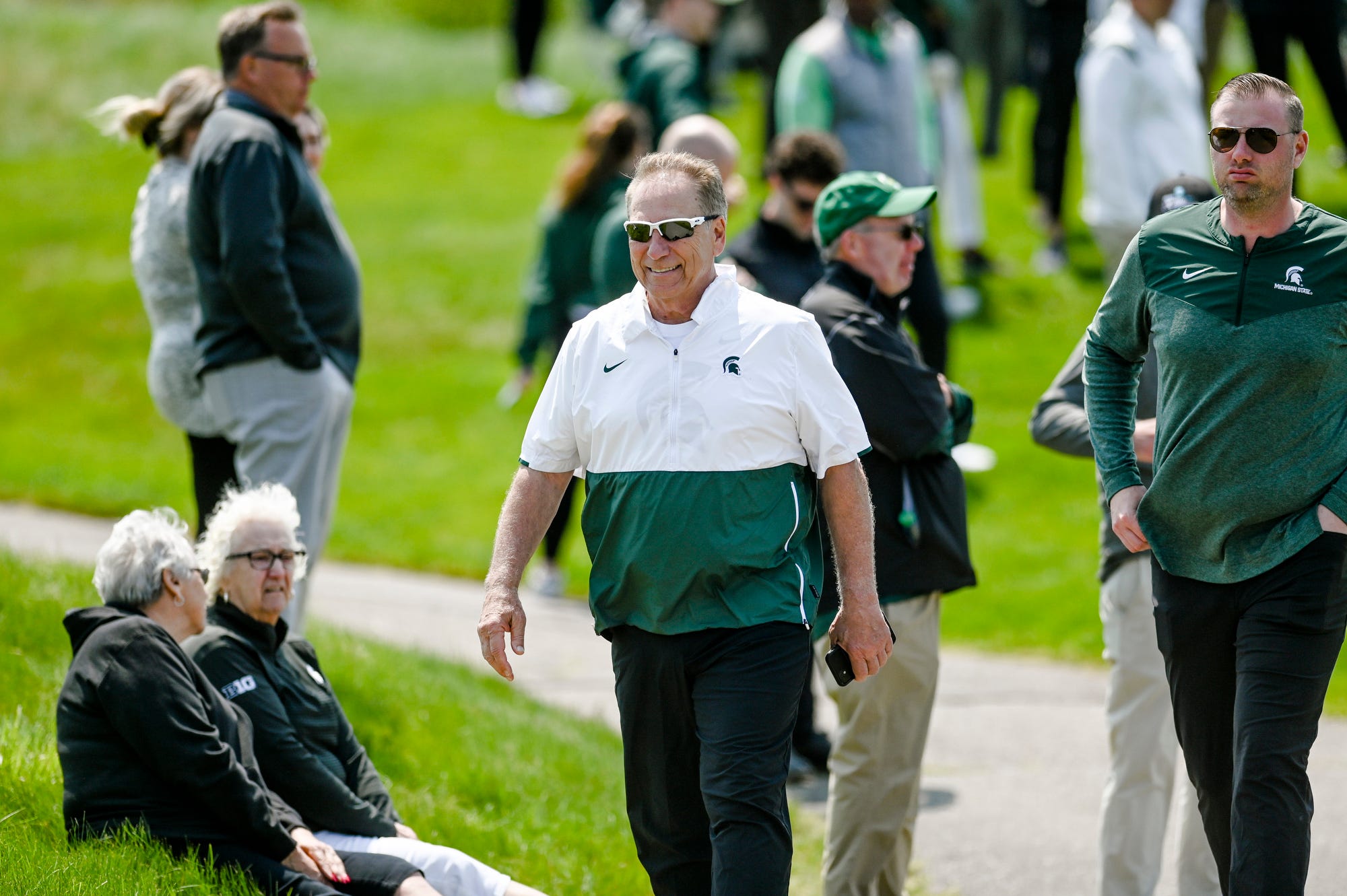 Unlike the football program so far, Michigan State basketball has had an impressive, almost perfect offseason.
Anything is possible in today's college basketball world. We have seen some crazy things with the one-time transfer rule and NIL in full effect. Star players like Hunter Dickinson are transferring to powerhouse programs like Kansas and some players are leaving the schools they love just to chase money. We are even seeing incoming freshman reopening their recruitments in June.
I'll say it again, anything is possible in college basketball today. It seems nearly impossible for a program to have a perfect offseason nowadays. Whether they want their players to stay or they need to get a high-profile transfer to join their team, no program gets everything they want. However, I would argue that Michigan State basketball has had the perfect offseason, or as close to it as reasonably possible.
No key players transferring to new programs
As I mentioned before, star players in a great positions at their programs are still deciding to transfer. Almost every program has someone significant decide to leave the program. Thankfully for Michigan State, that did not happen this season.
Pierre Brooks is the only player to transfer to a new program when he decided to take his talents to Butler. I never like seeing players leave the program, but I think everyone saw this coming. Brooks would have struggled to make the rotation again this year, so it makes sense for him to find a better fit somewhere else.
The transfer portal can be a scary thing, but the Spartans survived it this year.
Players deciding early to return
Whether it be deciding to enter the transfer portal or go pro, some athletes take a long time to make their final decision. Michigan State, on the other hand, got a lot of good news early this offseason. Both Malik Hall and Tyson Walker announced they were returning to Michigan State early on in the offseason.
Both could have attempted to go the pro route. However, both didn't even tempt those waters. Arguably Michigan State's best player and this past season's sixth man are coming back for another year and that's massive.
Players withdrawing from the NBA draft
Jaden Akins and AJ Hoggard both entered their name into the NBA Draft. I thought it was possible for Akins to keep his name in the draft, but nobody ever knows what a player will decide to do. All it takes is one team to promise they will draft them and that player could be gone. Thankfully for Michigan State, that did not happen to either player. Both Akins and Hoggard announced their return to Michigan State on May 31 much to all Spartan fans' delight.
Incoming freshmen class
To round out the perfect offseason, Michigan State's elite freshmen class has stayed intact. This class is No. 5 in the country and is bringing in four players who can contribute from day one.
Once players sign, usually that means the drama is over. That, however, is not the case anymore. A decent amount of players have asked to be released from their commitments to their program, including one top player who decommitted from Kansas on June 3. With all of Michigan State's returning production, this could have been possible for one of our incoming freshmen. Thankfully again, this did not occur to the Spartans, and the class has remained committed.
The one negative you could argue
There is one negative thing you could argue that happened to Michigan State this offseason. That is Joey Hauser deciding to go pro and not return to Michigan State basketball for a final season.
Like Brooks, I think most expected this, but I can't deny how amazing it would have been to have him back again next year. However, who knows what could have happened if he did return. Maybe another player decides to transfer because there aren't enough minutes to go around. Maybe an incoming freshman decides he'd be better off somewhere else. Nobody knows what would have happened if Joey came back. With all the positives that occurred this offseason, I am fine with Hauser deciding to leave the program.
Michigan State has everything to play for next season. A conference title, Final Four, and national championship are all very realistic. Michigan State will likely be a top-five team in the country to start the season, and that is thanks to a near-perfect offseason for the program.