Katin Houser solidifies status as QB1 despite loss at Rutgers
Impressive game by the redshirt freshman.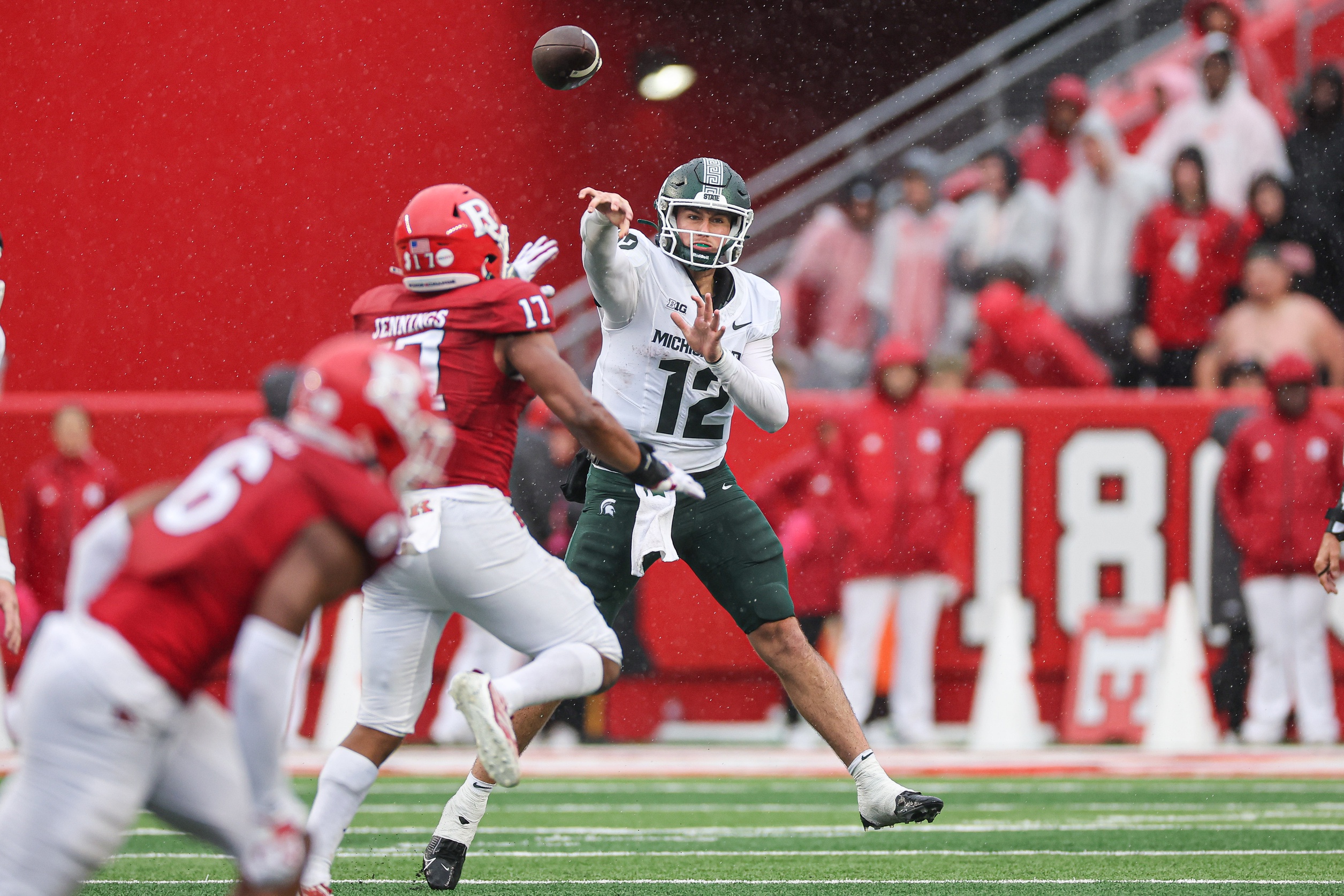 Katin Houser had himself a solid game as a first-time collegiate starter against Rutgers. He solidified his QB1 status.
A near-perfect start was marred by poor coaching as Katin Houser dropped to 0-1 as Michigan State's starting quarterback.
The redshirt freshman officially got his first start as a college quarterback on Saturday afternoon in a rain-soaked Piscataway, and he looked solid. He was poised, and confident, and took control of the offense. He led the Spartans to their first opening-drive score of the season, hitting Montorie Foster Jr. with a beautiful zip-pass in a tight window to make it 7-0.
It wasn't the ideal atmosphere for a first start as the rain never stopped and the grip on the ball had to be horrendous, yet he took what the defense gave him to the tune of 133 yards and two touchdowns on 18-of-29 completions. He also added 27 yards and a touchdown on the ground. Three touchdowns against a solid defense on the road in a rainstorm? Not too bad for a first-time starter.
Houser gave the offense something it hadn't had since the Richmond game: life.
While Noah Kim played really well in the first two games of the year against Central Michigan and Richmond, he couldn't move the ball whatsoever against teams with a pulse. He was poor, at best, against Maryland, Iowa, and Washington. He accounted for just one touchdown drive through those three games. Houser tripled that touchdown total in just one game.
Not only that, but Houser had Michigan State in the right spot to pick up a huge road win, leading 24-6 to start the fourth quarter. But the coaching staff let him down. He should've secured his first win as a starter while looking like a budding star, but instead, it ended up being marred by a meltdown.
Despite the loss, Houser proved that he's the best option at quarterback moving forward. He solidified that QB1 job.