Keon Coleman, Mel Tucker reportedly had sit-down meeting
This could be a big step.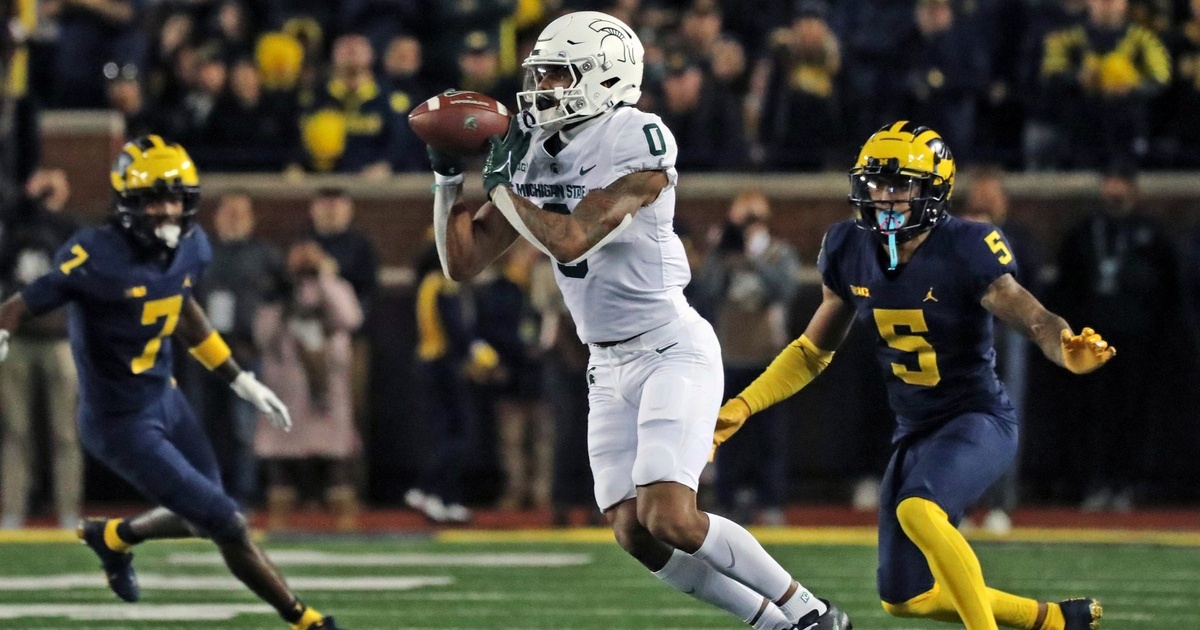 Keon Coleman and Mel Tucker reportedly had a meeting in the head coach's office on Monday. Could this be a big step?
With Charles Brantley withdrawing from the portal on Tuesday morning, all eyes are on Keon Coleman to see if he'll return to Michigan State football in 2023.
Coleman, along with Brantley and Payton Thorne, entered his name into the portal on the final day to do so (Sunday) and will likely receive a ton of interest from major programs. However, Mel Tucker is not ready to throw in the towel just yet.
According to a report from Audrey Dahlgren, Coleman had a sit-down meeting with Tucker on Monday potentially to talk about options or even a return. No one knows the official context of the meeting, but it seems like a good sign that the two are still in contact after his last-minute announcement.
Just heard via @AudreyDahlgren that he was in Tucker's office today. If he was *gone* gone, probably wouldn't be.

— Carole L. | Spartan for Life | Colburn (@techlady56) May 1, 2023
Tucker is going to try and work his magic to see if Coleman wants to come back and be the WR1 for a second straight year and have the same fate — or better — as Jayden Reed as an early-round pick. We saw that Reed was able to get drafted early despite reports of inconsistent quarterback play holding him back.
We've seen Tucker get guys to withdraw from the portal before. A couple of years ago, he was able to convince Connor Heyward to return and he got drafted after a career year. Then last year it was Ma'a Gaoteote that he convinced to come back after hitting the portal. And this time around, it's Brantley. Could Keon be next?
One thing is for certain: Tucker will not give up until an official decision is made.
Brantley and Coleman seem to be pretty close, so maybe this return is going to increase Michigan State's chances with the elite receiver.
In my best Lloyd Christmas (Dumb & Dumber) voice: "So you're telling me there's a chance?"