Michigan State Basketball: The great, good, bad, and ugly from Indiana loss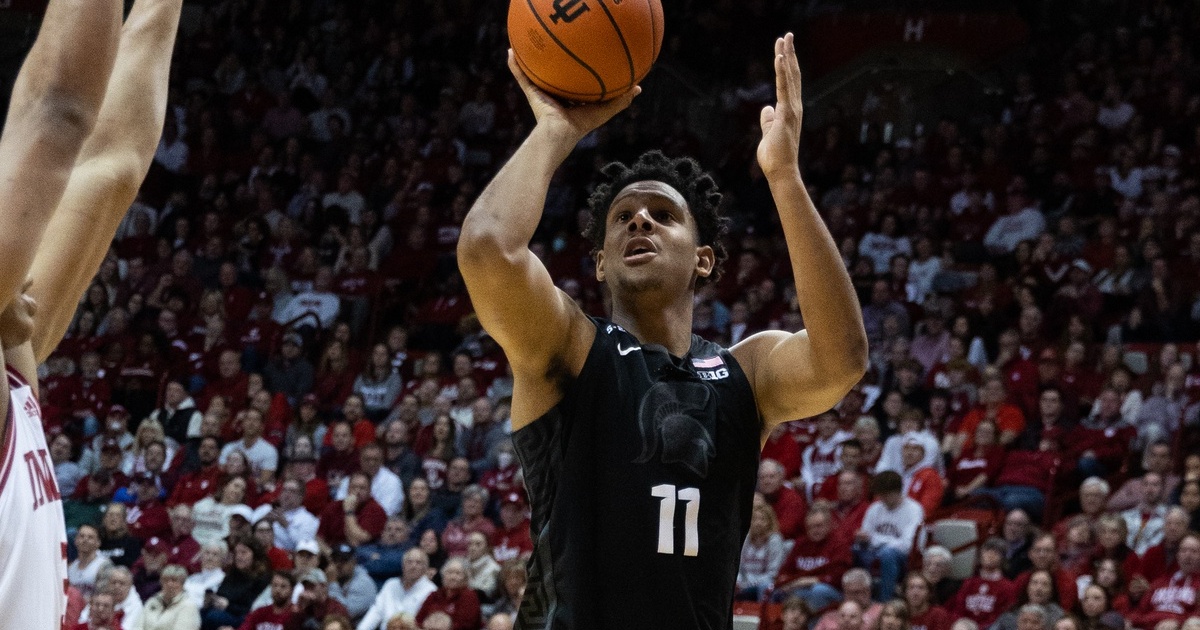 After a strong start, Michigan State basketball had a total collapse, losing to Indiana Hoosiers 82-69.
Michigan State basketball, Joey Hauser in particular, got off to a hot start at Assembly Hall on Sunday afternoon, jumping out to a 17-8 lead just over six minutes into the game. Hauser looked as though he was headed towards a career night, scoring 11 of those 17 points in impressive fashion.
After the lead was built, Trayce Jackson-Davis followed Hauser's lead and took over.
Led by TJD, the script quickly flipped as though the Spartans were going to be run out of the building. Indiana finished the final 12 minutes of the first half on a 29-15 run to take a 37-32 lead and as much momentum as one team can into the locker room.
MSU came out in the second half looking like the team from the first 10 minutes of the game, opening on a 12-5 run to take the lead with 15 minutes remaining. In what turned out to be a game of runs, Indiana came roaring back. After opening the second half shooting 7-for-8, Michigan State went 1-for-8 on their next eight shots.
Using this cold streak, Indiana saw its lead balloon, and eventually closed the Spartans out 82-69.
Here's the great, good, bad and ugly from MSU's lopsided loss at Assembly Hall.
Great: Jaden Akins
After back-to-back subpar games against Illinois and Purdue, Jaden Akins came to play against Rutgers and Indiana. Akins followed up his 11 point performance against the Scarlet Knights on Thursday with a 15-point game Sunday in Bloomington.
As Michigan State found itself down beginning the second half, Akins began to light it up from three, eventually finishing shooting 3-for-4 from deep. Each make settled the crazed Indiana crowd ever so slightly.
Even with this great performance, as mentioned, Jaden had a string of below average games. To open Big Ten play Akins had four out of five outings in which he scored in single digits. Jaden truly is the Spartans' X-factor and must play as such. Going stretches of Big Ten games with no impact cannot happen. Shooting almost 44 percent from 3-point range, Akins has the ability to be a true threat on all levels for Tom Izzo. He has to play like it each night.
Good: Joey Hauser
Even with a costly mental error late in the second half of the game, Joey Hauser was terrific on Sunday. As already stated, Joey single handedly got the Spartans off to a great start.
Finishing the first half with 14 of MSU's 32 first-half points, Hauser looked like the veteran leader he is. He was able to take what the Hoosier defense was giving him, along with creating opportunities for himself. Joey shot 50 percent from the field and 33 percent from deep to go along with six rebounds in his 22-point outing.
It has been well documented this season that the Spartans struggle to make it to the free throw line on a consistent basis. Sunday afternoon, Hauser did his part to get Indiana into foul trouble. Having 12 free throw shots, Hauser cashed in on nine while forcing Indiana forward Jordan Geronimo to foul out with five minutes remaining in the contest.
Bad: Assists, bench production
Michigan State averages 15 assists per game. Death, taxes, and Michigan State having an elite assisting team. Against Indiana on Sunday, the Spartans had just six assists. It seemed as though the Hoosiers had MSU completely out of sorts and the lopsided score was a result.
Not moving the ball to find the open shot dug the Spartans into a hole they could not climb out from. I assume this is more of an anomaly rather than an area of real concern for the Spartans, but MSU cannot make a routine of the lack of assists.
Just days removed from an extremely well-balanced effort from the Spartans, Michigan State's bench reverted to prior habits. Outside of Jaxon Kohler, who again looked better than starter Mady Sissoko, all other bench players were ineffectual. Each playing 13-plus minutes, Tre Holloman and Pierre Brooks both failed to have any impact.
While Holloman has not shown much offensive prowess this season thus far, Brooks has. It has been noted in previous weeks that Brooks has the talent to provide seven to nine points off the bench, but yet he continues his intense sophomore slump. Other than a two-point performance against Rutgers, Brooks is now scoreless in five of his last six games. More than just not scoring, Brooks looks absolutely lost defensively, and cannot buy a basket at any time.
Pierre needs to spend every minute not in the classroom in the gym, because he is, unfortunately, borderline unplayable at this point.
Ugly: 3-point defense
Normally an above average defensive team, Michigan State was far from that on Sunday.
Michigan State basketball currently ranks tied for 51st in the country in 3-point defense, with an opponent percentage of 30.5. Indiana finished against the Spartans shooting double that at 60 percent from deep. Whether this was due to the energetic crowd at Assembly Hall, a great 3-point shooting roster for Indiana, or a lack of MSU's defense, the result is all the same. What makes that 60 percent shooting clip even more impressive is that freshman guard Jalen Hood-Schifino missed on all three of his attempts, dragging the team's average down.
Michigan State had no answer for sophomore guard Tamar Bates, who had been scoreless in the Hoosiers two previous games, and junior Trey Galloway. The two connected on a combined 8-of-9 from three.
MSU guards were repeatedly beat to the spot and/or unable to properly close out on the red hot shooters. Beating a team that is shooting 9-for-15 from three point range is next to impossible. Michigan State has to do a better job disrupting opposing shooters if they plan to break away in conference play.
Has Michigan State basketball had the "perfect" offseason so far?
The MSU basketball offseason has felt so much better than football's.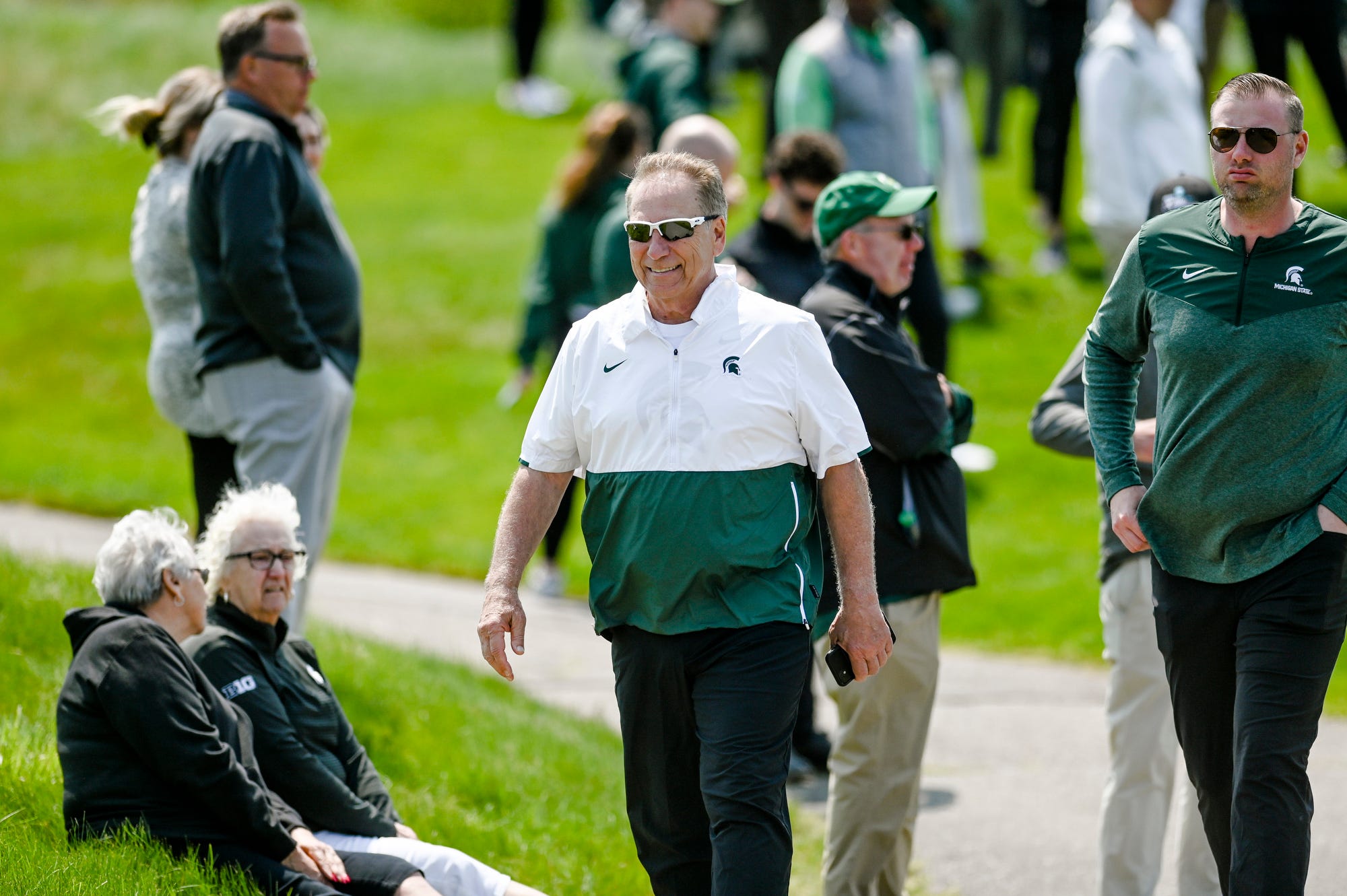 Unlike the football program so far, Michigan State basketball has had an impressive, almost perfect offseason.
Anything is possible in today's college basketball world. We have seen some crazy things with the one-time transfer rule and NIL in full effect. Star players like Hunter Dickinson are transferring to powerhouse programs like Kansas and some players are leaving the schools they love just to chase money. We are even seeing incoming freshman reopening their recruitments in June.
I'll say it again, anything is possible in college basketball today. It seems nearly impossible for a program to have a perfect offseason nowadays. Whether they want their players to stay or they need to get a high-profile transfer to join their team, no program gets everything they want. However, I would argue that Michigan State basketball has had the perfect offseason, or as close to it as reasonably possible.
No key players transferring to new programs
As I mentioned before, star players in a great positions at their programs are still deciding to transfer. Almost every program has someone significant decide to leave the program. Thankfully for Michigan State, that did not happen this season.
Pierre Brooks is the only player to transfer to a new program when he decided to take his talents to Butler. I never like seeing players leave the program, but I think everyone saw this coming. Brooks would have struggled to make the rotation again this year, so it makes sense for him to find a better fit somewhere else.
The transfer portal can be a scary thing, but the Spartans survived it this year.
Players deciding early to return
Whether it be deciding to enter the transfer portal or go pro, some athletes take a long time to make their final decision. Michigan State, on the other hand, got a lot of good news early this offseason. Both Malik Hall and Tyson Walker announced they were returning to Michigan State early on in the offseason.
Both could have attempted to go the pro route. However, both didn't even tempt those waters. Arguably Michigan State's best player and this past season's sixth man are coming back for another year and that's massive.
Players withdrawing from the NBA draft
Jaden Akins and AJ Hoggard both entered their name into the NBA Draft. I thought it was possible for Akins to keep his name in the draft, but nobody ever knows what a player will decide to do. All it takes is one team to promise they will draft them and that player could be gone. Thankfully for Michigan State, that did not happen to either player. Both Akins and Hoggard announced their return to Michigan State on May 31 much to all Spartan fans' delight.
Incoming freshmen class
To round out the perfect offseason, Michigan State's elite freshmen class has stayed intact. This class is No. 5 in the country and is bringing in four players who can contribute from day one.
Once players sign, usually that means the drama is over. That, however, is not the case anymore. A decent amount of players have asked to be released from their commitments to their program, including one top player who decommitted from Kansas on June 3. With all of Michigan State's returning production, this could have been possible for one of our incoming freshmen. Thankfully again, this did not occur to the Spartans, and the class has remained committed.
The one negative you could argue
There is one negative thing you could argue that happened to Michigan State this offseason. That is Joey Hauser deciding to go pro and not return to Michigan State basketball for a final season.
Like Brooks, I think most expected this, but I can't deny how amazing it would have been to have him back again next year. However, who knows what could have happened if he did return. Maybe another player decides to transfer because there aren't enough minutes to go around. Maybe an incoming freshman decides he'd be better off somewhere else. Nobody knows what would have happened if Joey came back. With all the positives that occurred this offseason, I am fine with Hauser deciding to leave the program.
Michigan State has everything to play for next season. A conference title, Final Four, and national championship are all very realistic. Michigan State will likely be a top-five team in the country to start the season, and that is thanks to a near-perfect offseason for the program.
Michigan State basketball: AJ Hoggard earns high praise from Malik Hall (Video)
Malik Hall had nothing but good things to say about AJ Hoggard.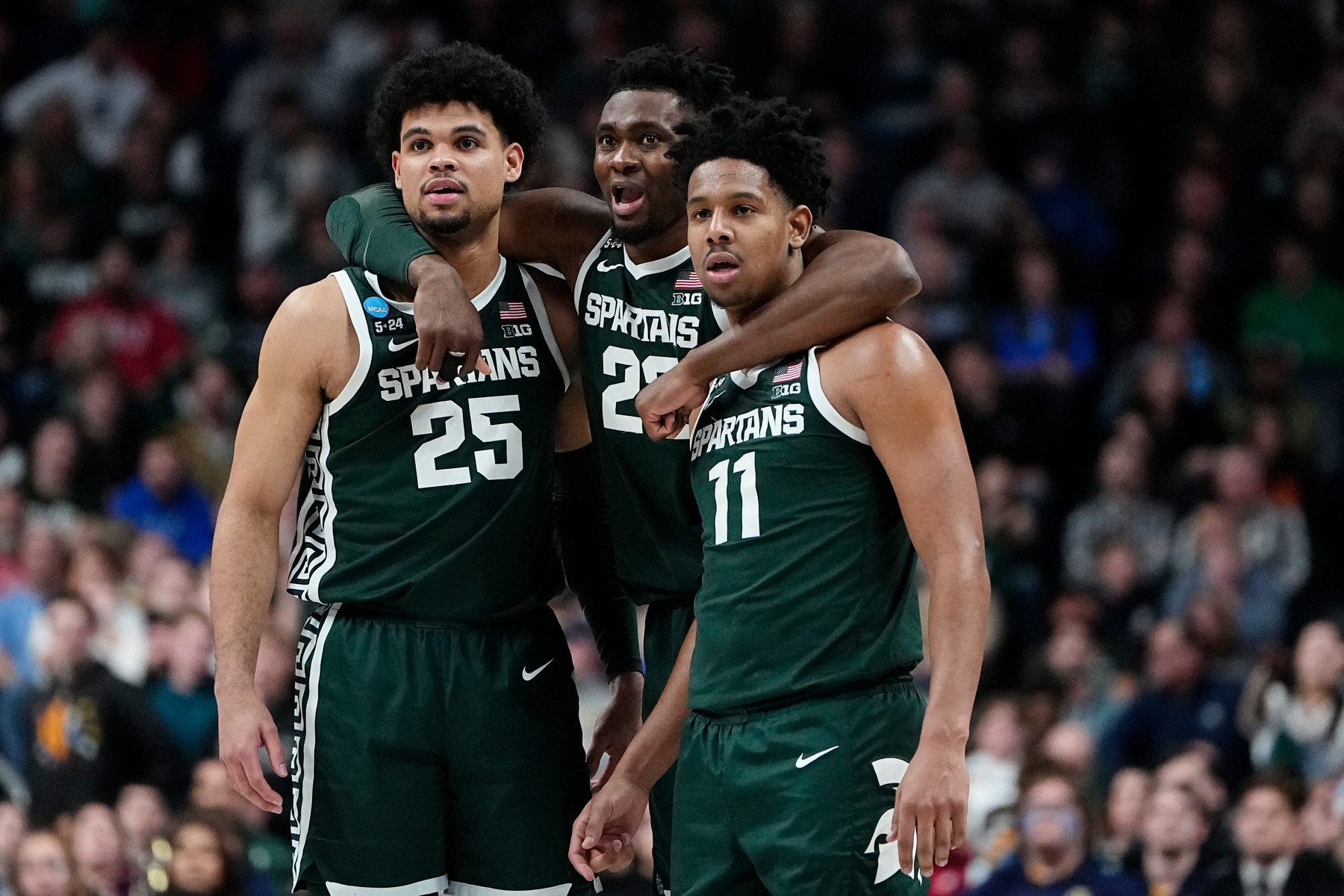 Michigan State basketball got some good news this week and Malik Hall is more than happy to have AJ Hoggard back.
In a recent interview with Justin Spiro, Malik Hall spoke in detail about AJ Hoggard. He discussed how great of a person he is on and off the court and how there are a lot of misconceptions about him from Michigan State basketball fans.
Here is a two-minute clip from that interview where Hall talks about AJ.
"AJ is one of my best friends in life…he's one of those genuine people that you want around."

Malik Hall says AJ Hoggard is often misunderstood by fans and commentators.@ajhoggard3 pic.twitter.com/MovtDOzLJc

— Justin Spiro (@DarkoStateNews) June 1, 2023
The star point guard AJ Hoggard dealt with a lot of criticism from the Spartan fanbase this season. Nobody plays great every game, and I think our fans mostly understand that.
The thing that bothered some of our fans however was Hoggard's body language in the games in which he was struggling. Instead of staying positive, some fans criticized him for seemingly not trying or caring during his struggles.
AJ Hoggard: The leader
Malik Hall is here to tell you that none of that is true. Hall explained how this opinion from fans is the furthest thing from the truth. Malik mentioned that even though AJ's face looks like he doesn't care, that is not how he feels at all. That's great to hear about your starting point guard and one of the leaders of the team. Guys look to AJ for leadership and motivation, so if they see negative body language from him they are likely to mirror that. So even though AJ sometimes looks like he is checked out on the court, it's nice to know that the rest of the team doesn't feel that way.
Malik also went on to share that AJ is one of the nicest and most genuine guys he knows. He considers Hoggard to be one of his best friends not just on the team, but in his life. Hall mentioned that AJ is the first guy to text you when you are struggling with something outside of basketball.
That's the best type of leader in my opinion. Someone who pushes you to be great on the court but always makes sure you are okay off the court.
Sophomore guard Tre Holloman responded to this tweet on Twitter agreeing with what Hall said.
Frfr💯 https://t.co/Pi3CarNke4

— Trejuan Holloman (@jiggyTrawww) June 2, 2023
The next time you think AJ looks out of it in a game, remember this interview. Remember that Malik Hall mentioned that nobody on the team feels this way and they all know that how AJ truly feels doesn't match the "AJ face."
Writer says there's a huge gap between Purdue and Michigan State basketball
This seems like a wild claim.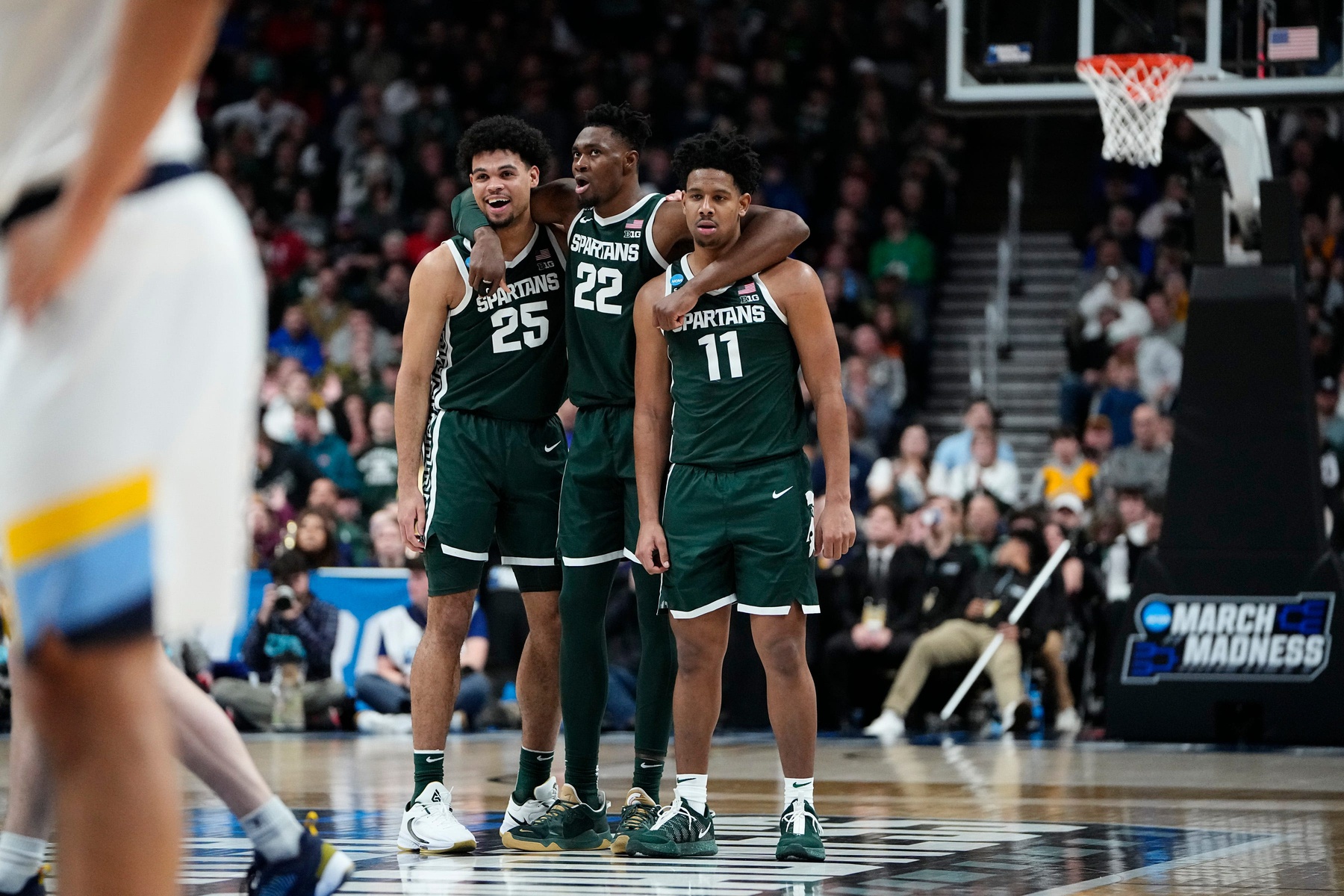 Gregg Doyel of the Indy Star claims that Purdue is "historically loaded" and there's a huge gap between them and Michigan State basketball.
With the news of Jaden Akins and AJ Hoggard returning along with Tyson Walker and Malik Hall to go along with the No. 4 recruiting class in the country, Michigan State basketball went from a conference title contender to a national title contender.
Essentially everyone who follows college basketball has Michigan State as a top-five team and right there in the Big Ten as 1B to Purdue's 1A — some even have it the other way around.
The Spartans bring back everyone but Joey Hauser to a team that went to the Sweet 16 and Purdue returns national player of the year Zach Edey to a Big Ten title team. Both teams are loaded and should be at the top of everyone's list when it comes to national title contention.
But one Indy Star writer believes that Purdue is "historically loaded" and the talent-and-depth gap between the Boilermakers and "everyone else" is as large as he's seen in years. Just a wild claim.
Zach Edey's return means Purdue is historically loaded. The talent-and-depth gap between Purdue and everyone else will be as large as we've seen in years:https://t.co/uXqI95grQM

— Gregg Doyel (@GreggDoyelStar) June 1, 2023
Gregg Doyel cites a solid incoming class to go along with Edey returning and the two freshmen guards with another year in the system. But he fails to recognize that Michigan State got even better. The Spartans are bringing in an even better recruiting class and they return their 2-3 most talented players from a year ago. The only loss is Hauser.
Saying that this year's Purdue team is far-and-away the most talented and deepest team in the Big Ten and the gap is the biggest it's been in years is asinine. There was a much larger gap last year.
Michigan State will go toe-to-toe with the Boilermakers and as long as Edey can be neutralized, the Spartans will have a chance to take them down for the Big Ten crown.
It's tough to say a team like Michigan State basketball that's 11-12 guys deep is not nearly as talented or deep as Purdue, but hey, let's put that early chip on the shoulder.