Michigan State basketball: 3 quick thoughts from lifeless loss vs. Rutgers
This was an ugly loss.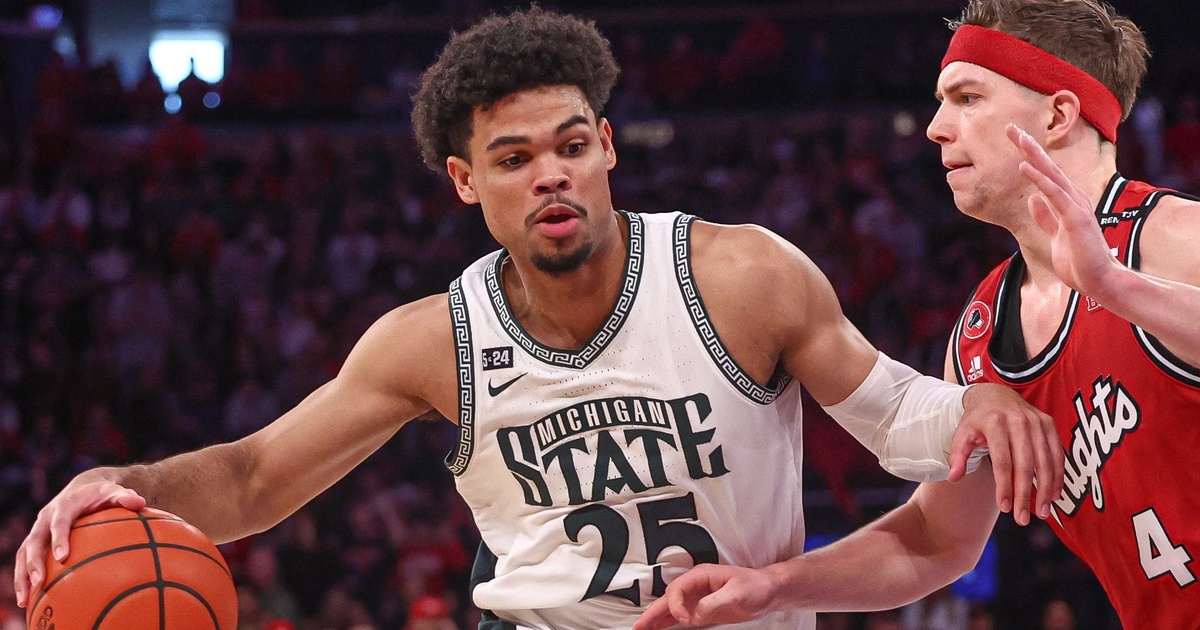 Michigan State basketball was unable to pick up a Quad 1 win on Saturday afternoon against a solid Rutgers team.
After almost a whole week to prepare for Rutgers, Michigan State basketball looked lost and completely overmatched in the final minutes of the game to surrender an eight-point second-half lead and lose by six, 61-55.
There's no way a break like that should have resulted in the poor shooting and lazy turnovers that we saw on Saturday afternoon from the Spartans at Madison Square Garden.
But unfortunately, that was all we saw.
Michigan State was controlling the game for the first 20-25 minutes like it usually does but then it had a stretch in which it couldn't score and Rutgers reeled off nine straight points. That was the difference in this game. Then Michigan State cut it to two, 46-44, but then allowed five straight points as they couldn't seem to defend without fouling.
The Spartans now drop to 6-6 in conference play and 14-9 overall. It's time to make a serious push toward an NCAA Tournament berth because these losses are piling up.
Here are a few of my thoughts on the Michigan State basketball loss.
1. Dry spells after building leads are killing this team
Think about the last 4-5 losses Michigan State has suffered. What do all of them (outside of the Purdue loss in West Lafayette) have in common? Michigan State had a decent lead in each one of them and was controlling the game before going on long dry spells.
At Illinois, Michigan State was up nine points in the second half before collapsing. At home against Purdue, the Spartans had a four-point lead with under four left before losing. Michigan State led Indiana by nearly 10 on the road before falling apart in the second half. And on Saturday afternoon, the Spartans were up eight in the second half before giving up a big Rutgers run. That's a trend that has to be concerning.
Michigan State could very well have 4-5 more wins but these dry spells are killing it.
2. This was probably the worst game of Malik Hall's career
Malik Hall is going to want to burn the tape from this one.
After missing the first matchup with Rutgers, Hall finally got a chance to face the Scarlet Knights and he probably wishes he didn't. He did have 13 rebounds and was a monster on the glass, but he turned it over three times and was 1-for-9 from the floor. And his defense on Paul Mulcahy late in the game was mediocre, at best.
Hall will want to forget this one but it's good to get this ugly game out of the way now.
3. Too much timid play
It was apparent from the start that Michigan State basketball was being passive on offense. AJ Hoggard would drive to the hole and instead of finishing strong, he'd pass it out to a covered guy or throw it away. He had five turnovers to just two assists because he was unsure of himself and way too passive and indecisive.
Tyson Walker passed up some open shots, Jaden Akins did, too, and Pierre Brooks should have gotten more shots up but you can tell he's just afraid to miss at this point. He did, however, have one of his best games in weeks so that's a good sign.
No more timid play as it leads to turnovers, shot clocks being melted down, and bad shots.