Michigan State Basketball: Report card for third quarter of 2022-23
Yeah, these grades aren't so great.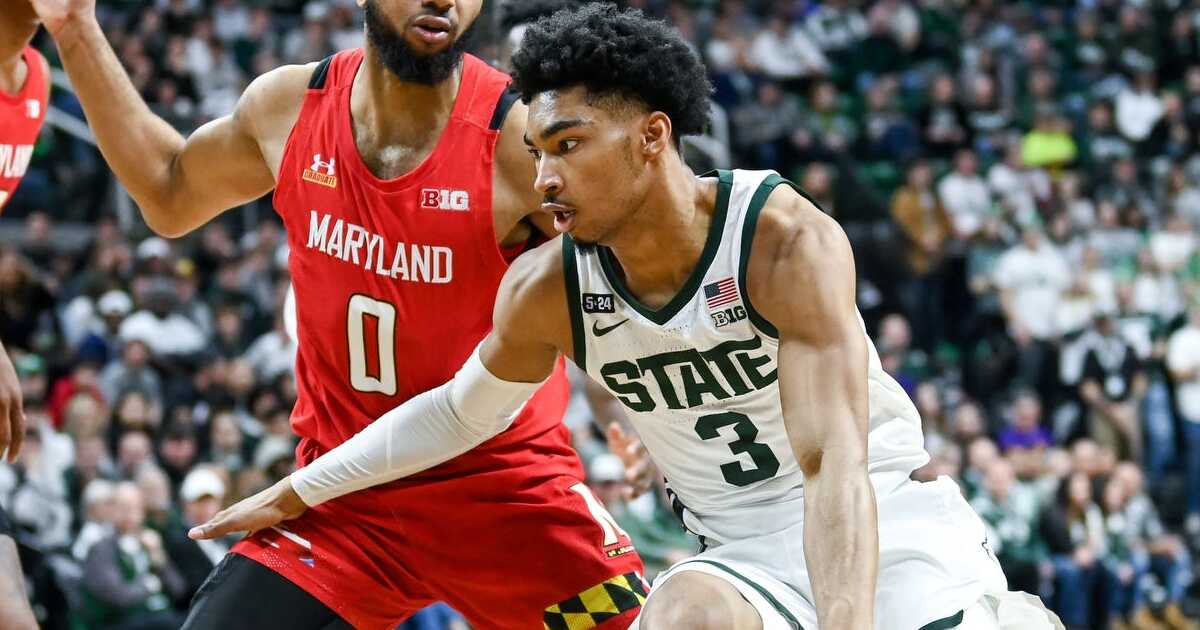 Here are grades for each positional group from the third quarter of the 2022-23 Michigan State basketball season.
Continuing the rollercoaster trend of a season for Michigan State basketball, the Spartans struggled throughout January and February. While this stretch of Big Ten play was admittedly difficult, MSU came up short in far too many of these matchups.
With rankings at the time of this article, Michigan State played unranked Illinois, No. 1 Purdue twice, No. 24 Rutgers twice, No. 18 Indiana, unranked Iowa, and unranked Maryland.
It wasn't pretty at times, and as such, the grades for each position have regressed from the midway point of the season. If it weren't for a late victory against Maryland earlier this week, their grades would be even worse.
So, here are grades for each positional group from the third quarter of the Michigan State basketball season.
Guards: B+
As has been the story all season, Michigan State continued to be propelled by guard play throughout the third quarter of the season. After being benched earlier in the season, A.J. has been both great and then horrible at times. Aside from a zero-turnover outing against Indiana, Hoggard has struggled mightily with turnovers. Even with his often impressive scoring and assist stat lines, his turnovers hurt this team much more.
Jaden Akins and Tyson Walker both have had a great stretch of season, just at different times. Walker opened the third quarter with impressive showings, including his 30-point game against Purdue. He looked untouchable at times against the No. 1 team in the country. As Walker began to cool off, Akins started hitting his stride, scoring in double figures against Rutgers, Indiana, Iowa, and Purdue. If the two of them can align their top performances, MSU will be hard to beat.
Freshmen Pierre Brooks and Tre Holloman have both continued to be used sparingly. While Holloman has continued to struggle with shooting confidence, Brooks has still never seen a shot he didn't like. Unfortunately, offense from both guards is non-existent outside the Pierre against Rutgers on Saturday. Brooks' shooting ability is there, but he must get out of this intense slump if he is going to contribute off the bench in March.
All in all, the guards get a B+ for the third quarter of the season, mostly uplifted by Tyson and Jaden. If Tyson continues to be a top guard in this league, Hoggard can tame his turnovers, and Brooks can settle his 3-point shooting, they can easily be bumped into the 'A' territory.
Forwards: B-
Unfortunately for the Spartan forwards, Malik Hall was again held to just four of the eight games covering this stretch of season. Reaggravating his injured foot against Illinois, Hall was forced to sit out half of that matchup, as well as the Purdue, Rutgers, and Indiana games. At this point, Malik has not been able to get into any sort of offensive groove due to his prolonged absences. Shooting just 39 percent from the field and averaging just over 6.4 points per game over this third quarter of the season for the senior captain is a direct result of this time on and off.
As for Joey, we saw a more balanced attack over this eight-game period. While he did give up his position as leading scorer to Tyson Walker, Hauser scored in double figures in all but one game, including his 20-point outing on Tuesday against Maryland. That said, only two of those double-figure showings were above 13 points. Michigan State will need the sixth-year senior to come closer to 15-plus points per game if he is to lead this team. Another performance such as the one he had against Purdue with just three points cannot happen.
The Spartan forwards are the veterans on this team. More consistency will be needed from them heading into tournament time. They came dangerously close to the C range over this third quarter.
Centers: C-
The Big Ten has some of the most elite big men in the country and, unfortunately, Michigan State does not fall in that category. The Spartans were dominated down low multiple times throughout this season. Defensively, Zach Edey and Trayce Jackson-Davis both had career days against the MSU centers, Edey having outings of 32 and 38 points and TJD putting up 31.
Offensively, Mady Sissoko had a slightly better stretch but it was Jaxon Kohler who proved to be the better offensive weapon. Kohler had a career-high of 12 against Rutgers and followed that up with nine against Indiana. He is still working through freshman issues such as defense and consistency but has played himself into the starting conversation.
As it has been all season, this will be one of the most significant threats to the Spartans this season.
Coaching: C
Along with the players, the coaching has also struggled after having a good start to the season. We saw, at the midway point in the season, the lack of an above-average center was beginning to hinder the success of this team. The third quarter of the season only furthered that. When asked about playing time, Tom Izzo said that he wished he had another option than playing so many players 30-plus minutes every night. Izzo and the staff did, however, leave three scholarships unused this season. It's coaching decisions like these that don't have immediate effects on the team but will always impact their success down the line.
The combination of coaching decisions over the offseason coming to a head, as well as an apparent lack of game planning against top-tier Big Ten players such as Jackson-Davis and Edey decreased the overall grade for Izzo and his coaching staff.
Overall: C
Unfortunately, the Spartans have fallen flat in the direst stretch of the season. Michigan State basketball went from safely in the tournament to a borderline double-digit seeded team. From competing for a Big Ten Championship to being just about out of the conversation entirely, sitting at eighth in the conference.
With only the final quarter of the season remaining, the Spartans must right the ship before it is too late.
Michigan State finishes the season with just one ranked opponent remaining. They most recently took down one of the hottest teams in the Big Ten in Maryland, so the momentum is there for the taking. MSU must correct the mistakes across the board and attempt to gather whatever strength they can heading into March.