Michigan State football: Offensive line could see resurgence in 2023
It's about time we have a good offensive line.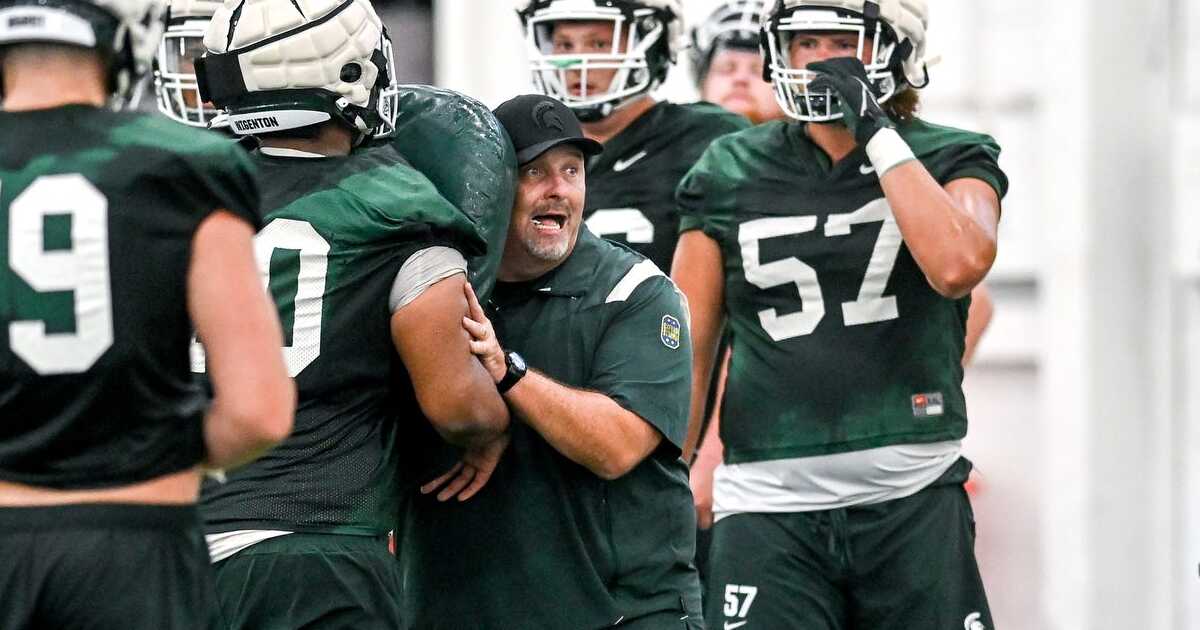 Michigan State football may have its best offensive line in years thanks to veterans, budding stars, and coaching.
Michigan State football is facing a lot of question marks heading into the 2023 season, 0ne of them being the offensive line.
A lot of position groups have a good foundation, whether that be the coaches, veteran players, or depth offered up by the young guys. A few groups have all three of these. One of those rooms is the offensive line.
Spoiler alert: I'm excited about this position. But why, after everything we saw in 2022?
Simply put, because a lot can happen in a year; and a lot has happened in a year. The trenches are a long-time source of pride for the Spartan football program. We've been fortunate to have witnessed some great players come through the program. Jack Conklin, Brian Allen, and Jack Allen come to mind, and those are just the key guys from the Mark Dantonio years.
Problem is, it's been too long since they have had that pedigree on the line. Don't worry, though, I'm here to tell you why the program is closer to returning the position group back to the dominant room it once was.
First of all, in order to have a successful position group, you need a coaching staff that emphasizes everything about it. Mel Tucker preaches the importance of the trenches, and with Chris Kapilovic leading the "juice squad", you can tell he's the right guy for the job. Not enough can be said for the praise Kap gets.
But praise is one thing, product is another.
When it comes to recruiting the line, the term relentless from the coaching staff is no joke. Sure they have had some misses, but I don't know a program in the country that doesn't anymore. From landing Stanton Ramil and Cole Dellinger in the 2023 class, Ashton Lepo (a guy I think will be sneaky good) and Gavin Broscious in 2022, to Geno VanDeMark in 2021 these are all highly-touted recruits. This doesn't even include the transfer portal where Kapilovic landed Keyshawn Blackstock, Brian Greene, and Jarett Horst. Coach Kap is the biggest reason for my very optimistic outlook on the offensive line.
When you think of any good offensive line, experience is a key ingredient. There has to be some veteran presence in the room.
JD Duplain and Nick Samac will be the most experienced guys on the line, both returning for their bonus year with a lot of starts under their belt. Senior Spencer Brown is absolutely in line for a breakout season after starting all 12 games at right tackle in 2022. I expect JUCO transfer Keyshawn Blackstock to step in right away, and although he has more experience on the inside, he's a candidate to start at tackle.
With this core, you're already at a really solid foundation on paper.
Brandon Baldwin makes for some debate, though. After starting in five games, and playing in nine, he will make his case to be named a Week 1 starter on the outside. Then I could see a world where the staff keeps Blackstock inside, pushing VanDeMark out of the starting group. Although 2022 was a wash, it allowed a lot of these guys to get snaps. In a room that desperately needs guys to emerge as stars, that's a good thing. 
Lastly, MSU's offensive line is built for the future. Comments have been made about the size and readiness level of the newcomers. I've mentioned a few names already, including Lepo and Broscious, and in the 2023 class, you have two future starters with Ramil and Dellinger. Kristian Phillips, Ethan Boyd, and Kevin Wigenton are more names who add lots of good depth and even were able to log a few snaps in 2022.
Compared to where they were a year ago, there is more depth, and those guys are further along in their transition to being Big Ten-level linemen.
The eye test is a big measuring stick for an offensive lineman. Size, speed, footwork, and technique are all fairly easy to diagnose, and the young depth pieces pass it better than years before. The reality is that whether they will make an impact next season, or the season after, the trenches are in good hands going forward. 
We could have a long conversation about the offensive line. I could write about the veterans, the newcomers, or the coaching staff, and break down each player's strengths. Heck, I could probably give you just as many reasons we should be worried about the position group. The reality is, the offensive line wasn't very good in 2022. When you look at the run game, you aren't guaranteed a Kenneth Walker III every season, and looking forward, Jalen Berger, Nathan Carter, and maybe some Jaren Mangham are more than capable of creating a good running back room, but the run game and offensive line are going to need to go hand-in-hand. One guy can't carry both rooms anymore.
Now, with all of this being said, don't be surprised when the offensive line looks better next season. It's in a much better place thanks to the staff, veteran presence, and young depth. 
My prediction?
Tackles: Spencer Brown, Keyshawn Blackstock
Guards: J.D. Duplain, Geno VanDeMark
Center: Nick Samac
Most likely to contribute to the depth: Brandon Baldwin, Kevin Wigenton, Ethan Boyd, Ashton Lepo, Dallas Fincher, Kristian Phillips.