Michigan State Football: A way-too-early look at 2024 NFL Draft prospects
These players could hear their names called in 2024.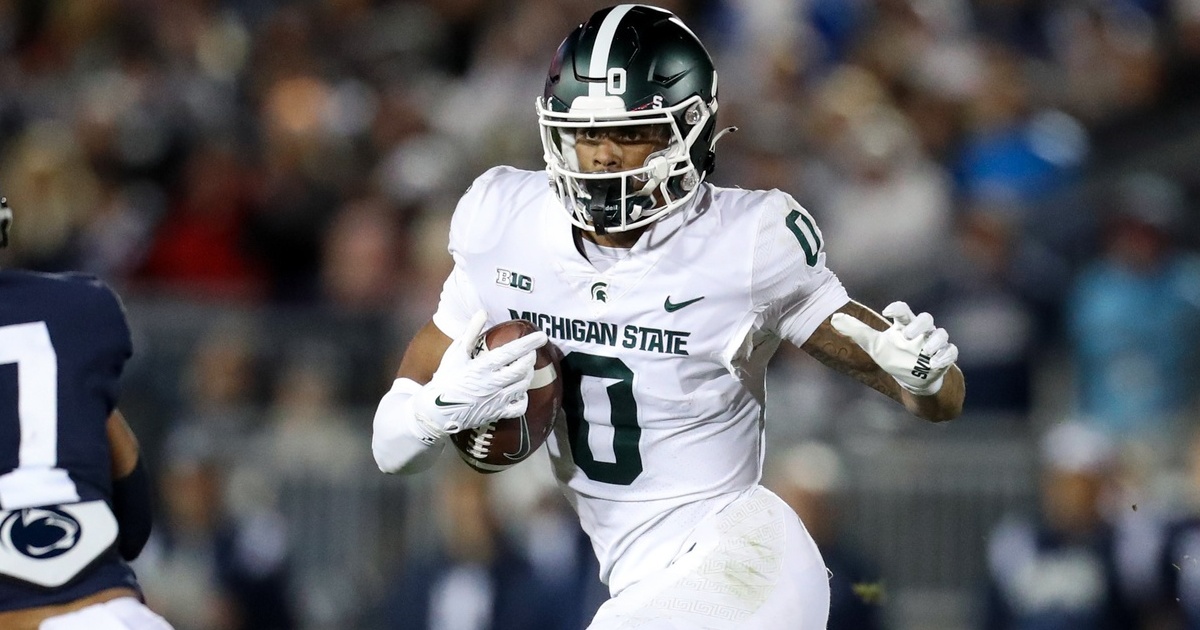 The 2024 NFL Draft is a whole year away still, but which Michigan State football players stand out as prospects?
Following the conclusion of the 2023 NFL Draft, I think it is time to look at the future Michigan State football draft prospects. Jayden Reed continued Michigan State's historical success in the draft as a second-rounder, as well as Bryce Baringer and Ameer Speed.
Next year, the draft will be the closest it has ever been to East Lansing, with Detroit playing host to one of football's greatest spectacles. 
So, around this time next year, who will we be talking about as the next Spartan to be drafted, or potentially walk across that stage on night one? 
I will separate this into a few categories; the eligible, the potentials, and the picks. 
The eligible
This is a group of players who have the potential to declare but could do with another year with Michigan State football. If they have a breakout campaign, however, we might be saying farewell to these guys.
Charles Brantley, CB
Career stats: 66 tackles, 10 pass breakups, 2 INTs, 1 TD, 2 TFL, 1 sack in 19 games
The defensive player wearing No. 0 on our roster, Charles Brantley will be entering his junior campaign and is eligible to declare after this season. He has the tools to play in the NFL, as well as the competitive spirit. Injuries, however, have plagued Brantley, plus he still has some work to do to be a true shutdown corner. I don't see him making that leap in 2023, but his potential alone warrants a mention on this list.
Maliq Carr, TE
Career stats: 25 catches, 359 yards, 1 TD in 27 games
The redshirt junior tight end has all the tools and physicality needed to be the top tight end selection in next year's class. This will be Carr's year to stand out, as he has been buried behind 2022 sixth-round pick Connor Heyward and potential 2023 undrafted free agent Daniel Barker in the last two years. As you can see by his career stats, he has yet to fully harness his potential. Carr is fully committed to football, as he did not walk on to the basketball program this last offseason, unlike in 2022. He is a boom-or-bust player, one with a ceiling of playing his way into a draft selection this year, or a floor where he does not even win the starting position. 
Simeon Barrow Jr., DT
Career stats: 74 tackles, 3 TFL, 7 sacks in 22 games
For the last dozen years or so, the Spartans have always seemed to have a defensive lineman that becomes an NFL draft pick or an undrafted free agent that earns a roster spot. This year is no different, with Simeon Barrow Jr. as the next man up for the Spartans after Jacob Slade hears his name this year. The only question here for Barrow is if he declares after the season, or returns with unfinished business for the Spartans in 2024. Barrow also has had injury concerns in the past, missing parts of games last year.
Brandon Wright, DE
Career stats: 25 tackles, 4 TFL, 3.5 sacks, 2 forced fumbles
Brandon Wright is an athletic freak, as evidenced by his earn playing time at both running back and defensive end during his time as a Spartan. Wright is a player who I think has one of the highest ceilings. If you watch his film from the 2021 MSU-Penn State game, the Spartans would not win this game without Wright's effort. However, he has not been able to be a consistent starter. Additionally, his discipline will face serious scrutiny considering he was one of the eight suspended for the tunnel incident. 
The potentials
These players all are out of eligibility or should have enough draft hype that it will be unlikely to see them suit up for Michigan State football after this season.
Jalen Berger, RB
Career stats: 232 carries for 1,072 yards, 9 TDs; 23 catches for 158 yards (Wisconsin and MSU)

Jalen Berger is only a redshirt junior, so he has the option to return next season. Considering he is likely to be splitting carries with Nathan Carter and Jaren Mangham (more on him later), I think Berger is a coin flip to return for 2024. He had over 600 yards last season and showed the burst that makes NFL scouts crave him. However, he has yet to establish himself as a true RB1 in college. Considering Jarek Broussard didn't hear his name called, I cannot justify putting Berger as a surefire player to declare and be picked after this season concludes.
Aaron Brule, LB
Career stats: 169 tackles, 24 TFL, 12 sacks, 5 pass breakups (Mississippi State and Michigan State)
Aaron Brule is a player that falls under the blanket of "out of eligibility" after this season. He has shown flashes of brilliance at both MSUs but has yet to do much to warrant a draft pick. He has the tools to disrupt the pocket and can defend the pass in a pinch, but has not put himself into a position to be drafted, yet. That said, I think Brule takes the step this year. His size (6-foot-2, 242 pounds) makes him a bit of a tweener. I'd say a solid campaign this year (60 tackles, 7 tackles for loss, 5 sacks) makes him a borderline Day 2 pick. A coach will want to harness the New Orleans native and set him to wreak havoc against the NFL in a few years. 
Duo of C Nick Samac (22 starts) and OG J.D. Duplain (35 starts)
Nick Samac and J.D. Duplain have been some of the more consistent starters for the Spartans in the last few seasons. Samac just started his first full season last year, while Duplain has been one of the more underrated Michigan State players in recent memory. Both are consistent and were a part of the Joe Moore Award semifinalists in 2021. 
Between coaching changes and inconsistent quarterback play, it can be argued that the 2021 campaign was the only time we had a good look at the offensive line. That said, critics also could state that Kenneth Walker III made that group look much better than they are. This campaign could make or break the draft hopes of these two, along with redshirt senior tackle Spencer Brown. 
Personally, I have Duplain as a fourth through seventh-round selection and Samac being a final-round selection or priority UDFA. 
Cal Haladay, LB
Career stats: 216 total tackles, 16 TFL, 2 sacks, 2 pick-sixes, 2 pass breakups, 3 forced fumbles
Cal Haladay is the final player in this section, and I considered putting him as a draft pick. He has been our best linebacker since Joe Bachie. Haladay has been a plug-and-play option since his redshirt freshman campaign, capping it off with a Peach Bowl-winning pick-six. He received awards as a Freshman All-American and won the Defensive MVP for the Peach Bowl. 
Haladay has been a menace to Big Ten teams, plugging running lanes and flying around the field. This was reflected last season, when he was voted as second-team All-Big Ten by the coaches and media.
Despite having two career pick-sixes, Halday has struggled in pass coverage. This is his main drawback, and a two-down linebacker is limited in his usability in the league. As a result, I wouldn't be surprised to see him stay back at MSU for another year to work on proving his viability as a three-down backer. 
The picks
These are players that I see as players who have done enough to warrant a draft pick, as long as they remain healthy and continue their career trajectories this season.
Jaren Mangham, RB
Career stats: 314 carries for 1251 yards, 23 TDs; 20 catches for 125 yards (USF and Colorado)
Expected draft selection: 5th-7th round
The incoming transfer comes in as a redshirt senior, with one more year available due to the COVID-19 campaign. He has over 20 career touchdowns, including 15 in the 2021 campaign, and has won Pac-12 and AAC honors. I think Mangham will be dynamic next year by sharing the backfield with Carter and Berger. My only concern would be limited touches in this loaded backfield, but his touches should be explosive. That said, he looked like the most explosive back in the spring game. The case of the last running back to split touches, Broussard, also gives me pause. Broussard's limited touches likely make him a possible UDFA.
Jacoby Windmon, LB
Career stats: 218 tackles, 28.5 TFL, 17 sacks, 1 INT, 6 passes defended, 9 forced fumbles (UNLV and MSU)
Expected draft selection: 2nd-6th round
Jacoby Windmon exploded onto the scene last season, recording 5.5 sacks in the first handful of games as a Spartan. People were talking about Windmon being a top-five selection in the 2023 NFL Draft. Then, conference play hit. The whole Spartan roster, Windmon included, took massive steps back. Windmon then stood out against Wisconsin, making a crucial interception to help keep the Spartan season alive. However, he then was involved in the tunnel altercation and ended the season suspended. If Windmon can recapture the magic he had against Western Michigan and Akron in 2022, he could be a first-rounder next year. 
Windmon looks to be a lock for the NFL Combine next year, but he will face quite a few questions about the tunnel altercation. 
Keon Coleman, WR
Career stats: 65 catches, 848 yards, 8 touchdowns in 22 games
Expected draft selection: Middle 1st-4th
Keon Coleman is the name we all expected when starting this list. Coleman had his first career touchdown against OSU in 2021 but was stuck behind two NFL receivers (2022 sixth-rounder Jalen Nailor and 2023 second-rounder Jayden Reed). In 2022, Coleman put his name on the map against Washington. When the Spartan running game could do nothing and Jayden Reed was nursing an injury, Coleman and Payton Thorne did all they could to try to steal a victory. Coleman finished with nine catches, 119 yards, and two touchdowns. He was two yards shy of 800 receiving yards last year, all while playing second fiddle to Reed when he was healthy. 
Coleman, a member of the 2021 Michigan State basketball team, is the most athletically gifted player on the Spartan roster. He has the jumping ability, the speed, and the hands that make NFL teams salivate. Mel Tucker's prized gem of his first Spartan class should be competing with Kenneth Walker III and Reed as the top Tucker-era selections.
As fans, we all should accept that this season is the final season of seeing Neon Keon. 
The biggest issue Coleman faces is not his own doing. Coleman faces the uncertainty of which player, or players, will be throwing him the ball next season. I still expect Coleman to take another leap forward as he replaces Reed as WR1 this year. On Pro Football Network's most recent mock draft, Coleman was projected as the 69th (nice) overall pick. Considering that their mock draft has the Texans taking Caleb Williams, this is obviously not accurate. I expect to see Coleman walk across the Detroit stage next year.
Michigan State football: Washington game time, channel announced
Fans won't be too thrilled about the channel.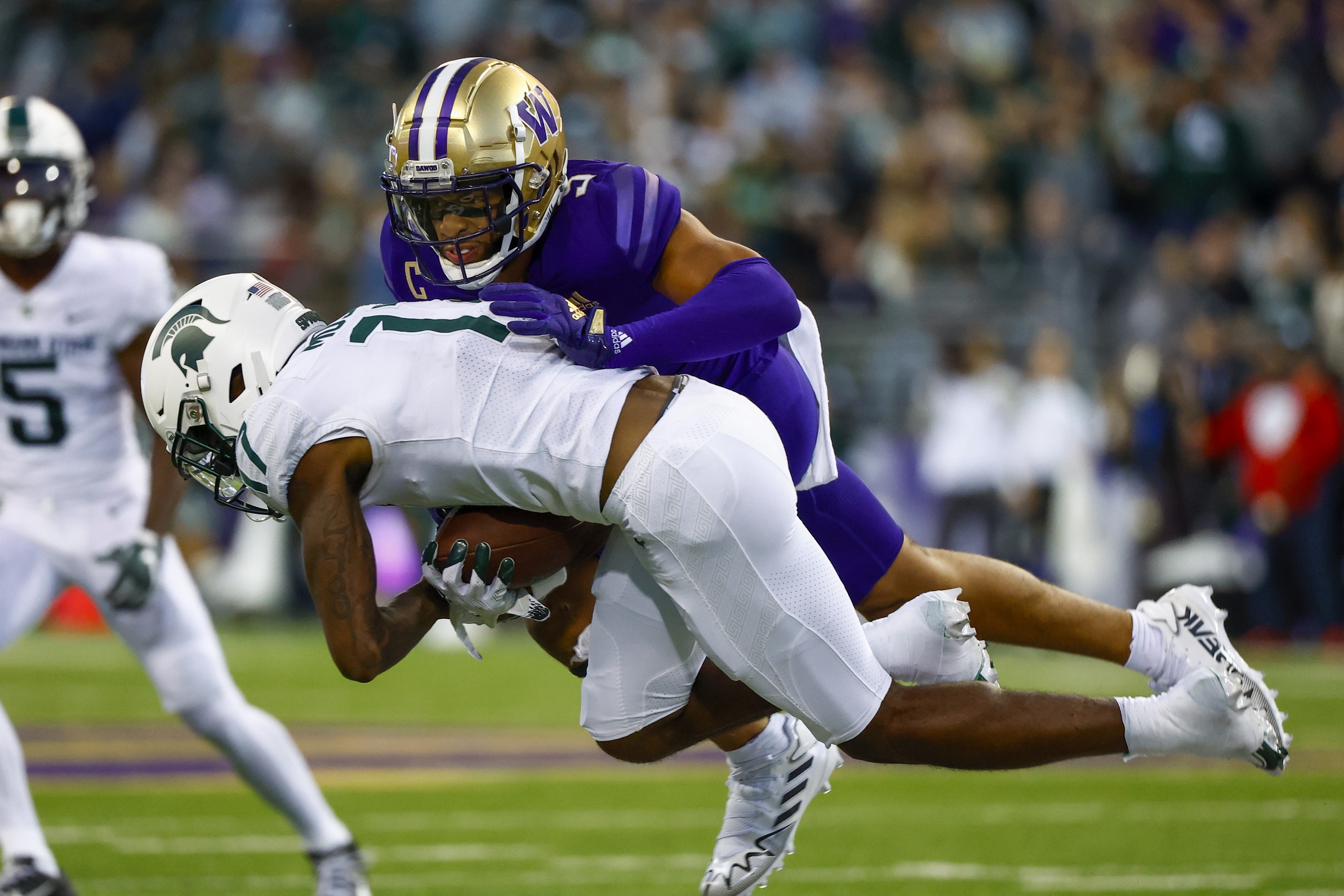 The Washington vs. Michigan State football rematch is on Sept. 16, and the Spartans have revenge on their minds.
The game time for the Washington vs. Michigan State football game was just announced and is one I think most Michigan State fans will be happy with. The game will kick off at 5 p.m. ET on Sept. 16.
MSU-Washington will be a 5 p.m. kickoff at Spartan Stadum on Sept. 16 and air exclusively on NBC's Peacock streaming platform.

— Chris Solari (@chrissolari) May 31, 2023
This is a great start time for Michigan State fans. That will give fans plenty of time to travel to East Lansing, enjoy a tailgate and get into the stadium. On top of that, the game will get down around 8 p.m. ET which is good for the crowd that does not like to be out late.
However, I think a lot of fans were hoping for a noon start time in this game. A noon start would have been a 9 a.m. local time for Washington, likely giving the Spartans a slight advantage. It's no surprise seeing this big of a game scheduled in the evening to avoid that.
On top of the game time announcement, where the game will be aired on TV was also announced. This is where the good news ends. The Spartans game against Washington will only be available for streaming on Peacock. That means Spartan fans at home will have to pay to watch this game. However, a simple Google search showed me that Peacock currently only costs $20 for the entire year. A lot of Big Ten football and basketball games will only be available on Peacock this season, so that may not be a bad investment to make right now if you can.
What would a win mean for Michigan State football?
Michigan State will have revenge on its mind in this game. Washington beat the Spartans last season in Seattle 39-28. The game however did not feel that close. Michigan State made a late comeback to make the final score look respectable, but a lot of fans will tell you we never really stood a chance.
Washington will likely be a top 10 heading into this matchup, so Michigan State has a great opportunity in front of it. A win would would help spring the Spartans into the conference season with a lot of positive momentum.
Jordan Hall hosts second annual free youth football camp (Video)
Jordan Hall is a legend already.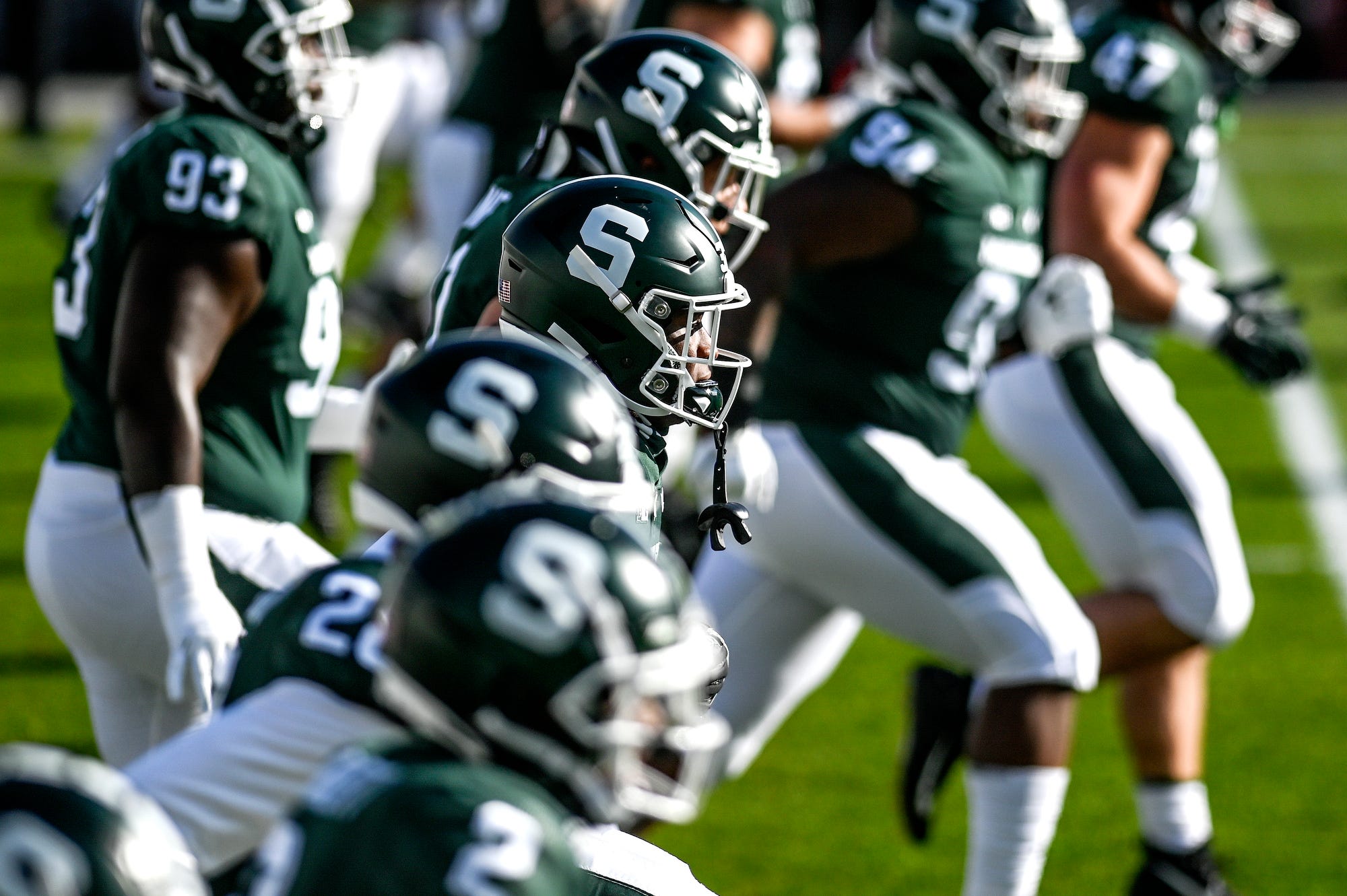 Michigan State freshman linebacker Jordan Hall continues to show just why he's one of the best out there.
Jordan Hall is already showing signs of being the next great Spartan on and off the field.
The Michigan State freshman linebacker was born and raised in Fredericksburg, Va. However, he most recently moved to Bradenton, Fla., to play football at IMG Academy.
This past weekend, Hall returned home to Fredericksburg to host his second annual free Jordan Hall Youth Football Camp.
The Jordan Hall Youth Football Camp…

Jordan's youth football "career" started at this field with one goal post, uncut grass, car lights at night for light to be able to practice and woods for bathroom breaks; but one thing it didn't lack was LOVE, GUIDANCE, & LIFE LESSONS. 💚🤍 pic.twitter.com/8kjJD7mTkP

— Cyreeta Hall (@MommaHall2U) May 31, 2023
Hall has already been making a name for himself on the field for the Spartans this spring. His play and effort has been praised by fellow players and coaches alike. IMG Academy has a long history of producing high-quality athletes. This makes Hall's tenure in the program even more noteworthy. He became the first three-time captain in IMG Academy history.
When coaches are recruiting players, they are hoping to find the perfect mix of talent and character. You don't become a three-time captain of a storied school like IMG Academy without having both.
In a recent interview with Spartan Shadows, Cryeeta Hall said of her son, "One of his favorite things he loves to do is teach the game of football to kids. He loves to coach."
Michigan State fans are excited to see what Jordan Hall can contribute on the field, but his character off the field so far is creating just as much excitement. When you see a young man with the heart and determination to give back to his hometown, it lets fans know this is the sort of player you can to rally around and support. Mel Tucker has shown intentionality in his recruiting. He has a specific type of player that he's looking for. Jordan Hall epitomizes a Tucker type of player.
Hall has the potential to earn immediate playing time this year as a true freshman. I'm not a betting man but if I were, I'd wager that we'll see him as a team captain for the green and white sooner than later.
Mel Tucker is best coach in the Big Ten when it comes to one stat
This may surprise you.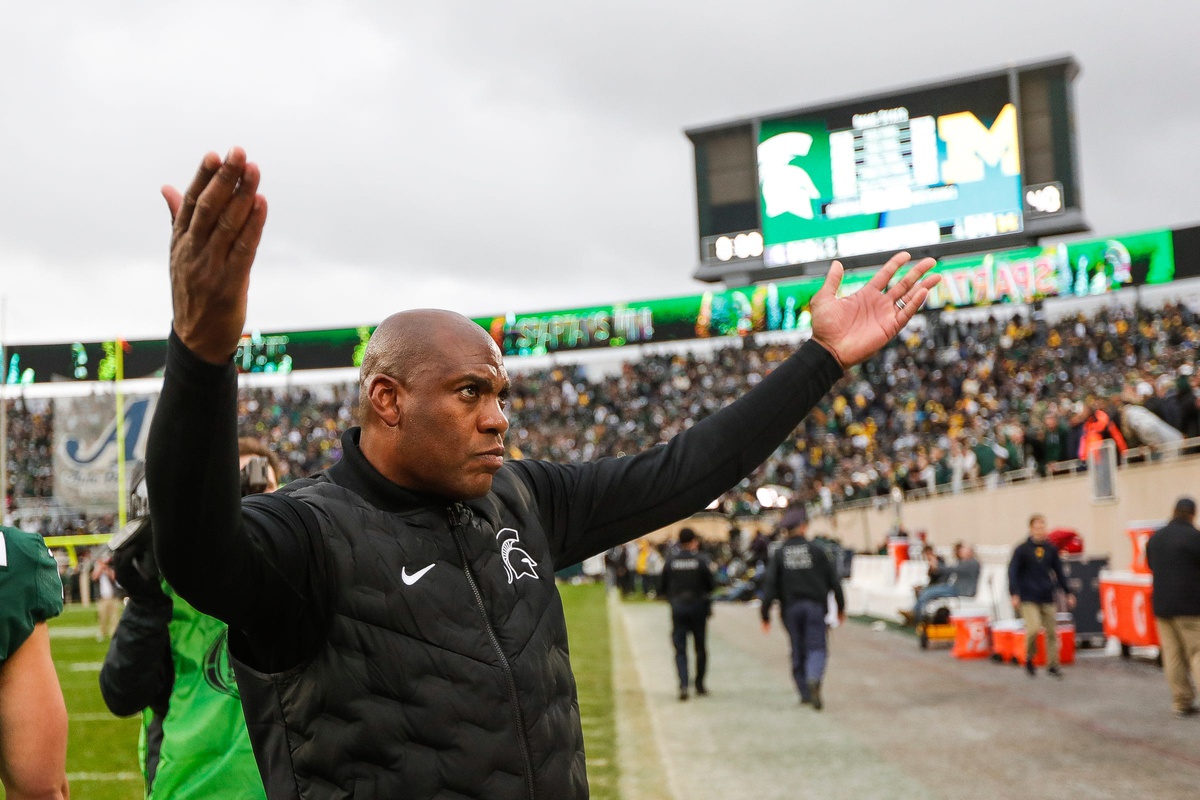 Mel Tucker is the best coach in the conference when it comes to this one surprising stat.
Michigan State football coach Mel Tucker is one of the best coaches in the Big Ten when it comes to close games.
This may surprise some considering two of Tucker's three years at Michigan State have resulted in losing seasons. But the data shows that Tucker knows how to come out on top when the game is close.
He has been at Michigan State since 2020. During that three year timeframe he boasts a 10-1 record in games decided by 10 points or less which is the best record in the conference during that span.
Here is a list of all 11 of those games:
2020
at Michigan (W 27-24)
vs. Northwestern (W 29-20)
2021
vs. Nebraska (W 23-20)
at Indiana (W 20-15)
vs. Michigan (W 37-33)
vs. Penn State (W 30-27)
vs. Pittsburgh (W 31-21)
2022
vs. Wisconsin (W 34-28)
at Illinois (W 23-15)
vs. Rutgers (W 27-21)
vs. Indiana (L 39-31)
How impressive is this really?
A 10-1 record when games are within 10 points is extremely impressive. The only loss on this list is Indiana from last season, a game Michigan State likely should have one. The Spartans ended up losing in overtime to the Hoosiers, but were a chip shot field goal away from winning in regulation. That is a field goal college kickers make almost every time, so Tucker's one loss on this list could easily have been another win.
Regardless, 10-1 is the best winning percentage in games decided by 10 points or less in the Big Ten during that three-year span.
This is how the rest of the Big Ten teams fared during this same timeframe:
Michigan State: 10-1 (.909)
Maryland: 8-3 (.727)
Iowa: 11-5 (.688)
Indiana: 7-4 (.636)
Purdue: 12-7 (.632)
Ohio State: 3-2 (.600)
Michigan: 6-4 (.600)
Minnesota: 9-7 (.563)
Rutgers: 7-6 (.538)
Wisconsin: 6-7 (.462)
Penn State: 5-7 (.417)
Northwestern: 5-9 (.357)
Illinois: 6-11 (.353)
Nebraska: 5-16 (.238)
What does this tell us about Mel Tucker?
One thing this tells us is the Tuck is a great in game coach in tight situations. No coach goes 10-1 in close games by accident. Sometimes there is a lot of luck involved with winning close games, but that's not necessarily the case when you win them this efficiently. Anyone can close a game out when you are up by 20, but not everyone can win a close game in the closing seconds.
This statistic is not all good though. Michigan State has won 18 games during the past three seasons. This means that over half of the games Mel Tucker has won at Michigan State have been within 10 points. For a program with extremely high goals, that fact is a little scary.
As I mentioned before, sometimes luck has to be on your side to win these close games. So relying on winning a lot of close games to have a great season is not a recipe for success.
One things for sure though, as long as Mel Tucker is the coach at Michigan State, we stand a very good chance at winning any close game.